Well! This is another article on making money online. However, it is quite different than others because not everyone can make use of Instamojo which we are about to discuss.
We will try to know what Instamojo is and who all can make best use of it. We also look it into the entire sign up process and inner workings of this web application.
Then finally I give you an honest review of Instamojo.
So let us begin with digging inside Instamojo.
What is Instamojo?
To put it simply Instamojo is a web based application that allows merchants and businesses to sell their products & collect money through this particular application.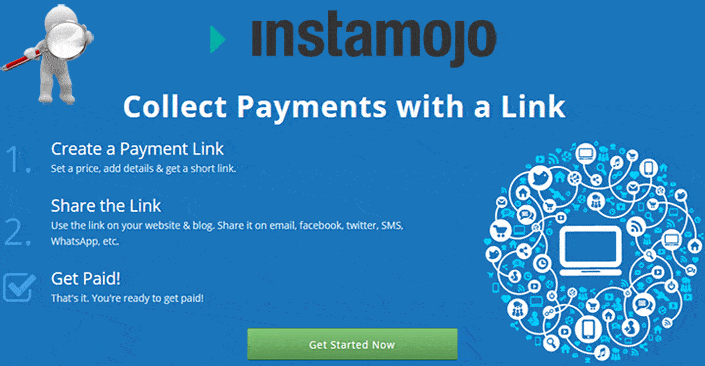 Merchants use their website to sell products and when customers complete a transaction, the money is credited to their account by Instamojo.
Hence, Instamojo is a payment gateway. Although there are many other payment gateways however InstaMojo has become quite popular among Indian entrepreneurs.
You need to know the InstaMojo deals with digital goods as well as physical goods.
So in a nutshell the daunting task of integrating payment collection system to your website is taken care by Instamojo.
Now merchants can easily sell their products without bothering about payment collection system.
However, in return Instamojo will charge a fee for every transaction made (we will discuss this in details in coming paragraphs).
I would say Instamojo, a Bangalore based company finally offers a complete solution for all kinds of entrepreneurs that have being looking for a payment gateway.
Whose is it for?
We need to be specific here about Instamojo. Who all need this application?
Is this payment gateway for everyone like you or only few merchants with daily transaction worth millions of dollars?
Well! The answer is both of them can use this system. In fact, it is really great for small business owners or even online bloggers who want to sell their eBook and collect money.
The thing I like about InstaMojo is that it gives freelancers like you and me to sell our products mainly eBooks online and collect payments.
Although InstaMojo allows merchants to sell their physical goods but still it is popular among bloggers, eBook authors, photographers, designers etc with digital products.
Hence, InstaMojo is mainly for entrepreneurs selling digital goods like eBook, Digital files, event tickets, subscriptions and other services related to it.
If you are a blogger or a freelancer and want to sell your eBook then InstaMojo is for you.
The Entire Sign Up Process
Now we shall look at the entire sign up process of InstaMojo. I need to assert that before I give you an honest review of InstaMojo, you need to develop a better understanding of this application. Hence you have to go in details.
The entire sign up process of InstaMojo is like a breeze. It is so simple and hassle free to get started.
Just visit Instamojo.com, give your email ID, password, phone no. & choose your username and create an account. Refer the image below-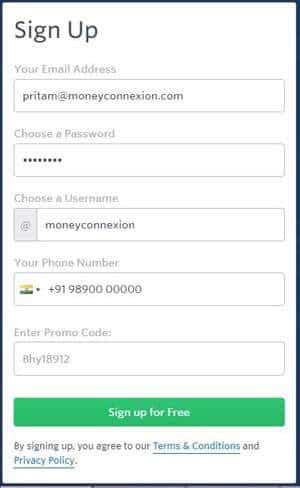 Later you need to confirm your email & complete your registration by providing the details as provided in the image below-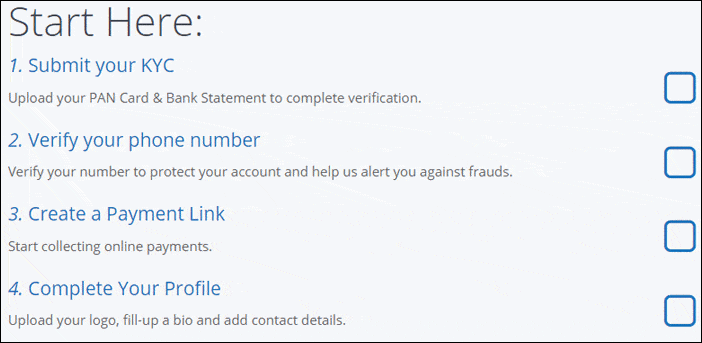 First step is to submit KYC (know your customer). After clicking, choose Individual for Business Type, then describe your product or service, fill other and move to next step.
You need to select an amount for average transaction and number of transactions per month. In next step, give your PAN card and bank details.
The entire sign up process and giving bank details is very easy. You also need to upload scan copy of latest bank statement and passbook front page.
You need to be honest while giving all of your information especially bank account and PAN card number.
That's it, your account is complete. The complete process is so simple and you do not need any physical document to produce.
After step 1 is complete, move on to complete the step 2, 3 & 4.
The Inner Workings of InstaMojo
While collecting payment you can have a website or not.
If you don't have website: You need to know how InstaMojo works. I mean to say how they collect money from your customers and add to your bank account.
Once you create an account you got to start selling your product by "Create a Payment Link".
There are mainly four categories for sellers

Digital Goods
Event Tickets
Services/Membership
Physical Goods
You need to choose one of them. I guess you are going for first one digital goods.
You need to fill details for the product you are selling. You need to give title, description, price, quantity etc. It takes only few minutes.
If you own website: If you have a website of your own then you can create your own payment buttons. You create buttons and embed into your website. Everything is taken care by InstaMojo.
Sales Tracking
Instamojo offers set of tools to track your sales that are coming daily. You can follow all your links, numbers of clicks you got, page visits, conversion rates daily, weekly or monthly.  Using the interface is very easy and even a novice seller can use it.
The Fees
Now we come to the most important part of article and that is the fee structure. All this is not for free because InstaMojo charges you a fee for every transaction made.
InstaMojo charges 1.9% of every successful transaction made. Plus they also charge a small service tax.
But one of the best thing about new users is that you can get 50 transactions absolutely free if you join from this special link.
So for example according to their website.
If you sell physical products & if a transaction is a made for Rs 100 then you as a seller get
Rs 100 (Customer Pays) – Rs 1.9 + Rs .27 [InstaMojo Fees + Service Tax] = Rs 97.83 (What you get as a seller)
If you sell digital products then they charge 5% flat for every transaction. So
Rs 100 (Customer Pays) – Rs 5 [InstaMojo Fees] = Rs 95 (What you get)
So they charge more for digital products.
All the money is transferred into your bank account in 3 business days.
Hence, you get an idea how InstaMojo works and what do you get from all this as a seller.
Best Features of InstaMojo
Now let us look at some of its features in brief.
The first thing I liked about is the fee structure that is 5% flat for digital products.
There is no file upload limit.
The entire process from sign up to creating payment link is very easy. It takes just 5 to 10 minutes.
GUI for analytics is very intuitive, even Google Analytics integration enabled.
It accepts all modes of payments like credit cards, debit cards, net banking etc.
It accepts payments via mobile devices also.
Money is credited to your bank account in just 3 business days.
InstaMojo support discounting if you want to create products in bulk and sell.
The InstaMojo links are very SEO friendly and it does not affect Google rankings.
You can integrate InstaMojo into Mobile devices for your website.
You can set separate commission for individual affiliates of yours.
InstaMojo is the best gateway platform website in India.
An Honest Review of InstaMojo
At last after reading everything about InstaMojo I need to give an honest review of InstaMojo.
By and large InstaMojo is a great payment gateway for Indian entrepreneurs & is one of the best alternative for PayPal. InstaMojo takes no set up fees like other payment gateways like PayUBiz or EBS.
There is no AMC or annual maintenance charges is zero for InstaMojo while others like Citrus (Rs 4900/-), Zaakpay (Rs 2400/-) do charge.
However there are some problems.
InstaMojo only accepts payment in only one currency and that is Indian Rupees. No USD, GBP etc.
So if your customers are living outside India then you might have a problem losing a big customer base.
Then InstaMojo does not offer PayPal as a mode of payment.
Moreover the fees for digital products are flat 5% which is more than other payment gateways. However for other products InstaMojo charges only 1.9%.
As I said earlier InstaMojo is good for mainly eBooks writers and freelancers like you and me. So 5% fee is a bit high.
So this was the complete picture of InstaMojo.
I believe InstaMojo has more advantages over few shortcomings.
If you are an Indian entrepreneur then go for it.
However you have to make a final call.