Online games are the best way to engage your family and friends or have a friendly fight with some unknown player located somewhere in the world. In fact, online games proved to be an excellent way for people to remain relatively stress-free and enjoy life to a great extent during the Covid-19 pandemic and lockdowns worldwide.
If you're interested, here's my curated list of top 10 free online games you can play right now.
Top 10 Free Online Games to Play in 2020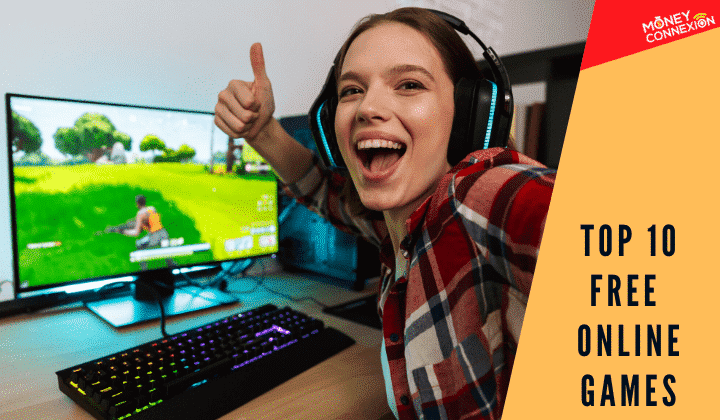 This list of 10 free online games to play right now is trending in 2020. After reviewing various reports and performance, I'm presenting this top 10 free online games list. I'm confident you'll enjoy these games too.
Read: Get Paid to Play Free Online Games
1. Fortnite Battle Royale
Fortnite Battle Royale comes from popular online game developer, Epic Games. This game made its appearance as sequel of sorts to Fortnite Battle, which is extremely popular. Fortnite Battle Royale has the largest number of players due to its simplicity.
It places a player on a fictional map with 99 other online players, from all parts of the world. Once the game places you on a map, you'll get some time to develop protective structures. And once the battle begins, you've to eliminate other players. The last one who remains wins the game.
2. Dota-2
The Dota-2 ranks as one of the best free online games of 2020. It's a tournament type game that simulates millions of dollars winnings. Though a bit difficult to get started with, Doa-2 isn't that tough. However, you'll need a tutorial that comes with the game.
You can also check the online tutorials with friends and form own group to play Dota-2 free online. Reviewer's call this game highly addictive, which has helped it rank among the top 10 free online games of the world.
3. Planetside-2
Planetside 2 is a war game that comes with free resources as well as a few paid ones.  The game itself is free to join immediately. Usually, most online gamers don't bother to use the paid virtual equipment that can help win the war, since free upgrades of weaponry is available as you go along.
One of its attractive features is the opportunity to launch a terrifying attack on well-equipped enemy and yet winning. Since your enemy will be better equipped, you may expect lots of thrills such as aerial bombardment to the sudden deployment of battle tanks and other gear.
4. Path of Exile
Path of Exile is said to be quite different. It's one of the best free online games for 2020. It is a regular multiplayer game and can prove highly addictive. You can go about a large dungeon filled with scary adventures and find hidden treasures on the way.
This game is perfect for gamers that've some experience with Diablo-I and Diablo-II games. Path of Exile is refreshingly different than Diablo-III which didn't make it to the top in 2020. You'll require a lot of skills to play this free online game.
5. League of Legends
If you love aggressive gameplays and wish to engage your friends in creating battleground tactics, try this highly engrossing free online game, League of Legends.
Though it's a bit similar to other multiplayer free online games, your friends and you will require excellent planning and execution skills. This game is all about strategies and tactics combined with the proper use of weapons. There're also online tournaments for serious gamers, with pool prizes up to $1 million.
6. Warframe
Warframe ranks as my sixth best free games online. This is a rather simple game to play for wargame lovers. Here, you'll take over a fictional, ancient race known as Tenno that wage frequent wars against various enemies.
You create a Tenno soldier and equip her or him with weapons of your choice. This is a wonderful multiplayer game if you can form a group of avid players. Playing as two teams makes it even more thrilling. This is a rather straightforward game for shooters and helps improve skills for similar other games.
7. Star Wars: The Old Republic
According to gaming reviewers and magazines, Star Wars: The Old Republic was to be available initially as a paid game. Now it's available as free version as well as highly advanced paid version.
This is also a multiplayer game where you can join with friends as a team or army group for winning. There are countless story-based missions on the free version too where you fight intergalactic wars to win. Though this isn't exactly a game for beginners, it's still worth a try.
8. Forza Motorsport 6 Apex
Also for computers is this wonderful game, Forza Motorsport 6 Apex. This is the first time that online gamers can fully enjoy the full experience of a Motorsport game on their computer.  
Forza Motorsport 6 Apex ranks among the topmost free game that we could from Microsoft. Though Forza Motorsport 6 Apex is fairly similar to racing games that you commonly get for PlayStation and other formats, this one is the best version for gamers that prefer computers.
9. Dauntless
Dauntless is yet another popular game that is said to owe its success to its predecessor, Monster Hunter World. It is also somewhat similar to Monster Hunter World and easy to play on your PC. However, there's a major difference. Dauntless involves preventing monstrous animals from destroying human civilization and isolated human colonies.
In simple words, this game is all about understanding different imaginary and destructive animals, tracking them and protecting the area where you "live" on this game and your gaming neighbourhood.
10. World of Tanks
World of Tanks is my 10th pick for 2020. It comes under the class of Massively Multiplayer Action game that you can play free right now online. World of Tanks features large collection of war machines and equipment that players can deploy on the virtual battlefield.  
The best way to play World of Tanks is by forming its own army of friends because there're chances that solo players can get eliminated very early, as armies will surround them. While free resources are available to all gamers, there're also options to upgrade and buy some equipment to win the game.
In Conclusion
These top 10 free online games are something you can play right now. Most of them are available for gaming with computers such as Linux, Apple or Windows PCs and laptops. However, you'll also find them for Xbox, PlayStation, and other consoles, where possible.