Actually, we need some form of identification while cashing a check in the US. That's the legit way to cash a check. In my opinion, you shouldn't try any other ways.
However, there could be strong and legit reasons why you don't wish to use your ID while cashing a check. These could be you don't have a valid ID at that particular moment, or you're in a hurry and aren't carrying the documents that are widely accepted as proof of your identity.
In such situations, you could try any of these five legit ways to cash a check without an ID.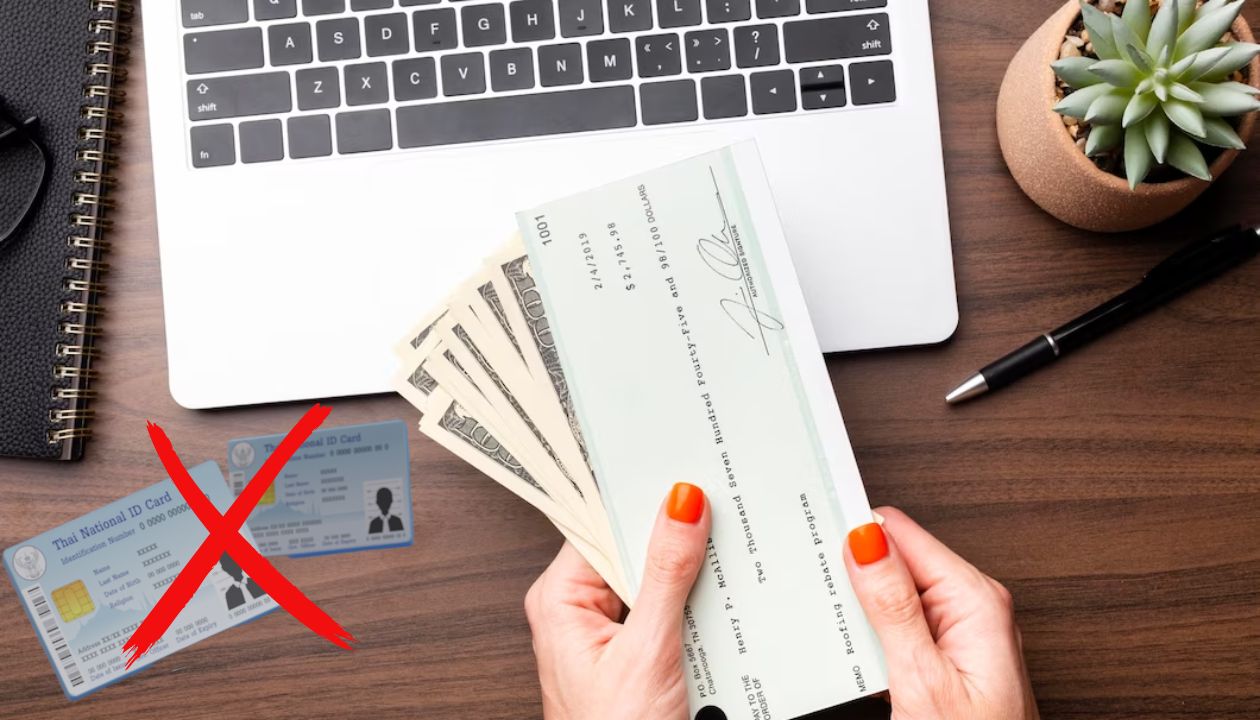 Documents For Cashing a Check
Most of us are unaware, but banks and other financial institutions accept a lot of documents as valid proof of identity. If you have any of these, use them while cashing a check.
Passport
Driving License
Social Security Card
Employee ID Card issued by the legit organization
Bank passbook with your photo
Military service card/ veteran card
Senior citizen card from any organization
Disability card, where applicable
Just in case you don't have any of these, it's still possible to cash your check. In fact, there're as many as five legit ways to cash your check without the need for an ID.
5 Best Ways to Cash Check Without An ID
Now, let's look at the five best ways to cash a check without an ID. In some cases, you might have to wait a few hours to get the cash. However, they will save the hassles of presenting your ID or even visiting a bank.
1. Banking Apps
Most banks and credit unions offer apps for their customers. However, the facilities you can get through these mobile phone apps would differ according to the type of account. In general, most banks and credit unions allow you to cash a check online through their app if you're an account holder. Simply key in the check details, and you're done. On some apps, there's a facility to take and upload a photo of the check.
2. Checking ATMs
A lot of banks offer ATMs where you can deposit checks around the clock. Try this if you're unable to visit a bank or need to deposit the check in a hurry. Of course, you would have to wait a few hours for the money to be credited to your bank account because checks need approval from the issuing bank, too, for payments.
3. PayPal Plus
You can cash a check online and without an ID if you have a PayPal Plus account. This process is very simple too. Use the facility on the PayPal app to take a snap of the check and upload it. Fill in some minor details on the app and submit. Generally, your cash should go to your PayPal account in less than 24 hours.
Also Read:
12 Best Alternatives to PayPal for Business & Freelancers
How to Get Free PayPal Money Online – 13 Ways to Get it Today
4. Issuing Bank or Prepaid Debit Card
You can take the check to the issuing bank and get cash or advise them to deposit the cash in your prepaid debit card. Alternatively, you could also as the issuer of your prepaid debit card to cash it for you. There could be some fees. Therefore, check in advance how much money it would cost.
5. Payday Loan Stores
Payday loan stores also provide a good option to get cash quickly from a check. However, they charge very high commissions and fees, which can range as much as five or sometimes 10 per cent of the check value. If necessary, you can visit these places, but I suggest you go there only when you're really desperate for cash or have an emergency.
Also Read: 10 Best Money Borrowing Apps That Cover You Till Payday
Conclusion
Actually, you can avoid these hassles simply by opening an account with a good bank or credit union in your area. That way, you don't need any ID to cash your check since you're a known customer. 
There're a few cases of scams where criminals have cloned a check in your name and withdrawn cash. In other cases, some persons might charge a stiff amount to oblige you by cashing a check, which isn't really legit. Make sure that you use only the legal channels to cash a check without using your ID as a precaution against scams.