Most of us get salaries or wages through our bank. Meaning, the employer credits our income directly to the bank or issues a check for the amount that has to be deposited at a bank or credit union to get cash. Then there're apps that give an advance payment or even the full amount of money on the paycheck, for a fee.
However, there're lots of jobs where we can actually get the pay in cash. I mean, in Dollar notes and Cent coins, instead of a bank transfer, check or any other form. Lots of Americans prefer to get their pay in cash for different reasons.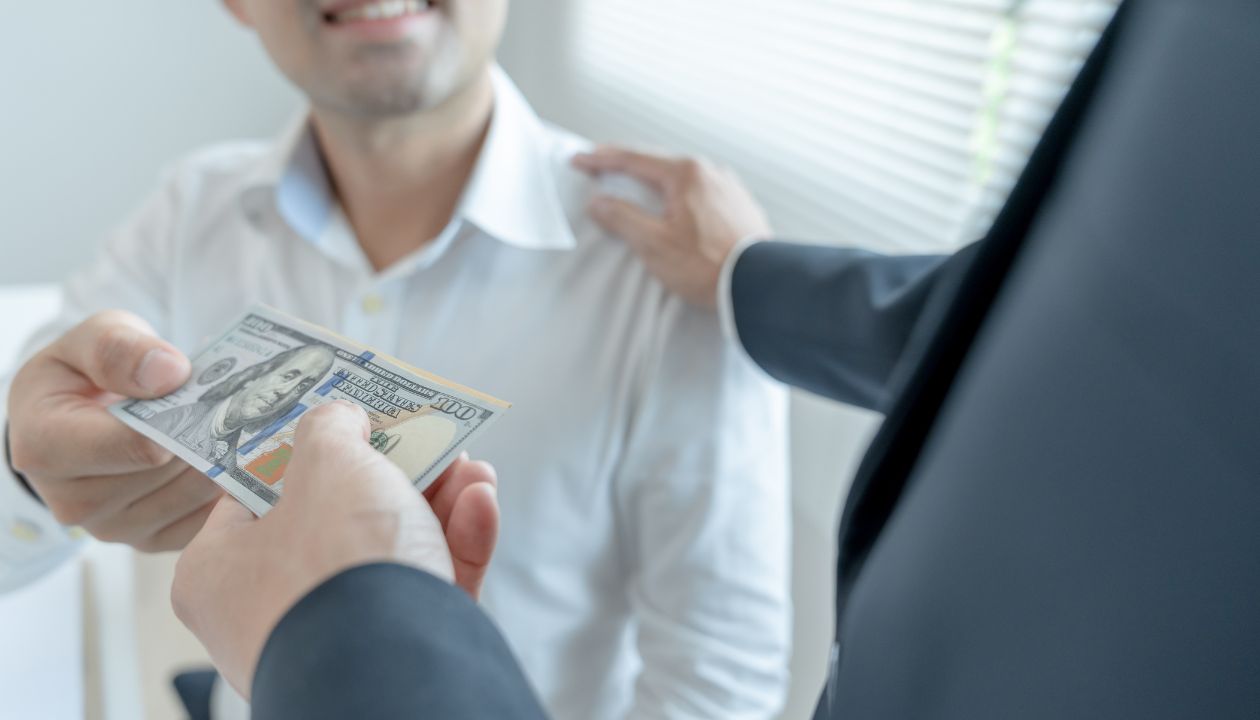 Reasons to Get Paid Through Bank
Actually, there're several advantages of getting your income- weekly, bi-monthly or monthly- through a bank. The first reason is, the statement of accounts issued by a bank or credit union is solid proof of your income and can be used for various purposes such as getting credit and loans or mortgages.
Secondly, every time you ask for a credit score report, an agency such as TransUnion will also verify your bank credentials. Your credit score is often linked to your regular income. This means you can get a few points more for your credit score when your income is deposited at a bank or credit union.
Thirdly, a salary credited to a bank is also direct proof of your employment and period of service with an employer. Some employers can ask you for such proof. Though they won't ask for your bank or credit union statement, it's possible they could ask for a certification that your salary is indeed being deposited by the employer you mention on your Resume. This, however is a rare practice.
Then there're certain other reasons, such as taxation. The Internal Revenue Service expects you to declare all income and depends on bank or credit union statements to verify tax returns.
Reasons to Get Paid in Cash
As you can see, there're several benefits of getting your income through a bank or credit union. Yet, in some cases, it might be better to get your wages or salary in cash instead of banks or credit unions. Here're some circumstances where it's better to get paid in cash:
You don't have an account at any bank or credit union for any reason.
There's an urgent need for cash and you don't have time to wait for a check or bank transfer for the money to go to your account.
A bank or credit union has placed a lien on your account for unpaid dues. This means whenever your income is credited, they will deduct the lien amount directly, leaving you with little or no money.
To conceal or hide additional income from the Internal Revenue Service (IRS) and avoid paying higher taxes.
Illegal work for which paying through banks is impossible.
To ensure there're no records of your work. This is usually done by people who have a fixed job, but their contracts prevent them from taking other jobs outside work hours.
Before you look for jobs that pay cash near you, here's something important. Engaging in illegal work, hiding income from the IRS or trying to escape liens for unpaid dues to banks and credit unions or other financial institutions can actually land you in serious problems with US laws.
Illegal work can attract huge fines and jail, while hiding money from IRS could cause you to face stiff penalties and lose a lot of cash. Trying to dodge liens means you can be declared a willful defaulter by a financial institution, which can attract criminal charges.
Therefore, I would recommend that you use discretion while looking for jobs that pay cash near you. While they might pay attractive wages, it might not always be legit, or you might have to face issues with the law.
20 Best Jobs That Pay Cash Near You
Before you take a job that pays cash near you, ensure that it's legit and you wouldn't land in any legal trouble. Also, never hide this income from the IRS. And finally, deposit the cash in your account, even if you have a lien. You can bargain with the bank on the deductions.
Here's my curated list of 20 such jobs near you that pay cash.
1. Babysitter/Nanny
2. House Cleaner
3. Landscaper/Gardener
4. Pet Sitter/Dog Walker
5. Freelance Writer
6. Personal Trainer/Fitness Instructor
7. Tutor
8. Handyman
9. Car Washer/Detailer
10. Street Performer/Busker
11. Event Staff (e.g., catering, security)
12. Food Delivery Driver (e.g., for local restaurants)
13. Farm Worker (e.g., seasonal agricultural jobs)
14. Day Laborer
15. Snow Shoveler
16. House Painter
17. Photographer (e.g., for parties, events)
18. Moving Helper
19. Hair Stylist/Barber (self-employed)
20. Repair Technician (e.g., electronics, appliances)
These are the top 20 jobs that pay cash near you. As you can see from the nature of these jobs, you don't need any educational qualifications or much work experience, except in some cases. These jobs are open to everyone and can be found easily.
Finding Jobs that Pay Cash
If you're interested in finding these jobs that pay cash near you, read further. I will discuss briefly where you can apply for such jobs.
TaskRabbit is one of the best secret websites to make money. Here you can find simple and easy-to-perform tasks both online and offline. You can opt to receive cash as payment for your work instead of bank transfers or PayPal.
Gigwalker is one of the oldest apps in this business of giving you instant tasks at your location. Download this app and register. You have to keep the location services of your phone switched on to get jobs that pay cash near you.
All Better is an app where you can get a lot of tasks as a handyperson. In fact, this app specializes in providing handypersons of all trades to landlords and tenants across the USA. You can get cash for the work if you don't want the payment through bank or debit card or PayPal.
As the name suggests, this app comes in very handy when you need skilled workers such as plumbers, electricians, gardeners, nannies and babysitters near you. You can download and register on this app to find work that pays cash. They have several categories of work for you to choose from.
Thumbtack also operates across the USA. You can find attractive jobs that pay cash every day on this app. Download and register on Thumbtack. You can work whenever you wish. This app is useful to find full-time as well as part-time jobs that pay cash. They usually onboard skilled workers such as electricians, welders, plumbers, gardeners, musicians, hairdressers and trainers, among others.
More Ways to Find Jobs That Pay Cash
Then, we have a few other ways that're useful to find jobs that pay cash near you. However, you will need to look for them in your area since some of them might not feature on apps and job boards.
Local malls
Cinemas
Radio stations
Local newspapers
Restaurants and bakeries in your area
Grocers in your area
Local churches and religious shrines
Community notice boards
Gyms and clubs in your area
Educational Institutions
Craigslist
Facebook Marketplace
While these are excellent resources to find jobs quickly, ensure that you will get paid in cash only. As I mentioned earlier, most employers or buyers of your services will pay through bank or payment systems to ensure there're records of the transaction.
Conclusion
Finding jobs that pay cash near you can be very easy. Thousands of Americans work on such jobs and earn an extra income during the week. Some take such work and tasks to earn a decent living for the family too. In general, it's quite okay to take jobs that pay cash. However, be careful enough to declare the income to IRS and avoid getting into illegal work of any kind or dodging bank liens.