Do you love to travel and explore new destinations?
Well, you can turn your hobby into a money-making profession.
Travel agents can earn huge commissions from their clients from the comfort of their homes. There is huge money to be made by travel agents from home around the world.
Before covid-19, 30 million travelers took cruises with more than 70% of the booking through a travel agent. In 2023 and ahead, it's going to be the same scenario again.
You just get an idea of how travel agents can help their clients in not only booking their tickets but helping them throughout the trip.
You can earn a lot of commission from your clients sitting in your home.
However, first, you have to become an able travel agent.
So let us see how to become a travel agent from home!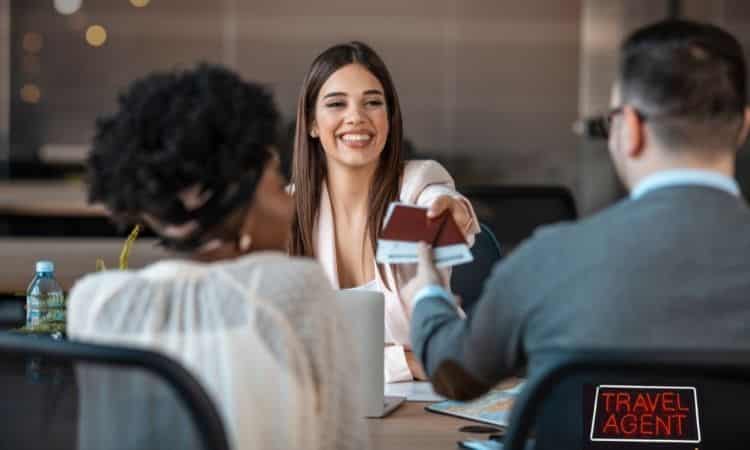 Table of Contents
What is a Home-Based Travel Agent?
In simpler words, a travel agent is an individual who books and arranges travel for their clients. They receive commissions from traveling companies for booked tickets.
Well! That's what an average travel agent does.  
Travel agents meet their clients personally, develop trust and loyalty with them, and grow their business.
Moreover, they have experienced coordinators with time and deep connections that help in saving clients time and money.
Travel agents offer a wide range of packages for their travel plans hence simplifying planning a trip.
As a travel agent whether you work independently or with an agency, you get to work remotely and set your schedule.     
What Does a Home Based Travel Agent do?
If you want to be more than a mediocre travel agent then you got to focus only on your clients' vacation needs. You have to research based on what your client wants great deals on hotels and the best travel arrangements.
Apart from doing these travel agents have to do some event coordination also. For example, if your client wants a destination wedding, you have to help with travel plans.
A successful travel agent goes the extra mile and helps clients with booking a venue also.
This is what makes a difference between a mediocre travel agent and a successful travel agent.
If you are working for an agency then you won't have any problem doing this because the agency will help you out. However, if you are a new independent agent then a lot of complication is going to arise.
Well! That's what we are going to debate in the coming paragraphs.   
Read here: 101 Best small business ideas. 
Drawing a Plan to Become a Successful Home Based Travel Agent
Develop a Strategy
I know the home-based travel agent sounds very tempting but it's as challenging as starting any other business and you have to be very careful and avoid mistakes while growing your business.
So creating a strategy should be your first priority. In other words, Plan A or B which you can always fall back on.  
For example, your plan should answer simple questions like what agency you want to work with, what capital you need, about marketing efforts, etc.
Research
One thing as a travel agent you will learn is conducting thorough research. You will learn basic things like markets, about customers, what they want and how tough the competition is.
If you have a proper understanding of the market and customer behavior you will exactly be able to provide your client's what they want.  
Choosing a Niche
Personalized customer service and niche expertise are what makes client seek the help of a travel agent.
A new travel agent has to understand he can't be a "jack of all trades" for too long and hence start identifying his niche or forte.
For example, some have great experience in cruise tours. Some are into the honeymoon, and other agents are into destination weddings, etc.
So choose your one niche and exploit it!  
Joining a Host Agency
I don't know how adamant you are about becoming an independent travel agent. But no one is fully independent. From my experience, I would recommend you join a host agency.
Later, you will learn in this article how working with a hosting agency solves a few major problems. 
Getting Training?
The best training that a home-based travel agent can get is to host travel agencies that hire travel agents.
A host agency will help you out with all the training you need to become a travel agent. And you don't have to pay much.
But if you are an independent travel agent and do not want to work with a host agency, then you have to complete your training on your own.
Some people even go to college to become travel agents. If you want to pay a fee and join a training school then it will cost you well over $8000.
So the best solution is to join a host travel agency. That's what I did.
Read also: Best jobs for stay-at-home moms.
How to Become a Travel Agent from Home?
Working Independently
If you decide to work independently, then you have to choose a name for your business. You also have to start a website or a blog connecting people.
You will be responsible for finding clients and, more important advertising. From my experience, these were some serious challenges that I faced working independently.
How the heck a novice independent travel agent will form a relationship with different travel companies like cruise lines? If you don't have prior experience in the industry, don't go independent.   
Working for a Host Agency
This would be my recommendation! Travel agent job is classified as independent contractor positions. You get all the training while you are working with an agency. Later, you have to pay for this training.
You always have a support team who can help you to work better with your clients. All host agencies work in their own ways, for example, a cruise host agency helps you sell cruises to clients.
I'm reiterating if you are a novice travel agent with limited experienced and money, starting out with a host agency is the best option. 
Setting Up Your Home Office
As I said earlier, you have to consider the capital that may go into setting up your office.
First, you would like to have a home office space where you can sit daily and run your operations smoothly.
You will require a few basic items:
A high speed computer with high speed internet
A desk or table on which the computer will sit. Be modest while buying a desk or a table.
A nice headset from a reputed company so you can speak with clients clearly.
A printer
For a beginner, this should be enough!
Also read: 25 Best businesses to start with little money.
Working Independently Vs. Working for a Host Agency
As I said earlier, for novice travel agents starting with a host agency is better than going alone. You will struggle at each step.
Here are two examples
Licenses/Certificates
Home-based travel agents may require a license to run their businesses. The requirements depend upon the state you live in.
If they don't require a license, then do have to register. The laws for each state differ.
Insurance
Travel agents who work independently need their own insurance. If you make mistake, then you are liable.
You have to buy your own insurance cost would depend upon the insurance provider.    
But if you are working with a host agency, they will definitely help you out, whether it is license or insurance. Moreover, you have to find your clients and do advertising also.
6 Solid Reasons for Working with a Hosting Agency
I hope by now I have been able to convince you to work with a host agency is better than working independently especially if you are a newbie.
Here I'm giving 6 points as proof.
Training: First of all training is taken care of by them, and you save a lot of money.
License: Any licensing issue is quickly resolved by the agency. So you don't have to worry.
Insurance: You personally don't have to buy insurance if you are working with a host agency.
Clients: For a new travel agent a hosting agency helps them to find new clients.
Advertising: Need not to bother about website, blog, advertising budget, etc.     
Colleagues and Work Environment
How to Choose the Best Hosting Agency?
Now it is time to choose the best hosting agency to get started.
Research about Host Company: You just have to enquire a few things like how they treat their employees, whether agents working there are happy or not, the company is generating profit or not. That's it.
Identify your needs: The host agency you choose to work with should bring the best out of you. It should further highlight your strengths.
Ask for References: See in the hosting agency there are other successful travel agents who you can look up to.
The commission isn't everything: The best hosting agency is which focuses on learning and building relationship with clients.
Benefits of Being a Travel Agent
Get to Know About Great Deals First: If there is a great deal or discounted offer, you are the first one to take note of it. You will come to know before others and make use of it. Especially cruise trips. 
Paid Trips: Veteran (I mean you don't have to be old, just successful) travel agents are being offered paid trips by airlines and the hotel industry. You just have to travel, all the expenses are covered by the company. 
Huge Discount on Travel: Cruise companies, resorts, and hotels are eager to spread the word about their holiday destination. So they are always looking out for market agents like you. They are ready to offer you huge discounts, and in return, you help them grow their business.
Tax Benefits: Here, I am not sure! But you can deduct some of your personal travel expenses from your income tax statement.
Again I recommend you consult your tax advisor. But being a travel agent, you definitely get some tax relief.
How Much Money Can a Travel Agent Make?
Well! There is no surprise to it! If you can groom yourself as a successful travel agent then you can earn some big bucks.
On average in the US, travel agents are earning anywhere from $45K – $100K annually. But the smart ones make up to $250K to $500K annually.
As you know, for a travel agent, earnings would depend upon commissions and not base salary. I'm writing this article to inspire new travel agents by telling them there are agents who are making $1 Million annually from home. 
So it's just up to you. There is no dearth of money in the industry.
Read also: Useful Small Business Applications.
A Word of Caution!  
I'm concluding this article by saying like any other industry travel industry is also prone to weather disasters, the economy, war, etc.
New travel agents should always remember travel is not a basic necessity. It's actually a luxury.
If something major happens, like the Coronavirus breakout in 2019, it could bring the entire travel industry to a grinding halt.
Keep in mind the first thing people cut back on is their traveling plans.
So save your money!   
FAQ
What qualifications do I need to become a travel agent from home?
To become a home-based travel agent, you will need knowledge of the travel industry, strong communication skills, sales and marketing experience, travel experience, technical skills, accreditation, and customer service experience. Keeping updated with the industry changes is also crucial.
How can I learn the skills needed to become a travel agent from home?
To become a home-based travel agent, you need knowledge, skills, and experience. Get them by taking online courses, getting certified with different organizations, gaining hands-on experience through internships, specializing in a specific area, and networking with professional associations.
What are the benefits of becoming a travel agent from home?
Becoming a travel agent from home offers many benefits, such as flexibility, cost savings, the ability to work in a field that you are passionate about, and the ability to be your own boss. It allows for setting your own schedule, saving on commuting and office expenses, and the opportunity to build a business that aligns with your personal and professional goals.
How do I become a travel agent with no experience?
Becoming a travel agent with no experience can be done by obtaining education and training, on-the-job training, certifications, networking, and researching legal requirements for home-based travel agencies.
How much can I expect to earn as a home-based travel agent?
The earning potential for a home-based travel agent can vary greatly depending on factors such as experience, client base, and the type of travel agency. According to the Bureau of Labor Statistics, the median annual salary for travel agents in the United States is $39,820, but commission rates and fees can also affect earning potential. Building a strong client base is essential for long-term success as a home-based travel agent.