Economic condition of the country is very bad and it is further going to get worse. Covid-19 has changed the world forever. People are adjusting to the new normal.
In coming days companies are going to lay off their employees. Finding a full-time job is going to be very difficult. But there is a hope!
Online Freelance Writing Jobs give writers an opportunity to work from their home and earn a decent income. If you are a writer and want to build your own freelancing business then read this article till end.
Top 30 Websites for Online Freelance Writing Jobs
We have given a list of 30 freelancing websites where freelancers can find various writing jobs. You can find good writing jobs if you join multiple freelance writing websites from the list.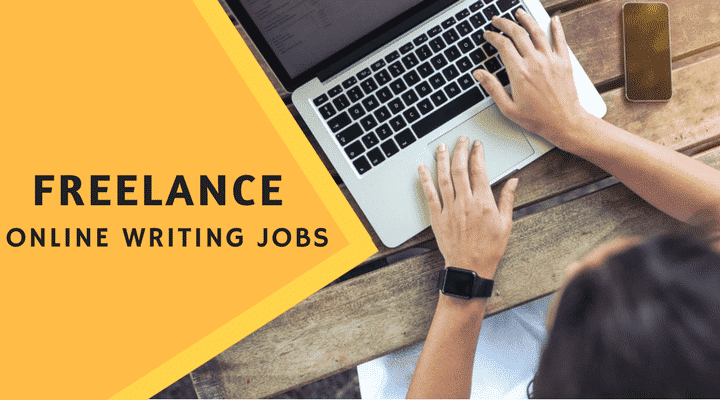 1.    Hirewriters
Writers from English speaking countries like USA, Australia, Canada, UK, Singapore and New Zealand can join as a freelancer.
You get paid for completing various tasks like Writing articles, rewriting them, proofreading articles, blog posting, ghost writing, copy writing and product listings.
You just have to sign up with the HireWriters.com and go to "Edit My Account" and start writing for the clients. It helps if you submit writing samples to your clients.
At Hirewriters writers can be divided into 4 levels – Beginners, General, Skilled and Expert. You make money depending upon the level you belong to.
A Beginner is someone who just starts. General is who has completed 3 jobs with an average rating of 4 stars. Skilled – 8 completed jobs and 4.2 stars. Expert – 15 completed jobs and 4.6 stars.
For writing a new 2000+ words long article a beginner can earn $14.40, a general – $20.20, a skilled – $28.2, Expert – $60.
For re writing, Beginner – $10.4, general – $16.2, Skilled – $19.7 and a Skilled – $53.
More the articles you complete and submit to clients more the money you make. You get paid through PayPal account and the threshold income is $10.
Visit: Hirewriters
2.    Pro-Papers
Pro-Papers is a custom paper writing service for high school, universities and professional work. Here writers will write 3 kinds of articles academic help, admission help and paper editing.
Academic help include writing assignment, coursework, homework, essay, dissertation, research paper etc
Writing for Admission help includes admission essay writing, CV writing, cover letter etc.
Paper editing includes proofreading and edit your papers.
Pro-Papers charges very high rates from their clients. For writing a 275 words long CV for a college student with a 12 hours deadline they charge around $93. On average for a 275 words long article they charge between $25 and $100. Prices are pretty steep.
They pay on an average $3 – $5 per 100 words to their writers. 
Pro-papers have in-house writers from USA, at the moment they don't hire writers online.
Go to Pro-Papers
3.    TextBroker
TextBroker has thousands of writers and authors who execute more than 10,000 content order every month.
Article writers will be writing for corporations, small business owners, e commerce websites, social media communities and publishing houses.
Writing for Textbroker is 100% free, they don't charge authors. Writers can write when they like and there is no limit how much write.
You can join Textbroker, submit a writing sample, get ratings, complete your profile and start making money.
There are 2 types projects/orders for writers. OpenOrder – you choose from thousands of projects but you are paid what client decides, DirectOrder – Clients send projects directly to your email inbox and you get to set your own price per word.
You are paid according to order quality ratings. For an OpenOrder a 2-star writer is paid .7 cents/word, 3 star – 1 cents/word, 4 star – 1.4 cents/word, 5 star – 5 cents/word. DirectOrder writers are paid minimum 2 cents/words irrespective of stars.
You also get rewards and bonuses when you achieve certain milestones.
There is a weekly payoff, you get paid as soon as client accepts them. $10 is the threshold for payouts. You are paid via PayPal.
Unfortunately, only US writers can join TextBroker.
Visit: TextBroker Here
4.    iWriter
More than 800,000 articles written till date by 75,000+ writers
More than 55,000 writing jobs being posted every month
As far as iWriter's clients are concerned then they charge them between $8.25 and $72 per 1000 words. So, for their writers they would be willing to pay $.2 – $2 per 100 words.
iWriter gives their writer to build their own client base and when writers are promoted up the ranks, they can earn up to $80 per 500 words.
The problem with iWriter is writing jobs for the freelance writers are very limited. They have their own in-house writers writing for them.
Visit iWriter Here
5.    Constant-Content
ConstantContent has over 100,000 freelance writers and 50,000 completed orders.
ConstantContent connects big brands like Uber, Walgreens, eBay, Zulily etc with freelance writers online.
You just have to join Constant-Content, create your profile, apply for projects and write for big brands.
For getting an approval you need to complete a short form, pass a quiz and submit a 250 words long writing sample.
Writers can set up their own price and on an average, you can earn $1 – $5 per 100 words.
Top writers at ConstantContent even earn $90,000 annually.
Writers from all over the world can apply for ConstantContent.
Visit Constant-Contact Here
6.    GreatContent
The USP of Greatcontent is that it offers multilingual SEO content production services to their clients. Writers who can write SEO optimized content can apply at Greatcontent.
You can play your role as a copywriter, proofreader, copyeditor, post editor and translator. Some of the popular niches you can write for are Health & Fitness, Travel, Fashion, Music, Food & Drinks etc.
If you want to work at GreatContent then register there for free, take a short-written assignment for evaluation and if you pass the test then access all the available orders.
Just like TextBroker there are 3 types of orders that writers can take. OpenOrders – available to all writers, Group Orders – for selected writers, Direct Orders – one single writer chosen by the client.
You are paid on per word basis. Rates can vary because it depends upon your quality level and the order type. But on an average, writers can earn $8 – $30 per 1000 words.
You will get paid 30 days after the invoice was generated via PayPal account or direct bank transfer.
Only native English-speaking writers can join Greatcontent. 
7.    Fiverr
As you know Fiverr is one of the most popular websites for freelance jobs. Freelancers can find not just writing gigs but many other. 200+ categories you can browse to find a gig.
Freelance writers can find all kinds of writing work on Fiverr. For example, articles & blog posts, content writing, creative writing, technical writing and customized writing projects as per client's demand.
On an average Fiverr freelance writer can earn between $5 and $35 per 1000+ word article. At Fiverr, writers can find gigs which pays more than other article writing websites mentioned in this article. Fiverr's search engine is also way better than article writing websites for finding most relevant gigs.
Unlike other article writing websites, at Fiverr writers from non-English speaking countries can also apply and find work.
Fiverr charges 20% as commission for every billed work. Your money is transferred directly to your bank account.  
8.    Upwork
Upwork is just like Fiverr which offers myriads of services along with freelance writing. Some of the most in-demand freelance writers are in categories blog & article writers, web content writers, technical writers, copywriters and editors.
Freelance writers can take fixed projects which are based on deadlines as well as hourly projects where you are paid for each hour you work.
Rates at Upwork is same as Fiverr. It depends upon per word and the quality of the article. Hourly rates for writers can be minimum $10/hour and maximum $60/hour.  
On an average for per 1000 words article writers earn $5 – $25. Native English writers usually earn more than the rest. 
Highest rated writers at Upwork can easily charge $45/hour – $60/hour.  
However, you do have to pay commission for billed work. Commission can be 5% – 20% depending upon your income.
Just like Fiverr, writers from non-English speaking countries can find work at Upwork.
Visit Upwork Here
9.    Skyword
Skyword is basically a Content Marketing Company which helps companies and clients to build their content strategy. Skyword gives an opportunity to freelance writers, videographers, photographers and designers to work with them.
Skyword has paid $30 million to freelancers till now. Freelancer writers and designers from around 59 countries work for Skyword. They have helped in generating 2 billion-page visits for their clients.
Freelance writers who want to work with Skyword have to create content which stands out from the rest, wins hearts and minds and drive business growth.
You got to sign up with Skyword, create a great portfolio by attaching more than one samples of your work and land new gigs every time.    
At Skyword you are paid on per-assignment basis and NOT on per-word basis. For writing an assignment you can earn $200 – $250 depending upon content type and channel.   
Writers can earn $2000 – $3000 per month freelancing at Skyword.
You are paid via PayPal account.
Visit Skyword
10. Scripted
Scripted is a platform where freelance copywriters and writers can find writing opportunities for blogs, websites, newsletters, social media, video scripts and custom projects.
There are over 143,000 writing jobs available for 92,000+ freelance writers. Over 300 million words have been written by Scripted writers for 46,000+ businesses till date.
Create a profile, pass the test, propose jobs, submit your work and get paid. Passing the test is very important because out of 94,000 freelance writers who applied only 6500 got accepted, rest were rejected. So, if you want to work with Scripted then take the test seriously.
Writers can set their own prices and there is a minimum pricing on each job which ensures all writers earn a fair wage. $20 per article is the minimum price.
Their rates are $.05 for one word which means $5 per 100 words. You can earn up to $40 – $50 for one article.
Visit Scripted
11. Copify
Copify is an UK based freelancing site that offer services like website content writing, blogging, ecommerce content writing, article writing, press release writing and email writing services.
Freelance writers can write for Copify and get paid for their work. Last month they posted around 2574 writing jobs serving over 4400 clients. Till date 61,000+ jobs have been completed by their writers.
Once you sign up and your application is approved you take on assignments. Copify comes with a difference. There are no contracts or commitment here and also you don't have to submit bids or proposals for getting work.
Writers can earn up to £25 per 500 words. However, on an average they earn £5 – 10 for per 500 words.
Payments are issued everyday directly to your PayPal account.
Visit Copify
12. Solvid
Solvid basically offers copywriting services like web content, blog posts, email copy, educational articles, guides and tutorials, press releases etc.
For clients and businesses Solvid can be very expensive for copywriting services. For per word they are charging £.15 from their clients. This means 500 words article they charge £75 and 2000 words £300.
Although they don't offer freelance writing jobs directly but you can contact them and ask if they are hiring freelancers.
So, we really don't how much they pay to their writers but they charge heavily from their clients.
Visit Solvid
13. Blastingnews
Blastingnews is not like your conventional freelancing site mentioned in this article. Here freelance writers are more of a journalist. Although they write on topics like business, food, lifestyle, gaming, showbiz, sports, tech but they write it to grab readers' eyeball.
You get paid on the basis of number of views your article receives. More people you get to read your article, more the money you make. However, traffic must be from English speaking countries.  
Blastingnews rewards you for engaged audience. This means you have to create more viral or controversial content. They have over 44 million readers who are waiting to read your articles.
Blashtingnews pays up to $500 for just one article/story. They have 10,000+ writers already writing for them. Until now over 83,000 news have been published.
Visit BlastingNews
14. Contena
Contena is a paid platform that offers remote gigs to freelance writers. They have over 15,000 writing jobs available at any given time.
Contena doesn't take a commission on your earnings but they have a flat-rate subscription. Gold Membership is at $497 for one year and Platinum Membership is $997 for 2 years.
Paid members get access to Contena Scout which is like a job board where you can read full job postings and apply. Contena Scout saves your time as you can find all the lucrative jobs at one place.
Paid members can also access Contena Rates where you can see what rates companies are paying. This way you can choose only high paying gigs and discard lower paying jobs.    
Paid members also get access to Contena Academy which teaches new freelancers everything from creating writing samples to getting best clients.
You also get money-back guarantee. If you try for 30 days and it doesn't work then Contena will return you money back.
Visit Contena
15. Smashing Magazine
Smashing Magazine authors are mainly web designers and developers just like their readers. So, if you are a web developer and want to make extra money writing articles then you become a freelancer writer with Smashing Magazine. The niche you can write for is very limited.
Smashing Magazine doesn't publish mediocre articles because their standards are very high. They take articles from newbie and experienced writers.
You can write tutorials, opinion, guides and case studies. Your audience will mainly be web designers and developers.
You are paid once your article is published. First time article writers can earn $250 – $300 per article and experienced writers $350 – $500 per article.  
Smashing Magazine also accepts sponsored posts. Writers can write sponsored posts on behalf of a company, get published on Smashing Magazine and charge a fee from the company.
Visit Smashing Magazine Here
16. WritersWeekly
WritersWeekly is a more like blog where you can contribute articles and get paid for it. They publish feature articles, marketing articles and author & book backstories.
As far as freelance writers are concerned then WritersWeekly accepts marketing articles only. For example, they want articles on topics like how writers can make money from their writings, marketing and networking advice, whitepapers etc.
Once they have accepted your article, they pay you $60 and $30 for reprints. Mode of payment is PayPal.
WritersWeekly is not your regular freelance writing website.
Visit Writers Weekly
17. NewScientist
NewScientist, as the name suggests is a scientific journal and accepts freelance pieces on science and technology. Features on NewScientist are mostly written by freelancers.
Before you start writing a feature you have to pitch the news stories to NewScientist. A feature article can be 4 to 6 pages long.
NewScientist pays on per word basis. For one assignment you can earn $300 – $400 depending upon the story.
Freelancers from scientific background can only write for NewScientist and also you get to write limited articles. This is not the freelancing site if you are looking for regular writing jobs. 
Visit New Scientist
18. Cracked
Cracked is kind of a pop-culture list article website where you read articles on topics like entertainment and pop culture. The site mainly caters to millennials.
Cracked gives freelance writers an opportunity to write creative, funny and at the same time weird articles. Writers who have creative instincts and innovative writing style can write for Cracked.
You can earn $150 – $400 per story. For first 4 accepted articles you get $150+ each and from fifth article onwards you will get $250-$300. You also get bonus if your article becomes one of the 10 highest traffic pullers of the month.
Joining is free and you don't have to pay any commission on your earnings.
Once in a month you can write for Cracked but don't depend on it for a regular source of income.
Visit Cracked
19. JustWords
JustWords is an Indian freelance site that offers content writing services like web content, SEO content, social media content, marketing content, ebooks etc.
Indian writers and editors can join the community of freelance and full-time writers at JustWords.
Full time writers are paid a monthly stipend. However freelance writers are paid on pay per word basis. On an average they pay $3 – $5 for one 1000+ words article.
Visit JustWords
20. PaperHelp
As the name suggests PaperHelp offers various essay and paper writing services to high school and university students.
At PaperHelp there are three categories of writers, basic writers, advanced writers and TOP writer. These 3 types of writers write all the papers and essays.
For writing one-page PaperHelp is charging $10 – $56 from their clients. So, they might be paying $.05 – $.25 per word to their writers.
Although they have in-house writers but you can contact them if they are hiring freelance writers.
Visit PaperHelp
21. Essaypro
EssayPro is a top essay writing service that offers Customer essay writing, dissertation, research paper writing, admission essay writing etc.
EssayPro allows freelance writers to write for them. But they have got strict requirements like you must be a native English speaker, you must hold a bachelor's, Master's or Doctorate degree, an experience of 3+ years in essay writing and 24/7 online availability.
So joining EssayPro as a freelance writer is not that easy.
To get started, bid for offers and request your price for custom essays. You can earn $3 – $6 per 100 words. Mode is of payment is PayPal, Payoneer, Skrill.
Visit EssayPro
22. Speedypaper
Speedypaper is also an essay writing service which offers all kinds of essay writing services for high school and university students.
SpeedyPaper has around 1172 qualified writers, 11054 complete orders and 276 writers working for them 24/7 online.
The minimum amount that they pay to their writers is $8 for an article.  
SpeedyPaper have their own in-house writers. They don't hire online freelance writers but you can contact them for more enquiry.
Visit Speedy Paper
23. Hubpages
HubPages is an open community where writers, explorers and other creative people can share their views through articles. You can write about your passion and share it with the world. It can be any topic.
HubPages have 704,655 published articles, 46,500+ published users and 38,000,000 monthly visits.
HubPages allows freelance writers to place 4 ads (Ads from Amazon or Google Adsense) on their article. When someone clicks on the ad you get paid. More the clicks, more the money! 
Visit HubPages
24. Contently
Contently is a content marketing platform that offer content marketing and content creation as prime services to their clients. Hence, to create great content they need editors and writers.
Contently has a network of over 140,000 writers and editors. They have paid $40 million to their freelance community till date.
However, at Contently they look for highly experienced and skilled freelance writer with a technical background. They want editors and writers with over 5 years of experience.
They bill on hourly basis and pay monthly. Typical rate for editors are $70/hour. Writers from finance and health & science background are paid more.
Visit Contently
25. Solidgigs
Solidgigs is a great resource for freelancers who want to build their freelance business. They not just give you quality hand-picked freelance jobs daily but also offer premium courses & tools.
If you join Solidgigs then their team alerts you about the very best 1% of jobs available daily so you don't waste your time. And they also offer training material to train freelancers on topics like pitching clients, pricing your work, retaining the client etc.
You get all of this for a monthly subscription of $19.
Visit Solid Gigs
26. Freelance Writing Gigs
Freelancers can find all kinds of freelance writing jobs here. Copywriting, blogging, content writing, journalism, editing and proofreading.
Jobs are hand-picked from various job sites, classified ads and company websites. The site is basically a job listing site for remote jobs only.
FreelanceWritingGigs doesn't pay anything to freelance writers.
Visit Freelance Writing Gigs
27. WheretoPitch
WheretoPitch is not a freelancing site. But instead it is an educational website that helps freelance writers.
WheretoPitch helps you to decide where to pitch your freelance writing, finding alternative outlets and inspire you to write new topics for new markets.
So they don't hire freelance writers nor it is a job listing site. But a great coaching guide for freelance writers.
Visit WhereToPitch
28. Freelance Writers Den
Freelance Writers Den is the premier online resource for writers looking to build their career as a freelance writer.
They have a great community of around 1200 active freelance writers.
Freelance Writers Den member get access to over 300 hours of trainings and other benefits.
To access training material and job board you need to become their member. Membership fee is $25/month. You are free to end the membership if you don't like their service.   
Freelancer writers earn depending upon their client and the project they are working on. Earnings differ from writer to writer.
Visit Freelance Writers Den
29. Patreon
Patreon is way to get paid for creating awesome things like videos, songs, articles & journals and other creative things. It's not your regular freelance writing job site.
Patreon has 3 million monthly active patrons and 150,000+ creators.
Creators get paid from their fans and patrons every month when they release a new video or a post each time. Get recurring income from patrons.
By the end of 2019 Patreon paid $1 billion to their creators.
Once you start earning, Patreon charges a fee on your income. They charge 5%, 8% and 12 % of your income depending upon the plan you choose.   
Mode of payment is PayPal, Payoneer and direct bank transfer.
Visit Patreon Here
30. Flexjobs
Flexjobs is a job listing site where you can find all kinds of work-from-home freelancing jobs. They have over 50+ categories of part time and full time remote jobs.
They post around 35,000 flexible jobs from 40,000+ companies.
To avoid scams and junk job listing you can become a member. Membership charges are $15/month, $30 for 3 months and $50 for a year.
Visit FlexJobs
Working from home is a new reality in post Covid 19 world. Writers better adapt to this new reality! They need to focus on building their freelance writing career.
I'm sure these 30 freelancing websites will definitely help you to get started with various online freelance writing jobs. Finally I would recommend you to visit each website and learn more about their freelancing rates and commission.