People often ask me how to get a free laptop without doing anything? or how to get a free laptop? Honestly, I was not quite sure. Google searches threw up some results. Unfortunately, some of these free laptop offers simply did not exist.
Yet, there are some legit and genuine sources where you can indeed get a free laptop. Yes, a laptop without paying anything. There are several programs that give free laptop or computers to low income families and college students to bridge America's digital divide.
Sounds amazing. But before we proceed, I will caution, these free laptops are not for everyone. Generally, only Americans living below poverty line or cannot afford one for real reasons can get these laptops.
Here I will list different ways on how to get a free laptop. Check if you are eligible before applying for one.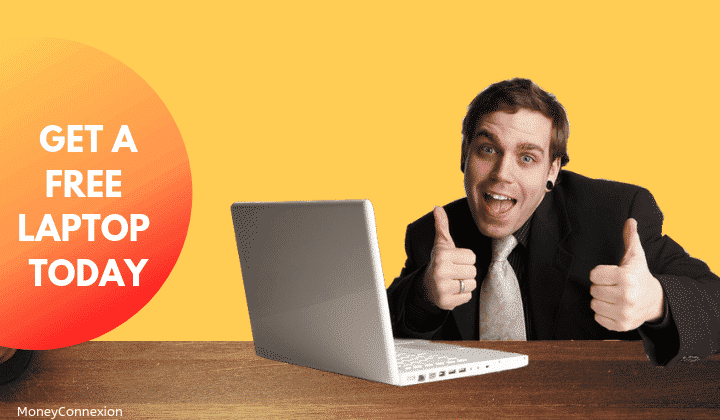 13 Ways to Get a Free Laptop for yourself
After extensive online research, I am presenting this list of 13 legit and genuine ways where you can get a free laptop. You may have to exert some effort to get one. However, efforts will eventually prove worthwhile.
1. Globetops
Globetops is an American charity with operations around the world. If you are a college student and have an amazing project, you might qualify for a free laptop from this charity. They allow donors to give away laptops or donate cash to buy computers under their Career Center Laptop Program.
To get a free laptop from Globetops, you have to submit an online form. You have to give strong reasons why you need a laptop. They also ask you to submit own pictures and those of your project, before giving a free laptop.
This charity mainly donates laptops to deserving people in various countries but also provides a PC for people who actually in need of it. They do provide a free laptop in the US if you qualify for it.
2. Computers for Classroom
Willing to volunteer for a free laptop? Check volunteering opportunities with Computers for Classroom (CFC). You have to volunteer for at least 50 hours with CFC to qualify for it. They have various volunteering opportunities. Find one in your area.
CFC accepts donations of old yet usable PCs, laptops and other equipment. Their volunteers refurbish computers and laptops for kids. Such computers and laptops are given away at very low rates to schools, families of veterans, low income families with students and senior citizens.
3. Dell Trade-In & Recycle Program
You can actually get a free, latest laptop from Dell. But this needs some extra efforts. This large American computer manufacturing company runs its Dell Trade-In & Recycle Program. Under this program, you can collect old computers, laptops and other equipment that people want to throw away.
Collect these items and trade them with Dell for coupons. However, this is not as simple as it sounds. You will have to check what stuff they accept. And how much Dell will pay you as coupons.
Collecting used and old computers that people no longer need and trading them with Dell can earn sufficient coupons to buy a sparkling new, branded laptop.
4. US Government Benefits
The US government provides all types of aid to needy students and their families. Various benefit programs are available to bridge the digital divide and help students from economically weaker families to get money or other stuff.
Under the US government benefits program, you can get a free laptop. However, you need to complete all documentation and provide verifiable proof when asking for laptop or money to buy one. Such assistance to provide a free laptop for college students from government is available to students and their families in various categories.
There are several programs where students and low income families can get free laptop and Internet too. The government will not buy you a laptop or computer. Instead, it will give you money as grant to buy one.
5. Computers With Causes
Computers With Causes (CWC) is an American charity that donates laptops and free computers for low income families and students that cannot afford one. CWC operates in all states of the US.
They accept donations of computers, laptops and other equipment from the public. They refurbish these free laptops for college students and later gives away to students and to the families who lack sufficient resources to buy a laptop.
Getting a free laptop from CWC can be fairly easy if you qualify. Complete and submit the online application form on their website to request a free laptop. Provide all necessary details to enable the proper processing of your application.
6. Redeem Loyalty Points
Generally, every credit or debit card comes with a loyalty program. This means you get points every time either you buy something from grocery stores or electronic items or anything using your credit cards. Walmart and Target also have loyalty programs that allow you to earn unlimited cashback points.
You can accumulate and redeem these cashback points for a free laptop where available. Often, loyalty points have expiry dates. You lose them if not used before a particular date. Check with your credit card/ debit card issuer if you have been enrolled for any such loyalty program.
7. Microsoft Rewards
Ever heard about Microsoft Rewards? It is a loyalty program from the world's largest software services company- Microsoft. Simply visit Microsoft Rewards website and complete the registration form online. Microsoft gives you reward points for every online activity you perform through their website or those of participating partners.
You can earn points simply by using Bing as a search engine, playing Microsoft games and buying or upgrading your software online from their official website. These points are redeemable for everything from software to game consoles and of course, laptops.
8. Apple Trade In
So you want an Apple MacBook? Surely. If you are willing to work a bit, it is actually possible to get a free Apple MacBook. Collect used computers, laptops and smartphones of any brand and if possible, a few from Apple too. A lot of people actually give away useless stuff including Apple products for charity.
Return such stuff under the Apple Trade In program. They accept Apple as well as third-party devices. Check their website for devices you can trade in. Apple rewards you with coupons to buy its own products like iPhone and MacBook. Collect coupons till you have sufficient to get a free laptop- the much coveted Apple MacBook.
9. American Hope Resources
Charity organization American Hope Resources operates a program to give away free laptops to deserving students, families and those facing various hardships. You can request AHR for a free laptop under their assistance programs.
To get a laptop free, become an AHR member. They have various benefits for different areas. Upon successful registration, you can request assistance for a free laptop.
Describe why you need the laptop and hardships you are facing. An online resource on AHR website helps you check eligibility to get a free laptop.
10. Virginia Star
Do you reside in the Commonwealth of Virginia? If yes, contact Virginia Star to get a free laptop. This is a program run by Alliance for Technology Refurbishing & Reuse (AFTRR) that provides a free laptop for kids, needy students and families. They also give away free computers and free laptop for schools.
Virginia Star program covers 77 schools over49 school districts in the Commonwealth of Virginia. You have to submit an online form and proof of income, among other documents to apply for a free laptop.
11. Join Online School/ College
Students can get free laptops when they enroll for an online course from school, college or university. North West Missouri State University is one good example of such facilities. These laptops are Internet ready and have all the necessary features to help you study the online course.
There is one flip side in getting these free laptops for students from online school or college: their tuitions and other fees are pretty high. Yet, students on scholarships and study grants also qualify for these laptops.
12. Work from Home Jobs/ Remote Workers
You can qualify to get a free laptop for jobs you can work from home. Free laptops are given as part of employee benefits that employ remote workers. Some employers will ask you to buy a laptop on instalments and pay the money along with your weekly or monthly salary.
There are lots of debates about whether remote workers should be given equipment they need for their job. Laptop, smartphone and free Internet connection are some of these things. Thousands of employers across America now provide a free laptop to remote workers and those working from home.
13. ConnectEd
ConnectEd is a US government initiative since 2013 that aims to provide free government internet and laptop at all American public schools. Funding comes from the US government while private partners including Adobe Systems, Autodesk, Apple, AT&T, Microsoft and others sponsor free devices, software and other essentials.
Visit their official website to find your eligibility for loans or grants for a free laptop and apply.
Under ConnectEd, launched by President Barak Obama administration, Companies like Sprint will offer one million high school students that do not have Internet connectivity with devices and other essentials.
Other partners have launched similar initiatives too. For example, Apple donated $100 million worth iPads and MacBook among other products under this initiative.
Wrap Up
These 13 ways will answer your question on how to get a free computer. They are not easy or simple. Yet, with the right effort, you can easily get free laptops. You can get a brand new laptop for free in some cases. But generally, laptops given away free are older or refurbished ones.
These laptops will definitely meet your needs, at least for the moment. A word of caution before I conclude: There are several laptops for free scams on the Internet. Beware of those. Moreover, the ways to get free laptops I have described above are all legit and genuine. You can certainly rely on it.