Want to invest but don't have time to visit offices or use computers? Simply use any of these best investment apps to achieve your financial goals.
Nowadays, most banks and financial organizations offer mobile apps. While some are specifically for their clients, others are available for anyone to use.
You can start with as low as $3 to invest in these apps. Additionally, there are several apps where you can get vital information about money markets. These can help you make good decisions to invest.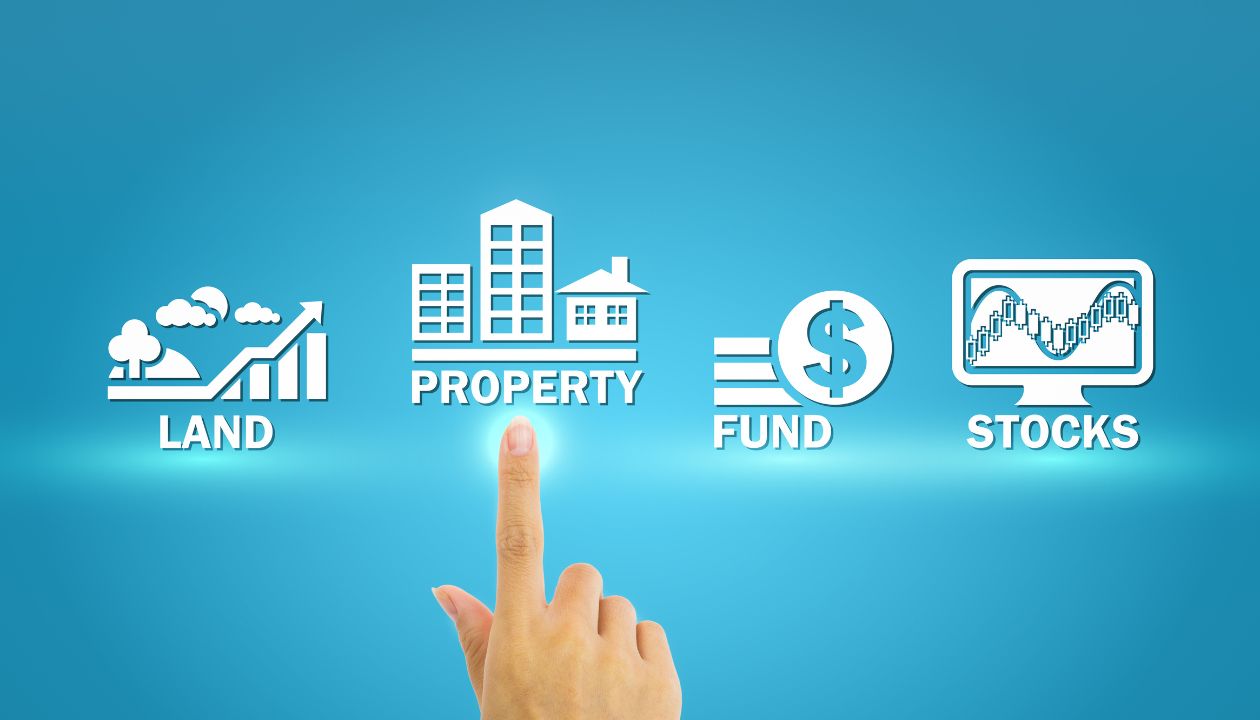 Table of Contents
Best Investment Apps in 2023
You can invest in anything from savings plans to stocks and Mutual Funds, Exchange Traded Funds (ETFs), foreign currencies, and commodities with these best investment apps. Also, download an app that gives proper money market information.
If you are just starting your journey as an investor, these apps will definitely prove useful. These are one of the best investment apps for beginners. They allow you to invest small amounts of money in various attractive and profitable schemes.
1. AJ Bell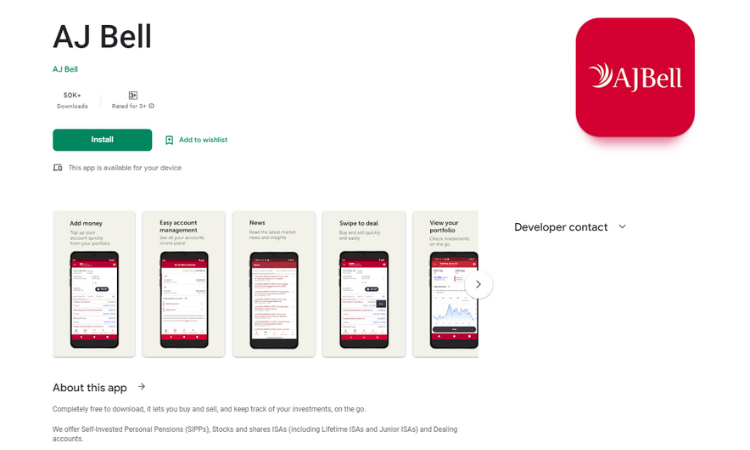 AJ Bell is not an American home-grown financial company. It is incorporated in the UK. However, Americans and people worldwide can also download this app and invest through AJ Bell, a very reputed financial company.
You can trade in stocks, ETFs, and bonds around the world with AJ Bell. To use this app, you can open an account with AJ Bell and start availing of excellent investment and financial services.
This app gives updates from stock markets around the world. Standard charges apply to transactions. This is an award-winning investment app.
2. Investing.com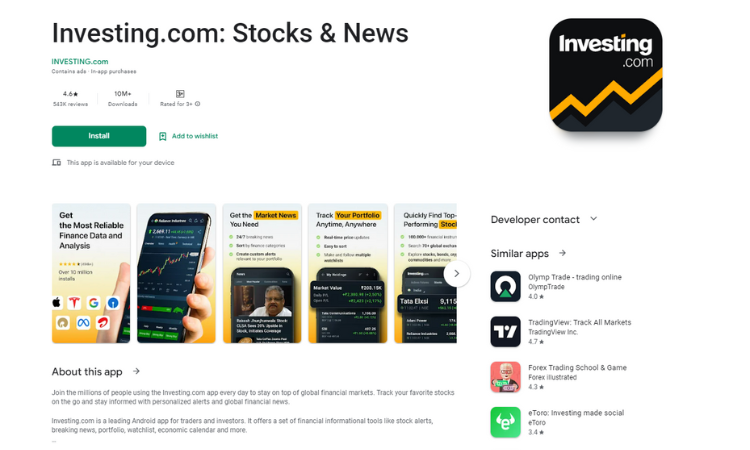 From a leading financial media house, Investing.com is an amazing investment app you should try. It provides real-time updates from all major stock markets around the world.
Investing.com has a tracking facility. This means you can track a particular stock or ETF and invest when it reaches the price you bid. Investing.com helps you to develop a diverse portfolio with some of the best investment options around the world.
3. USAA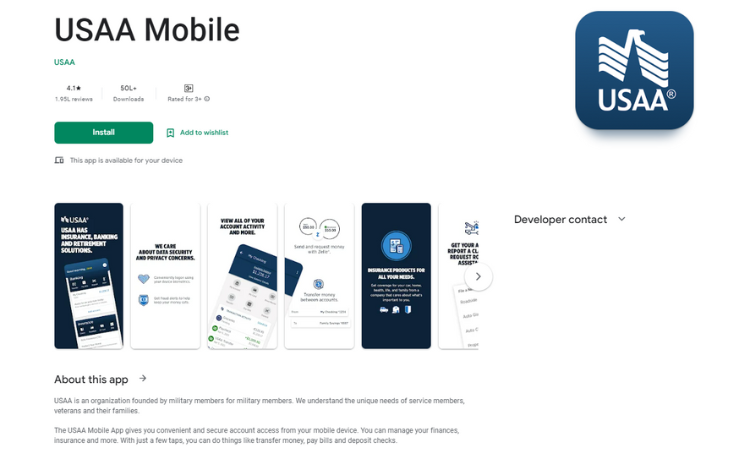 USAA is one of the best investment apps in the US. It comes from USAA, an organization of US military members. You can perform all banking activities, get quotes and buy insurance, and retirement plans as well as place trades in stocks, ETFs, and bonds for your portfolio.
It features Digital Assistant Access- EVA. You can speak to EVA and ask questions to get investment-related news and advice.
4. Webull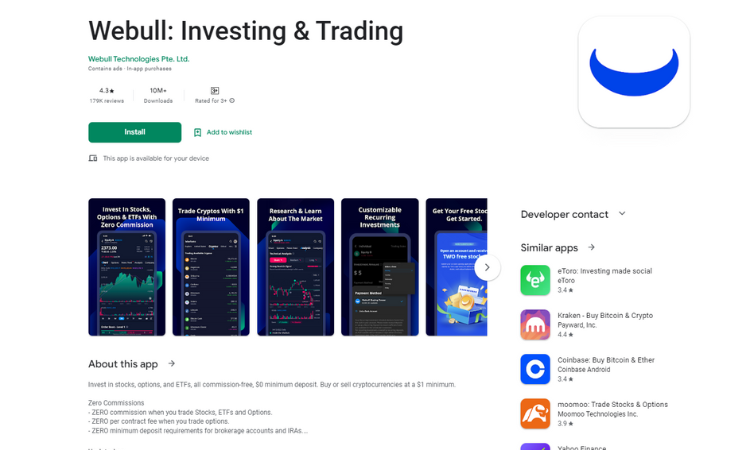 Zero commissions, free stocks for first purchase and referrals, and more stocks when your referee invests more are given by Webull, one of the very good investment apps in the USA.
And this app is not a scam: it comes from a large finance company, Webull Ltd. You can track and invest in stocks and commodities markets. Their referral program allows you to win free stocks. You can invest a very small amount on WeBull.
5. Etrade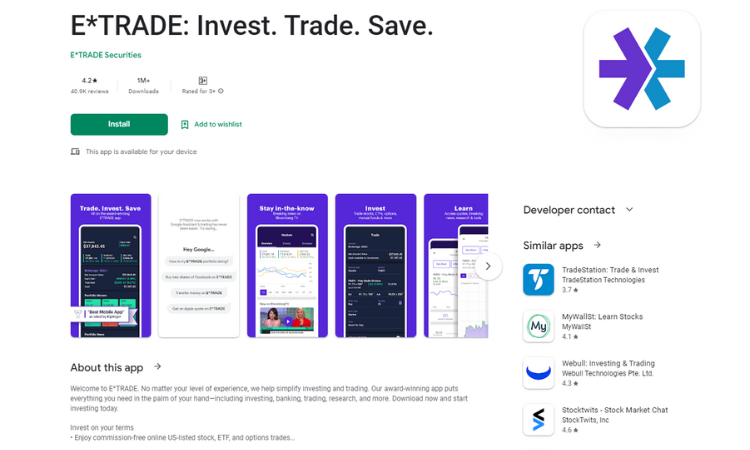 The etrade app comes from an eponymous financial company. You can also open an online bank account with Etrade. This app allows you to place bids on the choicest stocks whenever there is a price drop.
You can also avail full range of banking services. Including depositing checks and viewing the balance of your bank. You can trade stocks, ETFs, and other money market instruments.
Etrade app users can get a debit card from the company. Etrade offers a refund of ATM charges when you use it on machines of other banks.
6. TD Ameritrade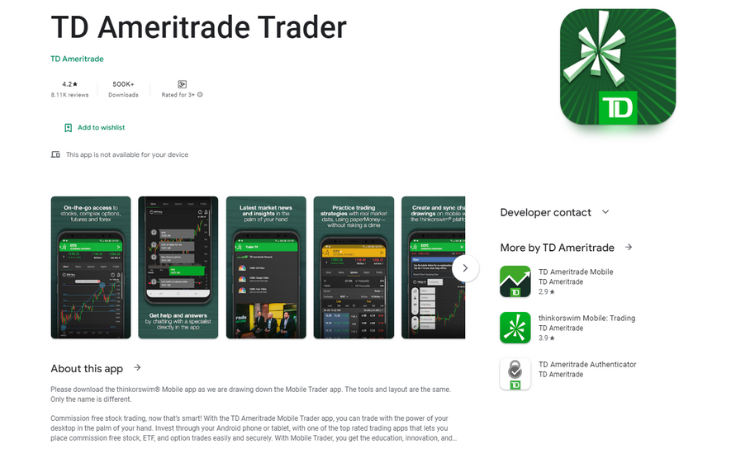 TD Ameritrade is one of the best stock investment apps. This app allows you to invest in a broad spectrum of options, from stocks and ETFs to bonds and retirement schemes. You can chat with investment experts and get live feeds on the money market from reliable sources like CNBC.
It allows you to perform a wide range of transactions for investing in stocks and other instruments. The app is brought to you by an eponymous financial media organization.
7. Degiro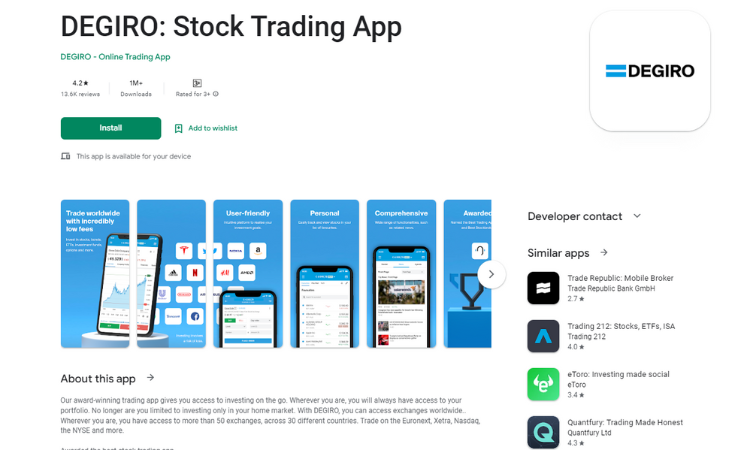 Degiro comes from the eponymous financial company. You need not be a client of Degiro to use their investment app. This app enables you to trade on almost every major stock exchange in the world.
You also get real-time updates from these stock markets on price movements to plan investments. Investing in Mutual Funds, ETFs and other money market instruments is possible with Degiro.
The company is regulated under the laws of the Netherlands and hence, complies with European Union standards. It is available for investors from the USA.
Unique & Best Investing Apps
Nowadays, a wide range of options to make your money grow are available. These are not traditional ways like stocks and bonds. Pension schemes and other channels for investments are available from these apps.
8. Prudential Retirement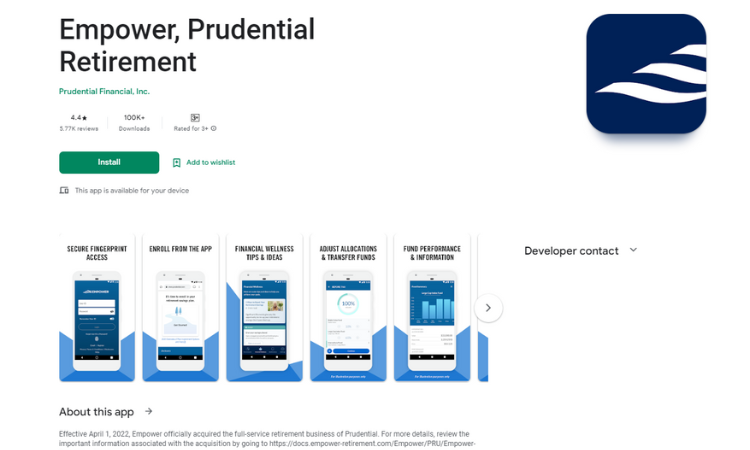 The Prudential Retirement app is for customers of financial companies' retirement plans. However, it also allows you to view and modify your retirement savings portfolio.
You can step up contributions or revamp your portfolio through this best and simple investment app. Functions are limited to Prudential and other retirement schemes only.
9. Bitcoin Wallet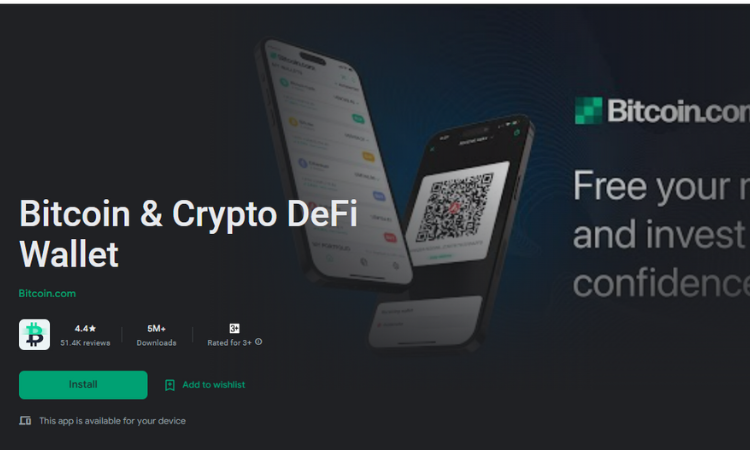 This is the official app from Bitcoin. It allows you to buy, sell and trade in the world's largest and most popular cryptocurrency, Bitcoin. It acts as a cryptocurrency wallet.
Additionally, it features resources to track Bitcoin rates, place orders for the crypto-currency, send and receive payments. You can invest in Bitcoin and other cryptocurrencies with Bitcoin Wallet.
10. Acorns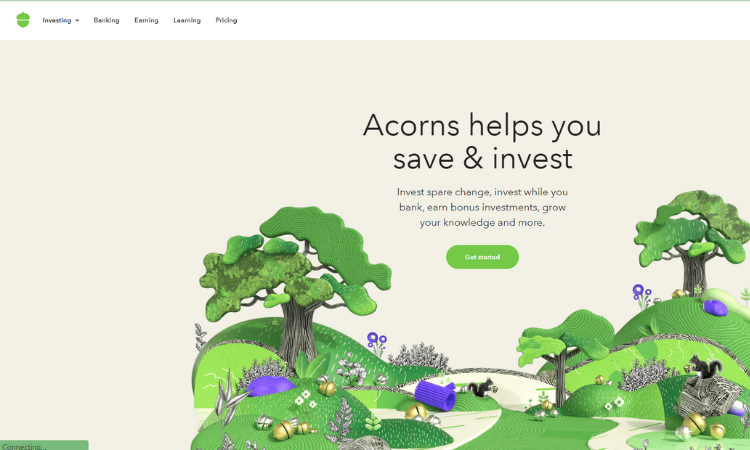 Looking for different ways to get rich by saving and investing change? Download Acorns. This app allows you to invest as low as $3 per day. There are multiple savings and investment options available through the Acorns app.
However, you have to sign-up for an online account through their website before downloading the app.  Acorns has tie-ups with several reputed banks to offer this service.
It is ideal for students or any newbie who wishes to build a portfolio of investments. This app is considered the best stock app for beginners. You can access an Acorns account from a computer or app.
11. FXCM Trading Station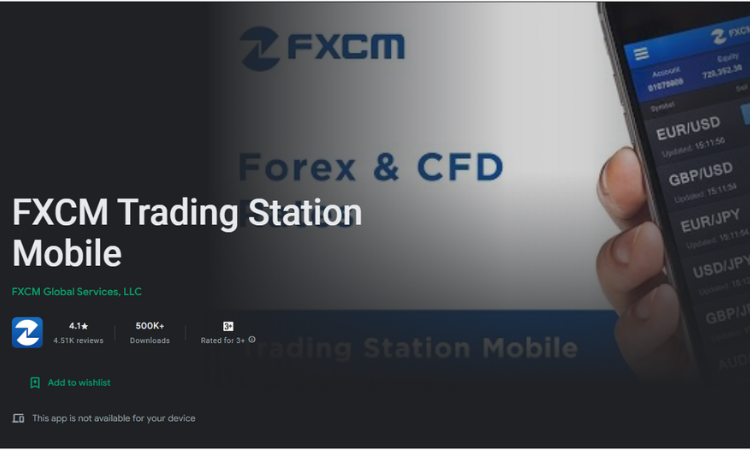 Invest in currencies of the world to get rich quickly. FXCM Trading Station is the best investment app to make money from price swings in the foreign exchange market.
All you need is the app and a bank account. FXCM Trading Station gives live streams about upward and downward trends of a wide range of foreign currencies.
Select your currency and buy using the connected bank account. You can trade round the clock with FXCM Trading Station.
12. OANDA fxTrade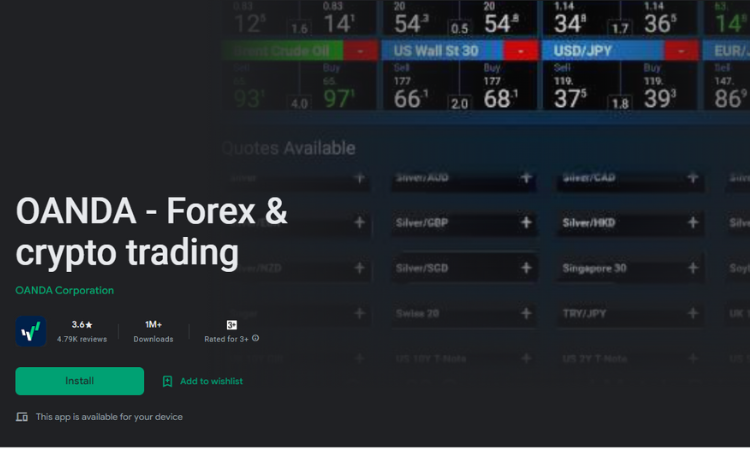 OANDA is one of the free investment apps. Free in sense of zero commission trading in foreign currencies, commodities, and other investment options are available from OANDA fxTrade.
It allows you to invest and trade on any major money market around the world in your native currency. You can also trade in precious metals and unique money market instruments in foreign countries through OANDA fxTrade.
13. APMEX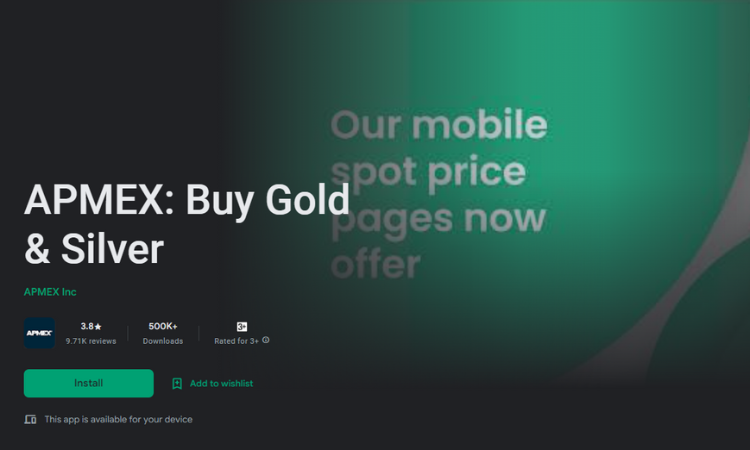 APMEX app is the official app of the American Precious Metals Exchange. It helps you invest in gold, silver, and other precious metals. APMEX app gives live updates and spot prices of various precious metals and various investment options.
You can select any product, view it, get the latest updates, and place orders to invest. You can access APMEX Vault deals with this app to get great offers.
14. Islamic Investors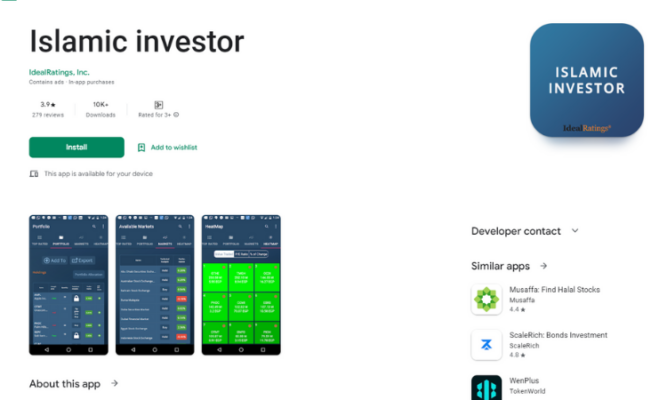 It is the only investment app of this kind. For followers of Islam and the strictures the religion places on specific investors, IdealRatings offers this app.
It allows Muslims to know whether an investment complies with strict rules about money and finances prescribed by the Islamic Sharia law.
It enables Muslims to track these Sharia-compliant investment opportunities and build a portfolio. This app is ideal for Muslims that are wary of investing in conventional methods. However, investment options may be limited.
Miscellaneous Investment Apps
15. Robinhood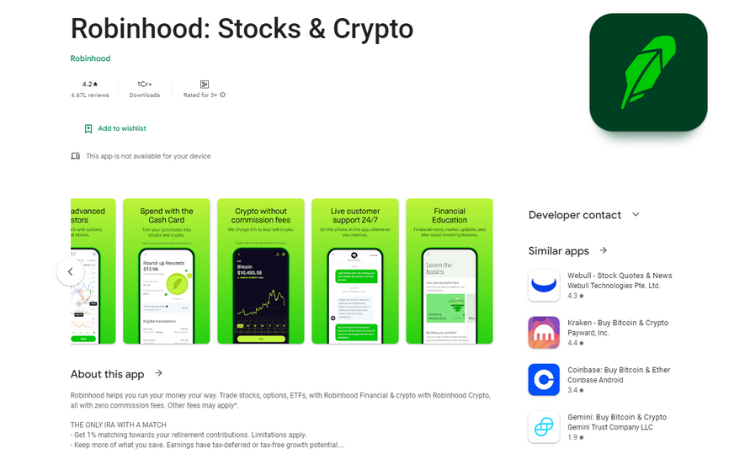 Robinhood is a very popular app among investors. It enables you to invest in ETFs, bonds, stock markets, crypto-currencies, and lots more.
Though Robinhood claims that it does not charge a commission from app users. However, they have a disclaimer that explicitly states: "Relevant SEC & FINRA or other fees may still apply."
This is a good investment app that allows you to invest using any account at a bank or credit union.
16. Securus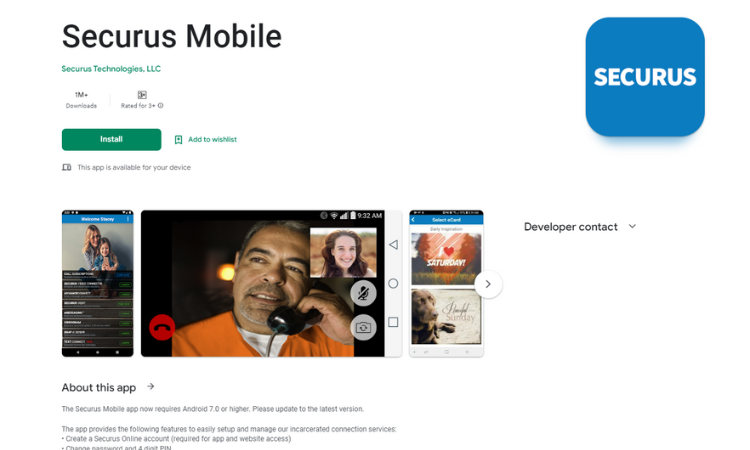 Securus is an app for friends, relatives and well-wishers of people serving prison terms. It enables them to conduct several financial transactions for the incarcerated person. For instance investing, sending stamps, giving credit to make phone calls, and money to buy essentials.
This app is legit and comes from an eponymous financial company in America.
Best & Exclusive Investment Apps
These apps are exclusively available to clients of large financial organizations and banks. They are very reliable and trustworthy.
17. MyMerrill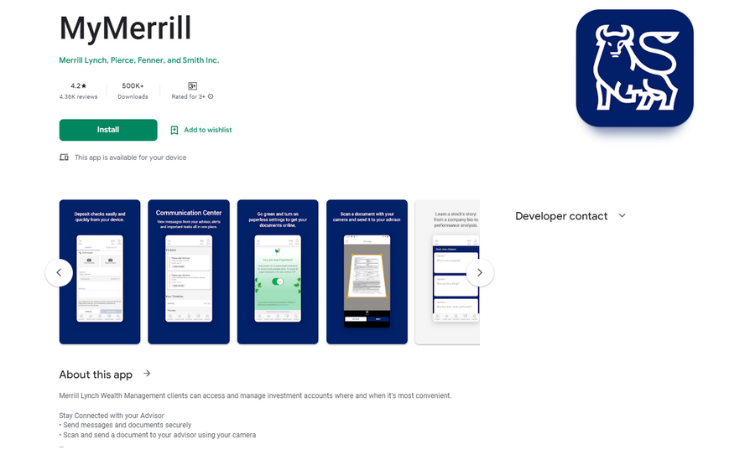 I rank MyMerrill as the topmost and best investment app in America. It is exclusively for customers of Merrill Lynch Wealth Management.
This app allows you to stay in touch with financial advisers, and manage Merrill Lynch and Bank of America accounts. It also helps to get real-time updates on stock markets worldwide, trade stocks, and ETFs. You can buy insurance, subscribe to Mutual Funds, trade on the commodities market, and lots more. Standard rates for trades may apply.
18. Schwab Mobile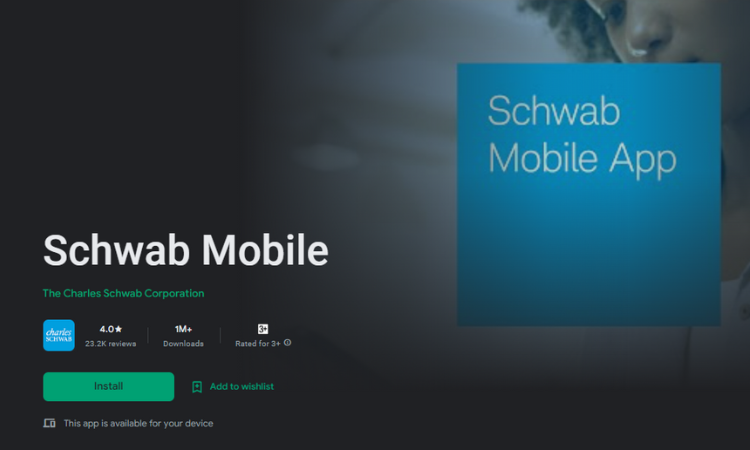 From The Charles Schwab Corporation, this superb app allows you to invest from any location in the world. It helps manage your entire investment portfolio including retirement plans, 401 401(k), Social Security account, and lots more.
This app gives live updates on stocks and commodities markets, podcasts about investments, and a facility to manage bank, credit, and charge card accounts. Standard rates for trades may apply.
19. Chase Mobile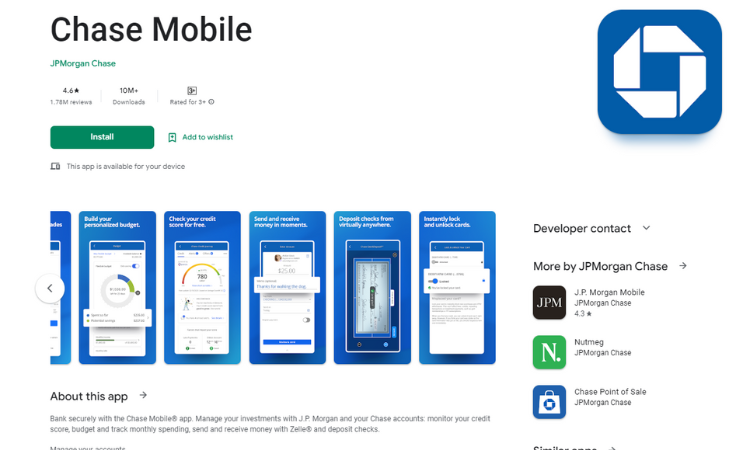 Chase Mobile is an exclusive and wonderful app for JP Morgan Chase Bank clients. It enables you to perform all banking activities and investments while on the go.
With Chase Mobile, you can invest and trade in stocks, commodities, ETFs, and bonds if you have online access to YouInvest by JP Morgan.
Live updates and consulting a Chase financial advisor, sending gift cards, money transfers and lots more activities can be done with this app. There are no charges for trades through Chase Mobile. Standard rates apply to bank accounts and transactions.
20. Wells Fargo Mobile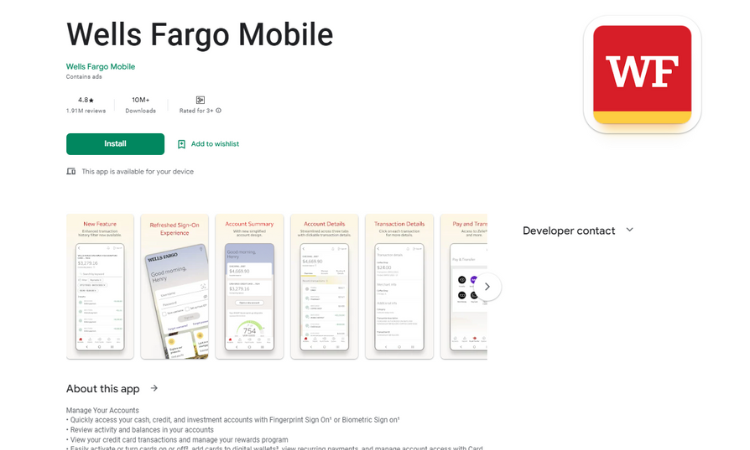 As the name implies, this fantastic app comes from Wells Fargo & Company, a leading financial services multinational. Wells Fargo Mobile is available to customers of its banking service.
This app allows you to invest in various Wells Fargo schemes. You can trade stocks, ETFs, commodities, and currencies with Wells Fargo Mobile.
Managing your bank account, credit card, and other services from Wells Fargo is also possible through this app. However, you need to subscribe to certain services before availing of them on the app. Standard rates may apply.
21. Fidelity NetBenefits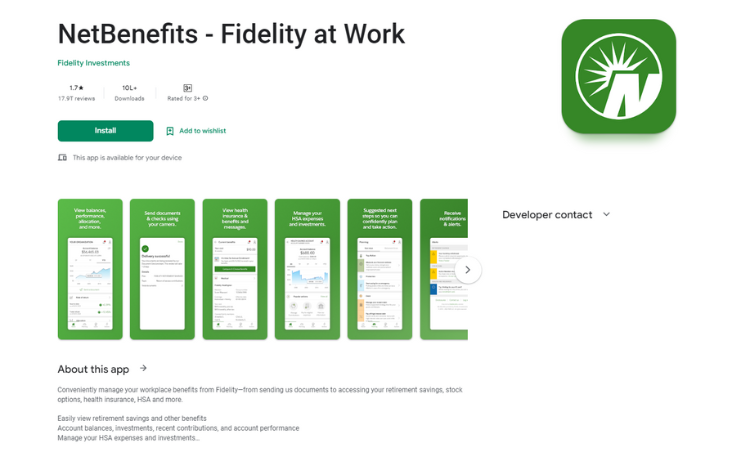 Fidelity NetBenefits allows you to handle all benefits from your workplace with a single app. You have to be a Fidelity client to use this app.
You can view account balances, investments in various schemes, retirement portfolios, 529 plans, and brokerage folios. Investment and retirement planning from Fidelity experts is available free from this app.
Other than viewing balances, you can invest in stocks, pension schemes, and lots of other options through this app, using Fidelity's world-class services. Get a free retirement score from Fidelity with this app. Standard rates may apply.
Best Investment Apps for Business
Here are two apps that can help grow your business by investing worldwide or locally. As you will learn, they come from very reliable sources. These apps will help you invest in various projects around the world.
22. UN Procurement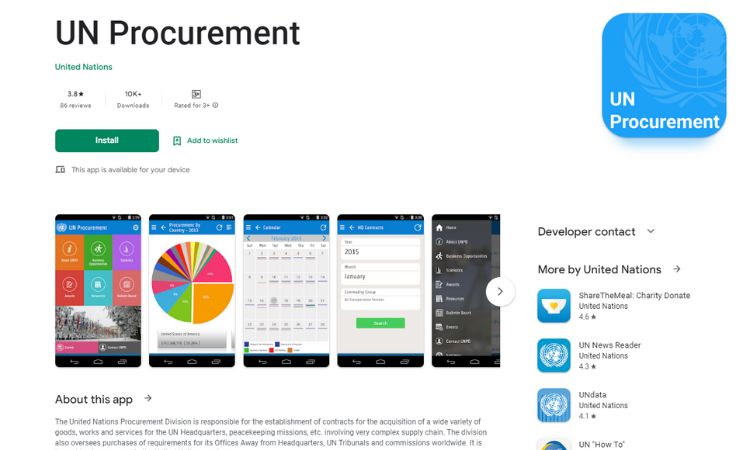 Want to invest in United Nations programs and make money? Download the UN Procurement app. It provides information about various projects and supplies the UN plans to execute.
You can find ample opportunities to invest in these projects and supplies. UN Procurement provides real-time information to business opportunities with the UN around the world.
You can also share and transfer information related to various procurement projects internally. UN Procurement allows you to bid as a supplier.
Best Investment Information Apps
You work hard for the money. Hence, it is essential to make your money work hard and fetch the best returns. This is possible only if you update yourself with money market positions and other necessary information.
23. MarketWatch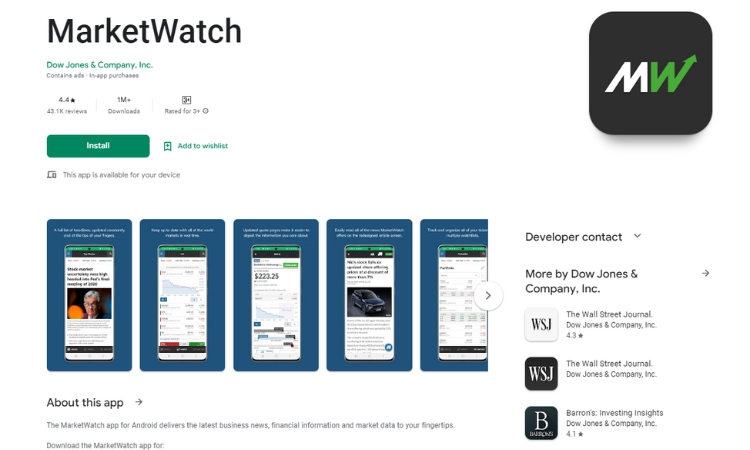 DOW Jones' Market Watch is a must-have app if you are investing in stocks. They provide vital insights into stock movements, emerging trends, the latest rates, and a lot of other information.
Their information can help you make the best investment choices. It is the official DOW Jones app.
24. NASDAQ Quotes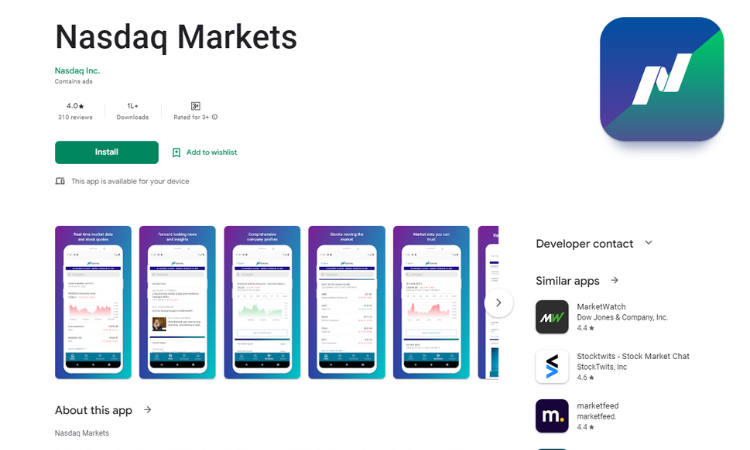 This is the official app of NASDAQ. They offer real-time quotes from US stock markets, indices, stock movements, developing trends, stock market analysis, and lots more.
This information can help you take informed decisions while investing in the stock market.
Wrap Up
The above list of best investment apps would be useful for every investor- small or large. Usually, the best investment apps come from banks and financial corporations as well as reputed financial technology companies.
A word of caution before you download and use any investment app. Ensure they come from a legit and verifiable source like a bank or financial company. There are several scammers that also offer impressive-sounding apps.
However, they flee with your money and commit identity thefts. The above list should help you select the right one that suits your needs.
Remember to check their transaction fees and charges before selecting one. Also, ensure your smartphone or mobile device has no software like AnyDesk. Such software enables hackers to access these apps and steal your financial information as well as investments.
FAQ
What are the best investment apps?
There are several popular investment apps that are well-regarded by experts and users, such as Robinhood, Acorns, Stash, E*TRADE, and TD Ameritrade. These apps offer various features like commission-free trading, user-friendly interface, educational resources, and investment options like stocks, options, and ETFs. However, it's important to note that all of these apps have their own fee structures, so it's important for an investor to understand the fees before investing and consult with a financial advisor before making any investment decisions.
What are the best investment apps for beginners?
For beginners, there are several investment apps that can help them learn the basics of investing and grow their portfolio such as Acorns, Stash, Robinhood, Investopedia Stock Simulator, and TD Ameritrade. These apps offer features like user-friendly interface, educational resources, and investment options like stocks, options, and ETFs. It's important to note that before investing, it's always a good idea to consult a financial advisor and do your own research.
What are the best stock investment apps?
When it comes to stock investment apps, there are several well-regarded options such as Robinhood, E*TRADE, TD Ameritrade, Charles Schwab, and Fidelity. These apps offer features such as commission-free trading, a user-friendly interface, advanced trading tools, and a wide range of investment options. However, the best stock investment app for you will depend on your investment goals and experience level.
Which app is best for new investors?
When it comes to new investors, there are several investment apps that can help them learn the basics of investing and grow their portfolio such as Robinhood, Acorns, Stash, TD Ameritrade, and Charles Schwab. These apps offer features like user-friendly interface, educational resources, and investment options like stocks, options, and ETFs.