Surely you would have felt like giving something to someone. Maybe money, food, clothes or even blood that flows in your veins. We all feel this urge to give something to others.
In fact, giving or donating, is a basic psychological urge. There are many reasons why we want to give.
At the same time, we also wish to know whether the money or things we donated are put to proper use. Unfortunately, this is not always the case.
There are countless instances where errant staff or leaders of reputed charities have run away with money and stuff. Worse, there are also cases where staff and leaders commit abuses on people living under their care- from minor children to helpless elderly.
The next time you want to give something, explore various ways of donation. Giving money is not the only form.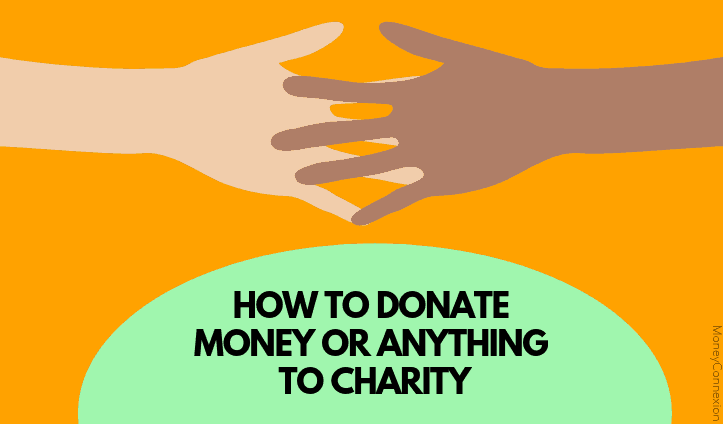 Types of Donation
There are countless types of donations. It depends upon your situation, urge to help and needs of an individual, charities or even country whom you want to help.
Cash Donation
Food
Clothes
Blood
Plasma
Body Organs
Work/ Service
Knowledge/ Skills
Time
Shelter
Miscellaneous Stuff
Regardless what you wish to donate, finding the right person, family or charitable organization is very important. Here is a checklist of what can be done.
Concerned you have little to give? No worries. Even a few pennies or little extra effort is sufficient to spread smiles on people's faces or save that endangered tiger in some foreign land.
Why to Give
We all donate for a particular cause. Because we strongly feel about something. This is the first step in learning how to donate.
While I am sensitive about plight of minor children, you could have concerns about the elderly. Another maybe thinking of how to save endangered animals in Africa while yet others would love to help victims of war.
Therefore, the first step to donate is by identifying the cause you support. Doing so gives a sense of fulfillment. It removes that feeling of helplessness.
Regardless of what you donate and how much, giving always makes you feel good. You feel in control of a situation such as starvation, insufficient healthcare or neglect of forests.
Donating is nothing more than your worries about someone or something becoming an action.
Where to Give
Once you decide to take action on your worries or concerns, the next step is knowing the location. You can donate in your area or community or reach to people or things located thousands of miles away.
Things? Yes. You can donate for things too like preservation of monuments.
Upon finalizing a location, go about finding how to donate. This can be very confusing. For example, you may wish to help people in your locality but are wary of approaching directly.
Or you could want to donate to victims of armed conflict in some part of the world. The easiest way on knowing how to donate is finding an organization involved in charity activities in your area.
If people or things you feel strongly about are in a foreign land, search the Internet. You will find a few respectable charities in every country.
Finding a charity organization which is famous for its work is very important. They can provide details about where your money or stuff goes.
Whom to Give
Now this is a bit difficult, if we purely depend upon appearances of a website and their impressive pictures. Even a scam organization will have a great looking website with appealing photos.
The best way to find a good charity is by looking at who runs it. You will definitely find some names of their leaders and workers on the website. Check their credentials online. If you are donating locally, it is fairly easy.
Also look for news and mentions of these charities and their founders, board members and workers on news websites. Leaders of respectable charities will definitely have an interview or at least a picture published in a newspaper or TV channel.
Reading news about that charity will give a fair idea on how you can donate and what they need.
There are smaller charities too that may not have online presence. In such cases, enquire with the local tax office or the foreign government by sending an email. You will get some idea about their work and profile.
How Much to Give?
Most of us are confused how much to give. On one hand, we do not wish to appear miserly. On the other, it is vital to know how much we can afford.
There is nothing to feel guilty about, if you cannot give much. Remember, you are not the only donor. Also, giving too much to one charity reduces the number of causes and people you can help.
Learning how much to give is important to know how to donate. In some cases, charities really do not need much. They ask money only because they want people to participate in their venture to help underprivileged.
For example, you can feed and educate as many as three children in India with one-off donation of about US$46 only for a year. This means, you have sufficient money left over for donating to another charity.
Some search within your area or on the Internet will show many charities that ask for only small amounts of money as donation. You need not be a millionaire to donate nor feel guilty for giving too little. They will accept any amount.
What to Give
When you know how to give, it is easier to know what to give. What to give depends upon the charity you identify. Generally, most charities will welcome cash donations. But you can donate almost anything.
Electronics, home appliances, automobiles, furniture, women and men clothing, children's garments, toiletries and almost anything that can be put to use or is salable can be donated.
Salvation Army operates in most countries around the world. They support a number of causes- providing relief to war victims, healthcare, prevention of slavery, sheltering the homeless and tracing missing persons.
When to Give
There is no special time of the year when you can donate. People in some countries donate according to the local religion. Others donate on or during festivals. But giving is something that can be done anytime of the year.
If you want to do some serious charity, the best time to donate is immediately after disasters. This is the time when governments and local charities find it hard to gather resources at one place, despite having them in abundance.
It also provides people to come together and help those unfortunate victims.
Nothing to Give?
If you do not have any material stuff or money, it is still possible to give.
Blood
When you donate blood you can save lives of someone's beloved relative. Blood platelet donations help treat Thalassemia patients.
Blood donations are necessary to save lives of accident victims, people injured in terror attacks and those who face life threatening conditions caused by haemorrhage. Worldwide, less than 10 percent of healthy people donate blood.
Body Organs
A lot of people donate their organs while living and after death. These include bone marrow, liver, eyes, kidneys and other body tissues. Organ donations are possible by registering as one at a good hospital. Relatives inform the hospital after your death.
Service/ Work
You can donate some time every day, week or month to serve a cause. For example, homes for senior citizens and orphanages require volunteers for their activities.
Medecins Sans Frontieres (Doctors Without Borders), International Red Cross and Red Crescent Movement are excellent examples of volunteering.
Red Cross/ Red Crescent has over 17 million volunteers worldwide. Ham radio operators worldwide rush to assist victims of natural disasters by setting up communications, where telephone and other links fail.
Food Donations
If you feel strongly about starvation and malnutrition, donate food. You can donate cereals and pulses, tinned goods, ready-to-eat meals, flours, sauces, spices and loads of other foodstuff items to charities.
In fact, significance of donating food is mentioned in scriptures of every major religion of the world. For the spiritual minded: donating food is a godly act.
Clothes
Instead of leaving unwanted or old clothes to clutter your closet, donate them to people or an organization. There are countless charities around the world that want those clothes to dress the needy.
Usually, churches at most places also collect clothes to give to the needy. Or they hold garden sales where people can buy used clothes and donate the money to a charity or cause.
Shelter
Understandably, nobody is going to donate their house. But there are hundreds of instances where people have indeed given up their homes to set up orphanages, shelters for the poor.
However, you can donate for someone's shelter indirectly. There are programs to shelter victims of domestic violence, child abuse, war refugees and other helpless people. You can donate cash or stuff to these organizations and help them build shelters.
Medicines
Peep into your medicine box or drug closet. There could be some pills that are lying unused. They can be utilized by charities that collect medicines and supply them free to patients of various diseases in poor countries.
An excellent initiative of this kind exists in Europe. You can join them online and donate medicines by paying cash or sending pharmaceutical products for distribution in poor countries.
Online Survey Points
Gift and shopping vouchers you receive for completing online surveys or other activities can also be donated. Often, survey companies will give you an option of donating the points in your account to a charity.
Usually, the company will send cash worth the amount of points they collect from you and other donors, to a charity. They announce which charities are going to get the money or you can select one of your choice.
Greeting Cards/ Stationery
International organizations like UNICEF sell greetings cards and other stationery. When you buy their greeting cards, most of the money is used for charity.
Only the actual cost of printing the card will be kept and used to print more. The next time you want to send greetings for a festival, New Year or special occasion, buy these greeting cards.
Buying Gifts
Did you know that buying gifts for someone you know can also help someone? This is made possible by several organizations. You can buy their gift items. Part of the money you pay goes towards charity.
These organizations have very exquisite gift items that will delight anyone. Not only are they reasonably priced, they also give you a chance of helping someone without spending extra.
Shopping
Donations by shopping? Yes, that is right. When you shop at certain stores, you are actually helping their fundraising activities. You do not pay anything extra while buying groceries and other essentials.
Instead, the store will donate a small percentage of profits made by your purchases to a charity. Usually, the store will donate for shopping both- online and physically.
Postage Stamps
Unless you are philatelist or collecting stamps for someone, donate them to a charity. There are several charities worldwide that will happily accept used postage stamps from any country as donations.
Some charities package and sell these stamps to collectors. Others recycle them into paper that can sell in the local market.
Old Mobile Phones
With smartphone prices dropping around the world, those old models locked up in your closet or dumped somewhere are useless. Instead, donate them to charities.
A lot of famous charities use these old mobile phones in two ways. Some repair and sell them to raise funds. Others recycle them to make other saleable products. Few others give them to underprivileged people in poor countries for communicating.
Footwear
Empty out your closet of all old footwear like shoes, slippers, sandals, flip-flops and others and donate them. Millions of people around the world go barefoot because they cannot afford footwear.
There are charities that willingly accept old and used shoes, repair and provide them to needy people. Your old shoes can help save someone from injury caused by walking on unpaved streets and mud tracks.
Reusable Plastic Bags
Those common plastic bags that stores give away free or at a small charge are also accepted by charities. In fact, these charities work in two ways: they prevent plastic from causing environmental pollution by recycling into newer products.
Secondly, the recycled goods is sold and money used for some good cause. Such causes include treatment for cancer patients, education of underprivileged children and meals for needy, among others.
Scrap Metal
Junk metal lying around the house? Put it to good use by donating to a charity. There are several charities around the world that collect this scrap metal, recycle and sell it for profits.
The money is then used to provide basic necessities such as food and clothes. The next time you have scrap metal, send it to a charity.
Lens & Glasses
You can help people around the world to improve their vision and see by donating those old pair of glasses and lenses lying without use.
Many charities worldwide collect these spectacles and provide them to the poor suffering from vision problems. When you donate glasses and lens, you may be helping someone to get back to studies or work.
Unwanted Gifts
Come Christmas and it is gifting time. Those expensive gifts you receive or give someone else can often be useless. Because you already possess such an item and do not need a replacement.
In such cases, donate the unwanted gifts to charities. They can auction it and raise funds for their charitable activities.
Condoms
This is nothing to laugh about. Truly. Condoms are hailed for protecting people against the scourge of Human Immunodeficiency Virus (HIV) infections that causes AIDS.
Condoms also help prevent unwanted pregnancies. They are useful in protecting against Sexually Transmitted Diseases. There are several charity organizations that dole out free condoms at red light districts, college campuses and public places.
Their work is made possible when you donate condoms, either by donating some money. You can also donate condoms by buying online and sending to these organizations.
Books
You can donate old novels, comic books, text books and even partially used note books. There are several organizations that willingly accept old books as donation. They recycle these books or sell them in the second hand market to raise funds.
The books you donate are also given to students that cannot afford new ones. This means, you are promoting literacy and education with your donation of old books.
Skills
For those of us having specialized skills, teaching them to others is the best way to donate. "Give a man a fish and you feed him for a day. Teach him to fish and you feed him all life," as the old adage goes.
Indeed, you can teach someone how to cook, repair, stitch or do something useful for others.
The skills you donate will help one or more person to earn money. It will remove their dependency on charity while lifting them out of poverty. This is one of the best ways to donate without having anything.
Hair
While you can have a fancy hairstyle, those tresses and curls cut by your hairdresser can actually help an unfortunate person. The hair you donate can be used to make low cost wigs for cancer patients.
Usually, cancer patients lose most or all their hair due to chemotherapy and radiation therapy. Coping up with sudden baldness only adds to sorrows of already woebegone people.
When you donate hair, they can get cheap wigs that makes them look good again.
Used Cosmetics
When you are no longer fascinated by that colour or lipstick or find better makeup, do not throw away the unused portions of old ones. Instead, donate them to charities.
There are several charities that collect these cosmetic products. They provide these cosmetics to women from underprivileged communities, victims of domestic violence, families suffering from addiction abuse and women in prisons, among others.
That expensive mascara you bought can help a poor teenager to highlight her beauty. The unwanted lipstick you donate can restore a smile on victim of domestic violence. There are some charities that accept these used cosmetics and provide them to needy women.
Fundraising Campaigns
Consider you have nothing to give away but still want to do charity.  This too is possible. Simply volunteer for a fundraising campaign. Your job will be to seek donations face-to-face from people visiting public places.
You can help raise funds online too, through your Facebook page. Nowadays, lots of people fundraise on their birthdays through Facebook. They ask friends to donate to the cause.
Own Fundraiser
If all this is not possible, you can still donate. Ask a nearby school, orphanage, home for aged and other small charities if they need funds. Create your own fundraiser and collect money and stuff for these organizations.
You can create an excellent fund raising campaign online. There are several free resources where you can ask people to donate money or stuff for a needy person, community, organization or even a country.
You need to be very careful here. Firstly, you will require written permission from the organization to collect funds on their behalf. Secondly, you have to keep proper records of money you collect and hand over to the organization.
Failing to do so can cause serious problems. You can get branded as a fraud and even land in prison for collecting funds from the public. The best way is to collect cheques and stuff or set up a donation box at your home.
Wrap Up
Giving is a very pleasurable experience. We all want to be part of something big and stand up for a worthy cause. Unfortunately, worries about money and lack of time prevent us from doing charity.
Not doing charity can leave you feeling with a sense of uselessness and emptiness. Regardless of what your situation, it is always possible to give.
Consider these ways on how to donate that we mention above. You will definitely find one or more ways to donate.