Any regular shopper at Walmart would have heard of the credit cards offered by this giant retailer. As consumer, you would be keen to know about various features of these credit cards.
Therefore here is an unbiased Walmart Credit Card review to help you make the right choice.
There are two types of credit cards available from Walmart. One is issued by Walmart while the other is a co-branded credit card issued by MasterCard.
Having either of these Walmart credit card makes sense if you are an ardent shopper at Walmart's brick-and-mortar stores or online.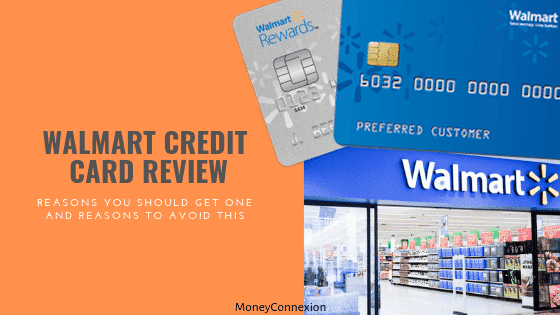 Comparison of  Walmart Credit Cards
Walmart offers an account opening offer for new entrants. To qualify for this offer, you need to buy stuff worth US$25 or more at Walmart and apply for a credit card.
Generally, most credit cards are approved on the same day. In some cases, your application may take a couple of days to be processed.
Walmart Credit Card
Ideal if you have low credit rating (Less than 630).
Saves money on gasoline purchases from Walmart. It offers savings of five cents per gallon.
Zero percent Annual Percentage Rate financing. This is ideal only if you will pay the entire amount spent on your Walmart credit card at the end of the billing cycle. Otherwise, you end up paying an APR of whopping 22.9 percent per year.
No annual membership fee.
Walmart MasterCard
Not ideal for people with high credit rating (Over 630)
You save five cents per gallon on every gallon of gasoline bought at Walmart.
Zero percent APR financing, provided you pay off all outstanding amount at the end of every billing cycle. If not, you are charged APR at 22.9 percent per annum.
One percent cashback on all shopping at Walmart and other merchants where MasterCard is accepted.
No annual membership fees.
Walmart 3+2+1 Program
Both Walmart Credit Card and Walmart MasterCard Credit Card offer automatic enrollment to the 3+2+1 program of Walmart.
This means, you save three percent of your spend on Walmart.com and grocery pickups.
Additionally, you save two percent of your spending on Walmart and Murphy USA gasoline stations.
Discount of one percent on all shopping made at Walmart across the US given as cashback.
One Percent Cashback
The one percent cashback on all Walmart credit cards is not a real incentive for shopping at the store.
You need to spend minimum US$500 per year at Walmart using any of these cards to qualify for cashback rewards.
Cashback rewards can be redeemed only in multiples of US$5.
These cashback rewards are valid for only one calendar year from date of issue shown on your credit statement. They expire if you do not utilize them within the stipulated period.
This one percent cash back is given on purchases made with Walmart Credit Card or Walmart MasterCard using Walmart Pay in a Walmart store, Walmart Super center or Neighborhood Market.
In Store Financing
In-store financing is perhaps the only major salient feature of any Walmart credit card. This system is rather simple and offers a major advantage over other credit cards.
To utilize the in-store financing option, you need to first download and print a coupon from the Walmart website.
You have to make the purchase using this coupon and pay with your Walmart credit card.
For purchases made using in-store financing, you can pay in six, 12, 18 and 24 months without any APR burden.
Late payment on purchases made by in-store financing attract heavy APR of up to 22.9 percent per year.
In-store finance is available without APR for purchases between US$150 and US$298.99 for six months.
For purchases worth US$299 and US$428.99, you get in-store financing without APR for a period of 12 months.
An APR free in-store financing for 18 months is available when you buy goods worth US$428 and US$598.99 from Walmart.
If you are buying stuff with in-store financing worth US$599 and above, you can get a maximum APR free credit period of 24 months from date of purchase.
Walmart Credit Card Convenience
Walmart has some 7,800 stores across the US. This means, there is one Walmart store within a radius of 10 miles anywhere in the country. The location makes it convenient for people to shop at Walmart.
Further, Walmart also operates an online store making it even more convenient to shop from the comfort of your home.
You can also do your Walmart Credit Card Payment online by signing up and loging into its web portal. And if you are already a Walmart Card owner but have not registered online yet then you can do so here.
Alternatively one can also pay Walmart Credit Card Bill directly in the store at the customer care section. If you are a regular shopper at Walmart, getting a Walmart Credit Card may make some sense.
Comparison of  Walmart & Other Credit Cards
You will notice from my above review that Walmart credit cards offer no special benefits. They are ideal only if you have a poor credit score less than 630 for any reason.
The one percent cashback offer is riddled with loopholes. Unless you are a heavy spender, these cashback points are useless since they may not fetch anything significant.
Savings on gasoline can be considered an incentive, provided you refuel only at Walmart or Murphy USA.
In-store financing is a good feature if you are making a major purchase and cannot access other similar services due to poor credit scores.
The zero APR facility is fine but nothing unique. Every credit card offers similar facilities for customers that pay all outstanding dues at the end of every billing cycle.
The zero membership fee is a facility is attractive. But as I mention earlier, all Walmart credit cards do not offer significant benefits.
Fraud protection that comes with Walmart credit card is nothing different over other similar products.
In Conclusion
Opt for a Walmart credit card if you are looking at saving money on gasoline and refuel at Walmart or Murphy USA stations. Walmart credit cards are also ideal if you wish to avoid hassles of credit ratings or have a poor score.
The in-store financing is a great option provided you are looking to buy some expensive household product and cannot afford to pay cash-down. But utilize this facility only if you are confident of repaying within the stipulated time of APR-free credit.
If you are a student or a first time credit card user then you may also want to read the following:
Walmart credit cards are excellent if you reside in the vicinity of their store: it helps save a lot of time and the bother of carrying cash for small purchases.