Amazon sells practically everything under the sun – which is one reason why their gift cards are so popular and always in demand.
But there could be instances when you are gifted an Amazon gift card that you don't really want – for whatever reasons – and would much prefer to get its cash equivalent instead.
What do you do in a sticky situation like this?
Well thanks to the wonders of technology and the internet, there are in fact several ways you can get cash for your gift card.
In this article, we will show you not one or two but 25 easy and simple ways you can redeem your unwanted Amazon gift cards and get hard cash in return.
So fasten your seat belts and read on.
List of 25 Ways to Sell Amazon Gift Cards for Cash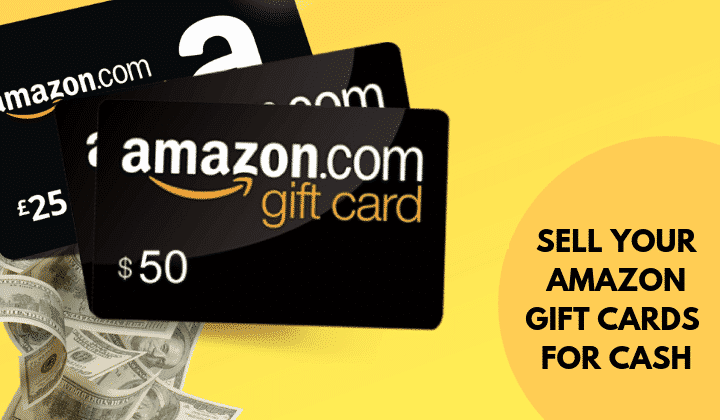 1. GiftCardGranny.com
GiftCardGranny.com offers you more than one way to convert amazon gift cards for cash. You can sell it (or trade for another gift card) at a gift card exchange close to you for instant payment.
You can choose to sell it on top gift card websites, pick the best offer and pocket the cash (upto 92% of the value) within days.
Or you can directly trade it in for a choice between a dozen well known retail gift cards to get a much higher payout.
The website offers three methods of payment which include; check, PayPal and ACH.
2. Gameflip.com
Gameflip is another website that accepts amazon gift cards for cash.
Some of the famous gift card brand listed here include Steam cards, PSN, Xbox Live, Amazon, iTunes, and Google Play cards to name a few.
Sellers have the option of listing their unwanted gift cards on their website directly or on their free mobile app.
Once a buyer receives your gift card code, redeems and completes the transaction by rating, the money is instantly credited to your Gameflip wallet.
You can choose to withdraw it anytime using your bank account, PayPal or Bitcoin.
3. GiftCardBin.com
Unfortunately, this website has stopped accepting gift cards from individual sellers looking to sell online.
But you can still sell Amazon gift cards using any of the 400 offline stores in their network across the US and Canada.
All you need to do is take your gift card and a valid ID to the store closest to you where it will be verified, and you will get paid in cash.
4. CardKangaroo.com
This online secondary gift card marketplace provides a safe, trusted and reliable online platform to buy, sell and exchange gift cards for money.
To sell your card, you need to share the gift card information with them online. They, in turn, will get back to you with an offer which could be as high as 92% of the value of your card.
The next step involves submitting your gift card once you accept their offer. Once the transaction is completed, you will get paid via check sent by mail or electronically using PayPal.
5.  GiftCardSpread.com
On this website, you will get to decide the price you want for your unused Amazon gift card.
The website will get back to you within 24 hours if the price is acceptable. If not you will receive a counter offer from them which you can accept or turn down.
If the deal is finalized, you simply have to upload your credit card details and valid ID within 24 hours.
Next enter your gift card details electronically, or alternatively, you can ship it to their Chicago location.
Once received, the card will be verified and your payment will be processed and sent to you via ACH.
6.  CardCash.com
This website buys unwanted gift cards for less than their actual value and then sells them at a discount to thousands of savvy shoppers staying across the country.
It's a great way to get rid of your unused gift cards and make some hard cash (upto 92% of the value) in the process.
You will get paid via ACH deposit, a check in the mail or via PayPal.
Alternately you can even choose to trade in your gift card for a brand new gift card from the available brands.
7.  Zeek.me
This online marketplace claims to sell unused gift cards in 37 minutes flat and adds they have sold more than 700 different brands this year alone.
A seller looking to sell his Amazon gift card here needs to first list his card on the website.
Even if yours does not happen to sell in the promised 37 minutes, the site does vouch for the fact that a majority of gift cards posted for sale to sell within a few hours of listing.
You also get to choose from multiple secure payment options which include PayPal or direct credit to your bank account. Alternately you also have an opportunity to exchange it for a different value of similar value.
8. Giftcardio.com
This website lets you exchange amazon gift card to cash and also offers some great deals. To sell Amazon gift cards, you will need to first enter your gift card details online to get the price estimates for your card.
Next, you get to choose the price you want to sell your card for from the options provided. The average Gift Cardio user sells their gift card for approx.94.3% of its value – which means if you a $100 gift card you could sell it for $94.3.
Payment options include PayPal or a paper check mailed to you.
9. SellMeGiftCard.com
This website announces itself as – the world's biggest Amazon gift card exchange site. And it's pretty simple to use too.
Just enter your required Amazon gift card information to receive a cash offer in exchange for your card(s).
If acceptable, you will need to share some more details like your claim code, card balance, PayPal account details and your email id – which will then be verified.
That's it. Once the card balance and your other details have been verified, you will receive the money directly into your PayPal account.
10. Cardswap.ca
This online marketplace for buying and selling gift cards is a popular choice among sellers looking to offload their unused gift cards across Canada and the US.
The process is also fairly simple. You will need to share your Amazon gift card information with the site which in turn will list on their website for buyers who may be interested in buying it.
You stand to make upto 92% of the value of your gift card by a paper check or PayPal credit, once the card gets sold.
11. MonsterGiftCard.com
On this website, the first thing you need to do is click on the Sell tab to find out what MGC will pay for your Amazon gift card. Next, if you are ok with the price offered, enter the current value of your card, the original balance and then click on the Sell button.
If it's a physical card, you will need to ship it to them at your own cost. Once received and verified you should get your cash within 3-5 business days vide check/PayPal/Dwolla.
12. Raise.com
This online marketplace is one of the most popular options to exchange amazon gift cards for cash of any brand.
All you need to do is list it online. You even get to set the price you want for it.
Raise will verify your gift card details and balance before listing it online.
You get paid the moment your card finds a buyer.
Payments are made via Direct Deposit, PayPal or check when your card sells.
Some Other Ways to Sell Amazon Gift Cards
I have found out some more ways to sell your Amazon gift card.
13. Try a CoinStar Kiosk
You probably have seen these machines in sundry stores which turn your loose change into bills. Well, the machines have since been taken over by Cardpool – one of the leading players in the business of buying and selling gift cards.
All you need to do is take your Amazon gift card to the nearest Cardpool kiosk and enter the card and ID information.
You will then see an offer (upto 85% of the card value) for your gift card on display. If you accept the offer, you will need to enter the card into the slot provided and collect the cash; alternately you can just cancel the transaction and walk away.
14. Reddit
This website also has a barter thread (a subreddit) which allows you to trade items like Amazon gift cards in exchange for free tangible items or a service that you may require.
All you need to do is list your Amazon gift card on their site and wait for a suitable barter offer to come up.
But before you get all excited at this novel concept to make sure you read all the applicable rules listed in the sidebar, before going ahead with registering your gift card.
15. Craigslist
You can easily find a buyer for your unused Amazon gift card by merely listing it on Craigslist. Once you find a potential buyer, you might need to verify the balance in your card in his/her presence.
The advantage here is that the buyer may well be someone from your own neighbourhood, plus you will be paid in hard cash (sans any of transaction fee deducted on other online websites).
A small word of caution here though, if the buyer is not known to you make sure you meet him/her in a public place and take the payment in cash only.
Also Read: How to Make Money with Craigslist? 5 Excellent Ways
16. eBay
Like Craigslist, you could try this popular online platform to sell Amazon gift cards. Now a couple of things to remember before you go ahead with the listing.
There may be listing (and selling fees) involved so decide on a price after taking both into consideration.
And if the buyer happens to stay in some other city/state, there may be shipping charges involved as well – assuming of course that you have a physical gift card. So that needs to be considered as well.
17. Facebook
If you're already on Facebook, you are probably aware of the many Buy and Sell groups on this popular social platform.
Listing your Amazon gift card for sale on one or more of these groups could be a great way to find a buyer. But do remember to take the necessary precautions to guard against potential scammers.
The second option you could try out is to put out a single post – saying you want to sell Amazon gift cards for X amount – and share among family and friends. That could work just as well.
18. Letgo.com
Letgo is one of the most significant apps to buy and sell tons of stuff locally. And it's free too.
It's frequented by buyers (and sellers) who are usually from the same neighbourhood.
So if you're looking at selling your Amazon gift card with the minimum fuss – you need to download the app and list it here. Of course, the usual precautions apply here too – if the buyer is not known to you.
19. Exchange it for Cryptocurrency
Did you know you can also exchange your unused Amazon gift card for cryptocurrency on Purse?
It's a website that exchanges only Amazon gift cards – for Bitcoin. On it you find buyers looking to purchase stuff from Amazon. Your job is to buy that stuff from them – using your gift card.
In return, the person opens an escrow account and deposits the cash – so you get paid once the transaction is completed. Once done, the person receives his Amazon goodies while you understand his Bitcoin – cool isn't it?
Also Read: Do You Want 1 Free Bitcoin Today? 8 Quick Ways to Earn Free Bitcoins
20. Check Back With Amazon
Now, this might seem a little unconventional to some, but what the heck it's worth a shot. Have you considered the possibility of selling the card back to Amazon?
It's possible they might be interested in repurchasing it from you, and all you need to do is – ask them. Worst case scenario, they might turn you down, so what?
But if they do say – yes, there is a good chance that you may get the full monetary value back for your gift card.
21. Use It, Sell the Items for Profit
Now since we are talking about unconventional ways here is another way you could try.
It involves using the gift card to buy cool stuff from Amazon and then selling it online – for a tidy profit.
The most significant advantage of using this method is that you don't have to sell your gift card for a discount and you end up making a nice profit instead. Plus if you happen to be an Amazon Prime member, you stand to earn cash rewards too.
How does that sound to you? Good? Then go for it.
22. Gift it to your Friends & Family.
Got a friend's birthday coming up? Or perhaps your parent's marriage anniversary? Both scenarios involve you buying an excellent (and expensive) present right?
Instead, you could consider gifting them the Amazon gift card – and save yourself both time, effort and money in the bargain.
As the saying goes – A dollar saved is a dollar earned – and in this case, you will end up saving much more than a dollar, and nobody has to know. Smart, eh?
Also Read: How to Make Money With Amazon Associates Program
23. Buy Stuff You Really Need
Ok now here's another cool idea and this is how it works. As you probably know already, Amazon sells thousands of products online across hundreds of different categories. This also includes many of the daily essentials that you need to buy anyway like soap, groceries, accessories, clothing etc.
So you use your gift card to buy the stuff you need – for FREE and in return, you gift yourself the cash from your bank account – which you would have commonly used to pay for the stuff – to do as you please.
This way your gift card is put to good use and you also get your hands on some surplus cash to spend (or save) – as you deem fit.
In Conclusion
With over 562,382,292 different products listed, it comes as no surprise why Amazon continues to be among the top choices for online shopping.
Having said you should face absolutely no problem in finding a buyer for your unused Amazon gift cards – either online or offline – using any of the simple ways suggested in this article. Good luck.