News reports clearly indicate that increasing number of Americans are now availing free and paid services like Netflix. In fact, they're moving away from Netflix.
That's because there're 15 free and paid services like Netflix. As a result, Netflix seems to be losing subscriber while opting for these 15 Netflix alternatives.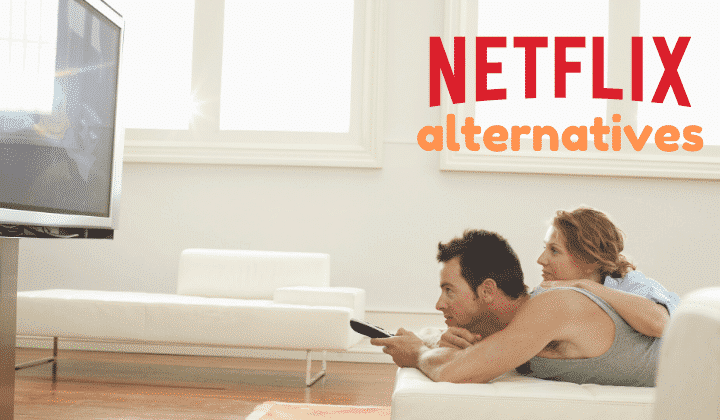 Why Netflix is Losing?
Netflix has over 60 million paid subscribers in USA. However, in July 2019, Netflix lost over 126,000 paid subscribers during second half of the financial year- from January 1, 2019 to March 31, 2019. Consequently, Netflix stocks took some beating on American stock exchanges.
One of the reasons for this tumble: Netflix now charges a little more now for subscriptions.
Netflix offers Streaming and DVD Blu-Ray services. Each service comes at different subscription rate. Basic subscription to Netflix streaming costs $8.99 per month while top-of-the-line Premium service costs $15.99 per month.
Netflix DVD and Blu-Ray plans start at $7.99 per month for Basic with a Premium plan costing $14.99 per mon Therefore, if you're planning on moving away from Netflix, here's my list of 15 Netflix alternatives that provide free and paid services.
Also check: How to Get Netflix for Free for Lifetime
15 Free & Paid Alternative Services Like Netflix
In 2018, Americans paid a combined $2.1billion for video streaming services. That's an average $37 per household.
Between 55 percent and 60 percent American household subscribe to streaming entertainment. Therefore, if you wish to get streaming entertainment, here's my list of 15 Netflix alternatives.
Not all Netflix alternatives cost less. Some are Amazon Prime
Amazon Prime is by far the best paid alternative to Netflix. Actually an Amazon Prime regular membership costs $12.99 per month- which is more than a basic Netflix subscription. Amazon Prime has over 105 million subscribers in America- which is almost double that of Netflix.
However, Amazon Prime isn't all about streaming videos only. It includes a lot of other benefits for shopping such a speedy, free deliveries, special offers and free subscription to Twitch TV channel.
Additionally, Amazon Prime is available at discount rates for US government Electronic Benefit Transfer (EBT) and Medicaid card holders. Eligible students pay only $6.49. You can opt for Amazon Prime Video membership that costs $8.99 per month for the full package of Basic and Premium content.
Also check: How to watch movies online for Free
Walmart VUDU
Walmart VUDU is an amazing free video streaming service. You can access millions of minutes of free content on Walmart VUDU. And if you wish to watch paid content, you'll pay just between $0.99 to $.5.99 for video rentals, depending on the duration and other details.
However, you needn't pay for video rentals too. When you shop for specific products at Walmart, you automatically earn VUDU points.
You can redeem them for rentals and watch your favorite video free. An advantage with Walmart VUDU: you can watch movies and streaming content on an older TV set also, unlike other services that work only with latest TV sets.
You can get a lot of other services with Walmart VUDU. These include content from UltraViolet Digital Library and InstaWatch among others. Walmart VUDU is almost free and the only charges you'll ever pay are for any rentals.
YouTube TV
YouTube TV isn't a cheap or low cost substitute for Netflix. It costs $49.99 per month for a YouTube TV subscription. You might wonder what's special about YouTube TV to pay such a high price.
You get as many as 70 local, regional and national channels free on YouTube TV. And all the benefits of a YouTube Premium account.
Additionally, YouTube TV gives you access to all videos on regular YouTube. The unlimited Digital Video Recording or DVR facility allows you to create and upload own videos to share within a family or closed group.
YouTube TV works with several compatible devices that includes smartphones and computers. You can also stream the content to any of these latest TV sets that enable live streaming.
CBS All Access
At $5.99 per month, CBS All Access is a superb Netflix alternative. You can watch all CBS episodes and original content with CBS All Access. It is available in two variants: Limited Commercial which has low ad content and Commercials with regular ad mix.
There're several ways to subscribe to CBS All Access. You can view it on your computer or mobile device or even through your cable TV provider. CBS offers a free trial for first-time users. You can test the service before subscribing. Add on packages are also available for CBS All Access.
Hulu
Basic video streaming service from Hulu streaming TV starts at $5.99 per month while Hulu with live telecasts costs as much as $44.99. For many households cutting cable TV and Direct-To-Home (DTH) cord, Hulu provides a rather inexpensive alternative.
Furthermore, you can get a month's subscription free when you sign-up for Hulu. Their ad-free service will cost you $11.99 per month. However, their ad-free service is a choice of several American households since it saves a lot of time while watching shows and movies.
You can also stream Hulu to multiple devices with a single subscription in certain cases. Multiple streaming is subject to certain rules and regulations and may require account authentication for every device.
Facebook Watch
You might wonder what's Facebook Watch? Facebook Watch isn't exactly an alternative to Netflix or other video streaming platforms. However, Facebook Watch enables you to watch unique streaming videos and news clips. All you require is a Facebook account.
And it's 100 percent free.
Once you have a Facebook account, go to your personal profile and 'Like' your favorite TV channels. You can watch short documentaries, news clips, movie trailers and unique content on Facebook Watch. You can Share these videos on own timeline or with a friend.
Crunchyroll
If you're fond of anime serials and movies, subscribe to Crunchyroll. They charge $7.99 per month. You can pay for Crunchyroll from your PayPal account. Crunchyroll is very popular among Asians living in America because it features anime shows from Japan, South Korea and other countries.
Anime lovers can also buy their favorite figurines through Crunchyroll. And for $12 a month, you get exclusive content. Anime aficionados will enjoy Crunchyroll for its several added features. You won't get your daily show or movies on Crunchyroll since this platform specializes on anime only.
MUBI
The New York Times review about MUBI says it is "one of the several first-rate sites that caters to cinephiles and its mix of current and vintage films, the global scope of the selections, and the truly eclectic array of genres is great."
Indeed, MUBI features movies from various countries around the world in different languages and usually with English subtitles for the American audience.
The amazing part of MUBI: its panel of cinema experts will introduce you to one new movie every day. And this is a feature that no other video streaming service offers.
For monthly subscription of $9.99 you can watch 30 new movies every month or rather, one new movie daily. MUBI is extremely popular among households that love interesting movies and content that comes from various countries.
Tubi
You can watch thousands of Hollywood and foreign movies for free on Tubi. To watch movies and other content, sign-up free on Tubi and download their app for your smartphone. You can also watch movies directly on your computer.
However, Tubi has a major catch. All content contains myriad advertisements that will come up before and while you're watching movies. This can prove annoying to a lot of viewers. However, the opportunity to watch free streaming movies more than makes up for time you lose on watching these ads.
Shudder
And if you love movies that make you shudder, subscribe to Shudder. It's the perfect streaming movies website and app for horror, thriller and other scary movies. Indeed, some movies you'll find on Shudder are rare. They also have a decent collection of scary movies from other countries.
Shudder is fairly inexpensive: you can get a monthly subscription for $5.99 or save with an annual subscription that costs $56.99. You can view Shudder on your smartphone or computer. It's also possible to stream the movies on some of the latest models of smart TVs that have the feature to connect video streaming devices.
Sony Crackle TV/ Crackle Plus
Crackle TV is 100 percent ad supported. This means, all content including full-length movies and serials are 100 percent free. This channel comes from the entertainment major, Sony Pictures Entertainment.
You can watch Crackle TV on a smartphone or computer. Or you can stream the content on a compatible TV set.
The channel is also known as Crackle Plus following a Joint Venture agreement between Sony Picture Entertainment and another partner in mid-2019. However, both brand names Crackle TV and Crackle Plus coexist. That's to enable subscribers to know about the new name.
Pluto TV
Over 100 live and original TV channels are available free on Pluto TV. It is one of the largest free TV streaming apps in USA. And it's possible to watch channels on Pluto TV outside the US too, though the choice of channels can vary. All content is free and supported by ads. Hence, there're no subscription fees.
Visit the Pluto TV website to know about channels, where and how you can view them. They have American as well as select foreign content. Pluto TV is very popular among cord-cutters in America. The only flipside are the frequent ads that you'll have to watch during a movie or serial.
Spuul
Spuul TV is your gateway to movies from India. It is a streaming service that's extremely popular among Indian American community. Spuul features oldies the latest Bollywood movies. Due to its popularity in USA, several Bollywood movies on Spuul come with English subtitles.
Monthly subscription to Spuul costs $4.00 while annual subscription is $49.99. Meaning, you save two- month subscription fees when you buy their annual membership. Furthermore, Spuul also features popular dramas and TV serials from India.
USTVGO
This is a video streaming service I found quite accidentally. Ustvgo.tv has over 100 channels and provides live broadcasts. This means, you're watching exactly the same program and channel on your computer as anyone with cable TV.
The only difference: you'll be viewing the channel on your computer or mobile phone.
USTVGO doesn't seem to have an app. The website just streams live TV broadcasts as they occur in America.
Also, I'm unsure whether you can stream the content to your TV set, though it seems quite possible. The content is generally ad supported. Hence, be ready for a slightly heavier dosage of ads than your regular or Netflix channels.
Fandor
And finally, Fandor which comes at a monthly fee of $5.99 or annually $49.99. Fandor also allows a small trial period. And if someone sends you an invite you watch videos on Fandor, you can enjoy free trial for a slightly longer duration.
Fandor has oldies as well as latest releases. It unique movies and documentaries as well as popular serials. You can download their app or watch directly on computer. Streaming Fandor content to a TV set is also possible. Fandor pays movie creators that upload their content on the website too.
Watching Streaming Videos
Obviously, watching streaming videos isn't as easy as switching the remote on and scanning for your favorite show. It's much different.
You'll require hardware such as Xbox, PlayStation, Android devices, laptop or PC. And proper connecting cables to stream videos on a Smart TV. Therefore, consider these costs as well before cutting cord of cable TV and DTH.
Closing Thoughts
As more Americans cut the cord and discontinue cable TV and DTH services, streaming video platforms are becoming popular. That isn't really strange. On average, an American household spends about $103 per month on cable TV and DTH. In stark contrast, streaming services are much cheaper. As I've shown, Netflix isn't the only option for cord-cutters. There're as many as 15 other choices too.