Some of us have textbooks lying around the house. These are of no value nowadays, as schools and colleges move towards digital books and study material. However, if you want to make some money before textbooks become extinct altogether, continue reading.
A lot of us keep old textbooks long after we leave school or college. We keep these old textbooks because we don't know where to sell them. Nor are there any persons in our family or social circles that would require these textbooks. Hence, they lie idle around the house, occupying valuable space.
But did you know that it is actually possible for us to sell these old textbooks in 2023 and make some money on the side? Maybe not. If that's your case, continue reading further.
Actually, there're two ways to sell textbooks in 2023. First, I will write about these two ways, because it could help you to understand how the trade works and how much money you could make.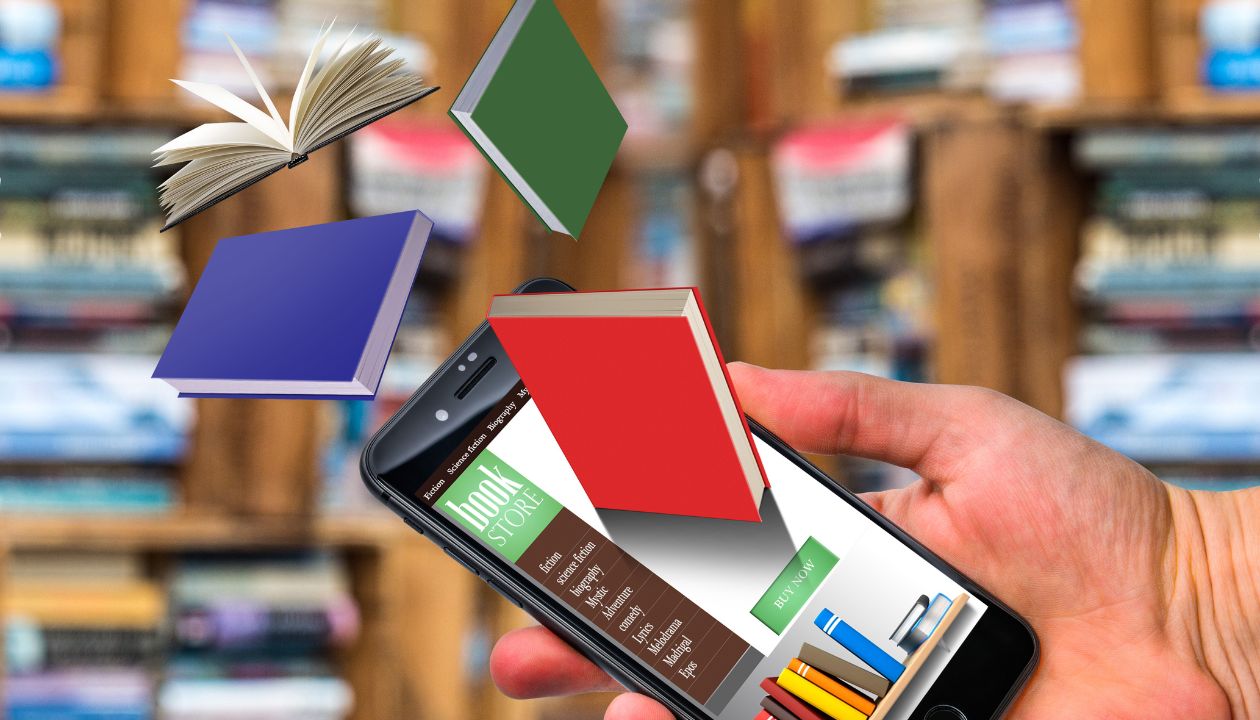 Two Ways to Sell Textbooks
You can sell textbooks in two different ways. That depends on the amount of money you wish to make and your needs. It would also depend on your location; in some cases.
One Off Sale
If you have old books lying around at home or office and don't really need them for any reason, you can simply sell them off and make some money. The amount won't really be much, but it's better than letting those books catch mould and gets ruined over a period of time. For such cases, there're some 20 best places to sell textbooks. Since this is a one-off venture, you needn't exert much effort.
Old Textbooks Business
Alternatively, you can also start an old textbook business. This means you will buy one or more old books from people and sell them to these 20 best places that I will write about.
Obviously, you would require some basic investment to start such a business. And, you will need some knowledge of the types of books that qualify for sale or are textbooks that people will actually buy. Buying useless books means you lose money.
As I said, the way you can sell textbooks depends on how much money you wish to make. Therefore, you have at least 20 best places to sell textbooks. You can choose any of these options.
Before I proceed, here's a word of caution. Before you sell textbooks, it's worth remembering that only those relevant to schools and colleges now can are in demand.
Then we also have a few cases where extremely old textbooks that are rare and could qualify as antiques or classics have some value in the market. If your textbooks don't come in any of these categories, you might waste time, money and other resources trying to sell textbooks.
Best Prices for Text Books
This brings us to yet another question. How much money can I really make by selling textbooks?
Honestly, there're no real estimates that I can offer. In some cases, you could get as much as 75 per cent of the cover price. In other cases, you might be able to make as low as 15 per cent of the cover price.
The selling price depends upon a lot of things. Therefore, I will write about the things that affect the prices of textbooks you would wish to sell.
Relevance in Today's Curriculum
Are the textbooks that you want to sell relevant to the existing curriculum at schools and colleges? This is the first question to answer. That's because you can sell only those textbooks that students require. If your textbooks are old and outdated, they are worth nothing and can be used only as a free paper.
Therefore, check with the school or college whether the books you have are still relevant today. If you graduated long ago, some of the books may no longer be relevant or even figure on the school or college syllabus.
Overall Condition
It goes without saying that the overall condition of textbooks also plays a major role in deciding the price they will fetch. Understandably, some books would be in shelf condition while others could be torn or have dogears or some damage such as food or other stains, scribbling and drawings made by students.
And yet others might come with a few pages missing altogether. Also, a few pages of some textbooks could be torn or badly damaged. Remember, only books in good condition are saleable.
Location
Your location matters a lot when you plan to sell textbooks. That's because a lot of schools are now focusing on e-learning. Research has also proved that textbooks don't really help any student to improve their grades or quality of learning. As a matter of fact, some countries have already switched over to teaching methods and curriculum that doesn't really require textbooks.
Hence, if you're at a location where schools or colleges no longer use textbooks, there's not much you can do to sell them. Secondly, some textbooks are relevant only in a particular area. In most cases, students from another state in the USA will never buy textbooks relevant to a different state.
Year of Printing
The year of printing also decides the value of your textbooks. Generally, modern textbooks are of little or no value to a collector. However, if you have a textbook that's old or extremely rare to find, it is possible to make a lot of money. That's because such old textbooks are considered antiques or collectables.
If you find any such textbook that looks very old, check the year of printing. If it is quite old, you might be sitting on a fortune. The year of printing, the place where it was printed and several other factors also decide the price of a textbook.
Type of Cover
This could come as a surprise to many, but the type of cover also decides the price of textbooks that we wish to sell. I learned that hardcover books fetch more than softcover editions. The reason for hardcovers to be more expensive is they're considered as long-lasting and easier to carry or store.
Therefore, learn about the price difference between the two. This can be easily found if you look up the International Standard Book Number or ISBN that is printed on the textbook. And if there're no ISBN numbers, you take the book to a proper assessor to get the value or the approximate sale price.
20 Best Places to Sell Textbooks in 2023
These few things I wrote about should give you a fair idea of how to sell books and the prices you can expect. These are important to all, regardless of whether you're selling just a few textbooks to reduce the clutter at home and office or you're selling them as a business.
Before you go to sell textbooks in 2023, it's important to know that a lot of them might actually have no buyers. The Covid-19 pandemic of 2020 and 2021 forced most educational institutions to start online classes. Therefore, the need for textbooks is almost vanishing even as we are in 2023.
This scenario is likely to continue till textbooks vanish from schools and colleges altogether. Therefore, its best to sell whatever textbooks you have now and make some money either as business or one-off sales.
Here're the 20 best places to sell your textbooks.
Best Offline Places To Sell Used Textbooks
1. Schools and Colleges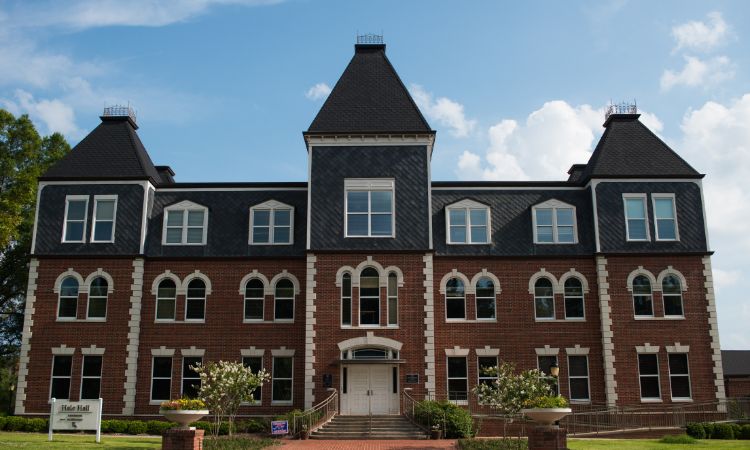 This depends on whether you have school or college textbooks. Approach them and find out if they're interested in buying these textbooks from you.
As a matter of fact, this can prove to be the fastest method to sell textbooks and get some cash immediately. While colleges and schools might sometimes buy from you, they can also offer assistance in finding students that need these textbooks.
That makes looking for customers a lot easier for you. Remember, a lot of schools and colleges are now switching to electronic or digital textbooks, and hence, your books might actually have no takers.
2. Nearby Bookstores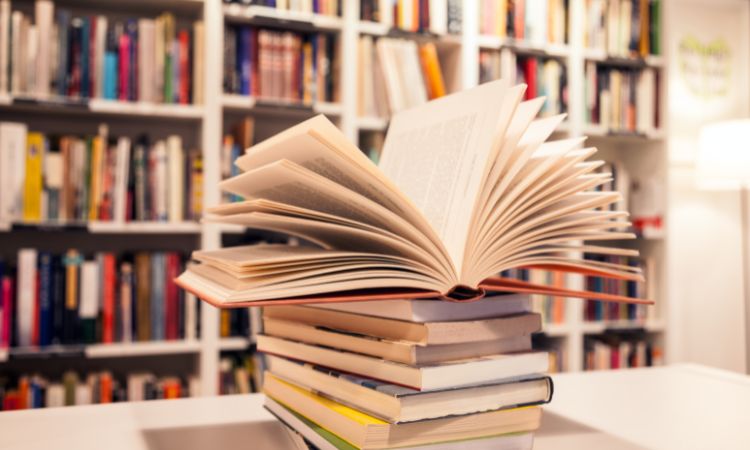 Since bookstores are the first place that we go to buy textbooks, it's a good idea to approach them too. Generally, you would know which bookstores from where students buy textbooks.
Therefore, approach these bookstores. Again, a word of caution. Since lots of schools and colleges are now switching to e-books and digital books, the demand could be much lower than you expect.
3. Garage Sale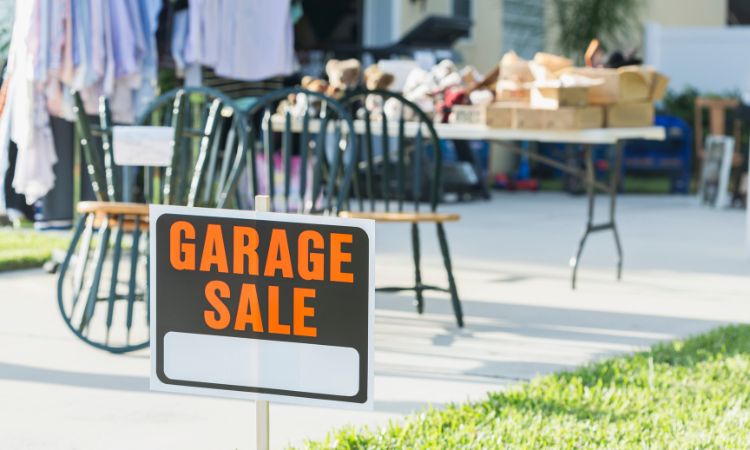 If you're really desperate to sell textbooks and get some money, try selling them yourself. Organize a garage sale with lots of other stuff that you wish to dispose of and advertise the event in your community and area.
There would be some buyers interested in buying your textbooks and other things too. This is a superb way to make money quickly on textbooks.
4. Antique Shops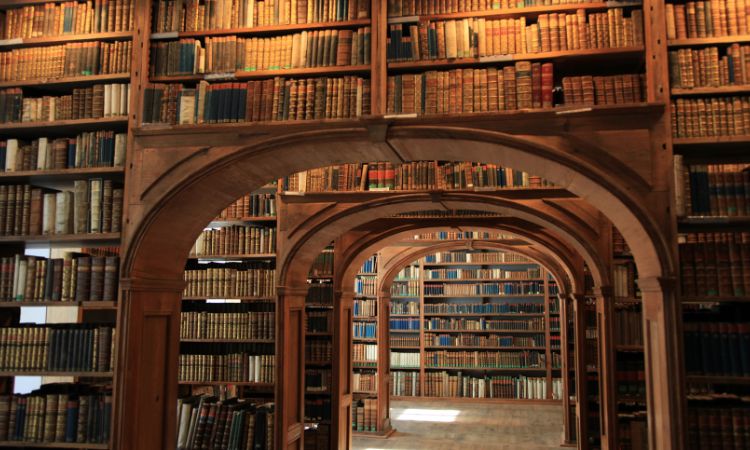 Often, we have books lying around the house that were used by our grandpa or even parents. And these could be very old and rare by the time you finish reading this article. Obviously, teaching methods and syllabuses have changed drastically over the decades. In fact, some of these textbooks aren't even printed anymore, and most of them would have ended up in the fire or for recycling.
If you're lucky enough to find a very old textbook, take it to any good antique shop. They could assess how much money you can get from its sale. If possible, look up the ISBN number since that can indicate whether a textbook is in print or not. Rare textbooks are also those whose printers no longer exist. These books can be worth a fortune.
5. Libraries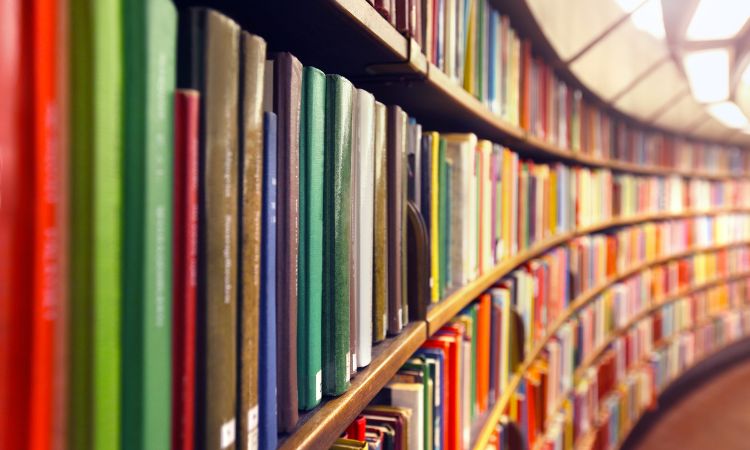 Often, schools, colleges and public libraries also buy textbooks if they're relevant and useful to people. You can send an online enquiry to these libraries in your area and find out if they're interested.
In some cases, they might want at least a few of your textbooks if they provide such services to students. They will buy textbooks only if they're in superb condition. This is one of the best ways to get cash quickly for textbooks.
Best Online Websites To Sell Old Books
1. eBay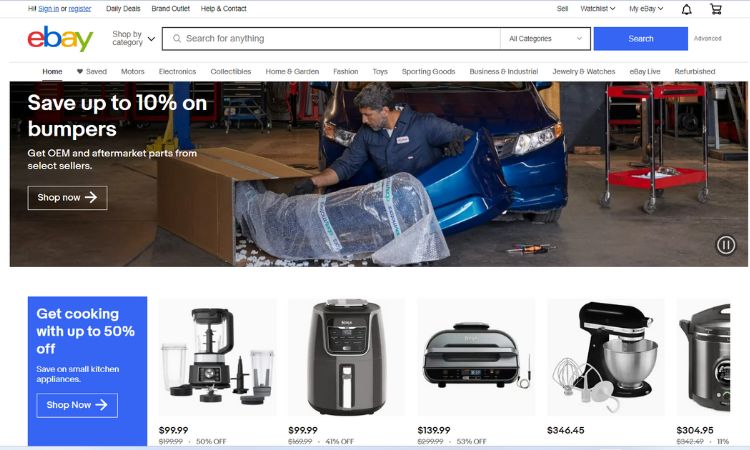 eBay is the grandpa of all websites selling used stuff. Therefore, it's also possible to sell old and used textbooks on their website. To sell textbooks on eBay, create a seller's account. This requires you to fill out an online form mentioning your name, a seller identity, email ID, contact number and payment details, among others.
Once eBay accepts your application as a seller, take excellent photos of these books, mention some details that could attract people and put them online for sale. Also, consider the costs of shipping while fixing the price.
2. Amazon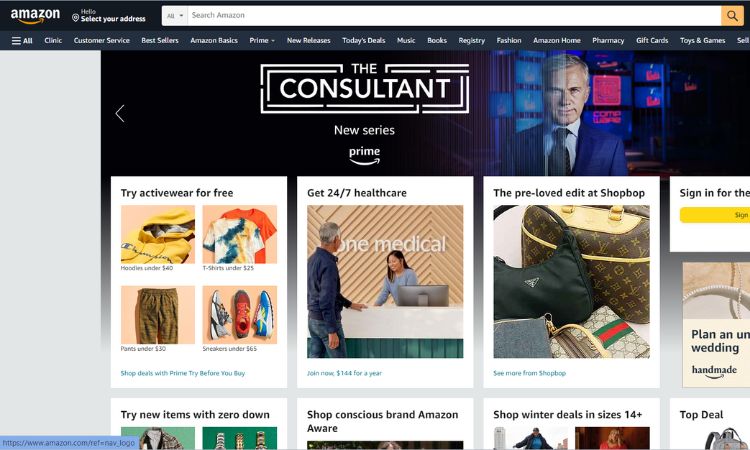 For those who don't know, Amazon, the single largest online store in the world, began as a used bookseller. Despite its growth and popularity worldwide, Amazon hasn't stopped buying and selling books. To sell on Amazon, you will have to register as a seller by creating your own account.
This requires an email ID, password, payment details and some other information. Once your application is accepted by Amazon, take wonderful photos, write attractive descriptions and create posts to sell. Here too, consider the costs of shipping since it could eat into your profits.
3. Craigslist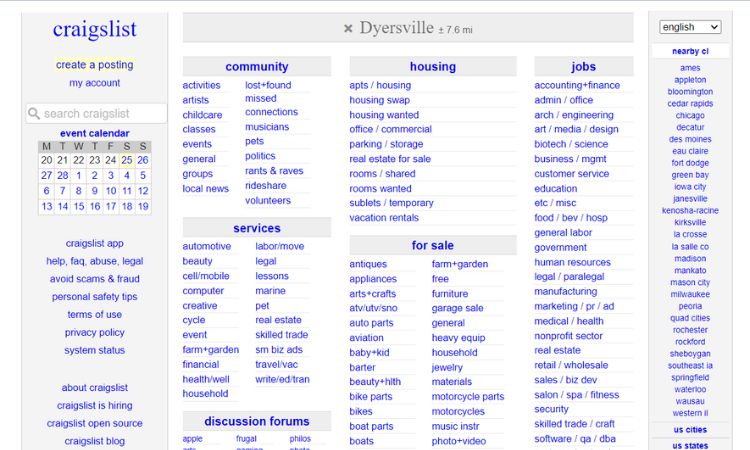 The surest place to sell old textbooks is Craigslist. That's by registering for free on Craigslist and advertising your old textbooks for sale. For free listings, Craigslist doesn't allow photos to be uploaded in some cases. Therefore, write clear descriptions of the textbooks, asking price, and shipping costs, if any and post them.
You can attract several buyers who require these textbooks either for collection or studies. This method of selling textbooks is good for both one-off sales and business too. However, select the area or state you live as the place where you wish to sell because these textbooks might not be relevant outside a specific region.
Also read:
4. Facebook Marketplace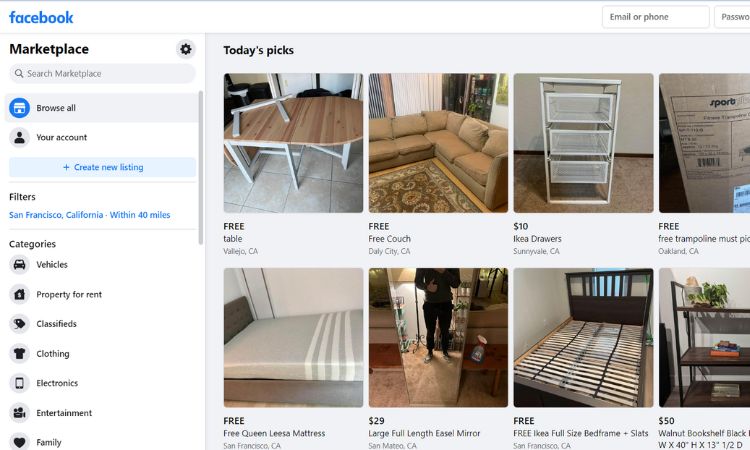 With 2.93 billion users around the world, Facebook Marketplace is an ideal place to sell textbooks too. Selling on Facebook Marketplace is also free of cost and costs only very minimal to create and post ads. Also, Facebook Marketplace is ideal because your posts for selling textbooks would be seen within an area of about 100sq.km from your location.
This means your target audience will be people that might require the books for their school or college. If you already have a Facebook account, click on the store icon, create a post with photos and descriptions and go online.
5. Shopify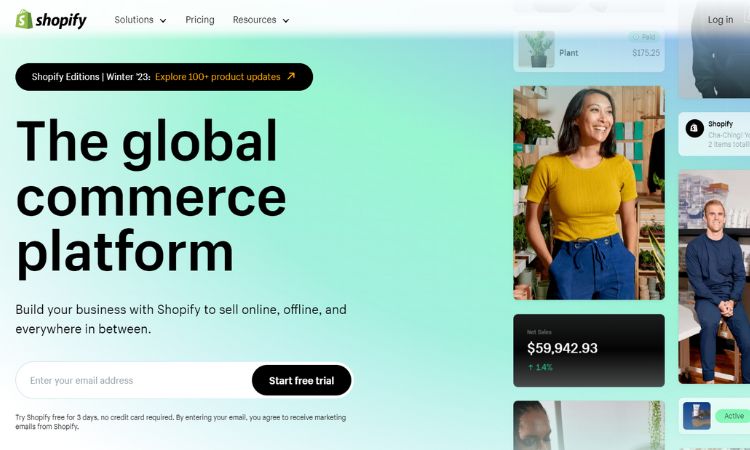 Selling textbooks on Shopify is an excellent idea if you're getting into the business. That's because opening a marketplace on Shopify costs some money. You will have to 'rent' the marketplace and give it your own unique identity.
If you have a large number of textbooks and other books for sale, I would suggest this option. Here too, you will require photos and descriptions of the textbooks you want to sell. Also, set up a payment system to get the money and mention shipping costs, if any.
6. Bookscouter.com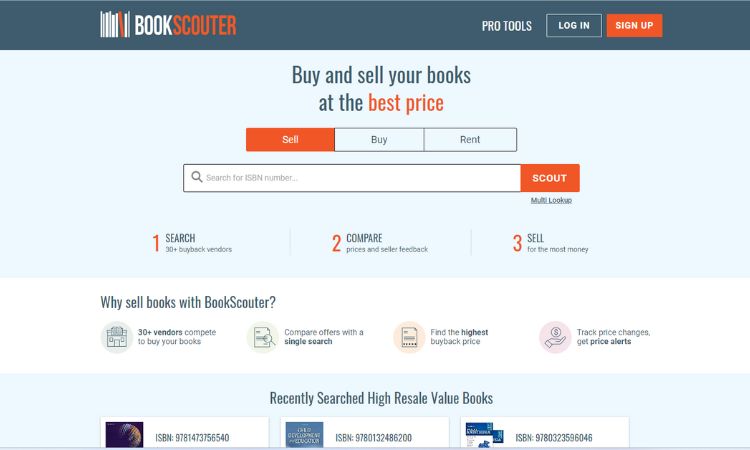 The top of the list is taken by Bookscouter.com. This is a superb website that allows you to find your book using its ISBN number and gives you some estimate of how much money can be made.
You can apply to sell your books through their simple online resource by filling in the details. They pay for shipping, and you get money as soon as they get the books.
7. Decluttr.com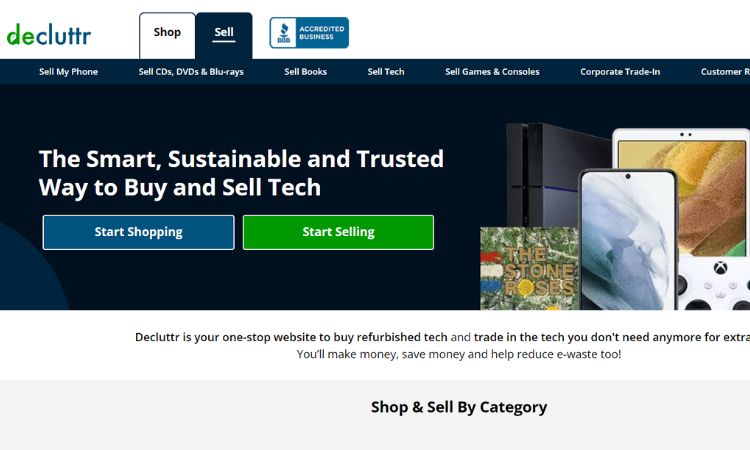 Another superb website to sell books is Decluttr.com. This website also allows you to dispose of other stuff cluttering your home or office, such as old CDs, DVDs, old and backdated magazines, as well as other assorted things. Read their terms and conditions carefully before selling textbooks on this website.
8. Booksrun.com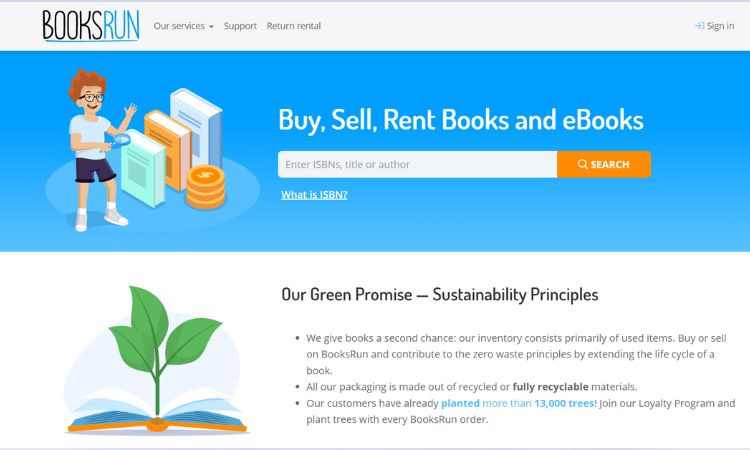 Selling on Booksrun.com is very simple. Simply list your books with the ISBN number. They pay you for shipping the books to their address. Upon receiving your books, they pay within three to four days.
Booksrun.com claims to contribute towards a safer environment by selling old books and thus reducing the use of paper from printing new ones.
9. eCampus.com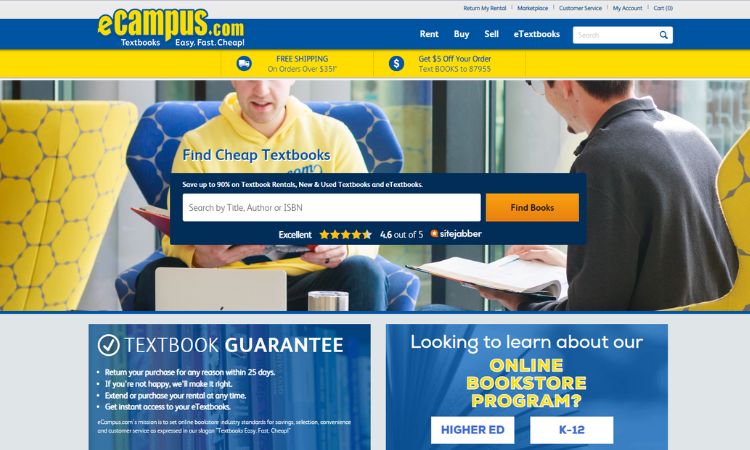 e-Campus.com is known for its services to students. You can list books by their ISBN and get an instant quote. They pay you to ship the books to their address and pay you by direct credit to a bank account, check or PayPal, among other methods. You can also ask for discount coupons or shopping coupons instead of cash. E-Campus.com also has a referral program to earn points that are worth money.
10. Textbookrush.com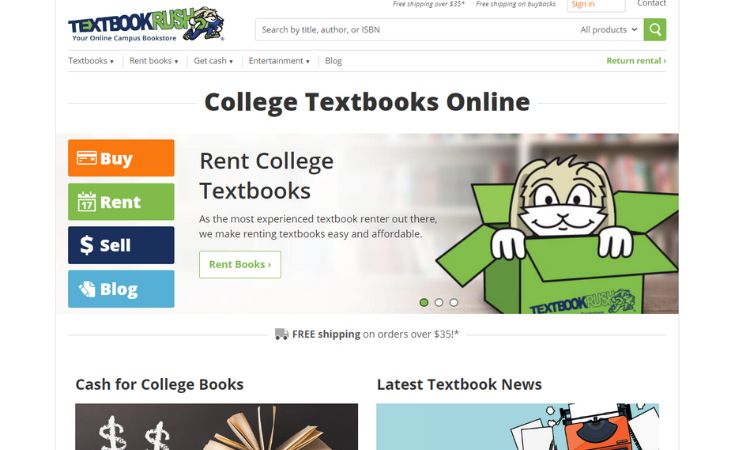 Textbookrush.com offers up to 90 per cent discounts on textbooks for college students. If you have any college textbooks to sell, this could be a good place. They pay instantly once they get your books. The company also pays for shipping the books from you to their place.
11. Bookfinder.com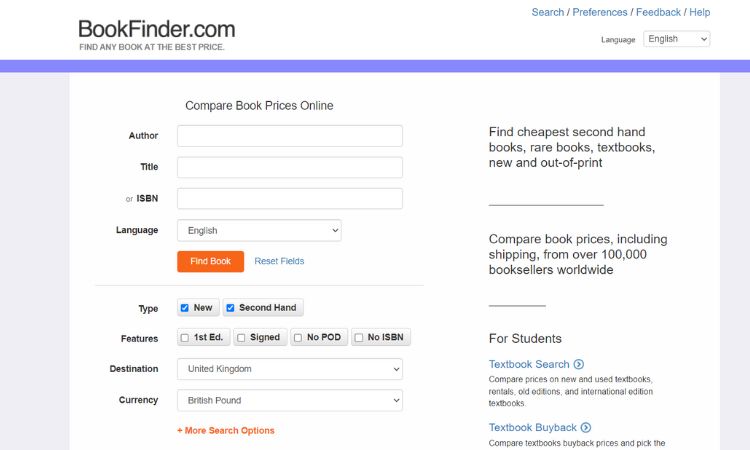 Bookfinder.com has very simple features for selling books. Create your account free, list the books by ISBN and look for their quotes. If you accept the price, they will send you mailing coupons. They pay as soon as they get your books at their warehouse. This is a faster way to sell books if you're in a hurry.
12. Barnes & Noble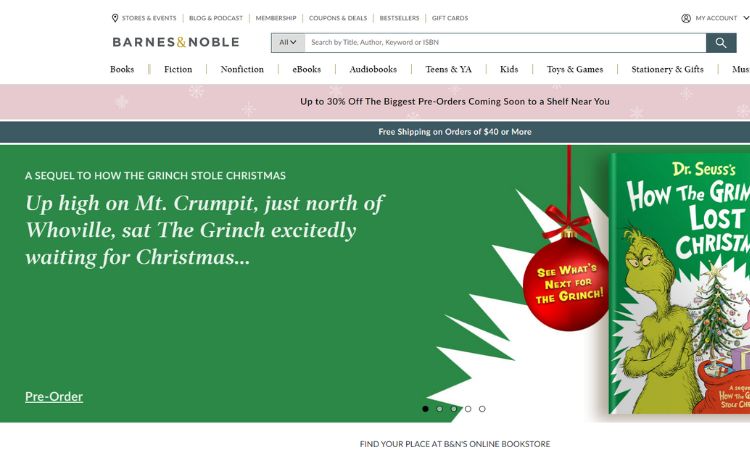 The largest physical and online bookstore in the USA, Barnes & Noble also buys old textbooks and other books. Look up your book values using their online ISBN finder and place them for sale. Barnes & Noble also pay for your shipping and pays almost instantly. However, the minimum value of the books you sell should be $10.
13. Sellbackyourbook.com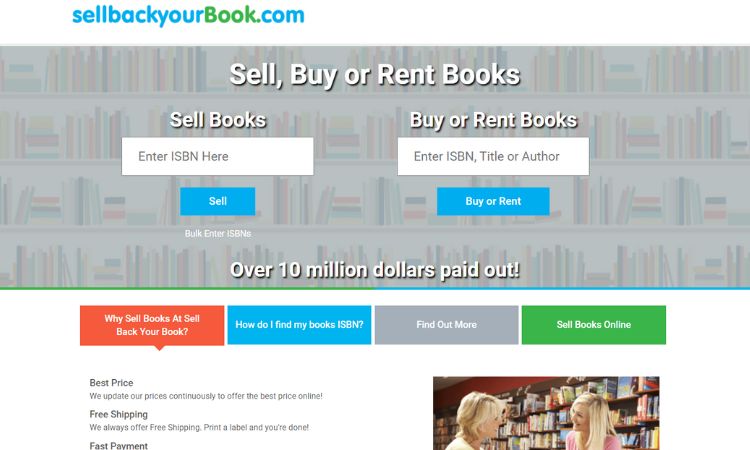 As their name suggests, Sellbackyourbook.com is all about buying textbooks and other books. You get instant quotes for the book once you key in details such as its ISBN number. If you accept the price, you can print free shipping coupons and mail them. You get paid after they receive your books.
14. Bookbyte.com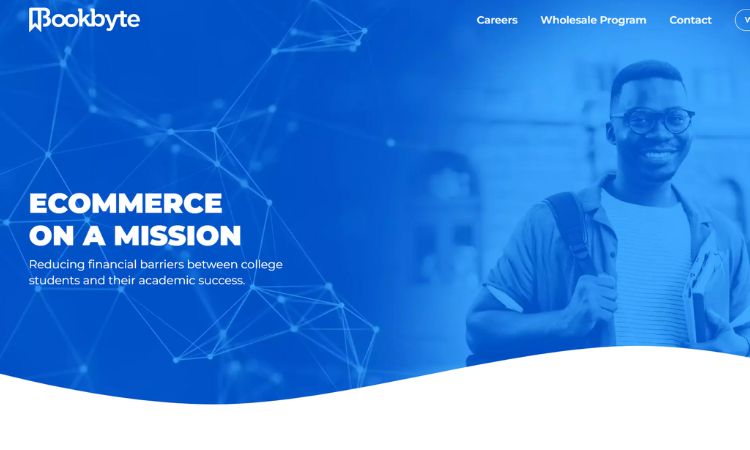 Look up Bookbyte.com to find out whether your textbook is on their list of books in demand. That's because books in demand fetch a higher price. Regardless, you can sell all kinds of books on Bookbyte.com. They bear the shipping costs and send you the money within a week of getting your books. Best place to sell a few books regularly if you're in business.
15. TextbookX.com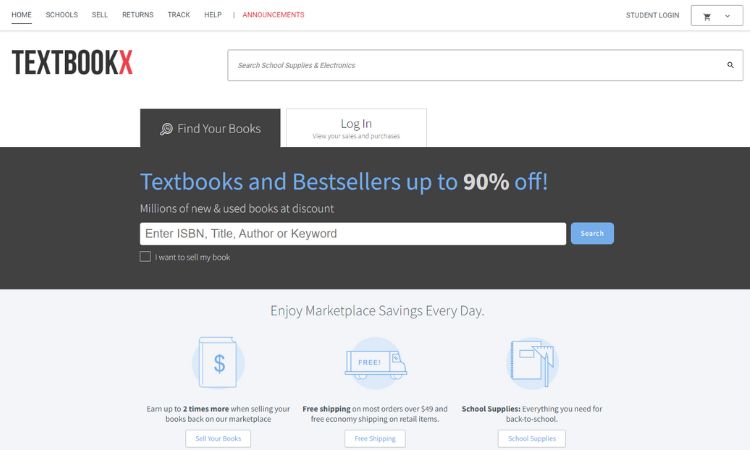 TextbookX.com doesn't buy from you directly. Instead, they provide you with a platform online to sell your books. Meaning you can create a free account and list the books for sale. You can decide the price for the book, including shipping fees.
This website charges a small commission from the profits you make. Therefore, read their terms and conditions clearly before selling your textbooks.
Word of the Mouth Publicity
Yet another superb way to sell textbooks and make some money is by spreading word of mouth. That means telling your relatives, friends and neighbours that you have a few books to sell. You can also give a list of the books that you will sell and their suggested selling price.
Word-of-mouth publicity can help you find buyers fast. This happens because often, people we know have someone who would require these textbooks or other books. When you're selling cheaper, they would prefer buying from you instead of spending more on buying through a store or online.
In Conclusion
The business of used books can prove very profitable both for one-off sellers and those who wish to make it a small enterprise. However, we have to bear in mind that textbooks might not be around for several more years. Hence, the faster you sell, the better your chances of selling them and making some money. I would suggest exploring all ways to sell so that you get the best price.