Reading is a wonderful hobby. To an extent that some of the richest persons of the world including Peter F Drucker, Bill Gates, Oprah Winfrey, and Mark Zuckerberg read several books a month. In fact, every billionaire claims they owe their success to reading books.
Understandably, billionaires wouldn't have to think twice before buying a new book. But what about bookworms like you and I? Personally, I love reading but often run out of cash when it comes to buying new books.
Therefore, I shop for cheap used and new books. They satisfy the bookworm within me and help build a collection of excellent books.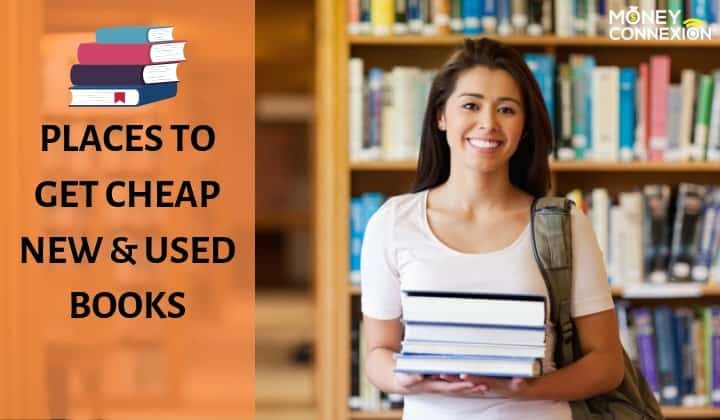 However, cheap books aren't only for avid readers. School and university students, as well as collectors, buy cheap old books.
If you are one of these persons- bookworm, student or collector, here's my list of 25 best places to buy cheap used books.
25 Best Places for Cheap Used Books
I'm listing only online stores near you where you can buy cheap old books. I also visit brick-and-mortar bookstores in various cities and towns across America but these cater mainly to local readers only.
Online stores deliver across America and in some cases, to foreign addresses as well.
Amazon ranks as the topmost place to but cheap online books. And why not? After all, Amazon began as an online bookstore in July 1995.
The world's single largest online store continues its tradition of selling cheap used books till date.
Amazon offers books from every genre. You can also read book reviews. Amazon buys and sells used books too. Additionally, some books are available free or cheap in digital format for Amazon Kindle.
Barnes & Noble has over six million book titles in stock. They operate close to 630 bookstores located in every American state. It's also a Fortune 1000 company. And they've got an online bookstore too.
Barnes & Noble offers a flat 10 percent off on your first order. Daily coupons for discounts on books are also available on their website. For an annual fee of $25, you can become member of B&N Club.
The membership gets you discount coupons worth $60 and several other benefits for online and in-store shopping. They also sell offer up to 80 percent discount on used textbooks.
Powell's City of Books is an amazing online and brick-and-mortar bookstore where you can buy cheap used books online. The company operates its bookstores in Portland, Oregon.
However, you can buy cheap new and used books from Powell's from any location through their online bookstore. Powell's City of Books hosts over 500 author events every year.
Thus you can find opportunities to attend talks by your favorite author or meet them personally.
John K. King Books has over one million new and used books on sale. In fact, John K King bookstore in Detroit, Michigan is famous as "the largest and strongest collection in North America.' That's because John K. King buys all types of used books for sale.
Some of their books are very rare and worth thousands of Dollars. However, John K. King also has an online bookstore where you can buy all kinds of used books. The company is most famous for its rare book collection.
5.
NYT Store
NYT Store is run by none other than the New York Times, the world-famous newspaper. NYT Store sells a lot of stuff online including books.
Hence, it's not strictly a bookstore. However, it's very popular among book lovers for a simple reason. The New York Times Book Review, a weekly publication from the media company, is the most authoritative and respected book reviews worldwide.
Their reviews have led to books becoming global bestsellers. You'll find some of these budding bestsellers and new launches on NYT Store.
Penguin Random House ranks among the biggest book publishers of the world and the single largest paperback publisher. By no means is this a thrift bookstore. However, you can get amazing discounts on every book while purchasing online from Penguin Random House.
You can also get excellent rebates on new launches and bestsellers from Penguin Random House. This is an excellent website for any bookworm: their array books is amazing by every standard.
Thriftbooks has over six million used books at any point of time. You can order bestsellers in every genre from this website. They operate in different countries too- which helps Thriftbooks to get books from sellers around the world for customers in America.
You can get cheaper prices by using their wholesale option and order large number of books for reading or adding to your personal collection. Thriftbooks.com also operates through Android and iOS apps.
Textbooks, comics, storybooks, literature for mature minds and every type of book is available from Better World Books.
Daily spot discounts and coupons make it one of the best places to buy cheap, new and used books.
They also offer free shipping subject to certain terms and conditions. There's no shortage of titles or genres from which you can buy books from this superb website.
AbeBooks calls itself a 'book lover's dream.' And rightly so. They have a large array of books from 1960s to contemporary ones.
They have books that suit every pocket and hence, make the dream of every bookworm come true. Whether you're looking for textbooks or spiritual books, science fiction to real-life stories, comics to erotic novels, AbeBooks has them all under one roof.
Imagine getting as high as 90 percent off on your books. Sounds unbelievable right? But that's exactly what Alibris has to offer.
This bookstore operates online. And they've tie-ups with various coupon providers. You can look for online discount coupons or codes on Alibris or other websites to enjoy as high as 90 percent discounts on your book purchases.
This makes Alibris.com one of the best places to buy cheap used books in America.
You can also buy cheap used books online on eBay. In fact, you might come across some rare books at throwaway prices on this online store.
eBay is also an excellent website if you're looking for college or university textbooks and educational material.
Hundreds of students worldwide sell their unwanted textbooks on eBay. Also, you would be able to find some foreign publications in different languages on eBay. Visit their books section and search.
Get 50 percent to 90 percent off on new books and releases on Book Outlet. And really low prices on used books. You can also look for old and rare books at Book Outlet.
They ship across the USA with free shipping on every order worth $35 or more. Book Outlet also has daily and weekly offers.
Meaning, you can get higher rebates on certain books on specific days. The list of books on special offers changes daily. So you'll need to keep track of their daily offers.
Half Price Books has donated over 1.2 million books to various charities and sold about double the number to happy customers across USA.
They're a collection of books that can cover thousands of yards or meters. It is an ideal online bookstore to buy cheap used books of almost every category.
Half Price Books, however, doesn't match its own name. Books you get cost much lower than half the tag price. Hence, despite its name, you'll find books that cost up to 90 percent lower than the cover price.
You won't really get books with torn or damaged covers from Tattered Cover. Instead, you can expect well maintained and complete books from all genres from this website.
It is the best place to buy used books online since they buy from multiple sources.
And they ensure that books cost much lower than their catalog price at other bookstores. They ship across USA and to certain countries abroad as well.
Over the years, Facebook Marketplace is fast emerging as a favorite place to but cheap used books. In fact, lots of bookworms use Facebook Marketplace to sell books once they complete reading and want others to get it at economical rates.
Generally, you'll find books sold by people within your area on Facebook Marketplace. It's also an excellent place to buy used textbooks and variety of other literature sold by people in your area.
Mothergooseberry Books is one of the popular bookstores in America for used and new books. They deliver across USA and to select destinations abroad.
This website has a large collection of books for kids and teenagers. Don't forget to look for their special offers daily. You can also sign up for their newsletters to stay in touch with their latest offerings.
Strand Book Store is a very large online seller of used books. They are one of the best places to visit if you're looking for used yet newly released books.
That's because lots of avid bookworms sell their books upon reading and buy newer ones from Strand Book Store itself.
They offer discounts on every order. Occasionally, you may come across some freebies too.
Valore Books is the best place to buy cheap and used textbooks. You might find a few other books on Valore too. However, this website is all about educational material.
They buy textbooks for almost every brand of study. Additionally, you can choose textbooks according to the year of publication.
Valore Books offers special discounts when you buy several Online textbooks with a single order.
Back issues of comics that you've missed, out-of-print comics and all your favorite comic heroes can be found on Mycomicshop.
They also offer huge discounts regardless of how many comics you order online or buy in-store. Mycomicshop ensures that all comic books are in excellent condition.
Plus, they have daily, weekly and monthly special offers on new and old comics. A unique feature of Mycomicshop are their monthly auctions where you can bid for comics at your price and get a whole bunch of excellent ones at really unbelievable rates.
New York based Midtown Comics is a place that can make any comics lover swoon with delight. Not only do they have one of the widest range of modern comics that are popular nowadays, they also have a huge collection of comics of characters from yesteryears.
And they offer a flat 60 percent discount when you buy several comics, Midtown Comics operates as store in New York and also sells online with deliveries across America.
DealOz.com is an online bookstore with a difference. It serves as an aggregator of sorts to buy cheap, new and used books. You can create a free account on DealOz.
And search for titles or authors. Once you decide upon books you wish to buy, DealOz scouts various websites to offer you the best and cheapest deals.
This makes DealOz the perfect place to buy books at the lowest possible prices in America.
If you're looking to buy used textbooks, novels or old books, check Craigslist. They have an entire classifieds section for buying and selling used and new books.
If you have excellent knowledge about books, it may be possible to come across a rare or unknown book that isn't available elsewhere.
Craigslist is also the best place to buy cheap, used storybooks for children. Choice of books on Craigslist is pretty wide and equals that of any medium-size bookstore in town. Also, there are other similar sites like craigslist where you can buy or sell books online.
Any reading aficionado looking for rarest books in the world can definitely find one at Argosy Book Store in New York. Argosy claims, its collection of rare, out-of-print books fill an entire six-story building in Manhattan and their Brooklyn warehouse.
They buy and sell antiquarian books that are dream of any bookworm and collector. Argosy Book Store also sells used books online. They deliver across USA and abroad.
Book Monster operates from Santa Monica, California. They operate as online store as well as physical bookstore. Here you can order online excellent books from almost every genre and by legendary writers.
Book Monster also deals in used textbooks for school to university level students. Their prices are quite economical too. Book Monster ships to addresses across USA,
You might wonder, what types of books does the Salvation Army sell, other than religious ones? In fact, Salvation Army stores- both online and thrift stores located across the US are an excellent place to buy cheap new and used books.
The Salvation Army accepts all sorts of donations. Hence, people can donate used books or even unwanted new ones. The Salvation Army sells these books to collect funds for its charitable works.
Wrap Up
If you're a bookworm and fall short of money often, try these excellent places to buy cheap used books. They have some of the best deals in America.  You can also help other readers by selling your books in exchange of others from most of these websites.