Did you know that old car batteries are actually precious? Not all kinds of old car batteries are priceless. However, some rare types of car batteries that are no longer made but needed by vintage car collectors can fetch you a small fortune.
However, it's also possible to sell junk car batteries that are lying unused in your garage or basement.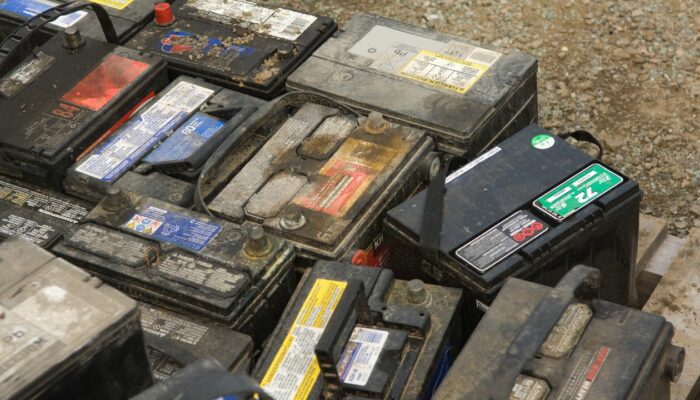 Uses of Car Batteries
Often, we buy these car batteries for various purposes, such as powering lamps outside the house without the need for electrical wiring or for homemade inverters and power supplies. Car batteries are, of course, used in vehicles and even in campers that some people own. They're useful for lighting campers at places where there's no electric supply.
Often ham radio operators buy a lot of car batteries to power their transceivers for outdoor use, such as camping or testing. Car batteries are also used by certain kinds of vendors on highways because they can provide much-needed light after dark. Regardless of your use, car batteries of all sizes are an ideal source of power, and some of us might have old ones lying somewhere on our premises.
Dangers of Unattended and Old Car Batteries
Leaving car batteries unattended, in the open, or without proper maintenance can pose a serious health and environmental hazard to your household and you. In fact, some of these hazards can land you in hospital or even get you in trouble with the law for neglecting environmental safety or endangering lives.
For one, unattended and old car batteries tend to leak acids and other materials. These leaks can contaminate soil and water around your home. They can adversely affect the garden and poison some of your precious plants.
Another risk from old and unattended batteries is burning. As I mention earlier, some types of old batteries contain acids. Though these are generally harmless, such acids can become corrosive over a period of time due to loss of water by condensation. Anyone that comes in touch with such acids by accident can suffer burns.
Worst of all, certain old batteries, including car batteries, can explode if exposed to high temperatures. You might have stored them in a garage or basement. However, if the external temperature goes high during summers, it directly affects the batteries too. This can cause the old battery to expand and explode in some cases. Such explosions can injure people nearby or damage your property.
These hazards are not limited to car batteries only. In fact, even 'button' cells in your watch can cause contamination, explode or damage something if they leak or are manhandled. The same holds true for other batteries we use in clocks, radios and other stuff.
Who Buys Used Car Batteries Near Me?
This brings us to the question: what should I do with old car batteries? In fact, you should be asking, what should I do with all my old batteries? My answer is simple: sell all your old batteries, as a bunch or pile, to the first available buyer.
And trust me. There're lots of buyers for your old car batteries and those of other types. Now, let's see some of the best places to sell your old car batteries.
1. Battery Recyclers of America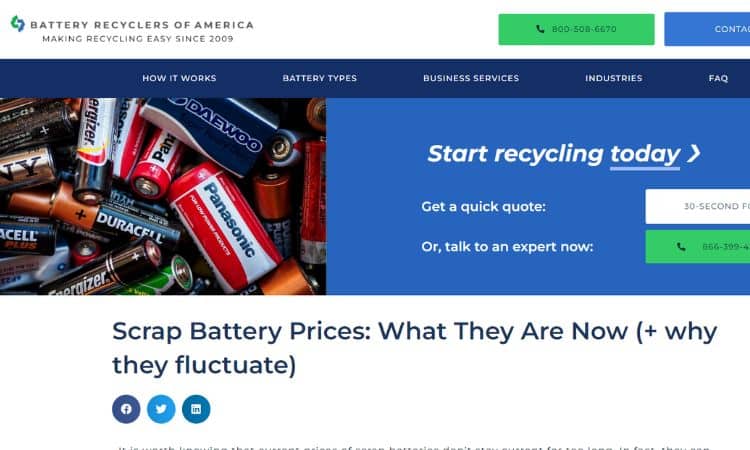 Battery Recyclers of America is an apex organization of various companies across the country that recycle batteries of all kinds. You can visit their website and find lots of resources such as where to sell your old car batteries, proper maintenance of old batteries, indicative prices and a list of nearby old battery buyers. This is a very interesting website where you can learn a lot about old batteries.
2. Renewed Battery Makers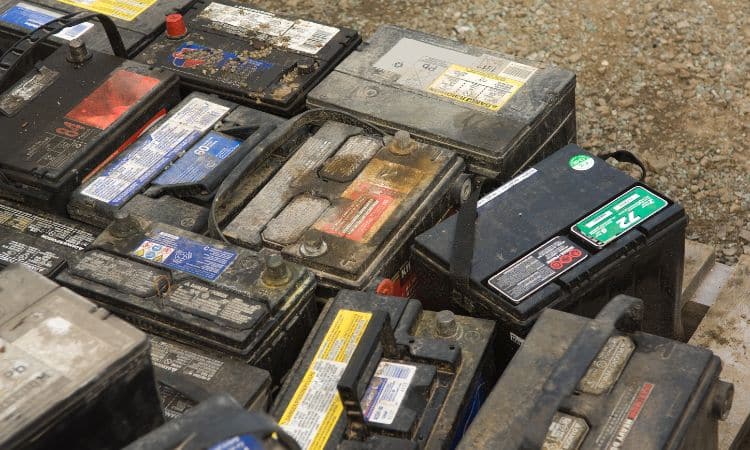 As part of environmental protection and to lower battery manufacturing costs, a lot of companies renew old batteries. They buy your old batteries, do the necessary repairs and maintenance and create a product that's as good as new.
Such renewed batteries cost much lesser than branded, original and new ones. Hence, car owners with lower incomes can afford them easily. You, too, could have an old battery renewed for reuse if you like.
3. Battery Service Inc.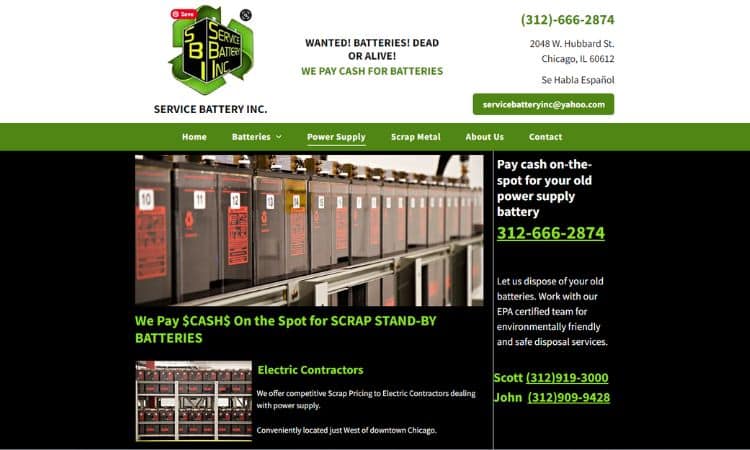 This company operates only in Chicago, Illinois. They declare that they want batteries 'dead or alive.' If you're a resident of Chicago and its surrounding areas, enquire with Battery Services Inc., and find out if they will take away your old car battery.
They will give you a good price for any old car battery. All that you need to do is call them on their numbers or contact them on their website.
4. California Batteries Inc.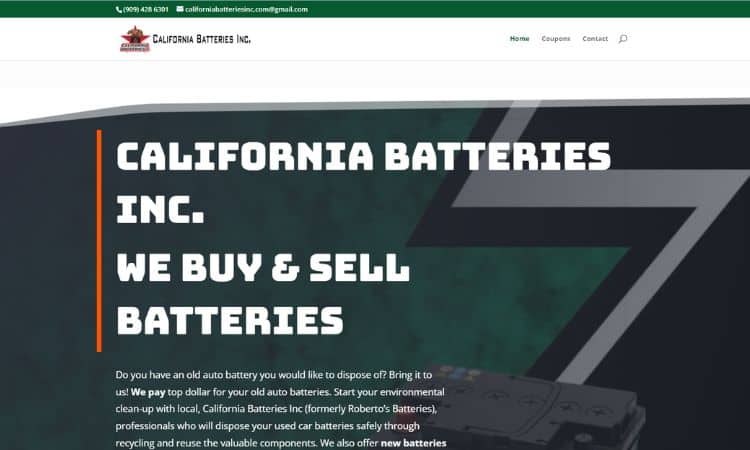 California Batteries Inc. buys old car batteries. They have five locations in California- San Bernardino, Barstow, Victorville, Fontana and Hesperia.
Contact California Batteries Inc through their website and find the type of old car batteries they'll buy and prices or other details. This is a good service if you wish to sell old car batteries and live in any of these five cities of the state.
5. Interstate Batteries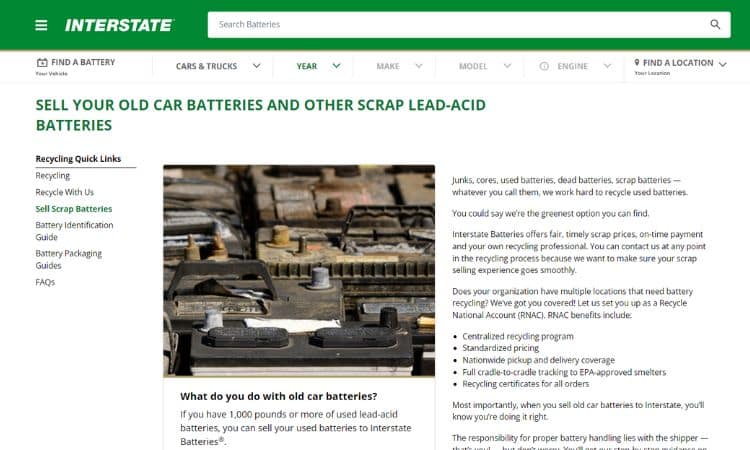 As the name of this company suggests, Interstate Batteries operates in several states of the USA. They buy old car batteries and sell renewed ones for your car, as well. Additionally, they have various resources that can help you if you wish to recycle your car or other batteries.
You can find the nearest location of Interstate Batteries and its authorized outlets near you by simply keying in your ZIP code on the location finder on their website. This is a big company, and you can surely find someone who buys old car batteries near you.
6. Anderson Metal Trading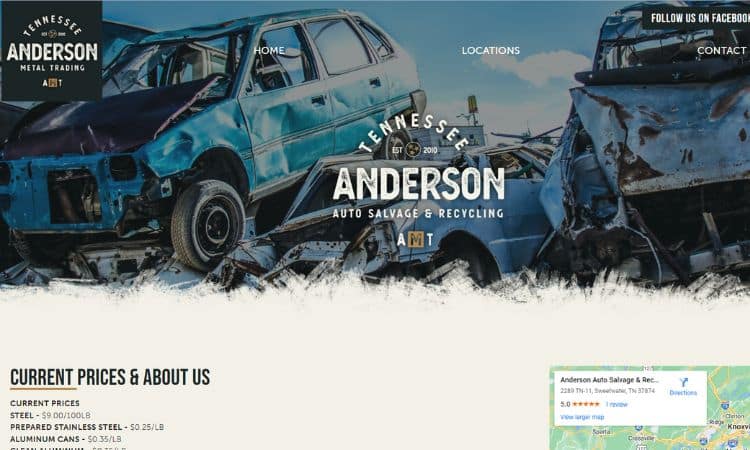 Tennessee-based Anderson Metal Trading buys all kinds of old car batteries as well as lots of other car spares and peripherals, junk cars and other metals. They supply these old car batteries to recyclers or cannibalize them for materials such as rubber, plastic and metal.
They are a very professional company and ensure that the old car batteries you sell don't contaminate the environment by spilling hazardous materials. They dispose of useless parts of old car batteries in ways approved by the US Environment Protection Agency.
7. Rockaway Recycling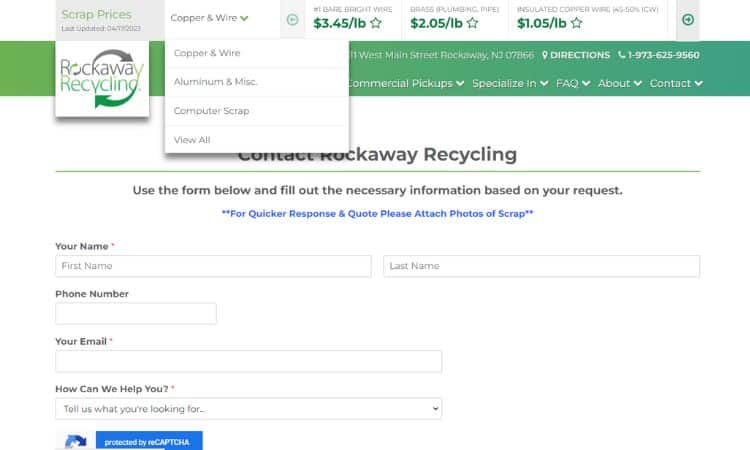 Rockaway Recycling buys all sorts of metal-clad batteries, including used car batteries. They have an online price chart that changes daily, according to rates of metals in the scrap market, on any given day.
You can check the prices that you could get for your car battery online before deciding to sell to Rockaway Recycling. This company is located in Rockaway, New Jersey and hence, convenient for those living in and around that city.
8. United Battery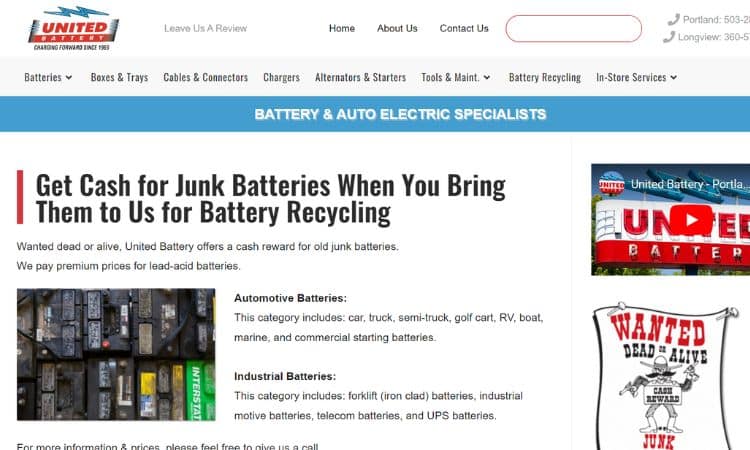 United Battery has two locations in Oregon, in the cities of Portland and Longview. They buy old car batteries and pay cash, depending on the type and condition.
Some of the old car batteries they buy are recycled and made into usable ones that are cheaper than branded and newer batteries. Others are salvaged for their parts such as rubber, plastic and metals, among others. If you live in and around Portland or Longview, try selling your old car batteries here.
9. eBay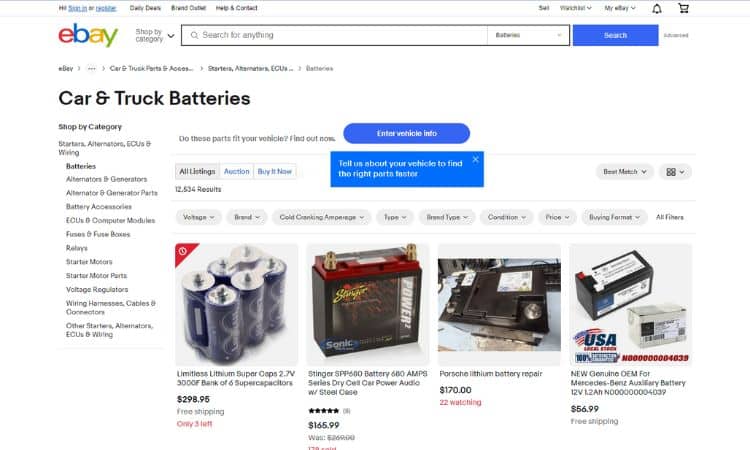 Most car owners in the USA and other parts of the world know that eBay is the marketplace of choice for buying and selling car spares and parts. This also includes old batteries.
However, to sell old car batteries on eBay, there're certain terms and conditions. Firstly, your old car battery should be in a good condition and not junk or scrap.
Secondly, it should conform to the latest standards of the Environment Protection Agency, meaning it shouldn't contain banned materials and chemicals. To sell on eBay, open a seller's account, upload pictures, write a good description and quote your price. Also, state how you want the payment.
Also Read: 10 Guaranteed Ways to Make Money with Your Car
10. Facebook Marketplace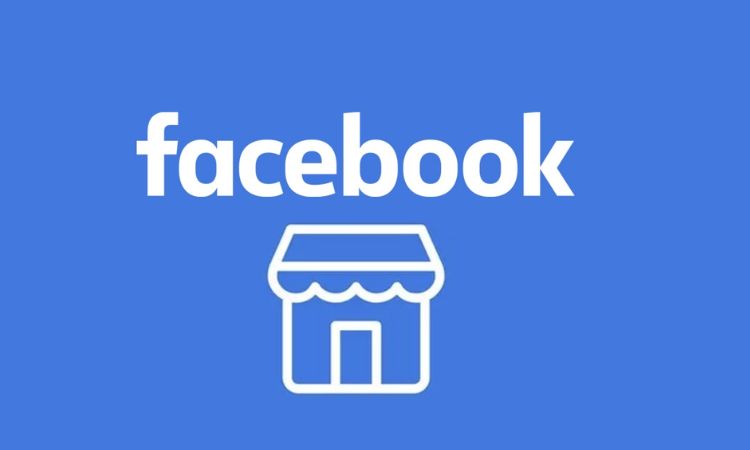 If your old car battery is in working condition or can be recycled and reused, place a post on Facebook Marketplace. This is a free online resource for everyone to sell stuff. The advantage of Facebook Marketplace is that it displays your post within a zone of about 100 miles from your location.
This means you can find buyers in your area for the old car battery. As a matter of fact, selling old car batteries through Facebook Marketplace can be rather quick, and you can get the money much faster than through other resources.
EPA Guidelines for Used Car Batteries
Before you go to sell used car batteries, I suggest that you read the various guidelines on their use, storage and disposal, prescribed by the US Environment Protection Agency. Used batteries of all kinds pose an environmental hazard unless you handle them properly.
Generally, all used car battery buyers and recyclers conform to the guidelines of the EPA. However, common consumers are largely unaware of EPA requirements and could store used car batteries in the wrong manner.
Wrap Up
There's not much money to be made by selling used car batteries unless you have a large number. You can get just about $5 per battery or lesser. In some cases, you could fork in about $15 to $20. calculate the money you would spend on taking them to sell somewhere.