Do you know how to become a Virtual Assistant and earn big from VA jobs? Did you know Virtual Assistant is fast growing as a chosen profession around the world?
And would you like to join this growing community that earns thousands of Dollars working from home?
If you would love to earn big money by working as Virtual Assistant or VA, continue to read. In this article, I will try answer your questions on how to become a Virtual Assistant and get rich fairly quickly.
What is a Virtual Assistant?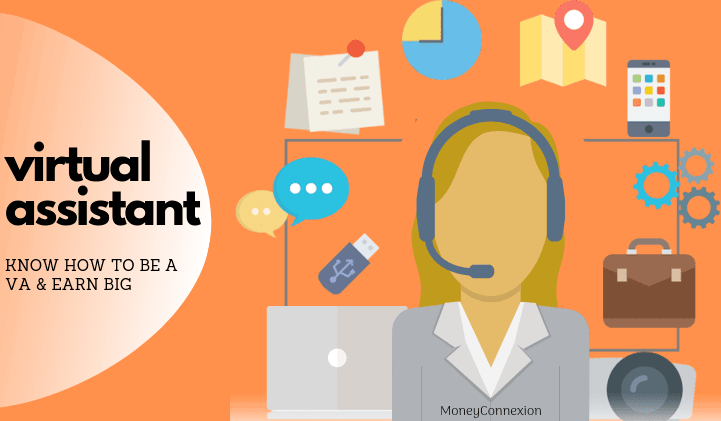 Broadly, a Virtual Assistant is someone that works outside a client's office and provides various services online. Usually, Virtual Assistants work on a computer and phone from home. However, they have access to various documents of the company through remote access.
Virtual Assistant Services & Types
There are various type of services you can offer as Virtual Assistant. Global trends indicate these Virtual Assistants in these five categories are in the highest demand. And the trend will continue.
1. Innovative Virtual Assistants
Great for people with imaginative and creative skills. It involves managing social media, creating ad campaigns and attracting customers through interesting, innovative content. Innovative VAs are in great demand. Most businesses are now online. They use social media and other online resources to attract customers.
2. Administrative Virtual Assistants
This is the hottest job anywhere in the world. As Administrative VA, you will provide various services such as handling documentation, responding to mail and email, scheduling appointments and meetings, sending reminders and requesting for services, among other tasks. However, there are too many people offering Administrative VA services.
3. Technical Virtual Assistant
An excellent job for engineers, architects and those with Internet and software skills. Technical VAs provide online services for engineering firms, consultancies, building and real estate firms and the IT industry. These VAs are also in high demand worldwide since they allow top engineers to get remote help in complex projects.
4. Financial Virtual Assistants
Financial VAs provide services such as managing bank accounts, stocks and investments of top businessmen and investors. Usually, a Financial VA will not have transaction rights to bank accounts and other investments. They only help in maintenance of the bank, credit card and other accounts while monitoring investments.
5. General Virtual Assistants
If you do not have specific skills or wish to work freelance, General Virtual Assistant is the right job. It involves simple tasks like maintaining diaries of a top executive and filing documents. Tasks will vary according to every employer. Since there are no specific skills needed for the job, you can offer services to more than one employer at the same time.
How to Become a Virtual Assistant
You can choose from any of the above categories to become a Virtual Assistant. Your skills or the lack of certain skills will decide which category of VA is suitable.
Here I will explain in simple steps how to become Virtual Assistant.
Business, Freelance, Fulltime or Side Gig
Do you wish to offer services as Virtual Assistant as business or on freelance basis? Will it be your fulltime profession or a side-gig? This is an important decision you have to take before offering Virtual Assistant services and earn big money.
For those already working, a side-gig may be suitable to earn big. As VA, you can also eye earning a decent livelihood. Or you can simply be a digital nomad by working freelance and part-time.
High quality work is expected from all Virtual Assistants by their employers. Hence, it is essential to finalize how you wish to offer services as a VA and earn big.
Take VA Course
Taking a Virtual Assistant course is the shortcut to become one. There are several online and offline classes that offer short VA courses for a reasonable fee. The cost of the course at HorkeyHandBook is $397. There are many other courses available for VA.
Various essential features of becoming a Virtual Assistant are taught through such courses. Basics like selecting your set of skill to complex details such as pitching your services for the highest pay are some things you can learn through these courses.
Online forums, employment resources and other facilities are usually provided by course providers. This is greatest advantage of taking a course: you stay in touch with market trends, find VA jobs easily and have peer support.
Study the VA Market
If you are among Do It Yourself (DIY) jobseekers, I advise studying the Virtual Assistant jobs market.  Look for skills in demand and median pay that you can get as beginner VA. This helps better identify where and how you can pitch your skills for good pay.
Additionally, you also get vital insights about Virtual Assistant employers. Usually, most popular recruitment websites carry these reviews. These reviews are reliable to a great extent since they are written by real people working as VAs at various organizations.
Identify Your Skills Set
Identify skills that you wish to offer as Virtual Assistant. It is not necessary to go strictly by your educational qualifications and experience. In fact, a qualified engineer can work as innovative VA to give wings to that creative side and passion.
And if you hold no qualifications, you can simply offer to work as VA for simpler tasks like filing and handling correspondence.
In addition to work related skills, employers also look for specific qualities from a Virtual Assistant. Hence, it is vital to possess these soft skills too. While most Virtual Assistants work from home, some employers may require you to attend an interview.
Hence, ensure that you can pass the interview and if necessary, the skills test. I do not wish to scare you but nowadays a lot of employers insist on a skills test to ensure they are hiring the right person for the Virtual Assistant job. The interview can be in-person or online. Hence, be prepared.
Earning Big as VA
Surely, you want to get the best price from your work as Virtual Assistant. You can get a fair idea about how to earn big by simply studying market trends. Websites like Glassdoor, Indeed and other major recruitment portals carry median salaries and reviews that will help understand how to earn big as VA.
Decide whether you want to work fulltime or part-time or occasionally as freelancer Virtual Assistant. Because, median salaries differ for all three types of work.
Generally, earning big as VA is possible if you provide skills that are in high demand but are rare. Here, your personal passions can play a major role. If you have a hobby, skill or any talent that is not available easily, pitch them while applying as Virtual Assistant.
VA as Job or Business
There are ongoing debates whether work as Virtual Assistant is business or employment. The reason: taxation. While you earn big as Virtual Assistant, the taxman also demands a share every year. Therefore, take an informed decision and classify your work a Virtual Assistant as employment or business.
The reason is simple. In some countries, freelancers and part-time workers pay lower taxes. In other countries, small, home-based businesses enjoy certain tax benefits and exemptions. Regardless how you provide VA services, income is taxable.
Go Online
Going online is a must for every aspiring Virtual Assistant who wants to earn big. You can do that in two different manners. Should you have some money, set up an amazing blog or website and offer Virtual Assistant services. Popularize your VA profile through blogs and social media as well.
An important resource for Virtual Assistants is LinkedIn which links professionals across the globe. Therefore, create a superb LinkedIn profile to connect with employers and other VAs.
Also, register on Glassdoor, Indeed, Upwork and other very reputed websites to seek Virtual Assistant jobs and post your resume. As VA, you can surely earn big if some great employer enlists your services. In any case, higher your online presence, more you earn as Virtual Assistant.
Get Testimonials
Once you start working as Virtual Assistant, start collecting testimonials from employers. Display these on your website and resume with a brief listing about your experience in working with that employer. You build a lot of goodwill with a past employer while impressing newer ones.
These testimonials are your magic key to earn big as Virtual Assistant. Usually, employers will look at hiring VAs that have excellent credentials and matching expertise. These testimonials will offer you that edge over other competitors bidding for the same work.
Virtual Assistant Income
There are three main ways how you get money for work as Virtual Assistant.
Hourly Payment: If you are freelancer or offering VA services as side-gig, the employer will pay you on hourly basis.
Payment for Project: Often, large businesses require VAs for a specific project only. In such cases, bid the price for the entire project. Remember, a project may drag over several months after its due completion date. Hence, make allowance for such extra time too.
Fulltime Income: Means, you get a fixed weekly or monthly income from one or more employers that take your Virtual Assistance services.
Virtual Assistant Median Pay
Virtual Assistants worldwide earn big money. And superior quality work makes you popular. The below list will give you some insight into how much money a VA can make on average.
The Internet is rife with stories about Virtual Assistants that earn whopping US$10,000 per month and more. However, we cannot verify these independently.
You too can become Virtual Assistant and earn big by offering high demands skills to the right employer.
Do I Qualify as Virtual Assistant?
Yes. Almost anyone with basic knowledge of using computers and some simple software can work as Virtual Assistant. You can become Virtual Assistant and earn big money if you are among the following.
College/ University student looking for extra money.
Stay-at-home moms.
Single mothers.
Professionals looking for a side-gig.
Freelancers looking for multiple jobs.
Anyone looking for fulltime jobs with some computer skills.
Migrants wanting immediate work and fluent in English and a foreign language.
Benefits of Becoming Virtual Assistant
Earning big money from home by working flexible hours is the greatest advantage of becoming a Virtual Assistant. And there are more facts too.
Worldwide, the Virtual Assistant industry will grow to $15.79 billion by 2021 from $8.56 billion in 2019.  Demand is expected to grow three-fold by 2021 while number of people seeking VA jobs is not expected to keep pace.
Lots of successful businesspersons around the world are hiring Virtual Assistants. They hand over specific tasks to remote Virtual Assistants to ensure secrecy and security of their sensitive data.
Wrap Up
Should you be really interested in offering services as Virtual Assistant, the above steps and information might prove very useful. Since Virtual Assistant industry is growing, now is the right time to enter this field and earn big.
In fact, there is a surge in gig economy worldwide. And VA jobs are a great way to enter this gig economy. While there are no promotions in this field like a regular, desk job, rewards of working as VA are amazing. Hopefully, this article will help you become a Virtual Assistant and earn big.