Surely, we all notice typographic errors, spelling mistakes and incorrect punctuation while reading newspapers, magazines, roadside hoardings and various documents. We wonder why nobody could see them before going to print.
If you are among these people, it is high time you make money online with freelance proofreading jobs. Not everyone notices these lapses. And those of us that take note, are sticklers for correct grammar, punctuation and spellings.
Usually, media houses, advertising companies and other large companies have dedicated proofreaders to check and remove typos, spelling errors and incorrect grammar.
However, smaller businesses cannot afford fulltime proofreaders. Hence, they provide you this excellent opportunity to make money online with freelance proofreading jobs.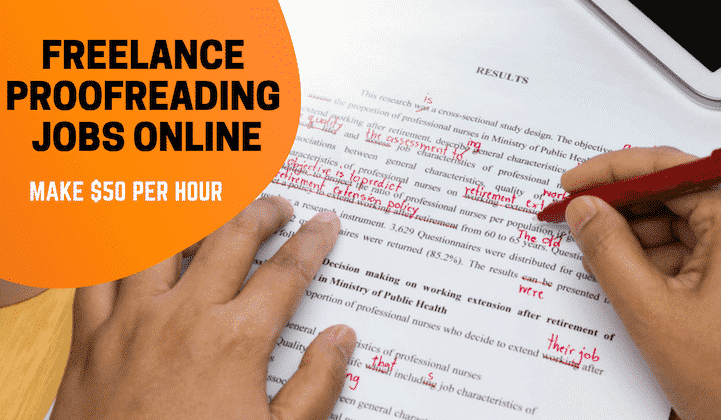 Sounds interesting? Continue reading. I will explain what is proofreading and its importance.
Understanding Proofreading
Detecting and correcting errors in any document before it goes for final print is known as proof reading.
It involves checking a document for spelling mistakes, incorrect punctuation, abrupt line breaks due to technical glitches in typing software, typographic errors and other common bugs that afflict every online and physical printer and publisher.
Proofreading is important for several reasons.
The meaning of a sentence can change entirely due to a simple spelling mistake.
Legal documents with incorrect spellings, improper grammar and wrong punctuation can have serious consequences.
Any document with spelling mistakes, incorrect punctuation and grammar leaves poor impression upon the reader.
To avoid these issues, businesses and individuals hire freelancers to proofread their copies before they go for online or physical publication. And they pay well too.
This means, you can make big money with online freelance proofreading jobs.
Freelance Proofreader Pay
How much money you make as from online freelance proofreading jobs depends upon two factors. First, the business of your employer. Second, the time you spend daily as online freelance proofreader.
Median hourly pay for online freelance proofreaders ranges between $18.28 and $28.06, according to the US Bureau of Labor Statistics.
Worldwide, median pay for online freelance proofreaders can be anything between $8 to $50 per hour, depending upon location of the employer and complexity of the document.
Online proofreaders working for law firms and attorneys get the highest median pay of $28.08 per hour. Newspapers, printers and publishers offer an average $18.28 per hour.
These figures indicate, you can earn anything from $4,387.20 to 6,724.80 per month from online freelance proofreading jobs.
Some employers also offer tips and other perks to online freelance proofreaders.
Making Money with Online Proofreading Jobs
Should this pay appear tempting enough, you are ready to make money online with this job. Therefore, I will guide you in steps how to go about making money as online freelance proofreader.
Step-1: Test Your Skills
Testing your skills is the basic, first step before you make money online with freelance proofreading jobs. There are several free, online proofreading tests available. Try as many of these as possible to test your skills.
Doing so will help you identify own shortcomings in detecting spelling, grammar and typos. The harder you practice, better your proofreading. This translates as bigger pay.
Step-2: Free Online Proofreading Course
Taking a free, online proofreading course will help you fine tune skills. There are several free online courses for proofreading available. You can select one that best suits your needs.
Here, it is important to remember that free online proofreading courses cover only the basics of this profession. You do not automatically qualify to proofread complex technical or legal documents.
However, a free online proofreading course will help you overcome some unexpected hurdles. For example, newcomers to freelance proofreading online might take longer time to complete an article.
A free course helps you proofread faster. When you combine it with free online proofreading tests, you have a winning combination.
Step-3: Get Essential Proofreading Resources
You may have to invest a small amount of money on getting some essential proofreading resources before offering services as online freelance proofreader. Here is a list of such resources.
These resources are optional. However, they can come handy if you come across some complex issues while proofreading online.
Step-4: Take Skills Inventory
Taking an inventory of your proofreading skills is most important. Pay directly depends upon what you proofread. As freelance proofreader, you would definitely want to get more money.
If you can proofread complex, legal and technical documents, you get more money- up to $28.20 per hour. Simple proofreading tasks get about $18.28 per hour as median pay.
With a skills inventory, you know where to pitch for an online freelance proofreading job or contract. You can know how much money to expect from a freelance proofreading job and how to increase income.
Further, a skills inventory will help you identify gray areas while finding ways and means to overcome any shortcomings. It makes possible for you to upgrade skills and venture into more specialized proofreading jobs that pay higher.
Step-5: Create Freelancer Profile
With proper awareness of your skills and necessary resources, you are all set to make money online with freelance proofreading. Now, the next step is to create personal profile as online, freelance proofreader.
A freelancer profile is very different from the ordinary bio-data, Curriculum Vitae (CV) or resume you would submit while searching for jobs. Freelance proofreaders are contractors.
Therefore you will not be an employee with any organization. Here, I recommend you read Upwork's complete guide on how to create a freelancer profile. This is the best online resource I found that can help anyone create an excellent freelancer profile.
Step-6: Create LinkedIn Profile
LinkedIn is your best online resource to make money online with freelance proofreading jobs. LinkedIn is a website that links professionals across the world. Create an excellent LinkedIn profile by simply following steps they mention.
Nowadays, some of the best employers recruit freelancers and remote workers through LinkedIn. Creating a superb LinkedIn profile increases your chances of landing that dream contract that pays big money for online freelance proofreading jobs.
Also, get references from your past employers. These references need not be related to proofreading. They can simply describe your qualities as worker such as dependability and trustworthiness.
Step-7: Fix Your Price
Fixing your price is very important if you are serious about making money online with freelance proofreading jobs. Fixing your price as freelance proofreader can prove very tricky.
You will find various websites that mention different pay scales ranging between $6 to $75 per hour. Some websites also talk about charging per word, page, document or even an entire contract.
Find out how much others with matching skills are charging. Do research on rates published on websites including Fiverr, Upwork, Freelancer.com and others. This will help you arrive at a realistic figure about how much money you can ask for proofreading services.
Step-8: Avoid the Undercutting Trap
Sorry. People or companies are not waiting to handout online, freelance proofreading jobs. Indeed, it is a highly competitive and harsh market out there. Every time a freelance, proofreading job gets advertised online, dozens of freelancers will pounce for the work.
Some of these will be highly skilled proofreaders while others could be amateurs and beginners. You will be pitted against a couple of dozen rivals, if not more.
This scenario presents a trap where most freelance proofreaders fall during initial days: Undercutting. If you genuinely want to make money online with freelance proofreading job, slashing prices is a trap to avoid at all costs.
Bidding lower often leaves a poor impression. It is worth knowing that employers look for quality proofreading and are willing to pay more. Also, you would be unable to raise your price for future online, freelance proofreading jobs with the same employer.
Step-9: Look for Freelance Proofreading Jobs
You can look for online, freelance proofreading jobs using two distinct methods. Begin by registering yourself as freelance proofreader on websites including Fiverr, Upwork, Freelancer, Indeed, Flexjobs, Glassdoor and other reputed freelance websites.
Upload your freelancer profile on these websites. Download their app on your smartphone to get alerts and instant applications.
Creating these accounts helps prospective employers to find you online. Include contact details such as phone number and email ID as well as LinkedIn profile.
Also, you can login to your accounts on these websites, search for online, freelance proofreading jobs and place bids. Before bidding, ensure that a proofreading job matches your skills.
Because these websites also post freelancer proofreading jobs that need special skills such as knowledge of engineering or medicine, among others.
Step-10: Set Your Payments System
Generally, freelance proofreaders get money for their work through PayPal. You can also opt for direct credit to your debit card or checking account, credit card or savings bank.
Since most freelance job portals use PayPal, you would definitely require an account to make money online with proofreading jobs.
Getting payments is not as easy as you may falsely believe. Companies like Upwork and Flexjobs hold money from the employer in escrow. They will pay only when an employer is fully satisfied with your work.
This can take two days to a week. However, these websites will never cheat you. Since they receive the money in advance on your behalf and before you start work, payment is assured.
Step-11: Join Freelancers Union
Freelancers Union is an excellent resource. They lobby for proper laws to cover freelancers of all types. Freelancers Union also offers various schemes and insurances.
Also, there are several other advantages of getting a Freelancers Union membership. Though the organization charges a nominal membership fee, there are several benefits they offer every freelancer that enrolls as member.
Further, Freelancers Union also has various online resources that can help you make money as freelance proofreader.
They have a Facebook page where you can meet other freelance proofreaders and learn about issues, new opportunities, changes in laws and get other relevant information.
Step-12: Keep Upgrading Skills
Upgrading proofreading skills and acquiring newer ones for complex documents is very important if you seriously want to make money with freelance proofreading jobs online.
Every industry witnesses rapid developments. Hence, use of technical terms and language can change quite frequently.
Acquiring newer skills- for example- medical proofreading- can help you make bigger money as you grow in this freelance profession.
You can upgrade proofreading skills by reading examples of specialized proofreading documents and proofing them with your skills. When you hit a grey patch, pause and learn the skills you would need to overcome this deficiency.
Wrap Up
It is fairly easy to make money online with freelance proofreading jobs once you follow these steps. How much money you make depends solely upon time and effort you will spend on the endeavor. Online, freelance proofreading can be done either part-time or even as fulltime profession. We hope the above guide will help fulfill this objective.