So you must be wondering what's that secret that can make your AdSense earnings as high as 3 times your current earnings and that too in 20 minutes. You have tried each & every way to increase your AdSense earning but there was no measurable change in your AdSense earning.
But I want to admit that this trick works. I have used this trick to many of my blogs & it worked very well on all my blogs. And yes, I know many of the people don't know about this secret of AdSense earning.
AdSense Secret to Triple Your Income
Although its not a secret that there are only 2 ways you can increase your AdSense earning. I mean to say either by increasing your CPC or increasing your CTR. So my trick will show you how to increase your AdSense earning by increasing your CPC to 3 times.
How to increase your AdSense CPC?
Do you know what is average CPC in AdSense? In simple word, average CPC is calculated as your total AdSense earnings divided by total number of clicks. It means your earning is not same for all the clicks that you receive on your AdSense ads.
Your earning mainly depend on the advertiser. Each advertiser bid a different amount to get a place on our website. Some advertisers bid high, some advertisers bid good but there are many advertisers who bid very low CPC.
And just because of these low paying advertisers, your CPC drops considerably. If you can remove such advertisers who pay very less, you can maximize your AdSense earnings to 300%.
How to remove low paying advertisers in AdSense?
So if you want to remove these low paying advertisers from your website, it involves 3 steps-
Finding all the advertisers on all pages of your website.
Finding advertisers who pay very less (probably below 5 cents)
Blocking these low paying advertisers
So lets understand how you can achieve this to triple your AdSense earning. It hardly takes more than 20 minutes to do this.
Finding all the advertisers on your website.
So first thing you need to do is get the list of all the advertisers URL who are showing their ads in your website. Never click on any of your ads to know the URL as it can give trouble to your AdSense account.
Instead use one of the best tool – Google AdSense Preview Tool
AdSense Preview Tool allows you to preview the ads that will show up on your page. It is of great help in avoiding unwanted ads, testing and optimizing content and setting ads format, color and placement.
It's very easy to install AdSense preview tool. This is a registry file. Just download the file, double click on this to add to registry and you are ready to enjoy this tool.
You can use this tool in internet explorer version 6.0 & above.
To install AdSense Preview Tool –
Right click on the link, click 'save as' or 'save target as' & download at some location like your desktop or my documents.
Double-click the file from your desktop or my documents. A confirmation window will appear – click Yes to continue. The registry update will self-install.
Restart Internet Explorer by closing all open IE windows.
To use the tool, open any URL from your blog in internet explorer, then right click there, select 'Google AdSense Preview Tool' and click on this.
After clicking on the preview tool, you will find a popup window with the list of advertiser ads showing on your website like this-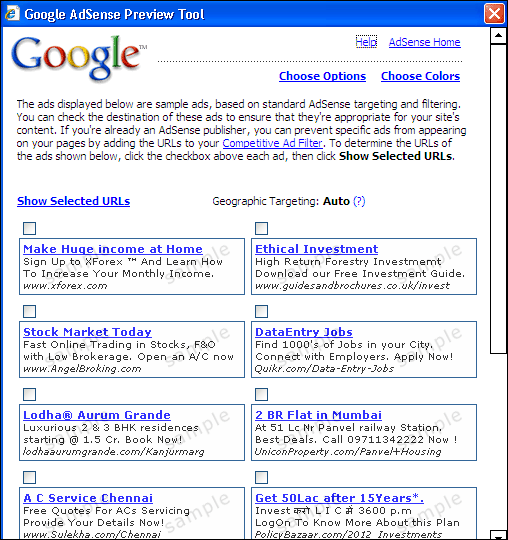 You can find the AdSense URLs of the advertisers whose ads are shown in your website – Check all of them and Click on the Show selected URLs.
Tip – You will find different list of advertisers on different pages on your blog so check your analytics which are the most viewed pages on your websites & collect the list of advertisers from all important (most viewed) pages.
Copy all the URLs in a notepad. Now this is the list of all URLs showing ads on a particular webpage in your blog.  My next step will be to check how much these advertisers are paying i.e. what are the CPCs for these ads.
Find advertisers who pay very less
For this, I will use iSpionage tool. Just visit www.ispionage.com & enter one of the domain of the advertiser from the list which you have received from Google AdSense preview tool and click on Search.
Just refer the image below and check this properly-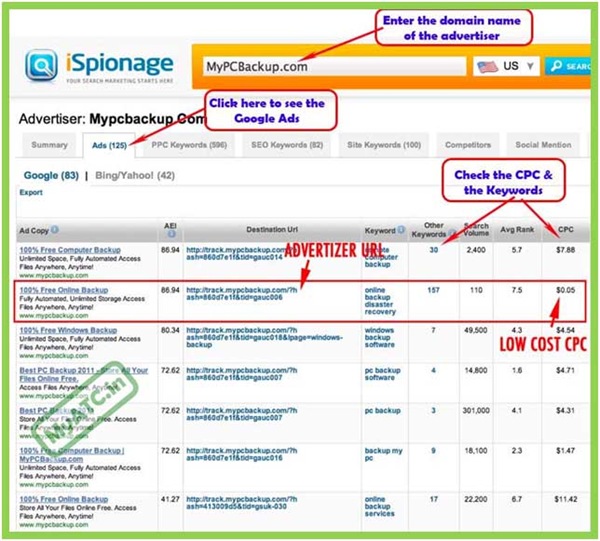 In this example –
I visited the site www.iSpionage.com
I opened my notepad where I saved the list of URLs which I received from Google AdSense Preview Tool.
I copied one of the advertisers domain (e.g. MyPCBackup.com) name from the list and pasted this in the search box in the iSpionage.com search box and clicked on search.
I used the free version only where I can see the top 10 results.
I clicked the 'Ads' tab to see the Google Ads & I checked which are the ads with low CPC.
I copied the destination URLs of these low CPC ads and saved in a notepad
Similarly I used other advertisers to find out if their ads are paying low CPC.
Then I repeat the procedure on my other important pages on my blog.
This way I prepared a good list of all the advertisers URL who are paying me low CPC.
My next step will be to block the ads of all the low paying advertisers.
Blocking these low paying advertisers
Google AdSense has provided the facility to its publisher to block the advertisers you don't want on your website. So I need to login to my AdSense account to block these low paying advertisers.
Login to your AdSense account -> Click 'Allow & block ads' & then click 'Advertiser URL's. Just enter the advertiser's domain name of all advertisers who are paying low CPC & then click block URLs. That's it. Just refer the image for more clarity-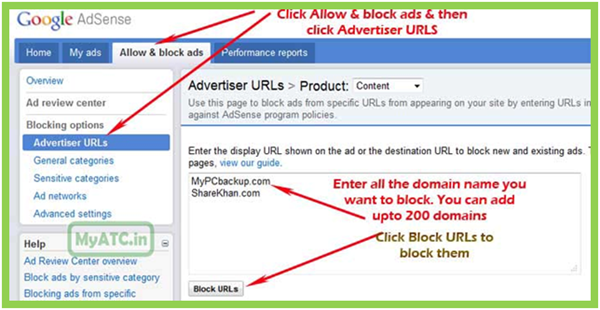 And you're done. Wait for a couple of minutes and you will see that the low CPC ads are disappeared from your websites. Wow!!
The change with my AdSense earnings is really amazing. All it took was a few minutes to do this whole thing and it has increased the total AdSense revenue of my websites.