If you live in India and thinking to make money online then what all options are you going to try? Well! There are many ways but 2 are most popular, one is affiliate marketing and other is Google Adsense.
In affiliate marketing, you engage in hard selling, you sell various physical products, electronic products like eBooks and software, whereas in Google Adsense you make money when someone clicks on Ads.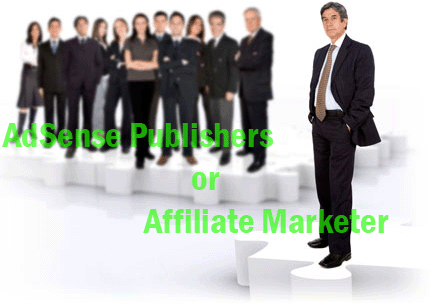 So the basic distinction between these two ways of making money is that affiliate marketing is bit hard but you can make a lot of money, on the other hand in Google Adsense you make money only from the clicks on the ads on your site & earnings is less  but not bad.
Therefore, it is very clear that with affiliate marketing you can make a lot of money in short period of time. However, why there are only 1% affiliate marketers as compared to Adsense publishers in India.
Well! I know why in India an affiliate marketer does not succeed.
Fear of No Sale
One of the biggest reason is people here does not think they can sell online. They can make a good blog, upload good contents on regular basis and even bring the good traffic but they are not sure if they can get a success in selling.
Sometime, they try and test & once they get the failure, they return to the easiest way & that is AdSense. But affiliate marketing is not the try & test. You have to stick to it for long time before you become and affiliate guru.
Purchasing Power of People & Customer's Trust Deficit
Most of the bloggers & site owner receive majority of the traffic from India only. And reason why affiliate marketers in India do not survive is purchasing power of people from here. As I said, in affiliate marketing you sell products to online visitors. Normally, an eBook could cost around $30 to $40. No one will spend Rs 2000/- for an eBook.
Moreover, transaction is only done by credit cards and in India only few people own credit card. Therefore, your market is very limited because there is real dearth of customers who can swap credit cards. In India majority of people do not have credit cards.
Even if they have, they would not use it, because there is trust deficit. People do not trust that after transaction they will receive any product.
Trust with Affiliate Network
There are very few affiliate networks in India to monetize your Indian traffic but the advertisers pay very low. And even its difficult to find genuine Indian affiliate program or networks. Even if there are some networks, they do not pay you on time.
Therefore, you have to rely only on foreign affiliate networks like Clickbank, Commission Junction, Amazon etc. The main problem with foreign networks is that you have to sell products to people living in USA, Canada, UK etc.
For an Indian marketer it is very difficult to write a sales page that relates to people of these countries. They do not know how to communicate with foreign customers. Therefore, only 1% marketers succeed.
Awareness for eProducts
Fourth most compelling reason is lack of awareness towards eProducts in general people in India. Not many people have habit of using eProducts like eBooks.
eProducts solves the problem of people. They can teach you how to lose weight, getting rid of acne, etc. In India, majority of people take help through other means. Still culture of using eProducts is very less, which limits a marketer's customer base.
Running Promotion Campaigns
Fifth reason that you do not find too many affiliate marketers in India is running a campaign is very costly. It simply means to sell eProducts you have to promote through various means.
If you want to get quick and targeted customers then you might buy traffic. The best way to get quick traffic is via Google Adwords. However, it is very costly and a normal affiliate marketer in India cannot afford it.
If there are some other promoting means that are free, then they are of no use.
Piracy
Last but not the least reason is piracy. Why people in India would buy an eBook costing $30 to $40, if they can get a copy of it for free. On Internet, we all know there are hundreds of websites that give you free downloads of popular eBooks or other software.
Therefore, as an affiliate marketer you are badly affected. No one would buy your eProduct that you are selling because it is freely available.
Conclusion
Finally, I will conclude saying that in India only 1% of affiliate marketers succeed. There are some genuine reasons for this. They are
Fear of No sale
Purchasing Power of People & Customer's Trust Deficit
Genuine Affiliate Network
Awareness for eProducts
Running Promotion Campaigns
Piracy
If you are really want to make big money, then try with the best affiliate network, understand how you can sell, stick to your campaigns till you get the success & then see how you can transform yourself from a good blogger to an good affiliate marketer.