Growing online survey is a no strange thing in the online world. If making money online is on your cards, online paid survey sites should definitely top your list.
A rookie can make some few bucks, but if you are a serious online money maker this can be your additional source of income.
Isn't it amazing when you get paid for the work you do online?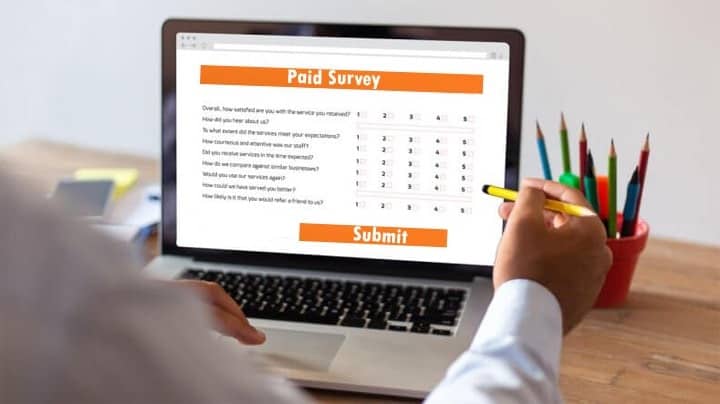 The best part is, it is a kind of a spot income which you can generate just by sitting home. You can easily make upto $100 to $1000 a month by spending few hours on your laptop or smartphones.
More and more companies around the globe are considering survey as the best method to collect information and pay you in return.
The returns rewards are exciting which are mostly in the form of cash rewards, gift vouchers & Coupons.
So not all online survey sites pays you and are present globally.
Some survey sites are available in US or Canada only, some of them have a regional focus, while some might be present in European countries, South Eastern countries, Western Countries or even Asian countries.
Many other online survey sites pays you in cash.
Now they promise you with high rewards, most of them turns out to be a scam making It difficult for the online earners to figure out the legit survey site that actually pays.
Keeping in Mind, we have collected legit Top 20 International Paid Survey Sites, which definitely pays you high & are present globally.
20 Best International Survey Sites
With that said, let us begin….
1. Swagbucks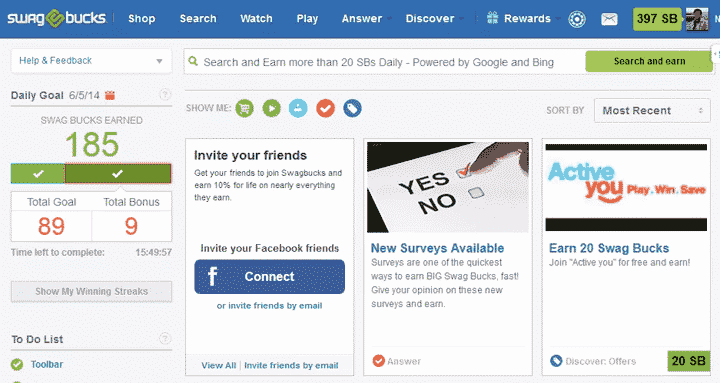 Swagbucks is one of the most trusted and a popular reward programme site. There are 4 ways you can earn rewards and cash on Swagbucks and one among them is through answering surveys.
Swagbucks have collaborated with many well-known retailers and brands. You earn free gift cards and cash reward in terms of SB (Swagbucks) for answering the surveys and influencing their brand.
You can later the redeem your SB for gift vouchers or Cashout using your paypal account. Set your daily goal to earn more by answering surveys frequently.
How much you earn: You actually start earning from this survey site right after you signup with them & verifying your email. You can make upto 70 SB for answering the survey on daily basis and later redeem points using their popular reward programmes.
Adding referrals multiplies your scope of earning more. You can easily earn upto $50 just through surveys
Country Presence: US, UK, Canada, Australia, Ireland and many more.
Join Swagbucks Here & read Swagbucks Review Here
2. Toluna Surveys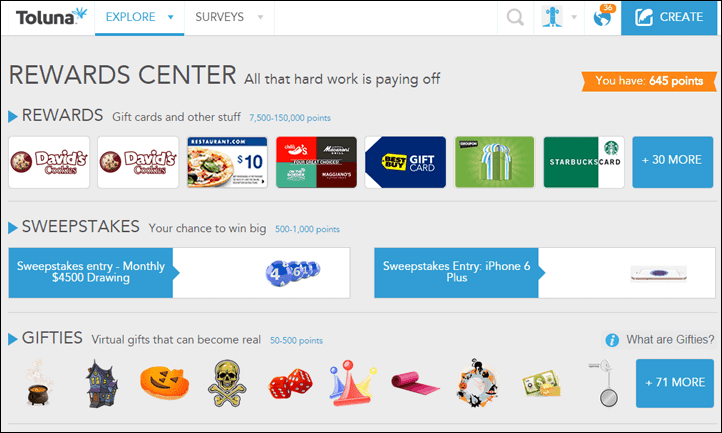 Toluna paid surveys is run by Toluna Group- UK digital marketing and research company. On registration and providing basic information, you will be invited to take on the survey which matches with your profile.
The surveys last for 15-20 minutes and you earn gift cards, vouchers, testing products and of course cash rewards.
Your survey helps company to discover new business ideas & future opportunities for expansion.
How much you earn:
Survey: 3-30000 points per survey.
Quick Votes: can earn you many points
Referrals: 500 points per referral
Registration: on signing up 1500 points.
Product Testing: 75 points when you sign up and more if are selected.
Country Presence: US, UK & Worldwide
Different country has different survey sites. Click on your country link to Join Toluna.
Toluna USA | Toluna UK | Toluna Australia | Toluna Norway | Toluna Denmark | Toluna Finland | Toluna Sweden | Toluna Netherlands | Toluna New Zealand | Toluna Canada | Toluna India
3. iSurveyWorld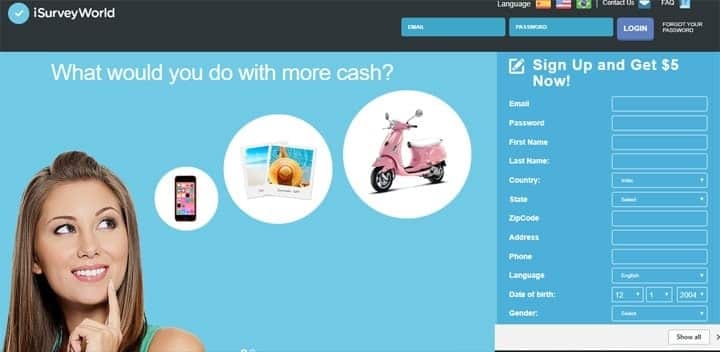 iSurveyWorld pays you for cash in return for each survey you undertake. You need to first signup and become a part of their community.
The surveys are product and services focused which rewards you for your opinions. Though it caters to countries all around, it sometimes prefers audience from Latin American Countries.
How much you earn: You earn an instant $5 on signing up with iSurveyWorld. The possibilities of earning more from this online survey site are endless.
The more you take the survey, the more you earn. Once you reach a minimum cashout balance, you can get the amount credited to your PayPal account.
Currently, there is no referral bonus.
Country Presence: Australia, US, UK & many countries
Join iSurveyWorld for your country by clicking the appropriate link.
iSurveyWorld USA | iSurveyWorld UK | iSurveyWorld Australia | iSurveyWorld Maxico | iSurveyWorld Brazil  | iSurveyWorld Argentina | iSurveyWorld Spain | iSurveyWorld Canada
4. Survey Downline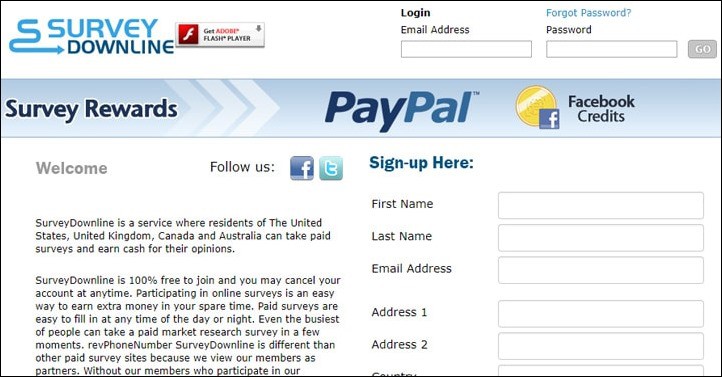 Survey Downline a popular site with some best referral programmes where you get paid for your opinions on the surveys.
The company has different survey method and an evaluation method on the basis of which it pays to it partners.
On Signing up as a partner with Survey Downline you earn lucrative cash rewards where partners can earn upto 35% on each survey they complete.
Well known in Canada, Survey Downline competes with many other online survey sites present in Canada.
How much you earn: You earn can upto $1-$3 for a single survey. The focus group surveys pays you between $1-$20 where you can earn on average $100 per month.
It has an interesting 2-tier referral programme where you earn commission on referring as well earn 10% when you referee takes on any survey.
So you can multiply your chances on high earnings through their referral programme. You can later cash out your earnings through PayPal.
Redemption for The USA:
Magazine Subscriptions :$10 min
150 Facebook Credit : $15 min
PayPal Cash Payment : $20 min
Redemption for Canada, UK & Australia:
150 Facebook Credits : $15 min
PayPal Cash Payment :$20 min
Country Presence: USA, UK, Canada, Australia.
5. InboxDollars Survey Site
Founded in 2000, InboxDollars has over 20 million members till date & lots of good reviews. It is a cash-based reward programmes site and a well know community for taking online surveys.
Along with paid surveys you can also earn by watching TV, shopping online, reading emails and playing games.
How much you earn: The minute you signup you earn $5 bonus in your account. Each survey needs to be completed in a stipulated time frame which also shows how much can you earn for taking that survey.
A single survey can pay you right from 0.25 cents to $5. Calculate your earnings depending upon the number of surveys you take.
You need to earn $30 in order to be eligible for a cashout. You also get paid through Gift cards, Virtual prepaid card or can even ask for a cheque mailed to you.
Country Presence: Worldwide
Join InboxDollars for US here & for other countries Here
6. Global Test Market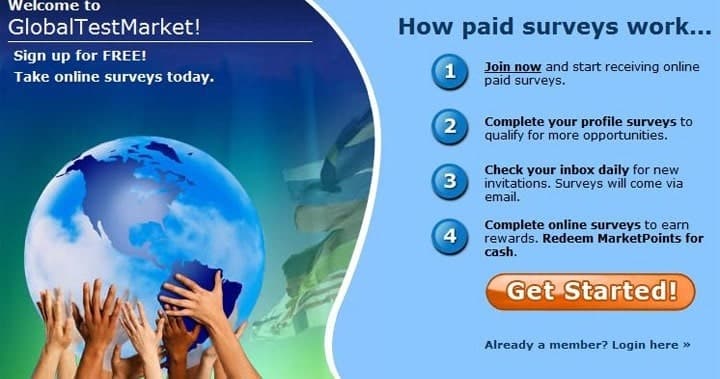 A very popular site founded in 1999 backed by the company Lightspeed -a Global leader in providing Market research. Registering on the site is a simple process and you can become a member just by signing up.
The site lists various surveys on them which on completion earn you "Lifepoints".
How much you earn: You can redeem your life points at a conversion rate of 1:5. For upto 4000 Lifepoints, you can redeem upto $35 of gift card from Amazon, Starbucks and so on.
For up to 4800 Life points, you can earn up to $40 cashout in your PayPal account.
If you are a US resident you can receive your payment in the span of 3-5 week & international resident can expect upto 4-6 weeks for payments
Country Presence: Worldwide presence in almost 49 countries like UK, US, Australia, Canada
7. Nielsen Research
Nielsen is a renowned company and a market leader in market research with its footprints present globally. This survey company helps brands and companies with insights on consumer behavior. Their surveys are focused on internet related products & services.
How much you earn: One of the most prestigious company in the online surveys world, you can make upto $15000 per month depending on the number of surveys you take.
Country Presence: Worldwide
Join Nielson for USA here, Canada here and other countries here
8. SurveyJunkie Paid Survey Site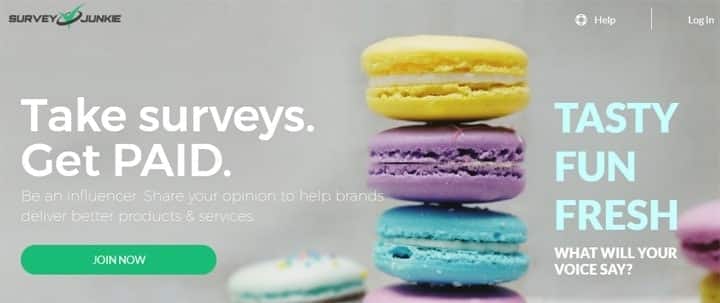 SurveyJunkie has over 3millions members associated with their platform. The registration is almost similar to most of the other survey sites.
They send you survey matching to your profile. You can also browse through their different categories to take surveys of your choice.
A single survey earn you with 100 to 200 points.
How much you earn: The cashout can be done with your PayPal account. 1000 points equals $10 and is the minimum threshold to redeem.
Country Presence: Worldwide
Join SurveyJunkie USA | Join SurveyJunkie Canada | Join SurveyJunkie Australia
9. VIPVoice Survey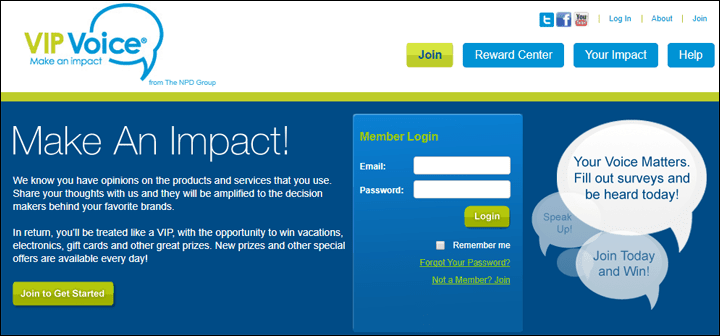 VIP voice is well known for its surveys on, Services & Products. On becoming a member & joining the panel you will be rewarded for expressing your opinions.
The points that you earn can be redeemed for rewards from webshops.
How much you earn: You earn VIP point from 50 to 550 for level 1 to level 5. You can try your hands on the lucky draw which the sites conducts once a month and make up to $5000.
Country Presence: Australia, India, Denmark, New Zealand and 11 more countries
10. Opinion Square
As the name goes, this paid survey site rewards you for sharing your opinion online. Simply share your opinion through Emails and pop surveys.
The idea here is to understand the interest and attitude on different topics. They have a variety of survey categories to choose from that can help you earn more rewards.
How much you earn: You earn gift card and gift vouchers for participating in their surveys. Also playing their instant games will lead you a chance to win their $10000 sweepstake.
Country Presence: Worldwide
11. SpiderMetrix
Based in Australia, SpiderMetrix, an online survey site, was launched in 2000. Becoming a "Spider" (Panel member) will open up your chances to take surveys related to big and small companies product or services.
The ideal time for a survey to complete is 15-20 minutes which help you gain points. The best part is you can even donate your points to charity incase you wish to.
Referral system doubles your chances of earning more.
How much you earn: Once you accumulate spider points you can redeem it against Amazon vouchers or Auction it for your favorite product.
Minimum cashout – $50 (300 spider points)
1 referal – 1 spider points
Points – 1 point = 0.17cents AUD
Donate points – 12 spider points – $1 , 18 spider points – $2, 46 spider points – $3 and so on.
Country Presence: Worldwide
12. iPoll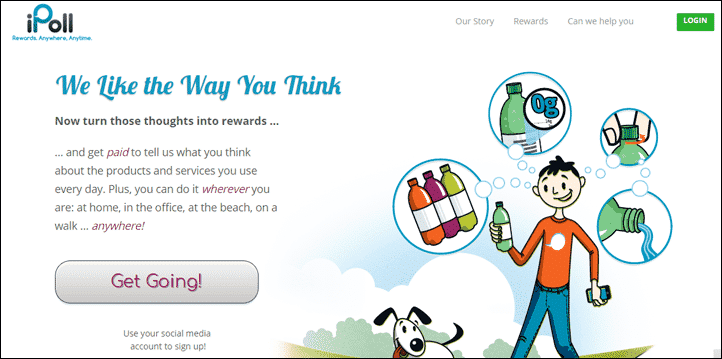 iPoll is a reputed international survey site. The site emphasize on sharing your unique perspective on the survey.
They are paid surveys from the market research companies and hence you need to undergo a demographic test before every survey to qualify.
How much you earn: Signup and earn quick $5 in your account. You also earn popular gift card from your favorite brand and can enter $10000 quarterly raffle.
The minimum cashout is $25 which can be transferred to your PayPal account.
Country Presence: Argentina, Chile, France & Worldwide.
13. Opinion World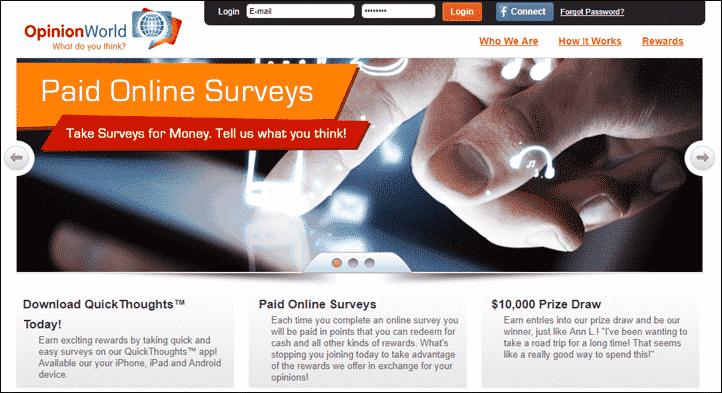 Opinion world is operated by Survey Sampling International LLC. Empanelled with over 3000 companies, Opinion world helps provide consumer insights to these companies.
Joining is free and you immediately start receiving surveys matching your profile. Ensure the quality of your answers are upto to the mark to earn huge.
How much you earn: Each survey rewards you with 200-1000 points which can be later redeemed with gift cards, vouchers from your favorite brands.
Minimum cashout is $10=1000 points. Cashout can be redeemed using PayPal.
Country Presence: US, UK, India, China, Australia and 25 more countries.
Join Opinion World in Australia, India, New Zealand & other countries
14. Harris Poll Online
With presence over 5 decades, Harris poll online is one of the oldest and prestigious site for online surveys. You get to see immediate results with survey comparison.
Harris poll offers around 7 reward programmes to maximize your earnings. You can either take their online surveys, mobile survey, focus groups.
They have special surveys for teens who are looking for online earning opportunities during vacations
How much you earn: Generally for a survey length of 15-20min, you can earn 1250 worth points. You can redeem them against gift cards from Amazon, ESPN, Starbucks and Walmart.
It takes 15 business days for the reward to reach you.
The company runs a lucky draw every quarter & one lucky winner can make straight $10000.
Country Presence: US, UK, Canada and many more.
15. Your Say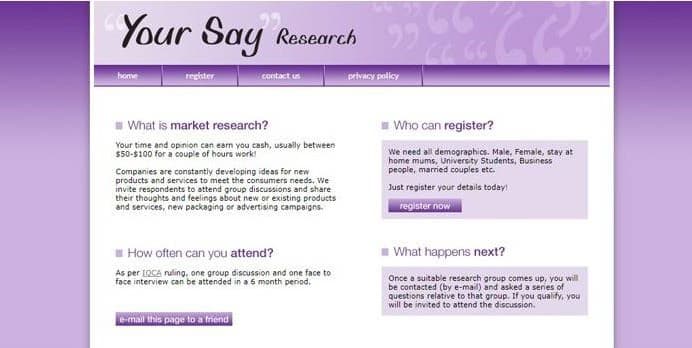 Your Say offer you to make money online through their online surveys. In collaboration with different brands, their surveys helps the brands to understand consumers shopping habits.
They have a points systems in place which can be redeemed through your PayPal account or with Amazon vouchers.
Interestingly, many teens who are looking for online jobs can try Your Say surveys as the age limit to join is 12 years.
How much you earn: The Points you redeem can help you earn between $10 – $200 per month depending upon the number of surveys you answer. Sign up today for free and start earning with this survey site.
Country Presence: US, UK, Australia & 9 more
16. PlanetPanel
PlanetPanel is owned by MSI-ACI Europe BV, which is a Netherlands based firm. It's a sweepstakes site having its presence in 21 unique countries.
Their surveys are current events, Governments, Product and services centric and surveys are mailed to the audience matching their target demographics.
How much you earn: The surveys are 10-20 minutes long and can earn you points. The jackpots lies in their monthly sweepstakes.
For each survey, you take you get entry to their $12000 annual raffle. You can earn $50 from their monthly raffle too.
Country Presence: Australia, Belgium, Brazil, Canada and worldwide.
17. Survey Savvy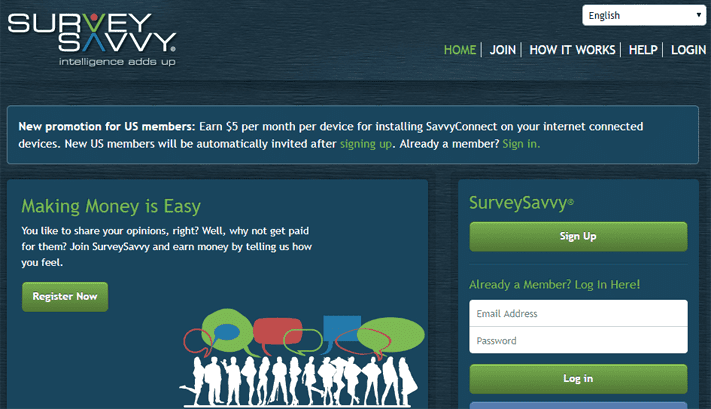 SurveySavvy is running since 1999 connecting companies with opinion sharers and pays cash rewards in return.
The surveys are generally demographics focused and if matched with your profile, you are invited to take on the surveys through emails.
On passing the deep test you are credited with cash rewards.
How much you earn: You earn flat $3 per survey for your answers. You can even double up your chances of earning more through referral systems which pays you flat $2.
The exciting part is the returns doubles when your referral takes on more online survey. Hence you can create a stronger referral base to earn more.
Country Presence: US, Canada & 15 more countries. (You can contact them if your location isn't listed)
18. Buzzback Survey Site
Buzzback is online since 2000 running successfully since 17 years. This paid survey site connects consumers and companies with market research to bring out new product ideas.
Upon signing up and joining the panel you'll be tested on your eligibility to take on a particular survey.
How much you earn: Per surveys pay you anything between $0.5 to $5
Country Presence: Australia, Canada & Worldwide.
19. iThinkInc
Founded in 1996 iThinkInc has conducted millions of online surveys and interviews so far. Their surveys are specific to online products and software's targeting mostly the western countries.
Once you register and build your profile with them, you'll be invited to take on surveys if you match their demographics. You need to answer a qualifying question.
Succeeding the question will lead you to the survey.
How much you earn: For answering a single survey comprising of 10 questions, you can expect anything between $2-$10 from his online survey site.
Country Presence: Australia, US, Canada, Singapore & Many more.
20. Palm Research
On registering which is a one-step you open up your avenues to earning for surveys, focus groups, and online product reviews. You earn points for taking up surveys which last for 5-6mins
How much you earn: The minimum cashout value is $10. You can either ask for cheque payments or get the funds electronically transferred. Also, you can redeem your points for gift certificates and vouchers
Country Presence: US, UK, Denmark, Singapore & Many more
Conclusion
Consumer opinions in today's world matter the most and many other online survey companies offers cash for sharing them.
Make sure to read the terms and condition before signing up and dedicate enough time to these Top 20 International Paid Survey Sites which are sure to help you with a bigger bank balance.