For most college students summer vacations are the most awaited part of the year. Three months of unrestricted fun-n-frolic, parties, music, movies, outings and whatnot – clearly the fun never ends for them.
But then there are many others who also prefer to use this time to take up summer jobs – which not only helps them some handy extra cash but more often than not provides the work experience they need to begin their career on a sound footing once they graduate.
So if you're one of those who plan on taking up a summer work gig this year – to save up on some money or to gain some useful experience, we have listed 21 of the best summer jobs for college students that we could think of so that you get to choose.
List of Best Summer Jobs for college students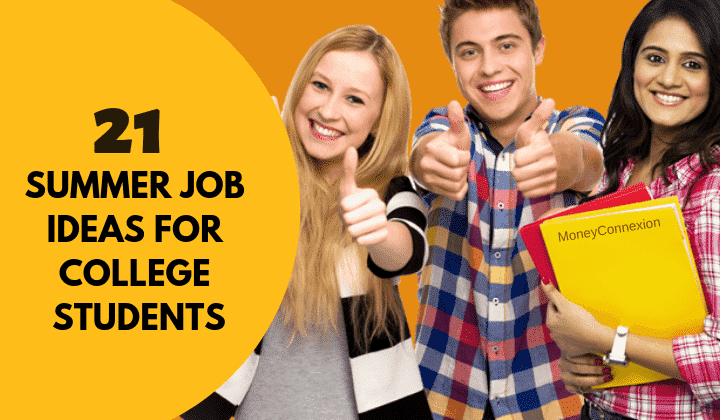 1. Fast food biz
Already a favourite summer job for college students, taking up a job with a QSR outlet provides an excellent opportunity to gain experience in the fast-paced service industry, better your communication skills and earn a decent income on the side.
Typical positions offered to college students on a summer break include that of a waiter, cashier, cook, host, hostess or line cook.
2. Car Washing
You can either start a car wash business of your own or join your neighbourhood car wash service. The job involves washing cars either at the workshop itself or visiting the customer's home with all the tools of the trade.
For those who do a great job, there is a chance of earning a handsome tip from the client and a pat on the back from the boss.
3. Computer Technician
Do you happen to know computers inside out? If yes, you could start working as a computer hardware technician repairing/servicing/updating computers.
It's a summer job which usually pays well, and you get a chance to test your skills and upgrade your own expertise. On the downside, it may involve long working hours and an erratic work schedule.
4. Golf Caddy
Summers are a great time for playing golf which is why most golf courses are on the lookout for temporary golf caddies to help out during the rush hour.
If you happen to know the game or have it played yourself – even better. Try approaching the local golf courses/clubs in your area for open positions.
5. Lifeguard
This is another best job for summer, especially for college students. Popular serials like Baywatch have ensured that the job of a summer lifeguard on the beach is not only highly sought-after but considered glamorous as well.
However, you may require some prior certification before you get a chance to wear those famous red shorts.
If standing for hours under the blazing sun is not quite your thing you could try working in the food service zones or join the beach cleanup detail.
6. Window Cleaner
This needs the same equipment that working in a car wash does. A bucket of water, some detergent, a squeegee and some rags – and your good to go. The money you make depends directly on the number of windows you manage to clean on a daily basis.
Thus it is one of the highest paying summer jobs for college students as they usually work on high-rises in order to make more money because of the element of risk involved.
7. Private Tutor
Younger students often need extra help with their academics, and the summers are usually the time their parent's lookout for additional support. You could provide them with the assistance they need as a summer tutor for their kids and make some useful cash in the process.
Putting out fliers, sending out mass emails to family and friends and visiting the local schools to meet parents and teachers is usually a great way to get started with your summer job.
8. Retail Sales Assistant
Summer months also happen to be peak season at retail outlets and grocery stores. It's also the time when they need retail assistants and sales staff to handle the extra flow of customers.
This is a summer employment opportunity for college students who are good with people and thrive in pressure situations whether it's a local shopping mall or a retail brand outlet.
9. House Painter
Painting jobs are usually found in abundance in the summer. Local realty agencies and painting firms often advertise in the local newspapers for extra help during this time.
This is a part-time or a full-time summer job for students especially for those who are handy with a paintbrush, enjoy doing detail-oriented work and have no issues painting the exteriors and interiors of homes than you're just the person for this job.
10. Landscape Artist
Are you a nature lover with a fetish for landscaping? Then this could be a good summer job for college students like you. It involves trimming bushes, basic landscaping and painting the odd fence of homes. And it pays well too.
You could also consider teaming up with a friend to make more money and begin by distributing flyers with your contact details around your neighbourhood.
11. Pet Caretaker
As the title suggests, this job involves looking after people's pets when they are away at work or on vacation. You can also work as a – dog walker – and take them out for long walks/runs on the beach.
If you have the skills, you can also offer pet grooming services which include things like bathing them, clipping their toenails and checking their fur for ticks. In return, you get paid handsomely by their grateful owners and make a few new furry friends too.
12. Kids Counselor
If you like to be around kids and vice versa, you could try working as a counsellor attached to a summer camp for kids.
It is not only a great summer job for college students which helps them to develop leadership skills but also hone multi-tasking abilities and provide essential lessons in effective communications.
As an added bonus you will also get to command an army of munchkins who will look up to you as a role model.
13. House Sitter
This summer job opportunity for undergraduates is ideal for those looking for a way to earn easy money. A house sitters job entails looking after somebody's house – in their absence.
Like when they go off on a family vacation during the summer holidays or when they happen to be out on business.
As someone they trust, you get to live in their house (or check in on a regular basis) and make sure it's in top shape and ready to welcome them back when they get home.
14. House-Keeper
Very similar to a house sitter's job, the only difference being you may be working for a specialised house-keeping agency or company instead.
Of course, you need to be very particular about cleanliness since your job will require you to maintain the same high standards of hygiene with the homes, offices or commercial buildings assigned to you.
15. Internship
Many companies offer paid internships during the summer. It provides a good job opportunity for college students to earn some money and get a first-hand preview of corporate life and responsibilities from the inside.
Open positions are often advertised on both online and offline media and also on the websites of the hiring companies.
16. Farm Hand
If you happen to live away from the big city, your options at finding the best-paid summer job may seem limited. But what you can do is get in touch with any of the big farms close to you and inquire if they need an extra pair of hands.
Chances are they will, and you could end up being hired to tend to their farm animals, maintaining the farm or even helping to transport the produce to the big city.
17. Event Planner
This is another best job for college students in the summer who love to party and plan get-togethers. Both individuals and companies are frequently on the lookout for part-timers who can help them with planning social and corporate events.
This is where you come in. You can be hired as the event planner or work as an assistant. Either way, you will end up being paid for something you love doing.
18. Photographer
All you need for this summer job is a high-resolution professional camera and a knack for capturing life's best moments on film. You can begin by asking local photographers if anyone is in need of an assistant.
What makes this a good summer employment opportunity for college students is the fact that the working hours will be flexible and you get to attend the most happening events in towns with your camera in tow.
19. Bike Technician
If the roar of high-powered Harleys, Triumphs and Ducati's seems like music to your ears, you could use your passion for this college summer job to make some money during the summer.
If you lack the actual experience of fixing bikes, there are several bike clubs and online tutorials which can teach you the basics.
20. Fitness Instructor
Having a great physique can be a huge plus while in college, but it can also help you make extra money as a fitness instructor during your summer break. At a time when obesity has become a significant concern, the demand for a healthy and fit lifestyle is on the rise.
This is where you can help people by joining a gym as a temporary instructor and showing them the way to a fitter lifestyle.
21. Tour Guide
Do you enjoy talking to people, visiting new places and knowing about their history? If so then you could make an excellent fit for a position as a tour guide.
This seasonal, part-time summer job for college students involves taking groups of tourists to fixed destinations and briefing them about its history and related significance.
You also need to have strong customer management skills and the ability to memorise tour scripts.
In Conclusion
Every extended break from college offers you an excellent opportunity to grow as a person and develop professional skills. Which is what makes it so worthwhile for college students to pursue summer job options in a field of their choosing.
So research your options thoroughly and don't hesitate to take extra training if you feel the need. Some of these best summer jobs for college students will not only add additional value to your resume but also highlight your overall personality during your interviews and in future corporate meetings.