There is a market for pretty much everything out there, and your CLOTHES are no exception!
So if you have been thinking about cleaning out your closet and getting rid of the sweater that went out of style five years ago, the brand-new trousers you never wore or the cocktail dress that no longer fits you – now is as good a time as any to sell those old things online.
33 Best Places to Sell Clothes Online
Do you want to know how to & where to sell your used clothes? Here's an up, close & personal look at 33 best ways to sell clothes online, where you can list & sell designer clothes online and barely-used clothes – and even helps to make some passive income in the bargain.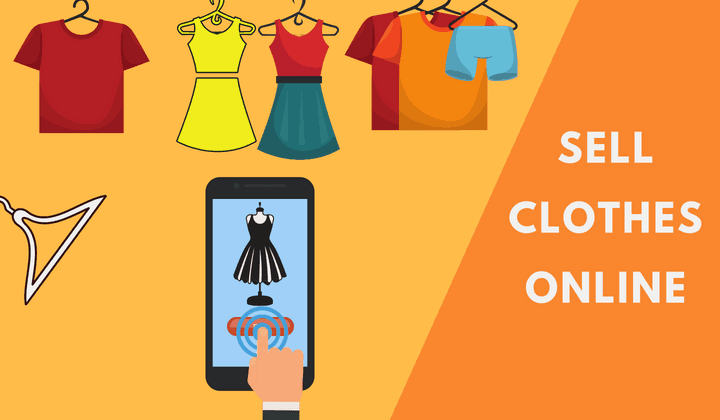 1.
The RealReal
It's a popular destination to sell used clothes online especially designer clothes.
Unisex designer wear and accessories (watches, jewellery, shoes) in mint condition are sold to a greater extent. Luxury brands like Gucci, Louis Vuitton, Prada, and Valentino and of course Jimmy Choo to name a few.
The site picks up old stuff from your home, which is then photographed and authenticated by their in-house team and then sold – usually via a flash sale.
This site has a reputation for selling clothes online and other merchandise at a faster rate. Payouts can go up to 85% of the selling price.
This one is a curated community marketplace expressly for selling men's clothing online. Sellers can list their stuff in any of the four categories available.
Namely, Grailed (for high quality, designer items), Hype (for new streetwear releases), Sartorial (for high-end, classic menswear) and Core (for well-known mass brands and vintage clothing).
Listings are free, and buyers can negotiate the prices with the sellers directly.
It is one of the best ways to sell your clothes online if you want more control over the selling process.
Poshmark allows sellers to create listings that include a description, pictures and the price of the women's/men's/kids' clothing, accessories and/or shoes they wish to sell.
Once a buyer buys the item(s), Poshmark sends a pre-addressed, pre-paid label to the seller to put the clothes in, which are then sent to the buyer. Once received the agreed amount is then credited via a direct deposit or cheque into the seller's account.
With 36 stores across the US, it is the best place to sell clothes online as sellers can just walk in to sell old as well as on-trend clothing and accessories for cash or trade credit on the spot.
Crossroads also has an online sale option where sellers get a prepaid bag to send in their men's/women's clothing, shoes and accessories.
Items which don't sell can be donated or taken back on payment of a fee. Pay-out is normally 30 % for a check payment or 50% for store credit.
Men's and women's sweaters, jackets, shorts, pants, blouses, tees, jewellery, handbags and one-of-a-kind finds too – you can sell clothes online for cash or in-store credit here, size no bar.
Brands of interest include; PAIGE, Vince, Marc Jacobs, Lucky Brand, Madewell, Ralph Lauren, Free People, Eileen Fisher, Coach, Banana Republic and Calvin Klein to name a few.
Just request a shopping bag online, fill it with the stuff you want to sell (should be in good condition) and drop it off at the nearest UPS. They take care of the rest.
Not your typical thrift store, ThredUp claims to be the world's largest destination to sell old clothes online; becoming one of the top-most second-hand online consignment clothing.
Sellers can request a special prepaid kit, fill it with the women's and kids' clothes and accessories (in good condition) they want to sell online and send it back to the company.
ThredUp then chooses what it wants to keep. For fast selling items, sellers can expect a payment upfront.
Others like off-season clothes for example are paid for as and when they sell. Payments are via PayPal or in-store credit.
7. LePrix (Snobswap)
Based in Ontario, Canada, LePrix offers both in-store and online options for buyers and sellers. Great site to sell designer clothes (Gucci, Versace & Louboutin).
Also, apart from selling clothes online, it enables us to sell women's designer clothing, shoes and accessories in sizes ranging from XXS to XXL and 5-11 for footwear.
In lieu of cash, sellers get a 20% discount for their next purchase, as a 'thank you' for donating their gently-worn pieces.
Again a best option to sell clothes online and accessories, especially bags. Sellers get to create their own listing and upload pictures of the clothes they want to sell.
Once the items sell, they receive a pre-addressed, pre-paid packet to send the clothes in.
Tradesy uses an algorithm to authenticate the designer items it receives for sale. Sellers are paid via PayPal, ACH Transfer or debit card.
Tradesy charges a commission (about 20%) for items selling over $50 and a flat $7.50 for items sold under $50.
This is the best app to sell used clothes online sells- Right from used men's/women's/children's wear to maternity, lingerie and sportswear. Sellers can directly sell clothes to buyers or swap their items with other Vinted members – by jewellery marking their listings with a swap symbol.
Payments are credited to the seller's Vinted wallet and can be transferred to their bank account. Other payment options include PayPal and credit card.
Specializes in selling used women's designer clothing, accessories and shoes in great condition from top brands like Helmut Kang, Chanel and Alexander Wang.
The site sends interested sellers a pre-paid kit to send in their designer wear which is evaluated by their in-house fashion experts and an itemized offer them to the seller.
Sellers get to cash out their earnings using PayPal or use it as site credit and get an extra 10%.
One of the renowned selling apps where you can buy or sell almost anything including fashion, toys, sporting goods, jewelry, shoes and electronics.
Selling your used clothes using this app is pretty straightforward. All you need to do is take a few good pictures of the items you wish to sell, add a small description and set your price. That's it.
The listing is totally free and there are no shipping charges either. However, they charge a flat 10% fee once the sale is completed.
It is the best app to sell stuff locally. It enables you to sell clothes online and other old stuff efficiently. You just need to create your profile (like you do on Instagram) and proceed to display the clothes you want to sell.
Feel free to list pretty much anything you want – from that old denim skirt to that sweatshirt you no longer wear. Even your windbreaker can be put up for sale here.
The deal here is that you have to promote your stuff on your own social platforms. Once you find a buyer, they slide into your post and you take it from there.
Taking community classified's to the next level, Tradyo enables users to connect with their immediate neighbourhood to buy and sell old clothes online /offline and other goods across multiple categories including fashion and accessories.
The app is available free on both Android and IoS and also features free listings and instant chat – to connect the buyer and the seller directly.
This virtual garage sale app allows users from the US, Canada, Australia, UK, Germany, Italy and Japan to buy and sell clothes online, by clicking on a picture and listing it in seconds.
Ever user has to go through a manual review process before he/she can buy/sell. Users can also view member ratings, average response time (prior to a sale) and message other members to schedule a meeting.
15.
eBay
It's a reselling site which needs no formal introduction. You can sell your clothes, accessories and shoes online; pretty much anything on eBay
The catch here is that unlike other platforms and apps which assist you with the shipping and logistics, on eBay you are responsible for everything – from listing your clothes, uploading good pics to haggling with buyers over the price.
Still, it's a very well-known popular site for buying and selling second-hand (but good quality) stuff where you get to keep about 90% of the price your stuff sells user-friendly.
This app available on both Android and IoS platforms provides users with the ability to buy and sell your clothes online and other products under different categories including fashion & accessories, upto a radius of 5 miles.
Sellers can make a free listing on this app by just adding a picture of the item they wish to sell and a short description. Buyers get to search for the items they want to buy using various available filters.
For those looking to sell their barely used designer handbags only. Christian Dior, Hermes, Chanel, Prada or Chloe – all major brands can be listed for sale here.
All that the seller has to do is take a few excellent pictures of the bag(s) she wants to sell and Rebag will get back with an offer.
Once Rebag gets your bag (via free shipping), the payment is credited to your account within three working days.
When nothing else works, there is always Craigslist. It's always been a popular platform to sell used clothes online – especially of the non-designer variety which other sites tend to reject.
Conveniently, every local board on Craigslist already has a clothing & accessories section that enables sellers to list the clothes they want to sell.
The biggest plus, you can post for free and you get to keep all the cash you make on Craigslist.
Also Read: Top 10 Sites like Craigslist: Best Craigslist Alternatives
This is another cool option to sell clothes online quickly. It is an excellent opportunity for both buyers and sellers who are looking for an online platform to source locally.
The site does not charge any fee for listing products or a commission once they make a sale.
The app which is freely available for both Android and IoS also has a chat feature where both the buyer and the seller can chat online and discuss the deal.
A largest online consignment store that enables selling new and pre-owned clothes online. Sellers get an inbound box to pack their clothes and ship to Swap.
The site then handpicks the items, prices them using an in-house algorithm and then lists them online for sale.
The seller receives his payment in cash or store credit once the items find a buyer. For select items, the website also offers sellers the option of instant payment via their Suresell option.
Sell Clothes on Social Media Platforms
1.
Instagram
Technically speaking, you cannot sell on Instagram. But there is a way around it if you're not having much luck elsewhere. There are thousands of people who have set up their own stores using the hashtag #shopmycloset.
Although you can't directly sell clothes online, you can still take bids (in the comments section) and complete the transaction using PayPal or some other trusted online payment service, and ultimately Instagram helps to some extra bucks.
2.
Facebook
As the most significant social media platform in the world, the reach afforded by Facebook is incredible. You can also reach a wider audience using targeted Facebook ads to sell your clothes online easily.
Listing your new/used clothes on local Buy & Sell groups is also a great way to find buyers locally – saving on both shipping and third party commission costs.
What's more – it's FREE. But do include high-quality images and lucid description of the items you wish to sell.
Also Read: 10 Quick & Easy Ways To Make Money on Facebook
3.
Pinterest
Though selling directly is not permitted, it's a best place for selling clothes and other stuff online by post pictures of your clothes to attract potential buyers who can then is known to your online website/store.
Some online marketplaces are pre-integrated with Pinterest and make it easy for a seller to list his clothes on this platform as well.
3 Sites to Sell Used Wedding Gowns & Bridal Accessories
Touted to be one of the largest online bridal marketplaces which connect buyers and sellers of new, sample and barely used wedding dresses and bridal party gowns.
The big plus here is that they only charge a one-time listing fee of $5 for wedding accessories and bridesmaid dresses and $25 for wedding gowns. There are no other charges or any commission on the sale.
This site features over 36,000 wedding dresses to choose from. A popular choice among women who are ready to part with their wedding dress and bridal gowns for some hard cash.
The way it works is that sellers first create a profile, upload pictures of the dress/gown they wish to sell and set a price. Buyers can purchase the dress online by using the Buy Now button. The seller gets to keep most of the cash, in lieu of a small fee.
Pay the listing fee of $25 and the site takes care of the rest. This includes the customer service, promotion, payments, insurance and shipping requirements connected to selling your wedding dress.
Once the dress finds a buyer, the site will get in touch with you to ship it to them for verification. Once sold, the company will then send you 60% of the listed sale price.
Create your Own Online Marketplace to Sell Clothes
For those of you who like to design their own stuff, CafePress gives you the freedom to develop your own custom clothing & apparel and accessories and then sell clothes online to CafePress shoppers.
Once you have uploaded your designs, the site automatically chooses the best products to feature them on and then lists them in their online marketplace for sale. You stand to earn a royalty on every product sold.
Voted the – Most Recommended Marketplace – by over 50,000 sellers in a 2016 online survey. This site allows sellers to efficiently sell clothes online by creating their own booth outlining their product details and fix the price for each, although buyers are free to quote what they want.
It's also easy to sell stuff online on this site since you can import your product details from other sites (eBay, Shopify) and integrate them with Google Shopping for SEO purposes.
With Shopify, you get to create your own online store to sell your clothes online. While customers experience the convenience of shopping for your clothes from the comfort of their own home.
The site features a simple, user-friendly interface which allows the seller complete freedom to customize inventory, upload new photos and add new products. It also helps you track status of all your orders, coordinates the shipping and handle the payments for you.
Want to open your own boutique online. This online marketplace allows you to do just that. It will enable you to sell your clothes online.
Categories on offer include new and vintage clothing for both men and women, catering mostly to a 20+ audience.
But there are some terms and conditions involved – like you need to maintain a minimum 20 different styles in your boutique at all times and there is a monthly subscription fee required.
The good news? You get to keep about 80% of the sale proceeds.
This popular online marketplace is known to attract buyers not looking for designer brands or clothing. So if you're into handmade and/or vintage clothing (used, pre-made & made-to-order for adults and kids you can open your own Etsy shop online.
All listings made on Etsy are active for a period or four months or until they sell designer clothes. Once sold, there is a small commission fee and a standard PayPal payment processing fee debit before the balance is credited to the seller's account.
With Storenvy you get to buy from some of the world's leading indie brands – or build your own brand online, complete with a FREE, custom virtual store.
The latter option gives you the opportunity to sell your clothes online and other accessories for both adults and kids and also tell your own unique story in the process.
A bonus. The seller gets to keep 90% of the profit (via PayPal/Stripe) when an item sells on the Storenvy marketplace and 100% if it's bought from his store.
An online market for custom tees, sellers get to sell their clothes like branded tees, custom designs, and babywear by signing up for their Designer Program.
Like CafePress, sellers only need to design the tees; the site takes care of the manufacturing and shipping aspects. Once your design finds a buyer, the amount is credited to your PayPal account.
Final Thoughts
So this was a recap of the 33 best places to sell clothes online which you can check out the next time you want to clear your closet of your new, barely-used clothes.
Not only will it allow you to declutter your home of clothes you don't use anymore, but it's also an excellent way to put some extra cash into your pocket. Good luck!