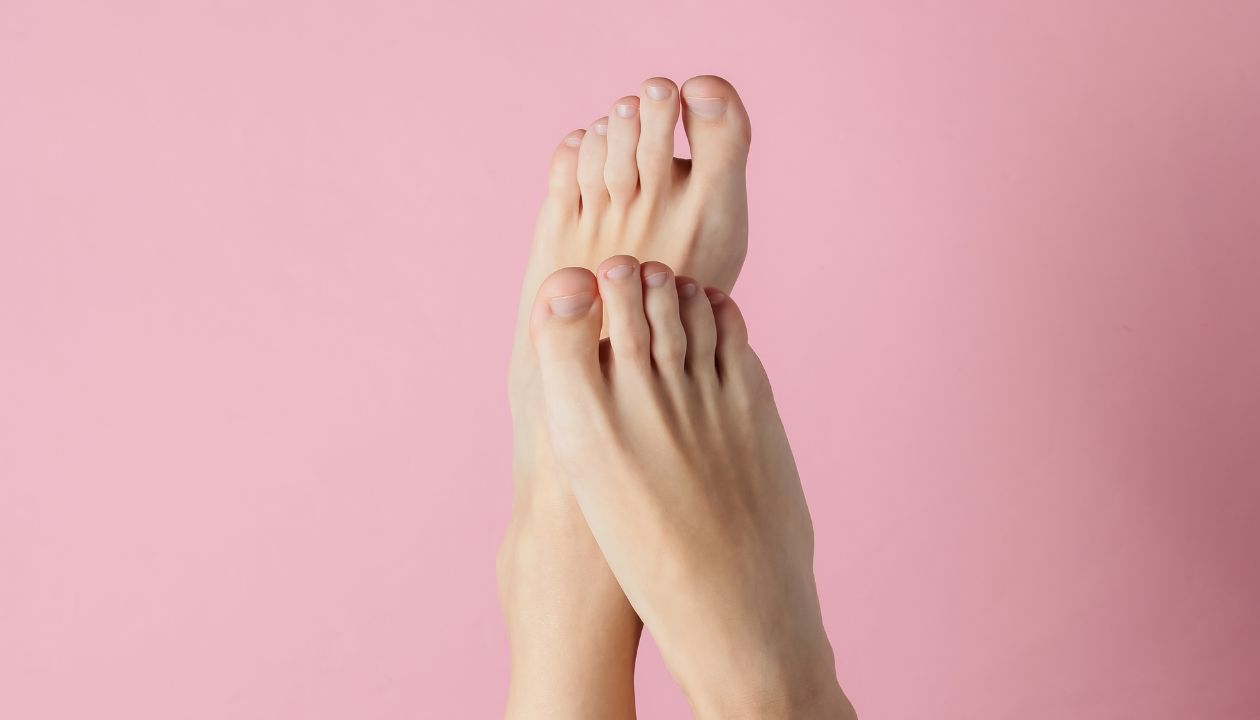 Yes, you read it right. In this post, we will talk about How to Sell Feet Pictures Online For money.
Do you take good care of your feet and make them appear beautiful? No, I'm not talking about smelly feet or foot odor here: none of us want these.
Instead, I'm speaking about feet that appear superb in pictures and would attract attention. If the answer is yes, then you're among those rare people in America that really care for their feet. And you're lucky too because you can make a real pile of money by selling pictures of your feet.
Reasons to Sell Pictures of Your Feet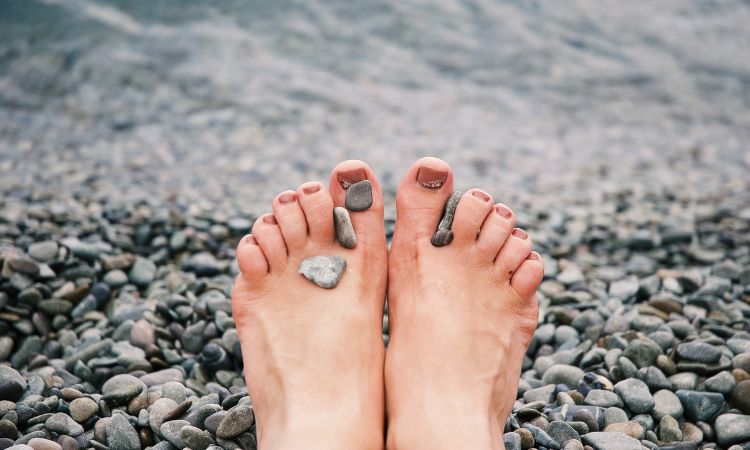 There're several reasons why you can sell your feet pics and make money. In fact, some reasons are strange or even absurd. Regardless, selling feet pictures is big business as a side gig nowadays.
Excellent Feet Pictures Are Uncommon
This might be a shocker, but excellent pictures of feet are quite hard to find nowadays. Despite some 25 percent of all bones of our body functioning in the feet, this is a stark reality.
Our feet are among the most neglected part of the body, despite their importance to our overall wellness, says the American Podiatric Medical Association. In fact, eight among ten adults experience foot problems due to overuse, foot injuries, and putting too much pressure on our feet, the APMA adds.
As a result, most people wish to hide their feet and don't want to display them even at home, leave alone take and sell pictures.
This is where you can fill in the demand.
Huge Demand for Feet Pictures
Just in case you're unaware, there's a huge demand for pictures of those lovely, curvy ankles and feet around the world. Millions of women and men have this secret carnal fantasy known as a 'foot fetish.' Meaning they find feet and feet pictures stimulating them sexually.
Then we have large companies that exclusively manufacture foot care products such as creme, stockings, socks and sole grips, and other accessories. These products are fairly expensive because they're made with special ingredients and materials. Such companies require foot pictures to use on their promotional literature and product wrappings.
Website owners and bloggers also outsource feet pictures from various sources to go with their articles and blog posts.
Ads of manicurists and pedicurists that you see all around are also made using superb feet pictures that are sold by people like you and me.
Selling Feet Picture is a Superb Side Gig
We're living in an era where we definitely require a side gig, preferably an online one. The Covid-19 pandemic is laying waste to small and large companies, leading to rampant unemployment. By July 2020, over 51 million Americans had filed for unemployment benefits with the Federal government. Hence, having a side gig can potentially help you overcome a cash shortage.
The pandemic also highlights the importance of working online.  Selling feet picture is something that's done online only. It helps you make money even while you're asleep. There's no real investment in selling feet pictures: all you require is an excellent camera and a computer with an Internet connection. Even your smartphone connected to the Internet will be enough if it has a great camera.
How to Sell Feet Pictures in 2023?
These three reasons I mention above might attract you to sell feet pictures. If so, here's a detailed guide on how to sell feet pictures.
Sell Feet Pictures on Feet Picture Websites
This might surprise you: there're several websites especially for selling and buying feet pictures. You've to be at least 18 years of age to sell pictures on these websites.
1. Instafeet.com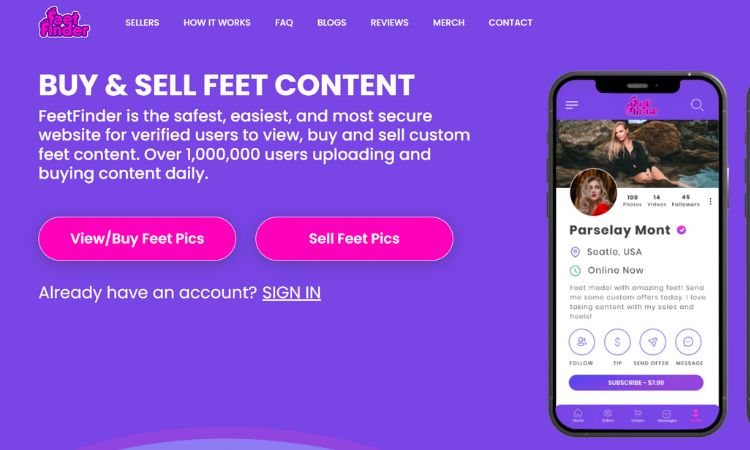 You can meet thousands of other women that make an amazing amount of money online by selling feet pictures on Instafeet.com (Feetfinder.com). This is a marketplace of sorts where you are the seller and the person that wants your feet pictures is the buyer.
Instafeet.com works on a membership basis. As a seller, you can get buyers to become members of your marketplace by charging a small subscription fee. Generally, most sellers like you charge about $10 to $15 as a membership fee per month. In fact, Instafeet.com also recommends you keep membership fees low so you can attract more buyers.
When you upload pictures of your feet on Instafeet.com, these members receive an email. They can preview your feet pictures and place orders. You and the buyer will decide the price. For example, if a buyer wants your feet pictures for themselves, you have to sell the whole lot and can charge a lot of money.
Instafeet.com is very strict about whom it allows to sell feet pictures. You've to be of 18 years or higher age to qualify, and lying doesn't work since every seller is vetted by their agents. Meaning you will get a call from their agents, who will check your credentials and ensure you're selling only your feet pictures.
2. Dollarfeet.com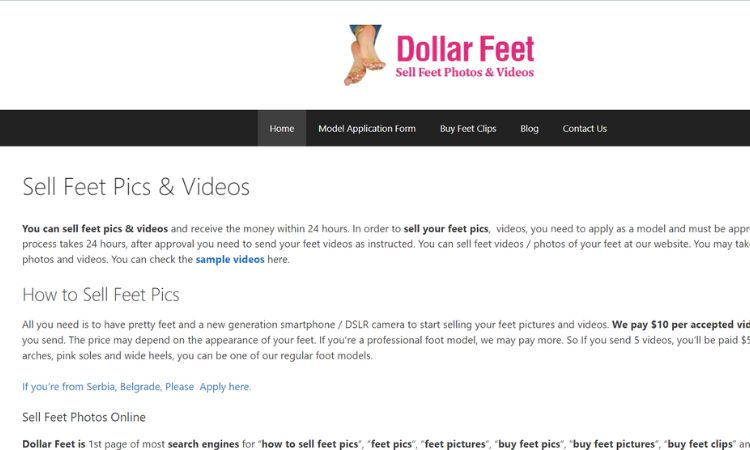 If you're in a hurry to get money and want to sell your feet pictures, try Dollarfeet.com. The best part about this website is they directly buy your pictures for a neat sum of money and sell them to buyers. However, you might have to settle for a few Dollars lesser since Dollarfeet.com is paying you upfront, without considering that your feet pictures might get no customers after all of the waiting period.
Dollarfeet.com works a bit differently. You'll have to complete their online membership application form and await a response. Generally, they reply within a couple of days or after 72 hours if you apply over the weekend.
Create an amazing profile and post a few ordinary pictures of yourself that would attract potential customers. Once your profile is 100 percent complete, start uploading excellent pictures of your feet.
This website also serves marketplace for the buyer and you. A unique point with Dollarfeet.com is they also allow you to sell five-minute videos of your feet. Generally, they pay $5 to $10 for feet pictures and more if you're a professional model.
3. Feetify.com
Feetify.com gives cash rewards of $1,000 to $10,000 every month to its foot models that are most active on the marketplace. And they also have a very attractive way to give money for your foot pictures. To join Feetify.com, submit an online form and await their response. They usually respond overnight or within 48 hours.
This website works on a subscription basis. Meaning buyers have to pay an annual subscription to become members. They receive updates whenever you and other foot models post new pictures. Feetify.com also has a live streaming service where subscribers can watch videos of your feet.
A superb thing about Feetify.com is they allow subscribers to connect directly with you as the seller with a Facebook-like feature. Feetify.com doesn't directly buy your foot pictures: it's a meeting point for you and the buyer. The price for your feet pictures and videos is decided between the buyer and you.
Sell Feet Picture at Online Marketplaces
The second best way to sell your feet pictures is by opening your marketplace. To a newcomer, this might sound a bit difficult. But trust me, it's quite simple. In fact, most women that sell their feet pictures on specialized websites also own an online marketplace.
4. Etsy.com
Etsy.com is a website where you can open a marketplace to sell feet pictures. The most important thing to remember here is that Etsy doesn't specialize in foot pictures. Instead, they specialize in handmade and exclusive goods. Therefore, I would recommend you use Etsy as one of the means to sell foot pictures.
One way to sell feet pictures through Etsy is by driving some traffic from your membership on specialized feet photo websites. Let buyers know you're also available on Etsy. To attract more buyers, you'll have to create separate portfolios of feet pictures for the specialized websites and Etsy. After all, you need to convince buyers there's something new in your marketplace than the typical foot picture websites.
Lots of young women have found an excellent way to sell their feet pictures on Etsy. They make small albums of eight to 12 pictures each. And they advertise them and sell them as exotic picture albums rather than those with feet pictures. That way, nobody can raise any objections to selling stuff that might not really be in line with Etsy's policies of selling exquisite handmade products such as paintings, sculptures, and other things.
Also read:
5. Facebook Marketplace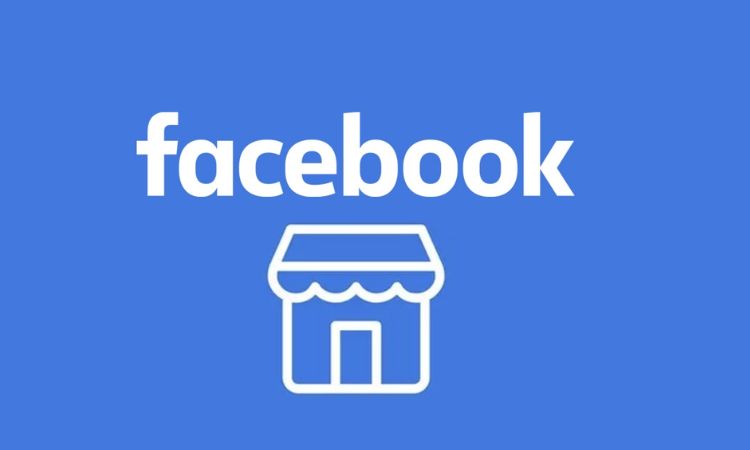 Facebook Marketplace is also a wonderful place to sell your feet pictures. And the good news is that Facebook Marketplace is free. The flip side is that Facebook Marketplace allows you to sell only within a specific area or in the region where you live.
The best way to create a Facebook Marketplace page is by first creating a regular page under a different name or the one you'll use on websites that specialize in foot pictures. The only care you need to take here is that Facebook sometimes asks for identity proof if they believe your profile is fake.
While Facebook Marketplace attracts only local buyers, you can promote it around the world by getting relatives and friends to share it through their Facebook accounts.
There's a paid service known as Facebook Business, which is also superb, provided you have enough followers on any of the specialized feet picture websites and are making enough money. With Facebook Business, you can provide live streaming of your feet either as recording or on-demand for a fee and sell pictures too.  Facebook Business also offers the facility of accepting payments through your PayPal account.
6. Directly to Companies
Selling your feet pictures directly to companies that make foot care products, socks and stockings is also one way to get a lot of money. These companies require pictures of well-groomed feet that would speak volumes about their product. While some of them will take you as a foot model, others can actually ask you to model for them in advertisements.
To sell feet pictures directly to companies, you'll have to exert some extra effort. However, the money you'll make it worth the effort for sure.
Find out which advertising agencies create ads for a foot care products company. They're the ones that hire foot models. The best way to find these is by watching their YouTube channel. You'll usually find the name of the company that made the ad because the advertising companies also want publicity for a well-made ad.
7. Modelling Agencies
Foot modeling is a big-time business for the reasons I mentioned above. In fact, foot models make thousands of dollars every year by featuring in print and electronic advertisements made for foot product companies, cosmetic manufacturers, jewelers, and lots of others.
For example, some of the priciest brands of skirts don't show the model's face. Instead, they depict the garment a little above the ankle of a wearer with pretty feet.
If you're confident that your feet deserve to feature in an advertisement, create an excellent portfolio of pictures taken by a professional. Contact modeling agencies and send your portfolio upon request only. There're superb chances one of the modeling companies and agencies will take you for their future ads.
8. OnlyFans.com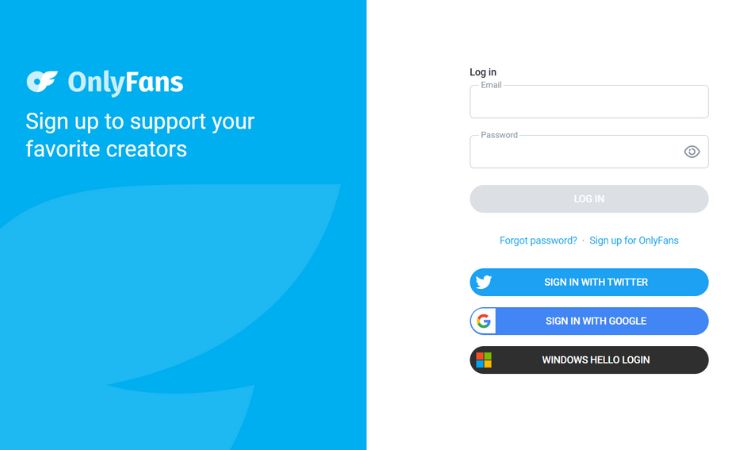 OnlyFans.com is an app that helps you to build a social network of your fans. However, OnlyFans.com is a paid service, and only paying members can access the content. You can create a profile on the OnlyFans.com app and upload some tempting pictures of your feet. Charge a nominal subscription from people that wish to view your feet pictures and videos. The minimum subscription fee you can charge is $5 per user.
Generally, most feet models offer three types of subscription: basic, where the subscriber can view only a few pictures of your feet every time you add new ones. Mid-level, where a subscriber can get limited access to your feet pictures and videos, and top-level, where they can access the full range of your feet pictures and videos.
It's also possible to provide live streaming through OnlyFans.com and charge on a pay-per-view basis.
9. YouTube Paid Content
In 2018, the largest video-sharing platform in the world, YouTube, began allowing channel owners to charge a subscription fee of $4.99 per month to access exclusive content. This means you can create a free YouTube channel and offer it on a subscription-only basis to people that wish to watch your feet videos.
To offer such content, you'll require videos of at least five to 10 minutes that are made by professionals and include some interesting details. Some of these channels provide pedicure and foot care tips and tweaks, while others show the model at different locations, walking barefoot.
10. Create Postage Stamps & Postal Stationery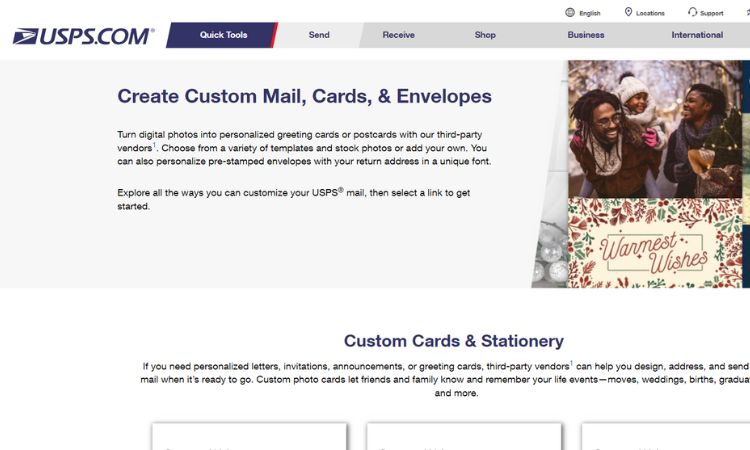 Hold your breath: creating postage stamps and postal stationery with your feet picture and selling them might sound like something very surreal. However, I'm very serious when I tell you that it's 100 percent possible to do so. How? Continue reading.
The United States Postal Service (USPS) has a facility that allows you to create postage stamps, postcards, and envelopes with any picture of your choice. The same holds true for pictures of your feet, as long as they're not vulgar or objectionable in nature.
To create postage stamps, postcards, and envelopes with your feet picture, click on this link. The USPS website guides you on how to upload pictures, pay for postage stamps, and get them.
You can advertise these products through a Facebook account or sell them on Etsy and other marketplaces. Since these are collector items, you'll definitely find a lot of discerning buyers.
In fact, you can send some of these to a few companies that require foot models and advertising agencies. They would definitely love the novel way of advertising their products through postage stamps, postcards, and business envelopes that have pictures of your feet.
11. Stock Photo Websites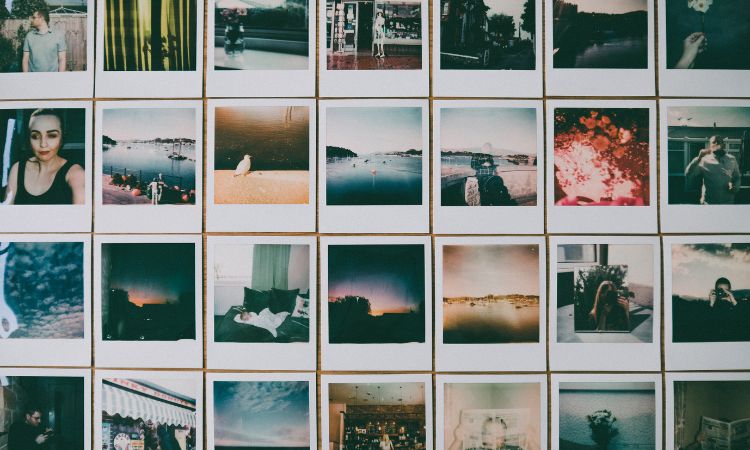 There're several respectable stock photo websites that come from very large corporations, including Adobe and Google. These provide a superb platform to sell foot pictures if you're willing to make an effort.
In fact, people and businesses of all sorts come to visit these websites in search of superb pictures they require for any purpose.
Here's a list of five top stock photo websites where you can sell feet pictures.
Tips Before you sell feet Pictures
Here're some tips before you venture as a seller or contributor of feet pictures on any of these or other stock photo websites.
The first thing to note is that these websites charge a commission on every sale. This means you might get only between 30 percent and 50 percent of the price you quote for your feet pictures. Therefore, learn to price them properly to make the maximum amount of money possible.
Secondly, there're three distinct ways to sell stock photos.
One is by selling the entire stock for a lump-sum amount of money that will be paid one-off. Here you will waive your copyright, and the pictures become the legitimate property of the buyer. Such a sale gets you a lot of money since the owner now has exclusive rights to use these pictures.
The second is by selling you some of a stock of pictures on a royalty basis. This allows the buyer to use your feet pictures for a fixed number of days or months till they're paying the royalty. This system works best if you have a lot of feet pictures to upload and don't need many buyers. The copyrights to the picture remain with you all the time.
The third is by allowing buyers to use the pictures without any promise of exclusivity. This is like an open basket. Buyers can take what they want through the stock photo website by paying your price. This method is suitable if you're looking at more customers at lower prices. In this system, too, the copyright remains with you.
12. Sell Facebook Covers/ Wallpapers
There was a time when we had to pay to get that superb wallpaper for our computer or a Facebook cover. However, that's history now since lots of websites offer the facility to create wallpapers or Facebook covers for free. Of course, it requires some creativity to make good ones.
At the same time, they're people that are willing to buy a computer wallpaper and Facebook cover if it's very exclusive and suits their needs. For such people, create and sell Facebook cover pictures and wallpapers with your feet pictures. In fact, you can also create short video Facebook covers of your feet for discerning buyers.
With the flood of the free Facebook cover picture and computer wallpaper websites, you might wonder where to sell the ones with your feet pics. The answer is fairly simple: create your own marketplace on Shopify or even Etsy, Zazzle, and other such websites.
Actually, anyone that buys your feet pictures can easily make a Facebook cover image or computer wallpaper. Therefore, you'll have to make these wallpapers, and Facebook covers with very exclusive pictures of your feet that aren't really available elsewhere.
13. Snapchat Subscription Service
Snapchat is a free service that millions of people use worldwide to share instant pictures. At the same time, Snapchat also has a Premium account that allows you to charge followers to receive your content.
The best way to build a Snapchat Premium account is by having a general one too. Send your feet pictures across to a wide audience within and outside the US. Snapchat allows picture sharing only within contacts, with its default settings. However, you can change the settings to make your feet pictures visible for all.
14. FanCentro.com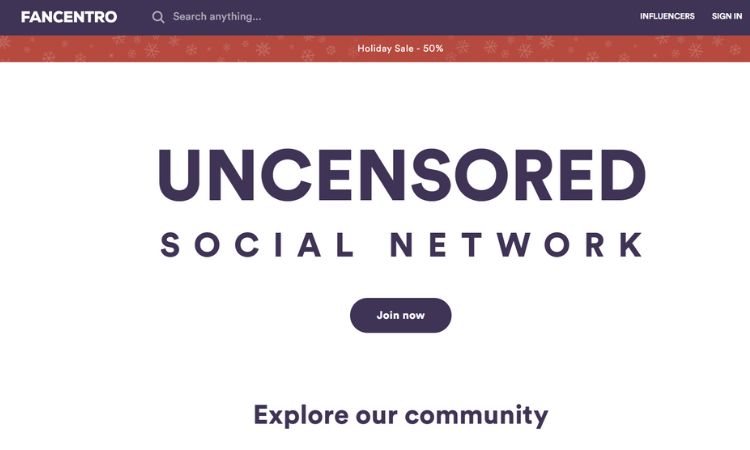 FanCentro.com is a social media platform where you can buy and sell premium content and also serve as an influencer. They charge a small subscription fee for their premium membership. At the same time, FanCentro.com is also a place where you will get a lot of discerning buyers for your feet pictures who'll also pay well.
Here's how it works: Subscribe to the Pay to View profile feed service of FanCentro.com. It allows private sharing of your profile and feet pictures on a subscriber-only basis. FanCentro.com is an ideal way to make a fast buck with your feet pictures. At the same time, you'll have to create images and videos of your feet very regularly to maintain and grow the number of subscribers.
You might laugh at the idea of using a professional networking portal for selling feet pictures and making money. I can assure you that it's possible if you follow the simple steps I will write about now. And your business remains private too.
Create a LinkedIn profile, introducing yourself as a feet model. Write a superb description about feet modeling and post amazing pictures of your feet in the 'Post' section. Also, write a brief description of your feet picture in the post.
The average salary of a LinkedIn user hovers around $46,544 per year. The posts you create with feet pics are seen across the LinkedIn network. If there's someone who likes them for whatever reason and wants more, they can always check your profile and seek a connection. You can later sell feet pictures privately.
16. Use Craigslist
As you would know, Craigslist is a website where you can post classified ads for free. Though this isn't exactly a website where you can attract customers to buy feet pictures, several women are successfully using it for the same. And making money too.
Here's why not every person who has a feet fetish can afford to buy feet pictures from specialized websites and stock photo channels. They look for cheaper alternatives. And Craigslist is definitely the place for anyone that wants to buy stuff at lower rates.
Since there's no shortage of what kind of services and products you can list, create a small classified post on Craigslist to advertise your feet pictures. Never provide a contact number. Instead, provide a simple email ID that you can create on Gmail or others.
All sellers and buyers on Craigslist usually bargain over the price. Therefore, be ready to engage in a bit of bargaining over email to sell feet pictures on Craigslist. Accept cash by PayPal to ensure anonymity.
17. Instagram Business
Instagram Business is a paid version of the popular picture and video-sharing network from Google. You can create an Instagram-free profile and an Instagram Business profile, and a fans' club.
Showcase a few of your feet pics on Instagram and get leads. Direct these people to your Instagram Business page, where they can buy pictures of your feet.
But a word of caution before you leap on the Instagram bandwagon. Selling feet pictures through Instagram Business can prove a very slow and tardy process. Therefore, I would suggest you use it only as a backup or secondary channel to other ones that I mentioned earlier.
Also read: Easy Ways to Make Money From Instagram
Scams Affecting Feet Pics Business
Now that you're aware of 17 amazing ways to sell feet pictures and make money, here's a warning too. Like all online businesses, selling feet pictures is also affected by scams. The most common among these is reselling your feet pictures at a premium after you've sold cheap.
Here, scammers will approach you from a legit feet pics website and bargain over the price. In fact, a group of scammers will offer lower prices so that you settle for the highest bidder, falsely believing that's the most you'll get. These scammers then upload and sell your feet pictures for a premium.
The second scam involves various ways to sell foot pics. Potential customers will call you and make some small purchases to gain your confidence. Later, they'll make a bigger purchase and vanish without paying a single Cent.
Also, putting your images online showing face and other facial features isn't really advisable though a lot of feet models do that. The reason is that people that are afflicted by feet fetish or similar other fetishes can stalk and follow you or harass you online and elsewhere.
Therefore, the best way to sell feet pics online is to go through legit websites only and make sure the money is firmly in your bank account before sending the pictures. Providing credit isn't always the best idea in this business.
Income from Selling Feet Pics
This brings us to the vital question of how much money you can really make by selling feet pictures. You might hear stories about women raking in as much as $100,000 per year by selling feet pics. These might be exceptional cases. Therefore, you might never get anywhere near this amount.
Realistically, you can earn a modest $200 to $3,000 a year by selling feet pictures or maybe a bit more. The biggest buyers of feet pictures are people with feet fetishes.
If you're lucky enough to get a feet model role with some advertising or modeling company, you'll have struck a gold mine. In such cases, you'll be able to earn anything from $2,000 per month to $60,000 per year or so, depending upon the type of ads and employer.
As an influencer for foot care products on Instagram, Pinterest, TikTok, and other platforms, you could fork in something like $36,000 per year.
Point to Remember
The money you make by selling feet pics is taxable. Or at least you've to mention it while filing tax returns. Therefore, make sure to include the amount while filing tax claims and benefits. Concealing income is not permitted by tax laws.
That's because selling feet pics is categorized as a side gig or part-time profession. This means the income has to be declared alongside your main salary or wages. The same taxation law holds true for students who wish to sell feet pictures too.
Who Sells Feet Pics?
There're no hard or fast rules about who can sell feet pics. Generally speaking, it can be anyone who has impeccable feet and takes superb care of this vital part of our frail human bodies. In recent years, members of the LGBT community are also selling and buying foot pics.
Wrap Up
Selling feet pics holds double benefits for you. The first advantage is very clear: you make some money from various sources. The other is that you also learn to take extra good care of your feet- something which most people neglect. Try any of these methods to get the dual advantage for your feet and yourself.