Do you know that there is an excellent way make money with shopping. And that's Mystery Shopping. You'll be surprised to know that mystery shopper jobs can get you as much as $279 per day.
Of course, the pay would differ at every location. It would also depend upon the number of hours you work.
Maybe you're unaware about Mystery Shopping. Therefore, what's Mystery Shopping and how it works.
What's Mystery Shopping?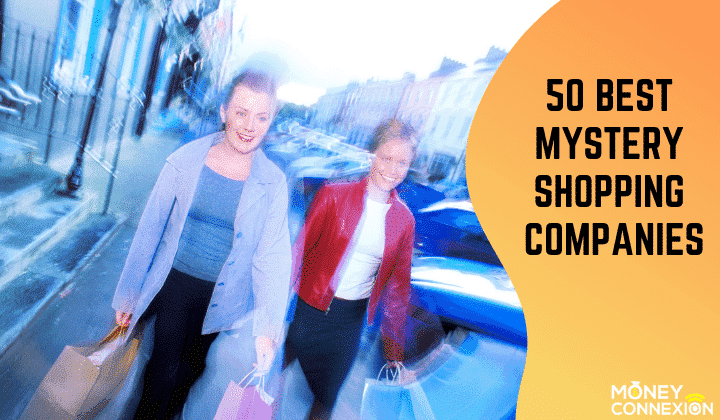 Mystery shopping is a legit form of market research. Businesses small and large require honest feedback from real life people who experience their services or even products. And they pay people like you and I to get this feedback.
A business will hire a good Mystery Shopping company to get this feedback. The Mystery Shopping company hires you for assignments.
A Mystery Shopping company will assign you where to go. This can be a store, boutique, restaurant, hotel, showroom or even a bank. Once you're at this place, there're certain things you need to look for.
This can include overall ambience, ease of shopping, availability of products and their prices, customer friendly behavior by staff and lots more. The Mystery Shopping company will inform you what it's looking for.
That's where your work starts as Mystery Shopper.
Mystery Shopper Jobs
To get a mystery shopper job, you'll have to visit websites of any of the top 50 Mystery Shopping companies in America. You can find the list of top 50 Mystery Shopping companies with links to their website.
Take some time to check each of these companies since they need Mystery Shoppers for different reasons. Some need Mystery Shoppers for online stores only, while others ask you to visit the store.
A few focus on entertainment and dining while others deal with banking and finance. Hence, you'll have to select the field that you like.
Register yourself as Mystery Shopper
To register, you'll have to provide details including your full name, address, contact number and email ID, among others.
Usually, most websites also ask whether you've any earlier experience as Mystery Shopper. Remember, it doesn't really matter even if you don't have any past experience as Secret Shopper.
Once a Mystery Shopping company accepts your application, here're the things you'll have to do.
Check your email regularly. The Mystery Shopping company will send you legit assignments.
Visit the mall, store, restaurant, hotel, boutique, showroom, bank or other location shown on your assignment on or before the deadline.
You'll look for details the Mystery Shopping company requires. These can include details such number of staff on duty and their friendliness, product knowledge, neatness of their uniform, ease of finding stuff, pricing and lots more.
Now this is the most important part: You cannot disclose you're looking for information or noting details. That's why you're known as Mystery Shopper. In fact, you'll pose as any other ordinary shopper and take mental notes only. Letting the staff or manager know you're a Mystery Shopper can land you in serious legal trouble with your employer and the store.
Shop or dine at the place while taking mental notes of the service and other things the Mystery Shopping company requires.
Pay for your purchase and retain the invoice or bills.
Go home or to a cybercafé and write an honest review about the place. You have to include all details that the Mystery Shopping company requires. Always provide exact details because the store can dispute your claims if you write something false.
Wait for reimbursement and your payment.
Getting Paid as Mystery Shopper
Every company has different ways to pay their Mystery Shopper.
For Mystery Shopping trip to a restaurant or hotel, the company will pay for the food or stay. It depends on what they're asking you to do. However, they won't pay you for the time.
If you're shopping at some upmarket store and buy one or two things only, the Mystery Shopping company won't pay anything. Instead, you get to keep the stuff.
Some Mystery Shopping companies will reimburse you for what you buy and pay you for the time as well.
Other Mystery Shopping companies will arrange to pick up the stuff you buy but pay you for the time.
Yet other Mystery Shopping companies will hire you for a day and pay well. However, they won't pay for what you buy since you can keep the stuff.
Making More Money as Mystery Shopper
There are different ways you can get more pay as Secret Shopper.
Now if this interests you, here's my list of topmost 50 Mystery Shopping companies in USA you can join.
Top 50 Mystery Shopping Companies in USA
These are the topmost 50 Mystery Shopping companies in USA. Some of these companies don't mind if you're working as Mystery Shopper for another organization. However, you'll have to declare that while applying.
With such a wide range of Mystery Shopping companies, it's quite easy to start working part-time as Mystery Shopper.
However, that's not all.
There's more ways to make money with Mystery Shopping.
Mystery Shopping Apps
You can also download an excellent Mystery Shopping app and start earning money or gift cards right away. Most of them will reward you something for simply shopping at your favorite store.
I'm listing five such top Mystery Shopping apps.
Refer: 20 Best Money Making Apps
Beware of Mystery Shopping Scams
As you can see, Mystery Shopping is quite popular in America. It's an excellent way to make money in an enjoyable way. Unfortunately, there're several scams that affect the Mystery Shopping industry.
Before you sign-up as Mystery Shopper anywhere, read these warnings issued by the Federal Trade Commission.  Some scammers ask you for money to register you as Mystery Shopper or steal personal information as identity theft.
If you have any doubts, you can also contact the Federal Trade Commission and file a complaint. That way, you're protected against scams of any sorts.
Closing Thoughts
As you can see, Mystery Shopping is an amazing way to make money and enjoy health benefits too. While registering, ensure the Mystery Shopping company is legit and has a proven track record of paying Mystery Shoppers.
Since Mystery Shopping companies cover all sorts of businesses, you can find that suits your interests and needs. Generally, most Mystery Shopping companies provide two to four assignments every month. Hence, you might be able to make considerable money.