I joined ySense (earlier it was ClixSense) in 2012. Though I was earning $200 to $300 per month in the first year of my joining but still I was not much active on ySense as I was not sure about its legitimacy.
But 3 things changed my decision-
I was getting my payment on-time even after 2 years. This gave me a trust of stability.
All their members were very satisfied with ySense. You can find thousands of positive reviews on ySense forum.
Their support system is superb.
I started trusting this company. And that trust have paid me approximately $150,000 from ySense. Yes I have earned $149,718 (almost INR 1.1 Crore) till 11 February 2022.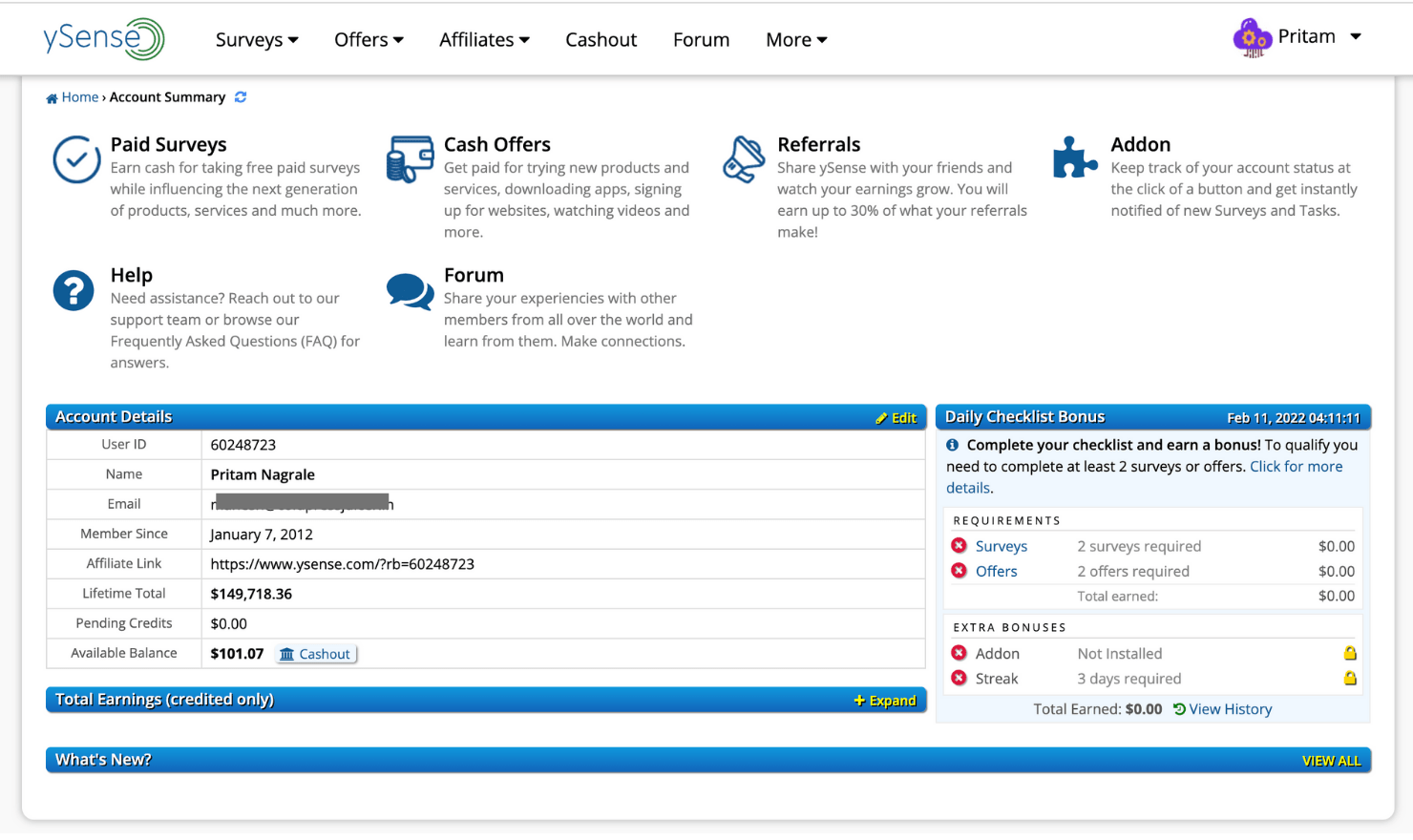 In fact, I am the highest paid member in ySense.
So if you think, this is something you are looking for, then continue reading this post. I will explain what is ySense, how to earn money with ySense & what exactly I did to make that much money in ySesne.
So it will be a complete ySense review.
ySesne Review – How I Made $149,718 in ySense
ySense is a complete package where you will find multiple earning options. But first, let's join ySense.
How to join ySense?
Step 1 – Click this ySense signup link to visit the website.
Step 2 – Then enter your email & password and click on 'Join Now' as shown in image below.

Step 3 – You will receive a confirmation email from ySense. Click on the confirmation link in your email to activate your account.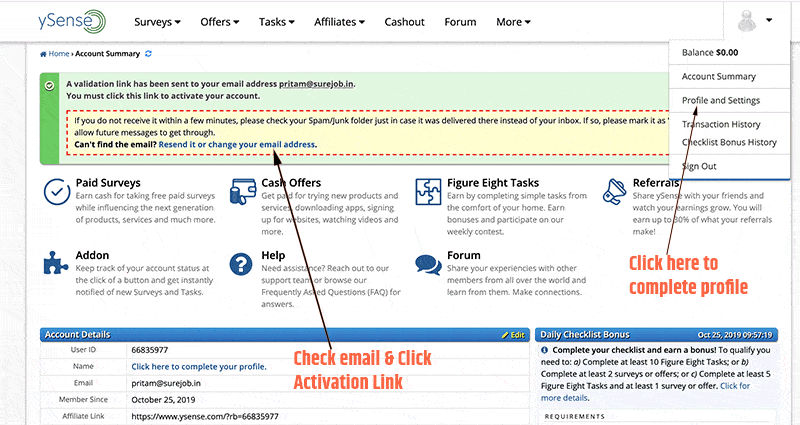 Step 4 – Next, you need to complete your profile. Click on the down arrow next to profile picture as shown in the picture above and then click 'Profile & Settings'.
Then enter all details as shown below. You can check other tabs and add all the details. There are multiple ways to withdraw your earnings in ySense. You can add your Payment details.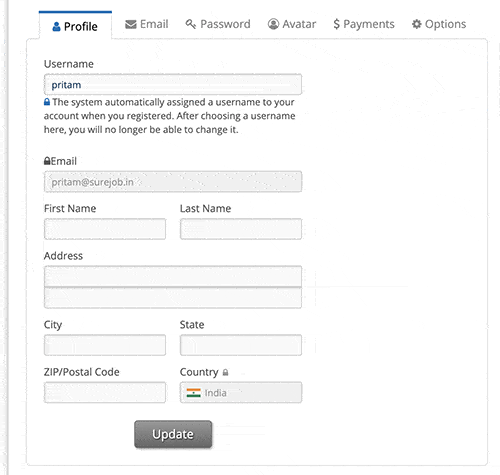 You can start earning once your profile is complete.
ySense Review – How to Earn from ySense
ySense is the best website when it comes to make money. There are multiple earning options. I will cover each way to make money from ySense. You can refer the above image for different earning options.
Paid Surveys
Paid survey is the best ways to make some extra income online. Just click on the 'Paid Surveys' option and you will find various surveys that you can complete here.
You can earn $0.5 to $5 for taking one survey. You will get paid instantly in most of the surveys after completing the same. There are some surveys where you will get paid in 30 days time.
You can login multiple times in a day so that you don't miss any survey. Complete a survey as soon as you find it. Read everything in the surveys section as this is self explanatory.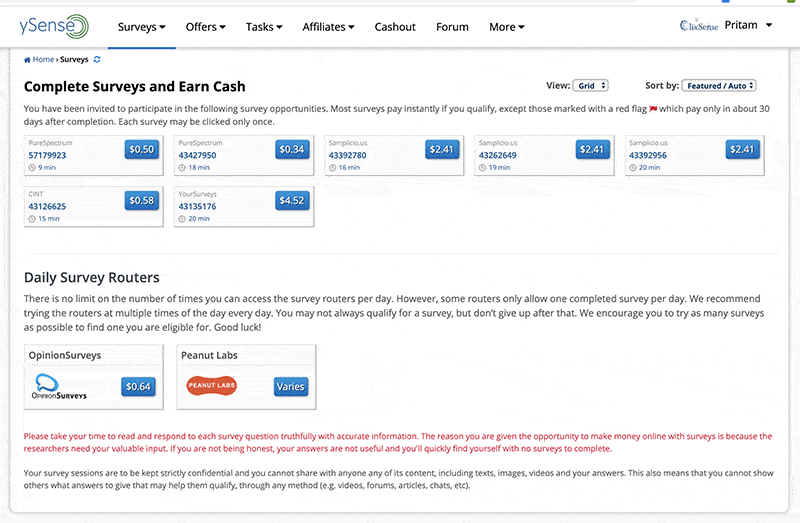 2. Cash Offers
Here you can get paid to try new products or services, downloading apps, signing up websites, watching videos and more.
When you click on 'Cash Offers', you will find offers from different companies like AdGate, Adscend, OfferToro, Peanut Labs, Wannads & Revenue Universe.
You will find Cash Offers when you can click on each company. You can get paid 5 cents to $50 cents or even more for completing each offer.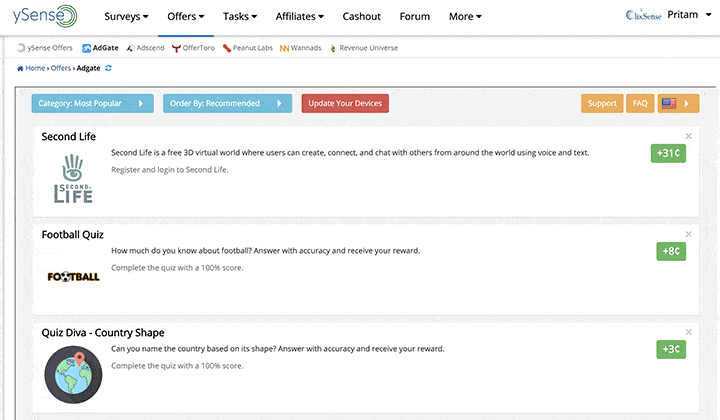 3. Figure Eight Tasks
Figure Eight Task is one of the reputed company that provides crowdsourcing jobs. You can get paid 2 cents to 50 cents for completing micro tasks in this.
You will find number of tasks that you can complete and get paid instantly. Try to complete each and every task that you see after you login to your ySesne account. If you have any difficulty related to a specific task in Figure Eight, you can create a support ticket.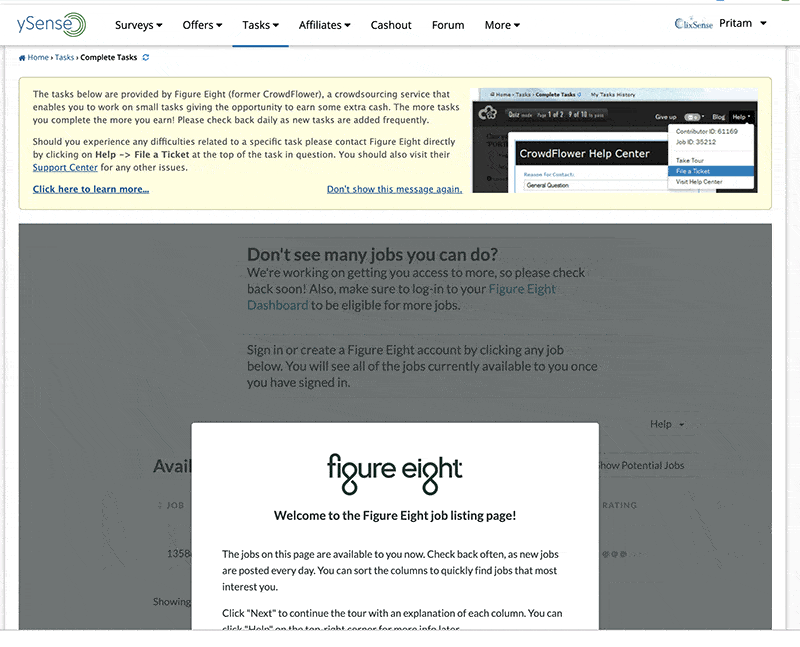 4. Referrals / Affiliate Income
Referral or affiliate is the main source of income in ySesne. When you refer someone, you will earn lifetime referral commission. More than 90% of my income comes from referral commission.
There are 2 types of income you can make by referring people-
Signup Commission – As soon as someone signup with your affiliate link, you will earn $0.1 to $0.3 depending on the country of your referral. You will also earn $2 when your referral earns $5.
Activity Commission – You can earn 20% lieftime income from all your referrals when they complete any survey, cash offers or task.
For example, if you refer 20 people and their total income is $500 in one month. Then you will get up to $100 monthly as your affiliate income in ySense. If you do well, then your commission will be increased to 30%.
You will find your affiliate link in your dashboard.
There are multiple ways to promote its affiliate program. One of the best way is by creating your own blog like this blog MoneyConnexion and promote ySense referral  from your blog.
You can also promote through WhatsApp, Social media like Facebook, Instagram & YouTube, emails or other platforms.
How to Withdraw Your ySense Earnings
There are number of cashout options in ySesne. If you have a PayPal account or Payoneer account, then you can withdraw with your earning through PayPal or Payoneer.
Other cashout options are Skrill, Reward Link India and Steam. You can also request for a gift card. You can find all the options when you click on Cashout option.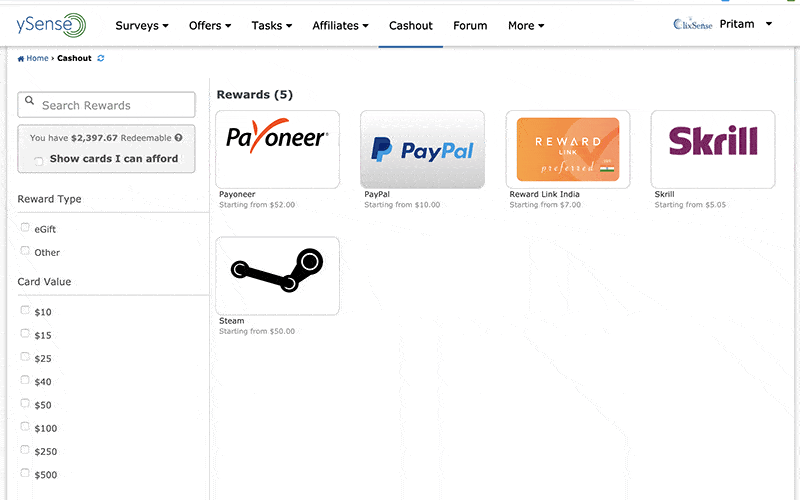 My favorite payment processors are PayPal and Payoneer. I will show you how to withdraw payment using PayPal.
First click on PayPal, then choose the amount. Amount options are $10, $25, $50, $100 and $250.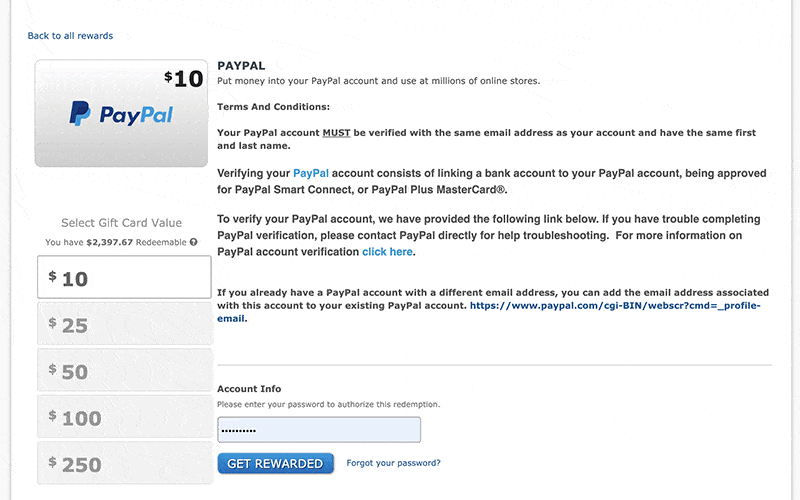 My current balance is $2397 as you refer above image. I want to withdraw $250 as this is the maximum limit.
Daily PayPal limit is $500 and you can withdraw $250 at a time. It means you have to cashout twice if you want to withdraw $500.
I got this message after I requested $250 from ySense using PayPal.

So I hope you understood how to make money in ySesne. There are thousands of people who make $250+ per month on ySense.
Here are quick tips to make more money in ySense.
Activity – Be active in ySense. Login to your account at least 2-3 times a day to find all paid surveys, cash offers and tasks. Complete as soon as you find them.
Add-ons – You can download the browser add-on for Chrome, Firefox & Edge. You can instantly track account status and find any new surveys and Figure Eight tasks using these add-ons.
Forum – You can join ySense forum from your account. It will help you to find various tips and answers for common queries.
Referral – Promote ySesne as much as possible. You will make much more with its affiliate program.
So I hope you like this ySense review. Join ySense now and it will help you to earn $200 & more per month if you work 20-30 minutes a day in ySense. You can make even $500 or $1000 per month using ySesne.