There're several ways to make money from a hobby. Blogging, vlogging or giving online classes is one of them. But have you heard about Twitch? If not, try it. Because there are superb opportunities for everyone to make money on Twitch.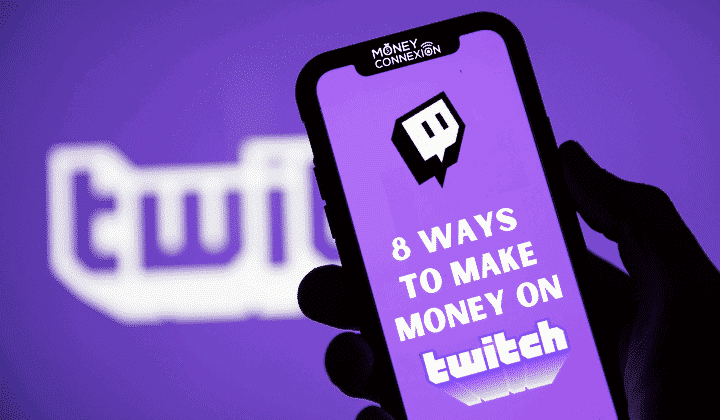 Who knows? Maybe someday you could be rich and famous too and own one of the topmost Twitch channels.
How's that?
Let's start by exploring what Twitch is all about and what it offers. Because in this article, I'll be discussing how to make money on Twitch.
What is Twitch?
Twitch is a live streaming app that's a favorite among live gamers.
In 2008, video gamer Justin Kann launched an online streaming channel known as Justin.tv.
Due to runaway success of this channel, he went on to launch Twitch, an online live streaming platform where hobbyists of all kinds could stream or watch anything from music, cooking, interactive Q&A sessions and gaming. Eventually, Justin Kann founded an owning company for Twitch, under the name Twitch Interactive.
In 2014, Amazon bought over Twitch Interactive for $970 million after a deal with Google fell apart.
By 2020, Twitch ranks among the topmost streaming apps in the world. It allows people around the world to give wings to their hobbies – mainly gaming – through recorded and live streams while making money in different ways.
A simple look at some amazing statistics of Twitch would reveal the immense potential to turn your hobby into a money spinning pastime.
Twitch Facts & Figures
By September 2020, over 7.46 million active streamers were connected on Twitch, says European statistics portal, Statista.com. 
The US has the highest number of Twitch viewers at 22.53 million followed by Germany at 6.85 million, Russia at 5.6 million, South Korea at 4.99 million and France at 4.13 million. Though statistics for 2020 aren't yet available, Statista reports that 65 percent Twitch users are male.
The average viewing time on Twitch is highest for any streaming channel, at 95 minutes per viewer. In stark contrast, YouTube records only about 46 minutes of viewing time per user.
Digitaltrends.com says, Twitch has over 20 million active users in 2020 and the number continues to grow.
These figures clearly indicate how many people you could reach through Twitch. And such a high number of user make it fairly possible to make money with fair ease on Twitch.
Now let's start answering any questions you might have about how to make money on Twitch.
Getting Ready for Twitch
Actually, you can make money streaming anything that's interesting to a very broad audience around the world. Music, cooking, make-up, Do-It-Yourself (DIYs) are some popular genres on Twitch. 
However, the best way to make money on Twitch is by video gaming. Because that's where you'll find most viewers and fans.
Here're some basic steps that would show how to make money on Twitch.
Get to Know Twitch
There're countless features on Twitch such as Drops, Prime Gaming & Turbo, Twitch Singing, Twitch Apps and Special & Twitch Events. Learn about these to become a successful Twitch aficionado.
You'll also require Twitch Channel Points which're something that streamers award to their fans. These Twitch Points are useful for viewers to get some freebies on the streaming portal.
Select Your Genre
Select any genre of streaming that you'd love to offer. As I mention earlier, gaming is the most popular on Twitch. You could also select music or any other category, as long as you're comfortable with streaming own videos.
Remember, Twitch follows a very strict Intellectual Property Rights (IPR) policy. This means you can't stream third party videos without holding copyrights. However, I suggest gaming because that's where you'll find the highest audience.
Practice Live Streaming
Practice live streaming before you go online on Twitch. That would give you a lot of confidence, especially if you're camera shy or have problems facing people live.
You could also record videos, edit and play later, using the Twitch features, but the maximum number of viewers are attracted to live broadcasts. Here I suggest that you read the official guide of Twitch for beginners.
Create Twitch Account
You'll need a Twitch account before you become a Twitch Developer.
Twitch isn't free. That means, as streamer, you'll have to buy a Twitch subscription. If you're an Amazon Prime member, it's possible to subscribe free to Twitch.
However, the free subscription is valid only for select Amazon Prime affiliate and partner channels you'll find on Twitch for viewing. Else, you can opt for the monthly subscription at $4.99 for Tier-1. This is a basic subscription.
Tier-2 costs $9.99 per month and comes with Emotes or emoticons that you can use on Twitch and all the other benefits of Tier-1.
Tier-3 costs $24.99 per month and comes with all benefits of Tier-1 and Tier-2. Additionally, you get two exclusive Emotes.
Payment is by PayPal or your credit card. You have the option of limiting the duration of your subscription or selecting auto-renew.
For Twitch Creators, there're lots of rules and regulations. Go through these carefully before you sign-up.
Now, you're all set to make money from Twitch.
Basics to Make Money from Twitch
There're three distinct ways to make money from Twitch.
Broadly speaking, there're different ways to make money from Twitch. None of them are as simple as you might believe. For a beginner, they can prove to be pretty difficult. However, with some practice and knowledge, you'll be able to make some money.
Also read: 75 Proven ways to make money fast
Step-1: Build an Audience
Most streamers on Twitch testify that making money is a slow process. Hence, there's no need to feel discouraged. Instead, extra efforts will definitely pay off over a period of time.
Therefore, you'll have to build up an audience over a period of months. That's because making money from Twitch depends almost entirely on the number of viewers and followers you gather for your videos and live streams.
Step-2: Play to Win
As I mention before, the highest number of followers and audience for Twitch is from game watchers or game viewers. And they definitely want to win. Therefore, play to win while live streaming.
And if you're into music or cooking or DIY, keep it simple. Ask questions to your audience, crack jokes and wisecracks for engaging viewers. A little off the point, but PewDiePie, the YouTube star from Sweden presents his Minecraft gaming videos in a unique style. You could try something similar but original.
The above two steps are important to get you started off as a novice or beginner.
How to Make Money on Twitch as Beginner
Starting to make money as a beginner on Twitch can take some. And it definitely takes a lot of effort. Here're three ways that a beginner on Twitch can make money.
Ask for Donations on Twitch
You might laugh or flinch at the idea of asking for donations. However, it's acceptable on Twitch and there's nothing to shy away from this superb source of income for some time.
Big names on Twitch and viewers are always willing to support newcomers, as long as your streams attract them enough.
You can add the 'Donate' button to your Twitch account, as a novice. Link your PayPal account to receive the money. Generally, top stars on Twitch as well as viewers that wish to encourage your efforts would contribute something.
These donations can keep you going for some time. However, donations aren't the only way to make money on Twitch or even the best ones.
Partnering with Brands
When you gain some dedicated following and audience, companies that've various brands suitable for your genre will pay you to showcase their products. That's because you'll become their micro-influencer- the stage before becoming a fulltime influencer.
Market influencing is big money. Generally brands want bigtime Twitch personalities. But often they also take on board novices, if they see you hold promise.
Sell Own Merchandise
And the third way to make money on Twitch is by selling own merchandise. These could be caps, personalized T-shirts and mugs, posters and other stuff that carries your channel brand.
Though you might find going a bit tough as a beginner, selling own merchandise can help make some money in the initial few months to keep you going.
Become a Twitch Affiliate
Twitch doesn't take just everyone onboard as its affiliate. Meaning, you'll have to meet certain requirements. That's because Twitch Affiliate program works on an invitation only basis. Not anyone can become a Twitch Affiliate.
To get an invitation as Twitch Affiliate, you'll have to meet the following requirements.
You must broadcast for at least 500 minutes over a period of 30 days.
Have at least seven unique broadcast days during the 30-day period.
Your channel should have at least 50 followers with a minimum of three or more concurrent viewers
If you meet these standards, it's possible to earn a lot of money. Again, this depends upon quality of broadcasts and engagement.
Refer: What is affiliate marketing? A Complete Guide
Viewer Subscriptions
If your channel provides superb entertainment or gaming, it's possible to get lots of subscribers. And these are paid subscribers.
I've shown above the subscription rates for Twitch. As a Twitch Affiliate, you'll get some commissions from these subscriptions.
Virtual Bits
Viewers give away something known as Virtual Bits. These Virtual Bits come in different colors and cost $1.40 for a set of 100. Any viewer can buy them online from the Twitch chat window.
When viewers like your videos, they can reward you with these Virtual Bits which is worth some money.
Selling Games & Products
As Twitch Affiliate, you get to sell games and products from companies. And get paid commissions for selling them directly through your channel.
As Twitch Affiliate, it's important to get at least some sales for the various companies and their products, if you're serious about making money on Twitch.
Twitch Partner
Twitch Partner program is open for every Twitch Developer as long as you have adequate following and large enough playlist. If you have these, it's possible to apply for the Twitch Partner program.
You can make money selling games or products related to your channel and genre. Additionally, you also get commissions for ads that display on your channel.
These are the main ways to make money directly from Twitch. Understandably, they might appear a bit difficult to a beginner. Therefore, go about it slowly. Twitch has lots of terms and conditions. Hence, it can prove quite difficult even to start as a novice or beginner on Twitch and start making money.
More Ways to Make Money on Twitch
There're a couple of indirect way to make money from Twitch too. 
One of these is writing reviews about games and products about which you're streaming on Twitch. Companies promoting or making these games and products will pay you some money.
The second is by promoting games and products for famous Twitch stars that're already Twitch Affiliate and Twitch Partner members. You could agree with them on the commissions for promoting their games, products and merchandise. 
Watch Top Twitch Streamers
If you're really serious about making money from Twitch, the best way to start is by watching some of the top 10 streamers. I'm providing the list of top 10 streamers on Twitch for 2020.
Tfue
Nickmercs
Tyler1
Clix
Myth
Cloakzy
Symfuhny
Bugha
Scump
Chap
These top streamers didn't strike it rich instantly. Instead, they're channels are famous because of the extra efforts they exert in making their videos. Watching them can help practice and define own genre before you start streaming on Twitch.
In Conclusion
On average, a Twitch user spends 95 minutes watching time. And the highest viewership or Prime Time viewership on Twitch is between 15:00 Hours Greenwich Mean Time (GMT) to 02:00 Hours GMT, the following day.
It's usually during these hours that you could live stream to get the highest possible viewers from around the world. It's also possible to offer Video-on-Demand or VOD on Twitch, which adds to the number of viewers and followers. Learn about technical requirements to live stream on Twitch, to better prepare yourself to make money on Twitch.