Do you know how much is Amazon Prime for students? Is it true that amazon prime is free for college students?
Yes, I can tell you some way or other to get all the Amazon Prime Student benefits for free! It would help save some money even as you get to use every feature of the program.
Benefits of Amazon Prime Student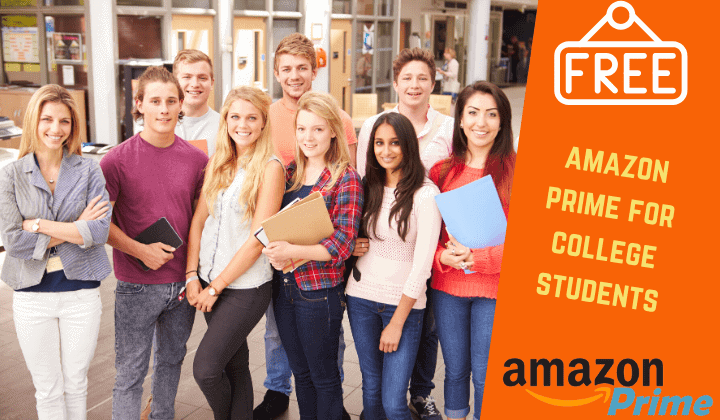 If you're a student, Amazon Prime Student has some very special offers for you. You can use them either alone or share with family and friends. Known as Amazon Prime Student, this is the most popular paid loyalty program in America among high school and college students.
At the time of writing this article, Amazon Prime Student is giving the following benefits.
Amazon Prime Student offers free two-day delivery on all items, except in rare cases where express deliveries aren't possible for any reason.
Same day free delivery is one of the star attractions of Amazon Prime Student plan.
Students can also enjoy unlimited TV shows and movies on HD, Ultra HD and HDR formats where available as part of Amazon Prime Student membership.
Additionally, Amazon Prime Student gives you unlimited access to streaming and recorded music.
You get unlimited reading of Amazon Kindle books on any device.
Unlimited photo storage on Amazon Cloud is also available for Amazon Prime Student subscribers.
The clearly shows that the value of benefits that you'll get as Amazon Prime Student are far more than the subscription fees for the program.
How Much is Amazon Prime for Students?
For students, Amazon has a very special fee structure. Amazon charges only $4.29 per month if you pay the annual subscription of $59 in advance.
Otherwise, the monthly fee is $6.49 per month.
In stark contrast, Amazon Prime membership for others comes at $119 per year or $12.99 per month.  Means, if a person pays full yearly membership, they get Amazon Prime at $9.92 per month.
If we see the price difference, students pay about half the price or nearly 50 percent lower than regular subscribers for the same benefits.
Ways to Get Amazon Prime Student Free
However, there're three ways to get Amazon Prime Student membership absolutely free. Sounds interesting. If so continue reading.
Read: 50 More Amazon Hacks to get Free Stuff
1. Amazon-Sprint Offer
At the time of writing this article, Amazon has this wonderful offer: You can get Amazon Prime Student membership absolutely free. This offer is jointly sponsored by Amazon and telecom giant, Sprint.
You'll require an email from any school, high-school, college, university or other educational institutions that ends with suffix ".edu" to avail this free offer. All the benefits I mention above are available with this free membership.
2. Amazon Prime Free Trial
Another superb way to get Amazon Prime membership free for students is by using their free trial offer. You'll require a valid credit card or debit card to activate the free trial offer.
Use this offer only if you don't have a valid email with the .edu suffix. In such cases, you can use any other email ID such as Gmail or Hotmail, among others.
The free trial offer is usually for a 30-day period only. You have to provide credit card or debit card details while signing up for the free offer.
This plan however has a major flipside: If you forget to cancel the free subscription at least a day before its expiry, the entire annual membership fee of $119 will be debited from your account. And there're no refunds.
3. Amazon Gift Cards
Did you know there're various ways to get free gift cards on Amazon? There're 10 amazing ways to get free Amazon gift cards. Actually they're not really free unless somebody gives the away as a gift.
Use these Amazon gift cards to pay for an Amazon Prime Student membership, once your six months free period from Amazon-Sprint is over. If you use one or more of the 10 ways to get free Amazon gift cards, you can collect enough to pay for one year membership.
4. EBT and Medicaid Membership
You can get free Amazon Prime membership if anyone in the family has an Electronic Benefits Transfer or Medicaid membership. This isn't exactly for students only. But if you have no other options to get free Amazon Prime membership as student, try this way.
The Amazon Prime membership would however remain in the name of the EBT and Medicaid holder. Amazon charges only $5.99 per month for Prime membership for EBT and Medicaid holders. You can also sign-up for a free one-month trial and disconnect later.
5. Share Amazon Prime Student
And finally, the simplest way to get free Amazon Prime membership as student is to share your membership. Of course, Amazon doesn't really allow that. Nor does it check or verify if you're sharing the membership.
You can pool the money from relatives and friends to pay for an Amazon Prime Student membership. And place orders or watch videos, listen to music, read books on your account. Since you're charging a little money from everyone, the Amazon Prime Student membership costs you nothing.
More Ways for Free Amazon Prime
There're also other not-so-popular ways to get free Amazon membership as student. One of them is using special offers that come with prepaid mobile recharges, special offers at stores and complimentary membership of Amazon Prime that some banks and financial institutions give away to their customers.
In fact, a lot of loyalty points on your student credit card could be redeemable for free Amazon gift vouchers and codes or even direct free Amazon Prime membership. Check these with your credit card and debit card issuer.
Also check couponing websites like Groupon because they often come up with coupons that provide limited period but free membership of Amazon Prime. These offers are quickly taken up because Amazon Prime memberships are always in high demand.
You can try these ways only if you don't have that much necessary email ending with .edu suffix.
Is Amazon Prime Worth It?
A lot of people wonder whether Amazon Prime is worth it. As student, you can test their service free for 30 days or six months, using the first two methods I've written above. If you're dissatisfied, there's no need to subscribe further.
In Conclusion
Also watch for lots of special offer that Amazon makes occasionally to attract customers. Instead of providing cashbacks, Amazon gives free Prime membership for a week to a year. Or use any of the five ways above to get free Amazon Prime membership as student. Check regularly on Amazon website if they have any special offers on particular products that provide free Amazon Prime membership for limited period.