Not many people are aware about how to make money on HubPages. It's not as simple but nor is it very difficult. If you're among those lucky ones that've excellent writing skills and a passion for something, it's fairly easy to make money with HubPages.
Before I tell you how to make money on this platform, let's understand what HubPages is all about. That would give you a clearer and better idea of what I'll be discussing in this article.
What's HubPages?
HubPages is an online platform where you can write articles about something you're passionate about. In fact, it's the perfect website where you can launch career as content writer or even an author that writes short stories. There're countless possibilities about what you can write since HubPages doesn't have any limitations or restrictions.
However, certain types of objectionable articles such as those inciting hatred, hate speech, violence, child abuse and pornography, among others, aren't really allowed. Meaning, you can write these articles and post them too.
And possibly you'll gather a large audience. However, you might get into trouble with the law, face ban on HubPages or find yourself unable to make money.
If you're a writer of any sort and would love to reach a wide audience, HubPages is an excellent forum. In fact, I would recommend HubPages to any beginner or veteran.
Steps to Make Money Writing Online on HubPages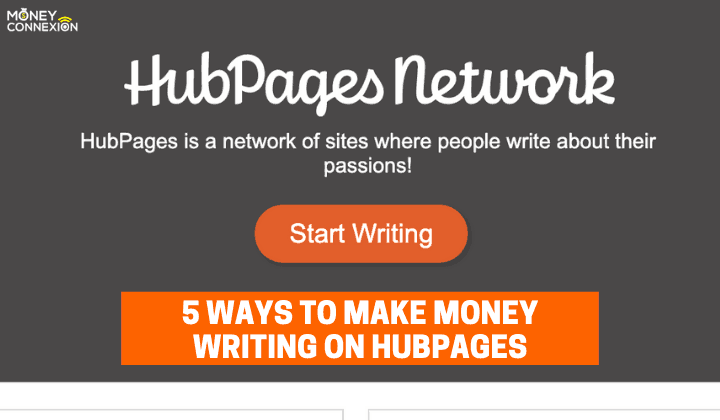 As usual, the best way to do anything is getting started. And here's how you get started on HubPages. However, I recommend you read the following steps carefully before signing up.
Step 1: Create Your Online Name
Creating an online name may sound simple but it isn't. You have two options. Using your real identity or creating a pen name, as it's known. Therefore, take some time and decide how you wish to proceed.
Remember, once you create an online name or author name on HubPages, it cannot be changed. You might have to abandon that account altogether and create a new one, using a new email ID.
If you prefer using own name, it's fairly simple. Register with your Facebook account or own name and email account.
Step 2: Upload a Profile Picture
HubPages is an excellent platform to get people to know you better. Therefore, upload a good profile picture while creating your HubPages account. This is also a very important step because people like to read articles from real people. Posting an icon or caricature or other images can do a lot of harm, since it directly implies you're trying to hide your face.
Also, do not use pictures of celebrities and others since you might miss out on the opportunity to become a celebrity, if ever you need to appear in public. Select an excellent picture from your collection or have one taken with your smartphone or camera for HubPages. People need to see the face behind all those wonderful articles.
Step 3: Write Your Bio
HubPages allows up to 500 words to create a superb biography of members. Therefore, grab this chance and write everything you always want to say about yourself.  Be creative in describing yourself, discuss a bit about where you live and give excellent reasons for why you'll be writing on HubPages.
Your story has to be attractive enough to attract others to read your articles. Mostly, people read articles or content only from people that have interesting bios and their interest in the topic is seen from their own introduction.
Of the tips to get the highest number of readers and make money with HubPages is to attract more and more readers. Unless you're able to do that, anything you write may prove useless.
How to Make Money with HubPages
After completing the above steps, we're all set to start making money with HubPages. So let's look at the five main options. You can use either or both, depending on what you'll be writing about.
1. Google AdSense
Google AdSense is a free resource from Google. It allows you to make a lot of money with your articles or content, as it's known. Google AdSense is actually the resource that helps bloggers and vloggers to make money.
To make money on HubPages using Google AdSense, you'll require a certain number of followers for your account. Once you have that many followers, subscribe to Google AdSense. By subscribing, you're actually allowing Google to display advertisements on your HubPages account.
You can select the type of audience and nature of ads that Google would display on your articles. Whenever somebody clicks on these articles or after a specific number of ads appear on your HubPages account, Google pays you some money.
Using Google AdSense to make money with HubPages isn't that easy. Therefore, I'll discuss a bit about this later in the article.
2. Affiliate Marketing
Affiliate marketing is the fastest way to make money from Amazon, eBay and other similar websites if you have a HubPages account. How's that? Sign-up for some of the topmost affiliate marketing programs in the world such as Amazon Associates. There're countless affiliate marketing programs available to suit your particular type of writings on HubPages.
When you join an affiliate program, the company provides you an affiliate dashboard. Here you can create links, banner ads and other promotional material online to go with your articles on HubPages. Companies such as Amazon pay some money for their banner and flyer ads. And they give a decent commission whenever anyone buys something using your affiliate links.
3. Managing HubPages
Ever heard about social media assistants and social media managers? They handle Facebook, Twitter and other accounts for others. Similarly, you too can make money by managing somebody's HubPages account. The task involves moderating questions and comments from readers. You can also respond to some people that post comments.
4. Ghostwriting
Ghostwriting for somebody that has a HubPages account is yet another way to make money. This means, you'll be writing the articles on behalf of someone else. While your identity remains secret, the HubPages account owner claims all credit for your articles. In such cases, you'll have to sell your work to the HubPages account owner and give up your copyrights to the content.
5. Digital Marketing Services
HubPages doesn't promote any writer or author automatically: it serves only as a platform for people to post articles. Therefore, every HubPages owner has to do digital marketing of their HubPages articles to make money. And to do so, they require people that provide digital marketing services. If you're a digital marketer and know the various Search Engine Optimization processes for HubPages, it's possible to make money as freelancer.
One Important Step
Coming back to my earlier mention of using Google AdSense. If you're a writer and have own pages on HubPages, I would recommend doing some digital marketing. This means, doing processes such as keyword research, SEO and Social Media Marketing, among others. Unless you promote your HubPages account actively, it might prove very difficult to make money.
In Conclusion
As you can see, making money from HubPages isn't all that easy but nor is it very difficult. With some extra efforts and grit, anyone can make money with HubPages. The only thing that matters are your skills and consistency in maintaining and updating your HubPages account.