A child going to college is a big event for any family around the world. For the child, it marks a move from total or near-total dependence upon parents to partial freedom and interdependence.
As a parent, you can coach a child about do's and don'ts at college. Usually about whom to make friends with and what kind of persons to avoid. How to conduct oneself at college. And how to take studies more seriously.
Yet, many parents ignore a vital feature of college life: teaching their teenager how to handle cash properly and its importance. Hence, it's vital to get your child financially fit before college.
Here are eight steps that can help get your child financially fit before they step into college life.
Importance of Financial Fitness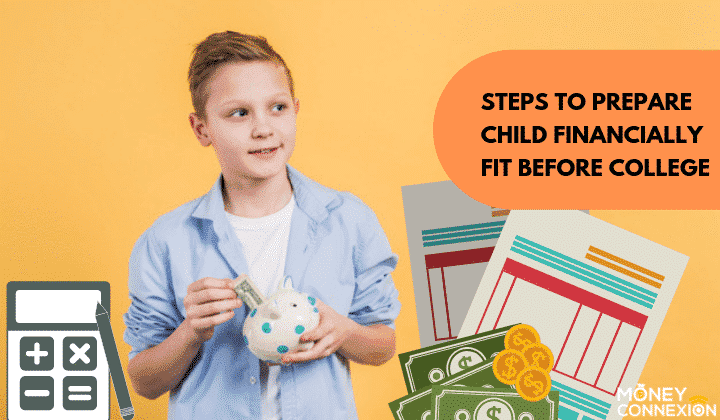 Teenagers anywhere in the world are prone to excessive spending. At college, they acquire new tastes and hobbies that often put strains on pocket. Furthermore, they are likely to squander money on fruitless pursuits and waste time. Therefore, here's what you can do.
1. Help Child Open Bank Account
This might sound trivial. Yet, it is the first and most important step towards getting your child financially fit before college.
A personal bank account helps your child to know various features of banking such as cash deposit and withdrawals, interest rates, various services they can avail free of for a fee and how to use ATM cards and checks.
Nowadays, most banks have special student accounts that come with benefits such as zero balance opening, no requirement to maintain a minimum balance, higher interest rates and sometimes, a few freebies.
Look for a good bank or credit union that offers such savings accounts especially for students.
2. How to Draw Personal Budget
Another very essential step is teaching your college-bound child how to draw a personal budget. Here it's essential to balance all needs and wants.
Obviously, a teenager will develop new likes and acquire newer tastes and habits at college. At the same time, it's important to prevent overspending.
Simultaneously, it's also necessary to discourage underspending since it can rob a child of pleasures of college life.
Saving money where it's not necessary also has severe consequences. You child can develop low self-esteem and might lose interest in college life.
Hence, help the child come up with a near astute budget. Show them how to use a good budgeting app.
3. Encourage Earning & Learning
It's a sheer myth that working as a college student is only for families short on money. In fact, earning during college days holds immense benefits for your child. It helps them learn the value of both time and money.
A student that earns is able to manage at least part of college-related expenses such as recreation and buying the 'wants'. Encourage your child to take an online job at college and bear responsibility to pay some expenses from their income.
But make sure they spend only part of the income on paying bills or shopping while the balance goes into their personal bank account as savings.
A major expense your child can meet from the income is paying education loan instalments. There's a strong reason I suggest this and will discuss later in the article.
4. Get Student Credit Card
Usually, every major bank has special credit cards for students: it's a system that prevails worldwide. Get your child a student credit card.
Understandably, your spouse or you would have to co-sign the credit card application. Parents are responsible for dues their child accumulate on a student credit card
Train your child to pay all credit card dues on time to avoid accumulation of interest or Annual Percentage Rate (APR).
Good history of repaying credit card dues on schedule helps build an excellent credit score that's vital for future. Unfortunately, most students leave college with very poor credit scores due to unpaid credit card dues and education loans.
5. Discuss Education Loan
College education doesn't come cheap anywhere in the world. Hence, most teenagers are invariably forced to opt for a student loan or education loan, as it's known.
Usually, most students wait for completion of their studies and find jobs to start paying student loan. This can prove a major blunder.
For one, education loan dents a student's credit ratings too. Hence, paying credit card dues and education loan installments during college is an excellent way to start a career with high credit score.
Discuss education loan and reasons it has to be taken, with your child. Emphasize the importance of early repayment and healthy credit ratings.
6. Talk about Investments
Talking to a teenager about to enter college about investments might seem like stretching things too far. But it's not. Investing part of savings, either from an allowance or from income from a college job is an excellent way to prepare your child for future.
There's a common misunderstanding that investments mean large sums of money. No, it doesn't.
Apps available in the USA allow people to start investing with as little as US$5. In India, it's possible to invest as low as Rs.100.
These aren't significant amounts for any working student. Yet, the benefits your child gets are immense and incomparable.
They learn about money markets, investment schemes and how various savings plans work. This important skill teaches them the importance of money and its proper use now and as future adults.
7. Teach Net Banking etc.
While cash continues to be king, it might soon lose the position: non-cash transactions are growing at rate of 12.7 percent per year.
The trend will continue and grow. World Payments Report 2018 launched by BNP Paribas and Capgemini indicates, number of non-cash transactions in financial year 2019 stand at 671.7 billion worldwide.
The figure will rise to 876.4 billion by 2021. This makes it important for your child to understand non-cash transactions or digital banking. Furthermore, digital transactions are quicker and cost lesser.
For example, some banks charge a fee for using their cards at ATMs of other banks. Some issue checks for a small fee.
Digital transactions are generally free and hence, your child also saves money. It overcomes the hassles of dropping a check at some location of paying cash.
Digital payment systems eliminate the need for money physically. Countless apps are available for money transfers and investments.
8. Explain Money Etiquette
Money etiquette? Perhaps you are unaware of this term. So I'll explain. Money etiquette is all about how a person behaves with another in money matters.
That is how to politely refuse a loan or splitting a bill, among others. Learning money etiquette can save your child a lot of grief at college.
There'll definitely be spendthrifts asking for small loans, situations where splitting bill is essential, times when your child may be short of cash.
Knowing how to tackle such tricky situations forms money etiquette. Almost everyone gets uneasy when it comes to discussing money or money-related issues.
Here's where excellent money etiquette will prove handy for your child at college when it comes to tackling tricky matters that especially involve other students.
Wrap Up
Financial fitness at college has lifelong effects. Hence, it's essential to get your child financially fit before college.
Financial fitness will also help your child to take money decisions with ease and develop financial discipline, which is very necessary.
Every teenager wants to try new things and need money. And they develop new friends with whom they enjoy college life.
Whether your child will be staying at college dorm or commuting from home doesn't matter when it comes to financial fitness. This is an essential skill that is best to learn when young.
Therefore, your efforts to get your child financially fit before college is one of the best investments you can ever make.