You wish to buy something on Amazon but don't have enough money right now. Or you can't wait for a sale or expect someone to give you the stuff as a gift. What would you do in such cases?
Usually, most people would feel helpless. But there's no need to do so. Instead, try these 35 amazing Amazon review sites to get cheap & free stuff on amazon. Or, fantastic discounts that would help you get the stuff at fantastic, low rates.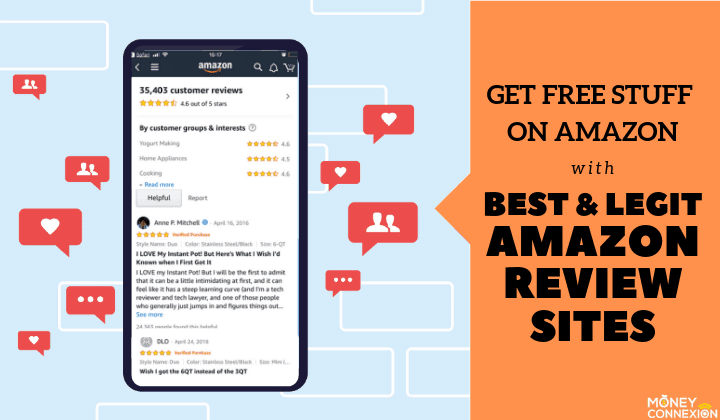 Understanding Amazon Review Sites
These might sound unfamiliar. Therefore, let's understand what're Amazon review sites?
You would possibly know that Amazon doesn't store everything they sell. Amazon has several million products on the website.
If the company were to stock every product, it would need a colossal warehouse and countless staff. Given this scenario, what does Amazon do?
Amazon allows smaller manufacturers and retailers to use its website to sell their products. Since there are millions of products, there're thousands of sellers too. And each seller competes with one-another to get to the top of Amazon rankings.
Now Amazon has one rule: only customers can review a product. You're expected to write an honest review.
How It Works
It's simple. Once you decide to buy something on Amazon, you approach a Product review website. Inform this website about which product you wish to try and review. They'll send you a coupon or code.
Apply this coupon or code to buy the product from Amazon. This gives you a fabulous discount.
And once it arrives, try the product within a specific test period. You can return the product to Amazon during the 'Returns' period and get your money back. Or you can keep the stuff since you got it at very low price.
Writing Amazon Reviews
This is something you'll need to be very careful about. Amazon follows strict standards for reviews. Hence, spend some time reading tutorials on how to write acceptable and helpful reviews for Amazon.
If Amazon rejects your reviews, you would lose membership of Amazon review sites and miss opportunities to get really cheap stuff.
And several rejections on Amazon can ban you from writing reviews in future.
Once you've sufficient knowledge about writing Amazon reviews that would help sellers boost rankings, you're all set.
Select one or more of these Product review sites to get free or cheap stuff on amazon.
35 Best Amazon Review Sites
These websites will give you a discount coupon or code for buying stuff on Amazon. In exchange, you've to write a review about the product. You can save up to 90 percent of the tag price by writing reviews.
You can get up to 90 percent discounts on various products on JumpSend. You can review several products after registering with JumpSend. The website lets customers know you're a reviewer.
AmzRC offers review services to Amazon sellers at fairly low rates. Hence, you can get some of the best deals on this website.
Registration is necessary to get these deals that are sometimes as high as 90 percent on tag price.
Vipon is yet another superb place to review products from Amazon sellers by buying at discounts. Though they don't have a very wide range of products, you can get up to 80 percent discounts for shopping on Amazon.
Your reviews should comply with their standards. They send over a million codes per month.
Snagshout will give you a discount code or coupon upon registering. They don't have a very wide range of products. However, their discounts are as high as 75 percent provided you register as a reviewer. Most products qualify for Amazon Prime deliveries.
Product Testing Co usually features more new and upcoming brands rather than popular ones. Furthermore, they provide discounts for reviews on Amazon and other various sites like Amazon.
Also, their selection of products available for reviewing for Amazon is fairly small. It's an excellent website to get cheap stuff on Amazon if you aren't really looking for specific brands.
EDC or Elite Deal Club gives you up to 50 percent discount for shopping on select 'elite' products on Amazon in exchange for a proper and honest review.
They also have some not-so-elite products. This website is superb if you're looking at buying from a small selection of niche products and writing reviews.
VIP Power Club sends you email notifications every time they have a new product up on Amazon. And if you're interested in buying the stuff at great discount, ask for a coupon.
VIP Power Club is very particular about the quality of your reviews. Hence, you'll have to write excellent and honest reviews only.
DealGoGoGo.com is very easy to use. Simply install their extension on your browser. Every time you search for a product, simply click on the extension.
You'll get some amazing deals in exchange for a review. DealGoGoGo.com offers newer deals for reviewers daily. You'll get the code or discount coupon for shopping with Amazon instantly.
Premier Deals Club is somewhat different to get excellent, cheaper stuff from Amazon. Upon registration, you'll get access to several coupons and discount codes for shopping with Amazon.
And that's where the difference comes. Instead of posting a review on Amazon, you'll have to post one on your Facebook page and get people to like it.
As the name suggests, they give discounts on very premium products only.
Secret Deals Club has deals starting at $1 an upwards. Upon registration, Secret Deals Club will send you a deal on Amazon to your registered email box.
They allow you to buy and review only one product from Amazon at a time. And you're eligible for the next deal once your review product appears on Amazon.
I Review Home gives away stuff from Amazon sellers free or at very discount rates for writing a review.
To qualify, you'll have to complete a questionnaire on I Review Home. Whenever a seller on Amazon chooses your profile, they'll send you free stuff to review and post on Amazon.
You can test multiple products by becoming a member of Product Testing Group. And they offer excellent discounts on almost every product available on Amazon.
In return, you're expected to write a comprehensive and honest review that complies with Amazon review guidelines.
Amazing Deal Group requires you to create an account and sign-in before opening deals for you. Honestly, there's not much on this website.
However, several shoppers claim they're saving money by writing reviews on Amazon for products bought with coupons from this Product review site.
Testzon has a vast array of electrical and electronics at very discount rates for reviewers. These products are imported and sold on Amazon.
Hence, they give excellent discounts and sometimes freebies for your Amazon product reviews.
Freebies to lightning deals are available from BestOne Review. They operate in a different manner.
They've deadlines for every item you can order at discount rates for writing Amazon reviews. They have a fairly decent range of products too.
You'll have to apply online to qualify for membership of AMZDiscover. The website claims it's an excellent place to get free products from Amazon in exchange for honest, reliable reviews.
Once you've submitted a review on AMZDiscover, sellers on Amazon will send you freebies for your effort.
Free stuff and great discounts are on offer at AMZ One Club Deals if you're willing to write honest and compliant reviews on Amazon.
It's as simple as registering online and shopping for whatever you require. Other than freebies, you can get 90 percent discount on select products.
The website claims to give free stuff as samples before sellers launch it on Amazon. You can try this website. No need for credit card or bank details.
Gymle Lab isn't really a laboratory. Instead, it's a product review site where you can buy products very cheap before launch. Test and write a review for Amazon.
You can try readymade garments and dress accessories and write reviews. You'll get the stuff at very low rates thanks to coupons and discount codes.
However, Amazon's returns policies may not allow you to return some stuff.
Buy products from Blue Ribbons and write reviews to get up to 70 percent off the tag price.
This is a good website for baby requirements and women as well as select household products. Stuff can be expensive here.
Another excellent Amazon review trader site to get free stuff or amazing discounts. Usually, Home Products Testing offers latest products before they enter the market.
Your reviews can be for Amazon or other stores.
No frills website that rewards reviewers with excellent discounts and sometimes, free stuff. Brand Awareness Club aims at generating popularity for new products on market shelves.
Giveaway Nation runs something called Amazon Rebates Club. It works on the same pattern as other Amazon review sites.
They have a fairly sizeable collection of products to buy, try and write reviews for Amazon.
Dears For Review or Deals 4 Review is a simple website that caters to Amazon sellers. Get excellent bargains and write reviews for the seller on Amazon.
You can get up to 50 percent discount from this website for buying stuff from Amazon in exchange of a review.
If you're really into reviewing stuff, try Reviews for Free. You'll get some amazing freebies or superb discounts.
Reviews are for Amazon and other online retailers. They have a wider range of products in some categories.
This is a German website that deals in all sorts of computer and other cables available on Amazon. Joining is free and cables are available at great discount in exchange of your reviews.
Giveaway Service connects ordinary people with companies for writing honest reviews on Amazon and other online retailers.
It's a great place to get some amazing stuff for equally amazing discounts for writing reviews.
Household appliances, electronics, and other gadgets are available at Etek City. Their Etek Citizen program allows you to review products for Amazon and other online retailers. In exchange, you can get fantastic discounts.
Social Nature is all about natural and organic products. You can sign up as a tester and write reviews for websites such as Amazon where their products are available.
You'll get discount codes and coupons to buy and try their products for an honest review.
Want to become an influencer? Join Tomoson. This website offers excellent deals for cheap if you're willing to write a product review.
The selection is fairly large and prices are amazing for the quality. They also offer freebies for reviewers.
Prices start from $1 per item, though not for everything. And some freebies can be had here too.
All in exchange for your review for various websites including Amazon. There's some excellent stuff to get from Dollar Review Club.
Viralix is for sellers that wish to make their products go viral. And that's possible through excellent reviews.
If you're good at writing reviews that can positively impact a brand, join as a reviewer on Viralix.
Ask for discount codes, shop at VivaRate and write reviews for Amazon about the product. That's how simple it is to get cheap stuff from an Amazon review site as collections are very limited to foot care products and hence, you can try different products at the same time.
There're no details on how Lucky21 works. However, they do offer products for reviewing at low rates. It's an Amazon brand management company. Meaning, sellers approach this website to get customer reviews for their products.
Wrap Up
There're several websites that claim to offer discounts if you buy stuff and write reviews on Amazon. Beware. Some of them are fake and will simply take your email ID for spam.
Others may have sinister designs such as identity theft. The above list of Amazon review sites is trusted and you are safe while using them.