Reading is a wonderful hobby. It teaches us a lot of things while improving command over language and adding to our general knowledge. There're superb magazine that cover almost every topic under the Sun- from politics to movies, religion to money and travel to food, to name a few instances.
Some of us subscribe to one or more magazines. But what if you could get magazines for free. Yes, I mean absolutely free and the ones that suit your interests too? If you're among those who would love to get free magazine subscriptions, look no further.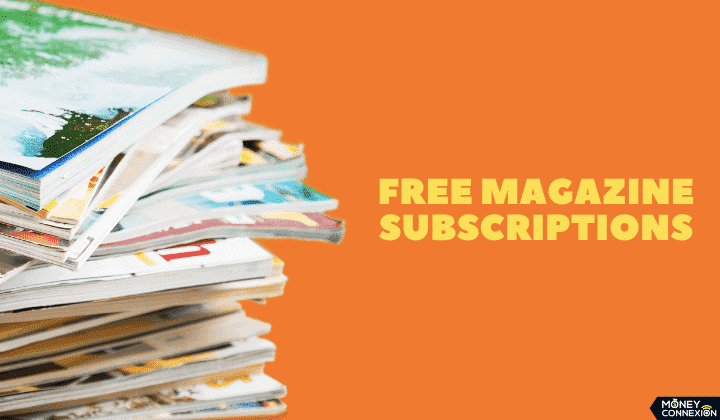 In this article, I will guide you to get 100 free magazine subscriptions by mail.
Who Gives Free Magazines Subscriptions?
Understandably, you might wonder who gives away free magazine subscriptions. And why? There're several reasons that companies, media houses, publishers and other organizations offer free magazine subscriptions.
Here're some of the main reasons.
Higher Readership
Most publications including magazines and newspapers depend on advertising revenues to meet their operational costs and make profits. Any organization will place a paid advertisement in a magazine only if it has a large readership.
By giving away free subscriptions, these magazines try and increase readership, which could translate as higher advertising revenues and greater profits.
Storage Costs
Storing large volumes of back issues of magazines is a logistical nightmare for publishers. Such storage consumes valuable space, which often has to be taken on lease. Then there's always the fear of rodents and insects feeding on these paper magazines.
Instead, mailing these magazines works out much cheaper than storing. And giving them free also increases their circulation figures for attracting ads.
Promoting Agenda
Some magazines are political mouthpieces or sponsored by an organization that's trying to further its agenda and get widespread support. The only way to get popularize their agenda is by offering free subscriptions.
Obviously, there'll be few or no takers for paid magazines that carry propaganda. But giving them free is an altogether different ballgame. They an influence people through articles that subscribers will read.
Proselytization
Free magazine subscriptions serve religious organizations as an excellent resource for proselytizing or spreading their faith and its beliefs among both followers and non-followers. The main purpose of such religious magazines is to attract non-followers to their faith while reinforcing the beliefs of their followers.
Funds for publishing these magazines and mailing them come from donations by wealthy followers and sale of various items related to the faith.
Finding B2B Customers
Then we have lots of magazines that cater to a specific industry only. They are sent free of cost to persons working in that industry. Though they're available free of cost, only those people having a company email ID and holding a responsible position can subscribe.
Since these are industry specific magazines, the content is often technical and relevant only to certain professionals. These magazines usually promote products and services for Business-to-Business or B2B customers.
100 Free Magazine Subscriptions by Mail
The above reasons make it clear why various organizations give free magazine subscriptions. Though they're offering them free of cost to you and other readers, these organizations stand to gain a lot.
At the same time, you can also benefit as a subscriber. Reading free magazines are a good pastime and you could learn something new.
If you'd love to receive such free magazine subscriptions, here're some places that offer free subscriptions either by postal mail or email.
Top 10 Free Magazine Subscriptions
Before writing about other free magazines, I will mention the top 10 which remain my all- time favorite.
Personally, I rank airline inflight magazines as the top 10. Because they're printed on superior quality paper, have articles written by best authors and journalists and provide fascinating insights into various interesting topics.
Most domestic and foreign airlines have inflight magazines that're available for their passengers. You might've seen these magazines in the pocket opposite your seat, onboard an aircraft. These copies are complimentary, meaning passengers can take them away.
However, some airlines will mail you a copy or more, if you request. You'll have to email these airlines to get such inflight magazines. Here's a list of my favorite inflight magazines you could try to get.
Also Read: 43 ways to get free baby stuff
1. Discovery
Discovery is an amazing inflight magazine of Hong Kong based airline, Cathay Pacific. This is a magazine you'll love reading and keep in your collection. This inflight magazine also unravels wonders of the Orient.
2. Oryx
Read superb travelogues, interesting articles and lots of wonderful stuff about Qatar and the Arabian Gulf region on Oryx, the inflight magazine of Qatar Airways. This magazine has content by some of the best writers.
3. iFly
Request KLM Royal Dutch Airlines by email to send you a few copies of their iFly inflight magazine. It is one of the best inflight magazines that comes from a European carrier. You'll want to read some of their articles again and again.
4. Skylife
You can actually subscribe to this inflight magazine free of charge and get home delivery by mail. Skylife is the inflight magazine of Turk Hava Yollari, also known as Turkish Airlines. The flag carrier of Turkey offers this free magazine subscription to people worldwide.
5. Spirit of Australia
True to its title, Spirit of Australia is full of superbly written articles of the continent down under. You can get a copy or more of Spirit of Australia from Qantas, the country's flag carrier that operates worldwide.
6. Sawasdee
Sawasdee means welcome in the Thai language. And this fantastic inflight magazine in English is a publication of Thai Airways. Sawasdee contains lots of articles and stories about various places, food, culture and tradition as well as shopping. Write to Thai Airways for copies.
7. Serendib
The Island of Serenity and Pearl of Indian Ocean is aptly represented by Serendib, the inflight magazine of SriLankan Airlines. In fact, the magazine now contains a lot of insights into hitherto unknown places of Sri Lanka, that're now accessible after the civil war ended in 2009.
8. Lufthansa Magazine
This inflight magazine from Lufthansa, the national carrier of Germany has record circulation, despite being free for passengers. Lufthansa gives away nearly two million copies of each edition of Lufthansa Magazin. You can also request Lufthansa by email to send you a few copies by mail.
9. Selamta
And if you wish to learn more about the little known and exotic culture of Ethiopia and rest of Africa, write to Ethiopian Airlines headquarters in Addis Ababa to ask for a few complimentary copies of Selamta, their inflight magazine. Personally, I love Selamta for some of the rarest pictures and articles of Africa their editions feature.
10. MSafiri
Also from Africa, this inflight magazine is known for pictures of wildlife and descriptions of amazing places in Kenya. Msafiri is the inflight magazine of Kenya Airways and reaches about four million people per edition. Get a few copies by writing to Kenya Airways in Nairobi.
This is a list of 10 free magazine subscriptions is my all-time favorite. Not only do they contain interesting articles but they're also superb collector items to build a library of magazines.
Generally, most airlines around the world will mail you copies of their inflight magazines for some time. You can always request for more copies later.
Top 100 Free Magazine Subscriptions
Other than these, there're 90 more free magazine subscriptions that're available on free magazine subscriptions by mail. Some of them will mail only one or two copies. Others give free subscription for three months. And a few, for a full year.
However, here's something important. The frequency of publications of these magazines is different. Only a few have a monthly edition. Others have between four and six editions during an entire calendar year. And a few publish an issue just once every year.
Therefore, it's not possible to really collect a large heap of these free magazine subscriptions unless you're planning to subscribe to each publication.
11. Clay Times
This magazine is all about using clay to make pots, idols and figurines and decorative purposes. You get only one free copy.
12. Lego Life
Official publication of Lego. This magazine is available free of cost to children between five and nine years age.
13. NCR
NCR or National Catholic Reporter is all about Christianity and various developments around the world in Christian perspectives. You can get a sample copy free of cost.
14. Storage Source
A magazine for the logistics and warehousing industry. You can get this magazine free from TradePub.com. However, you'll require an official email ID to get free magazines subscription.
15. Portland Monthly
Available from Freebizmag.com, the magazine Portland Monthly is all about various businesses and business opportunities in Portland, Oregon.
16. Allure
Allure is a shopping magazine. Subscribe for a one-year free subscription of Allure from Mercury Magazines by filling and submitting an online form.
17. Wine Selector
Want to learn more about wine and how to get free magazine subscription? Subscribe for free copies of the Wine Selector. It is one of the most popular free magazine subscriptions in America.
18. Entrepreneur
For budding as well as experienced businesspersons, there's a superb free magazine, Entrepreneur. They offer a one year free subscription when you submit a form online.
19. Veranda
Especially for homemakers and those interested in interior décor of their homes, Veranda provides superb ideas. Sign up for a free one year subscription if you wish to decorate your office or home.
20. Whisky Advocate
Whisky lovers can find a lot of info about their favorite drink in this magazine. Whisky Advocate deals with all sorts of news and features about whisky and makes good reading anytime. They give a one-year free subscription.
21. Architectural Digest
If you're planning on restructuring or giving a facelift for your home, get this one year free subscription of Architectural Digest magazine. Generally, this magazine is available for an annual subscription of $10 but you could get it free here.
22. Sports Illustrated
This is a fabulous magazine that covers National Football League, National Basketball League, college tournaments and other sporting events of your interest with high class photos and articles. They give a free subscription for two years.
23. Cigar Aficionado
Learn about how to live the high life, dressing styles, business and personal etiquette and lots more from Cigar Aficionado, a free magazine you can subscribe for one year. They also carry articles on how to enjoy cigars, appreciate wine and prepare cocktails, among others.
24. Family Handyman
Do-It-Yourself techniques that come handy at home, tips and tweaks on how to repair stuff at your house, maintenance and saving on motley tasks as well as making some money by offering such services are all available in Family Handyman. They give one free copy per year.
25. Bike Digital
For bike lovers, this is a superb magazine from the UK. However, Bike Digital contains news about bikes and biking sports from all over the world. You can read their monthly issue online or get a few back issues free of cost by sending an email.
26. Keep the Faith
You can get on free copy of Keep the Faith magazine when you take a paid annual subscription. This is a magazine that deals with real life stories and the Holy Bible teachings. Keep the Faith publishes from the UK and is also available in the US.
27. Finger Lakes Wine Country
This magazine is all about Finger Lakes, one of the topmost vacation and wine producing regions of America. You can download a free copies of these magazine and learn more about how to enjoy a superb holiday at the destination. They also provide a free guide to wine recipes.
28. Code
Code is a magazine that covers digital technology. It is mainly available on paid subscription basis only. However, they mail a sample copy free of cost or you can download and read a back issue.
29. Ranger Rick
This is free magazine subscriptions for kids, Ranger Rick Digital is a magazine you can download for free from their website. This is a perfect magazine for children and contains lots of adventure stories for young minds.
30. Ranger Rick Junior
For younger children, this is another fabulous magazine that's also useful for learning and entertainment. You can subscribe free for the digital copies of this magazine. They will arrive in your email or download them from the official website.
31. Ranger Rick Cub
Another good magazine for children, Ranger Rick Cub is also a digital magazine available free. Simply fill out their online form to download copies of the latest magazine of receive the in your email.
32. Ranger Rick Zoobooks
As the name suggests, this magazine has everything to do with wild animals that're normally seen only on TV or at best, in a zoo. These are lovely magazines for children to learn about various kinds of wild animals and related stuff.
33. Ranger Rick Zoodinos
If you want to teach kids about dinosaurs and other prehistoric animals that once roamed the Earth, subscribe for digital copies of Ranger Rick Zoondinos. They issue new copies regularly that speaks about one specific prehistoric animal and its characteristics found by researchers.
34. Ranger Rick Zootles
Butterflies, dragonflies and other insects and reptiles that we see every day have lots of characteristics that we don't even know. And children as well as adults can learn more about these insects and reptiles from Ranger Rick Zootles. Sign up online to download or get free magazine subscription in your email box.
35. Ranger Rick Zoobies
There're lots of lovable wildlife creatures such as pandas, Koalas and others. This free magazine speaks about these animals and their habitat, food habits and lots more. Zoobies is also available free of cost for merely signing up.
36. St. Anthony Messenger
A Catholic magazine that comes from Franciscan Media, you can get a free copy of St. Anthony Messenger as a sample. Sign up here to get your complimentary copy with no obligations to subscribe.
37. Tomorrow's World
Interested in learning more about the Christian faith? This magazine- Tomorrow's Faith offers insights into various teachings of the Holy Bible. You can get a free subscription by signing up on their website. They also offer free Bible study courses.
38. Premier Guitar
Guitar players and music lovers can subscribe for free five month subscription of Premier Guitar magazine. Additionally, they give a free app for US subscribers only plus some other freebies when to take a paid subscription.
39. Bow Hunting World
A magazine for bow hunting professionals, Bow Hunting World offers two free copies of free magazine subscriptions by mail every year. This magazine is available in the US and Canada only. It carries ads and articles about bow hunting as a hobby.
40. Predator Extreme
There're countless predators in the jungles of America. Predator Extreme documents them and teaches how to hunt, unless these predators come in endangered species. It also contains superb wildlife pictures taken by professionals. Two free copies per year of free magazine subscriptions by mail are available upon signing up.
41. Whitetail Journal
Deer hunting techniques with tutorials on guns and bullets that can help bag these animals for meat and skin are all available in Whitetail Journal. They give two free copies on signing up. This magazine also contains information on hunting for animals that're legally permitted under American laws.
42. World Literature Today
If reading is your hobby and you love literature, subscribe for a free copy of World Literature Today. This magazine deals with latest book releases, reviews, author bios and much more. It's also a superb magazine for literature students.
43. School Arts Today
School Arts Today has been around since 1901 and ranks as a favorite resource among art teachers. They give one free copy as trial magazines for signing up on their official website. This is a great magazine for art teacher and students.
44. DuJour
DuJour is a fashion and lifestyle magazine that deals with celebrities, parties and high life. They give one year free subscription when you sign up. You can also opt for insider updates and sneak peeks while subscribing.
45. Cambria News
Cambria Fashions offers a free magazine subscriptions that speaks about its products. Their media section provides one copy of a free magazine on request. However, this magazine is mainly of trade interest and doesn't have any articles of interest to common people.
46. No Greater Joy
No Greater Joy is a Christian ministry that publishes an eponymous magazine. They willingly give away free subscriptions for their magazine for one year. You can extend the free subscription without paying.
47. Shabbat Sentinel
Shabbat Sentinel is a free Christian magazine that encourages readers to observe the Jewish religious tradition of Shabbat from Friday evening to Saturday evening. They aim at encouraging people to observe Shabbat through their free magazine subscriptions.
48. Subaru Drive
As the name suggests, Subaru Drive is a free magazine that's all about the Japanese vehicle brand, Subaru. It contains real life stories from Subaru owners, latest news from the company and lots of interesting articles about outdoor life and driving.
49. Beyond Today
Yet another magazine that promotes the Christian way of living, Beyond Today is available free of cost. All you need to do is fill up and submit their online form to get free magazines copies. They also have special editions during Christian festivals and occasions.
50. Baltimore Style
Coming from one of the biggest cities in Maryland, this magazine deals with fashion, lifestyle, food and drink, arts and lots of other interesting things. Baltimore Style offers a free, three year subscription merely for signing up on their website to get the copies.
51. Sarasota
Sarasota is a lifestyle magazine that's all about the eponymous city in the state of Florida. It contains interesting articles for the entire family. You can get a free subscription to their print editions by signing up here. They offer four copies every year free.
52. Lioness
Lioness is a digital magazine for women. It deals with various issues that women across America face nowadays. They email a copy every month. To get Lioness digital, you can sign-up on their website. This is available free to subscribers around the world.
53. Seattle Met
Seattle Met is a comprehensive guide to the Seattle metropolitan area in Washington. It is available free of cost every month to subscribers. This is also a superb magazine for businesspersons looking for deals and ventures in that city.
54. Ski Utah
For avid skiers, the free magazine, Ski Utah serves as an insider guide to best resorts in the state. It also features real life experiences, skiing tips and ads from skiing equipment dealers at these resorts. You get one free copy upon signing up.
55. C California
Lifestyle magazine for women and men that publishes from California. Though C California doesn't give its latest editions free of cost and each one costs about $7. However, they mail a free copy of a single back issue upon request.
56. Houstonia Hope
Trade magazine that's everything to do about businesses and especially real estate in Houston, Texas. They give one free copy on subscription. This is a business magazine and mainly for entrepreneurs looking at doing business in Houston and nearby areas.
57. Premier Christianity
This magazine works on donations from followers. And they don't really offer free subscriptions. However, it's possible to get a couple of copies free upon request. This magazine, as the name says, is everything about the Christian faith.
58. Hello Giggles
Hello Giggles is a magazine for women. It has news about celebrities and healthcare for female readers. They provide free copies by email only, upon subscription. You will love this magazine, regardless of where you live.
59. Teen Vogue
This is a really wonderful magazine for all teenage women. Teen Vogue contains celebrity news, healthcare tips, fashion trends and lots more stuff that's interesting for every female that's a teenager. Available free of cost upon subscription, they main their copy to your email only.
60. InStyle
For women readers, this is a lifestyle magazine that has all sorts of news that make it interesting to read. You can read latest news reviews, healthcare articles, celebrity news and lots more. Free digital copies are sent to your email upon subscription only.
61. Mind Body Green
A magazine for women that deals with traditional and unconventional fashion and beauty tips, health issues and lots more. You can get free magazine copies of Mind Body Green in your email box upon subscription. This is a superb free online magazine for all women.
62. Time-The Brief
Time-The Brief is a free version of the reputed magazine, Time. It is a digital version of the magazine and available free on subscription. You won't get the full Time magazine in your email box. Instead, you'll get only one of the topmost stories in your email box.
63. Conde Nast Spotlight
Free digital version of the world famous magazine Conde Nast Traveler, it is available on subscription. This magazine is all about travel and tourism and features lots of other interesting news articles too. Subscribe online to get free magazine copies in your email box.
64. Health Beat
Health Beat is an free online magazines from Harvard Medical School. They send a digital copy of the magazine to your email with news and reports of latest medical treatments, medical research and ways to prevent various diseases. An excellent free magazine subscription for the health conscious. Subscribe online for free copies in your email box.
65. Her Campus
Her Campus is a free digital magazine that's targets female students at colleges. They have wonderful articles on everything from study courses to student jobs, safety and security for women, dating tips and health as well as celebrity news. Fill their online form to get a free copy in your email box.
66. Digital Journal
Digital Journal advocates media freedom around the world. This is a free magazine subscription that you can get by email upon subscription. It contains latest articles about press freedom in various countries, harassments and killing of journalists while performing their legit duties and petitions to world leaders.
67. Weekly Torah
The Weekly Torah is a project of myjewishlearning.com. It is a free weekly magazine and newsletter that will arrive in your email box upon subscription. The magazine contains weekly portions of the Torah that're read during Shabbat and other days of the week.
68. Outdoor Photographer
Outdoor Photographer features amazing pictures taken by photographers in the US and elsewhere as well as latest news and reviews about various camera, lenses and other photographic equipment. It also features destinations where you can do amazing outdoor photography. They send four copies free during a year.
69. Digital Photo Pro
Mainly for photographers and people working in the photography industry, this magazine is available free for one year. It contains latest tips and tweaks on digital photography from some of the topmost photographers. You'll also get information on storing pictures and other interesting articles on photography.
70. Rider
If you own a motorbike and love riding one or are fond of motorbike racing, Rider is just for you. They have a one-year free subscription that anyone can request. Rider also contains information and article on latest bike models, races and other events, interviews with riders and lots more.
More Free & Interesting Magazines
In addition to the 10 topmost magazines and 60 other interesting ones, here's a list of 30 more free magazine subscriptions that you could get for free. Some are digital versions while others provide printed copies by mail.
71. Travel + Leisure
Free travel and tourism magazine available digitally in your email box. Subscribe here to get free magazine copies.
72. Watch
Official magazine of CBS, one of the largest broadcasters of America, you can get one year subscription free to read celebrity and entertainment news.
73. Inc.
Latest Hollywood news, interviews with rising stars, celebrity gossip and more is available from this free magazine- Inc.
74. Esquire
One of the most reputed news magazines, you can request a trial magazines subscription of the Esquire free of cost for a limited period.
75. Town & Country
Travel and lifestyle magazine for the entire family, you'll get a limited free subscription for Town & Country if you're living in America.
76. Time for Health
A free digital magazine from none other than Time, this is a wonderful publication that deals with health and fitness issues.
77. Garden & Gun
You can get free magazine back issues of Garden & Gun by submitting an online form. This is a digital magazine too.
78. G&G Jr.
G&G Jr is a free magazine for children. It's all about holidays by the beach and related attractions for during holidays.
79. Men's Health
Health and fitness related magazine for men of all ages. Sign up here to get printed copies in your mailbox.
80. Arthritis Today
For all victims of Arthritis and those who wish to prevent this chronic medical condition, the free magazine Arthritis Today provides vital information.
81. Hearing Health
This free magazine subscriptions and newsletter comes from Hearing Health Foundation. It is all about ear problems and related medical treatments.
82. Elle Décor
Superb publication for interior designers and homemakers, Elle Décor is available free on submitting an online request.
83. Traditional Home
Get a two-year free subscription to Traditional Home. Articles are all about home décor and antiques as well as vintage furnishings.
84. Homes & Lands
Homes & Lands is primarily about the real estate market. But anyone can subscribe for one year for free.
85. Supply House Times
Primarily for the plumbing and high capacity air conditioning industry, they offer a free annual subscription upon request. This is for industry professionals only.
86. This Old House
This is a free magazine subscriptions for everyone who wants to make the best of their old houses. It contains tips and suggestions for repairs and facelifts.
87. Weight Watchers
For overweight and fitness conscious people, this free magazine provides healthcare and dietary information and tips.
88. Rachel Ray Everyday
One of the best magazines for people that love cooking. This free magazine subscriptions contains recipes for 30-minute meals and nutrition guidelines.
89. Money
All about money, this free magazine subscriptions provides info on best ways to earn extra income on the side as well as savings and investment tips.
90. Fast Company
Contains real life stories about topmost business leaders and upcoming ones. Get a free annual subscription from this link.
91. Fortune Investor's Guide
Find out the best ways to invest and make your money grow from articles in this free magazine, Fortune Investor's Guide. This comes from the famous magazine, Fortune.
92. Time
Time doesn't really give away free magazine subscriptions since it ranks among the topmost in the news and current affairs genre. However, you can get a free sample subscription here.
93. Wired
Reviews about the latest gadgets and upcoming technologies feature on free magazine subscription, Wired. Subscribe for Wired here.
94. CNET
Everyone knows that CNET is one of the best resources to learn about latest Internet technologies. Now CNET offers a free, digital version of their magazine for all subscribers.
95. SCMP Global Impact
South China Morning Post, a respected newspaper from Hong Kong provides a free digital news magazine known as SCMP Global Impact. It contains weekly news reviews and current affairs as well as news analysis and editorials.
96. Take 5
Take 5 is a free online magazine available free on subscription basis only. It's a publication from The Japan Times, one of the oldest newspapers in the world. This magazine has news in brief. But to read full version of the news, you'll have to subscribe to The Japan Times.
97. 3ABN World
Three Angels Broadcasting Network or 3ABN is located in America and offers a free digital magazine, 3ABN World. It's a free monthly magazine on the Christian faith and available on free magazine subscriptions by mail too.
98. Dental Economics
Dental Economics is for dentistry professionals only. This free magazine subscriptions provides news and info on latest, cost saving dental treatments in the world.
99. LEDs
LEDs is a free magazine subscriptions on latest development and uses of LED technologies in various fields. You can get a free subscription here.
100. Cosmopolitan
Actually, Cosmopolitan is a world famous magazine available on paid subscription basis. However you can get a sample subscription for free here.
In Conclusion
The above list of 100 free magazine subscriptions from the US and elsewhere in the world amply proves that just about anyone can develop and enjoy the wonderful hobby of reading. However, do not subscribe to free magazines merely because you don't have to pay anything.
Because, free editions are limited and you might end up depriving some professional of a copy they require for work. And there's no point in collecting countless paper magazines at home or office or getting your email box flooded with digital magazines. Therefore, choose your free subscriptions wisely.