American households and individuals waste about $500 every month as subscription fees for services they never use. The amount can be higher for some households and individuals, depending upon age and location, find various studies.
Added up, this translates as billions of Dollars that Americans spend collectively on useless, redundant services. Worse, you could also be unaware you're subscribing to some services.
The end result: majority of Americans are drowning in subscription fees.
Thankfully, with a few prudent steps, you can stop this wastage of your precious, hard-earned money. It mightn't be as simple as you may imagine to get rid of all subscription fees.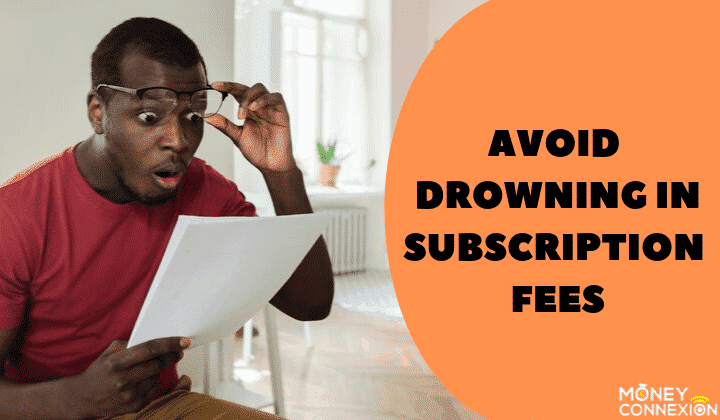 Instead, you'll need to search areas where you're spending unnecessarily or without knowing. And stem the money wastage immediately.
How to avoid drowning in subscription fees? I'll provide you some vital tips and tweaks. But first, let's know where the money is going.
Drowning in Subscription Fees
Some 84 percent of Americans underestimate how much money they're spending on subscription services, says the 'America's Relationship with Subscription Services' whitepaper following a study by US-based consulting group, West Monroe.
The study finds, majority of Americans believed they spend only $79.74 per month on subscription services, at the first guess. At the second guess, they estimated spending $111.61 per month, on average.
However, the actual figure stands at whopping $237.33 per month. This means, Americans spend 197 percent more on subscriptions than what they estimate or believe.
And that's not all. Deloitte's Digital Media Trends Survey 13th Edition that also covers telecommunication services and mobile Internet found, Gen-Z Americans between age 14 and 21 years spend a combined $34 million per month on digital media and telecom services followed by whopping $63 million by millennials aged between 22 and 35 years.
They are overtaken by the Gen X or people aged between 36 and 52, with combined $70 million.
Boomers between age 53 and 71 years spend $73 million on subscriptions to digital media and Internet, among others every month while the least is by Matures or people above 73 that spend only $28 million per month.
The Deloitte report indicates, 51 percent American households spend combined $2.1 billion per month on digital media and Internet services, including streaming TV and entertainment.
More Shockers on Subscriptions
Women tend to have more subscriptions than men, a study 'Thinking Inside the Subscription Box: New Research on E-commerce Consumers' by McKinsey & Co says.
The report says, five percent online shoppers usually have more than one subscription to get stuff regularly. These include monthly beauty boxes that are popular among women.
Another is Amazon Subscribe and Save service. Then there are others too such Dollar Shave Club, Ipsy, Blue Apron and Birchbox that are very popular among Americans.
Statistic Brain Research Institute has more shockers: whopping 67 percent of Americans that subscribe to gym memberships never use it despite paying average $58 per month
What's more? One in 10 millennials of America spends over $200 per month on various subscriptions alone.
Figures on subscriptions to Value Added Services on mobile phones and the amount of money Americans are losing by not utilizing these simply aren't available.
Avoiding Drowning in Subscription Fees
If you're among these Americans drowning in subscription fees, here're some ways and means to stop it. And I would suggest stopping this wanton hemorrhage of money right away.
Review Your Digital Media and Internet Services
Streaming media, cable TV, DTH and certain Value Added Services (VAS) could be costing you much higher than your usage. You mightn't be viewing all channels or utilizing all VAS of your Internet subscription.
Review these immediately. I'm sure you'll find plenty of places where you're wasting subscription money. Cease that streaming media, Cable TV and DTH channel packages that are useless when it's time to renew your monthly subscription.
Also check what VAS your Internet Services Provider is charging for. And where possible, slice them off your bills.
There're lots of hidden services that you would be unaware of. If you have any doubts, call up your ISP and get details. Usually, these should appear on your paper or online bills.
Check Your Mobile Plan
Having a mobile phone is more of a necessity than luxury nowadays. We need it for almost everything- from online shopping to staying in touch with family and friends.
It's this high dependence on mobiles that causes us to subscribe to unnecessary services. We may be using them. However, not as much as a stiff monthly subscription would justify.
Therefore, also review your mobile plans and find where you're paying for something you barely use or don't even know exists. And have it disconnected at the earliest.
Usually mobile providers will take a day or two to discontinue VAS on your number. Thus, it's better to request cancellation of these unwanted subscriptions before the next billing cycle begins.
Shopping Memberships & Subscriptions
Are you really using Amazon Prime and other such services from other retailers? And what's your frequency?
For all you know, you might be paying for an Amazon Prime subscription but seldom buying from this online store. The same holds true for food delivery, cabs and other online services too.
If your usage doesn't merit an Amazon Prime or similar memberships, discontinue them to avoid drowning in subscription fees. You might find that paying shipping can prove more affordable in the longer run than paying subscriptions for a premium service.
And if you're using Amazon Prime or similar services, find out what extras they're offering. It may turn out that you can use Amazon Prime to watch movies and hence, wouldn't need a separate Netflix subscription.
Gyms & Clubs
Here I'm not implying you stop going to the gym or socializing at a club. However, if you're paying monthly subscription but not utilizing it to the fullest, it's time to call quits.
Most people are very eager to get fit and rush to join a gym or club. However, a month or so later, that initial enthusiasm vanishes as mysteriously and quickly as it had appeared. Yet, you would be paying the subscription.
Instead, you can take to free activities such as jogging or bicycling that requires little or no investment and doesn't involve monthly or annual subscriptions.
It's quite understandable you want that dream abs and figure. But that doesn't in any manner justify paying for a gym or club membership you're not using. It's sheer waste of money.
Cancel Direct Debits from Banks
Delaying payment of monthly subscription can dent your credit score. Paying them before due date means you're losing money for something you're not using.
Hence, most of us give direct debit instructions to our bank. That means, that gym or cable TV provider gets money immediately when they present the bill to our bank. Such debits are most difficult to trace since they're perfectly legit and we're aware of their existence.
Therefore, another step you can take to avoid drowning in subscription fees is by cancelling all those direct debit orders. But before doing so, contact the service provider or merchant and apply for discontinuation of the service.
Cancelling direct debit instructions without discontinuing a service can hurt your credit score. Worse, it can land you in legal trouble too.
Wrap Up
Now you know where you could be drowning under subscriptions. Therefore, find ways and means to check this unwanted loss of your hard-earned income right away.
As I warn earlier, it wouldn't be easy. Because you'll have to find what to subscribe and keep and what's to be bid goodbye. Undoubtedly, this can be a pretty confusing and sometimes tiring exercise.
However, the above facts and figures as well as tips and tweaks should provide a fair idea of where you could be wasting money on useless subscriptions or be oversubscribed for some services. Cut these to avoid drowning in subscription fees.