Wouldn't it be great if you can get free cable TV to watch your favorite channel? American households spend average $85 per month on cable TV.
Direct-to-Home (DTH) satellite TV users pay more than $100 per month to watch basic and premium channels, a 2018 report released by Leichtman Research Group states.
This means, cable or DTH TV is costing you whopping $1,000 per year or more. Of course, some households pay lesser, around $600 per year.
Yet, this is a fairly large sum of money, considering you could put it to better use which is why it makes us think how to watch TV shows online with free streaming.
Free Cable TV is Myth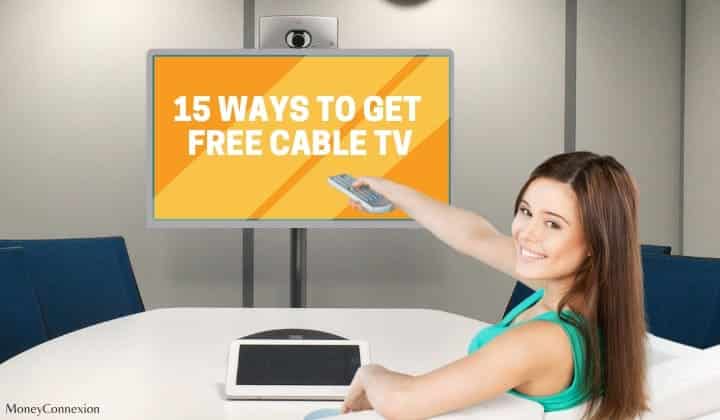 Before describing how to access free movies online and your favorite TV episodes, here is a shocker: Free TV is a myth. The US FTC cautions consumers against falling prey to offers and deals that offer free TV because most of them come with some catch.
Secondly, cutting the cord to get access to free basic cable TV programs and premium channels also incurs some costs, albeit not as high as monthly or annual cable TV subscriptions.
You need to buy gear that enables reception of free movies and TV episodes.
Getting Free Cable TV
However, if you are wondering how to get free cable TV legally without spending heavily then there are several legit ways to get free cable TV. I mean, you can watch basic and premium channels on TV absolutely free of cost.
If you are planning on cutting the cord, here are some simple and proven ways.
1. Over The Air HDTV Antenna
Millions of American households watch TV shows online free, thanks to Over The Air (OTA), High Definition TV (HDTV) antennas. OTA antennas are available at prices starting from $18. Select a good brand by reading online reviews.
Receiving basic and premium channels free on OTA however depends upon various factors. These include distance of your home from the nearest tower.
Generally, households located within 35 miles of a broadcast tower will enjoy best signal reception. But if you are living too close to a broadcast tower, use an overdrive OTA tuner and attenuator.
Further, you can also utilize infrastructure left by your cable TV provider including coaxial cables. This allows you to rig an OTA antenna without much investment.
2. Free Cable TV via Mobile Apps
This may sound incredible but you can get free TV and watch basic as well as premium channels using your mobile phone. no, I do not imply you watch free TV on your smartphone.
Instead, you can receive free basic and premium channels by simply connecting your smartphone to TV.
For this, you will require an On-The-Go (OTG) USB adapter and High Definition Multimedia Interface (HDMI) cable. The process is rather simple. Simply follow directions provided by the manufacturer of your smartphone, buy the required hardware and you are all set to cut the cord.
Free TV channels you can get on smartphone includes ABC Live TV, HBO Now, History Channel, Cartoon Channel and several other. Download apps of these channels on your smartphone to watch your favorite shows.
3. Android TV Box
Android TV box can be bought for $50 onwards, depending upon features. They have multiple uses including direct video streaming to your TV. They can be used to stream movies and TV shows from popular websites and apps including Netflix and Hulu, among others.
You have to connect an Android TV box with a TV and set up Internet reception through wired Ethernet or WiFi.
Once this box is installed according to directions provided by the manufacturer, you can download various apps that provide your favorite basic and premium TV channels.
It is also possible to download YouTube app on Android TV box. A great feature of Android TV Boxes is, you can get High Definition (HD) telecasts if connected to a compatible TV.
They come with remote and offer the same ease of use as cable TV. If you are willing to pay more, buy Android TV Boxes that come preloaded with apps and movies.
4. Triple Play Systems
You can watch basic and free TV channels and yet cut the cord of cable TV or DTH with Triple Play. Simply put, Triple Play is a fairly old technology that allows telecommunications companies to provide landline telephone and wired, high-speed Internet over a single Fiber Optic cable connection to your home.
Triple Play providers also include cable TV with basic and premium channels as added attraction. A triple play annual subscription that includes up to 150 Mbps Internet, landline and cable TV costs as low as $60 per year, depending upon the service provider.
Comcast Xfinity is the best triple play system in the country. The best part of subscribing for Comcast Triple Play is that you can bargain prices and get lower rates.
Comcast is besieged by competitors. With good bargaining skills, you can land a very good deal.
5. Amazon Fire TV Stick
Amazon Fire TV Stick is the hottest gadget that allows you to enjoy thousands of channels, apps, and Alexa skills. It provides you access to over 500,000 movies and TV serials. You can watch your favorite videos through Netflix, Prime Video, Hulu, HBO, Showtime and NBC, among others.
Amazon Fire TV Stick enables finding best suited schedules when you want to watch a particular movie of TV show and sports events from channels including AMC, HGTV, ESPN, Fox, and others networks.
You have to plug the Amazon Fire TV stick to your TV's HDMI port, connect to Wi-Fi, to receive free channels. You can also subscribe to Amazon Prime and get better choices.
6. Amazon Fire TV Cube
Another amazing product from Amazon is the Fire TV Cube. Amazon describes its Fire TV Cube as "first hands-free streaming media player with Alexa."
Other than performing motley tasks such as switching or dimming lights and playing music among others, you can also ask Amazon Fire TV Cube to tune into your favorite basic of premium TV channel.
Amazon Fire TV cube provides instant access to over half a million movies and premium TV shows from various sources including Netflix, Prime Video, Hulu, HBO, Showtime, NBC, and others.
With an Amazon Prime membership you can access over a million movies and TV serials.
Amazon claims, its Fire TV Cube also provides access to prime shows including "Thursday Night Football" and Prime Originals such as "The Big Sick" and "Sneaky Pete".
7. Roku TV
Roku TV is a small device that can be fitted to your TV for watching top movies and television episodes through streaming, if you want to cut the cord. These devices are fairly simple to install and use.
Roku TV provides instant access to nearly 200,000 latest and vintage movies and TV episodes streamed by thousands of paid or free channels, including Netflix, BBC iPlayer, All 4, and others.
Roku TV free channels are supported by advertising. So be prepared to watch TV and episodes that are frequently interrupted by commercials. However, other channels like Netflix do not display advertisements.
There are different Roku TV devices available in the market. Opt for the latest ones, though they cost higher. The newer versions of Roku TV allows access to several more HD channels.
8. PlayOn Desktop/ Mobile
PlayOn Desktop is an app that can be downloaded on your PC, laptop or even a smartphone to watch favorite basic and premium TV channels you would otherwise pay to view on cable or DTH TV.
It is actually a portal that aggregates top streaming websites. Hence, this app provides you a simple video streaming interface. You can hook your TV with PC, laptop and even certain models of smartphones using HDMI port and other hardware to watch your favorite movies and television episodes.
For an extra fee, you can also buy the PlayOn Cloud Storage. This allows you to record and store favorite movies and TV serials for viewing at leisure. The mobile app allows you to watch free basic and premium channels on your smartphone and is available for Android based devices and iPhones.
9. Watch with Free Internet
There are various methods to get free Internet in The USA, including EveryoneOn and FreedomPop among others, provided you meet certain basic criteria. Should you get access to free Internet, simply wire your PC or laptop to the TV using an HDMI interface and other paraphernalia.
This is the best way to view your favorite basic and premium TV channels after cutting the cord with your cable TV or DTH provider. However, viewing movies and TV episodes over free Internet can have some inherent problems.
Generally, free Internet service comes at slower speeds. Hence, streaming videos may take long to buffer or can be interrupted due to low speed Internet. Yet, this is the best way to get both- free access to Internet and free TV channels.
10. Google Chromecast
Google Chromecast provides free access to countless streaming movies and TV episodes across USA. This device costs just about $35 but can be bought cheaper too.
You can use Google Chromecast to access several streaming services from major providers including Netflix, Hulu, YouTube and Google Play. It is also possible to hook this device to a TV using HDMI port and appropriate hardware.
When you buy a Google Chromecast, read the installation and user manual carefully. The official website of Google Chromecast also contains detailed information on how to hook this simple and easy to use device to your TV set.
11. Sling TV
Sling TV ranks as topmost over-the-top Internet based provider of streaming videos through smartphones, television sets and digital media players. The service is available across the US.
In fact, most Americans now consider Sling TV as a substitute for cable TV and DTH. Ask any cord cutter and they will testify that Sling TV is the best option, though it comes for a small fee.
If you are serious about cutting the cord, consider Sling TV among other top options. You can get a subscription for as low as $25 per month. The best feature: Sling TV is also compatible with Google Chromecast, Roku, Amazon Fire TV Cube and Amazon Fire TV Stick, among other devices.
12. Government Schemes
These are fairly uncommon in the US but several states are willing to actually pay some expenses provided you move there as remote worker. Broadband Internet bills figure among costs that will be defrayed by governments of these states.
Understandably, your cable TV or entertainment expenses will not be covered, but you can use broadband Internet to get free basic and premium TV channels using Amazon Fire TV Box or other similar services.
Vermont, for example, has offered $10,000 worth incentives to telecommute workers that relocate to the state.
Other states offering incentives include Maryland, Nebraska, Minnesota and Iowa, among others. Some American states will pay incentives for relocating in specific areas only.
13. Kodi
Understanding Kodi can be a bit difficult if you are not a geek. Kodi calls itself "a free and open source media player application."
In simple terms, it means, Kodi is media player that allows you to view videos, music, Podcasts, digital media files from local and network storage media and Internet.
Kodi ranks among favorites of cord cutters in America. You will need a good PC or laptop to receive videos of basic and premium channels from Kodi.
Several Do-It-Yourself (DIY) guides are available that teach you how to configure Kodi and watch basic and premium channels free of cost.
Using HDMI port, you can connect a computer to TV and watch favorite movies and episodes.
14. Xbox
Xbox One-S and Xbox One-Z are by no means cheap. They cost anything between US$250 to US$500 each. For the uninitiated, Xbox is a video gaming brand launched by Microsoft.
These two makes of Xbox allow you to receive a few live TV channels for free. For optimal use, hook your Xbox One-S or Xbox One-Z with an Over-The-Air (OTA) antenna.
Xbox by itself cannot provide you with basic or premium channels to watch on TV. However, it has features that enable connectivity with YouTube to watch videos posted by the Xbox community worldwide.
The official Xbox website provides detailed instructions on how to install this gaming device to your TV and receive free videos.
Wrap Up
Additionally, you can watch free videos and movies through websites of various channels. Here you have an option of watching them on your computer or by hooking the PC/ laptop to the big screen.
While you may consider the above options to get free cable TV legally to watch basic and premium channels, here is some good news.
The US Federal Communications Commission (FCC) is planning a bill that makes mandatory for all major paid cable TV networks to provide multiple choices- including apps and software- for consumers to watch basic and premium channels.
The move was announced in 2016 by former FCC chairman, Tom Wheeler. While large cable networks are opposed to the move, the Federal government intends to go ahead with the proposal, albeit watered down, to provide relief of sorts to cable TV consumers.
Should the requirement be enforced by FCC in broader interests of Americans, most cable TV networks- that account for over 95 percent coverage of paid TV- will have to provide ways and means to access at least some channels free, a report states.