Do you have a Cricut machine for making crafts and other such things lying idle at home? Or, are you planning on buying a Cricut crafting machine for home and office?
If your answer to any of these questions is a firm yes, then you're ready to make some money on the side too. In fact, you could make a lot of money with a Cricut crafting machine by doing Cricut projects.
If you're a newcomer and don't know what's a Cricut crafting machine, continue reading, as I will give you a few details.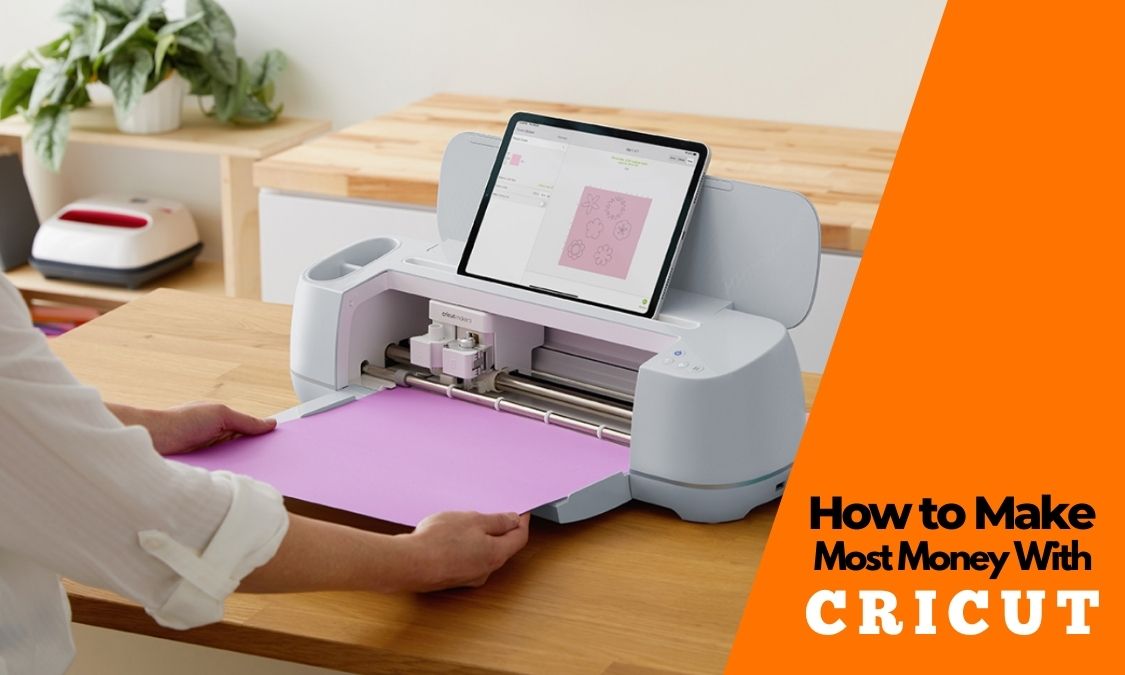 Knowing a Cricut Machine
Cricut ranks as the topmost brand of cutting machines in the USA. They are very precise and can cut a variety of materials. Some of the commonly used materials such as cloth, cardboard, Styrofoam, felt, and arts and crafts canvas, among others, can be easily cut over a Cricut machine.
In fact, the latest range of Cricut crafting machines can be connected easily to a computer or even a mobile phone with Bluetooth and used for cutting a design precisely in the manner of the cuts made by a designer or yourself too.
This feature is beneficial when you design something such as a clothing pattern or craft on a computer and wish to make it into a product.
Generally, a good quality Cricut machine costs $170 and upwards on online stores such as Amazon. However, you could also find cheaper ones, though preowned or older models, for as low as $100 on eBay and Craigslist.
Making Money with Cricut Projects
Making money with Cricut definitely involves some effort. However, the thing that matters the most is your creativity. That means you should be able to make excellent, unique patterns for your crafts that nobody has and are rare.
You can also use some photos from Adobe and other resources, but remember to check the copyrights for usage. If you're ready to make the most money with Cricut, follow these simple steps.
1. Decide Your Merchandise
Decide what merchandise you wish to make on Cricut and sell. Actually, there're lots of stuff that you can make. However, it's not really possible to make everything with Cricut because some things are seasonal while others have lower demand. Therefore, here's my list of hot-selling stuff that you could craft using a Cricut machine.
Personalized scarves, mittens, napkins and kerchiefs
Baby clothing
Baby quilts
Origami paper flowers and crafts
Decorative designs
Greeting cards and envelopes
Personalized stationery for special occasions
Wall hangings and crafts
Ink coasters
Leather wallets and purses
Lanterns and signboards
Leather ornaments
These are the hottest selling stuff that're always in demand. You can also make seasons requirements such as Christmas lanterns and tree ornaments, greeting cards and giant flowers, among others, using a Cricut machine.
Here, it's worth remembering that Cricut has different kinds of machines. These machines are capable of cutting certain types of material only.
However, Cricut also has crafting machines that can handle different materials. Before you proceed to make these articles, find out whether your Cricut can take the necessary material for cutting.
2. Where to Sell
Obviously, the next best thing to do is find out where to sell the crafts that you create using Cricut. Actually, there're several places and many ways. I will list some of the top places where you can sell Cricut-made crafts.
Amazon Handmade: This is the best place to sell since Amazon, the single-largest retailer, provides a lot of benefits to a craftsperson. Register as a craftsperson on Amazon Handmade to sell your Cricut stuff. It's free.
Etsy: Open your own marketplace on Etsy. Such a marketplace can cost you $19.99 per month and more, depending on the level you choose. However, Etsy marketplaces are visited by people that love crafts and exclusive products.
Shopify Marketplace: Also, consider opening a marketplace on Shopify. This will cost you $15.99 per month, depending on the level of your choice. Shopify is superb if you're selling Cricut products that don't really qualify as exclusive.
Facebook Marketplace: If you don't wish to spend on buying a marketplace online, Facebook offers one for free. Click on the house icon on your Facebook mobile app, and the marketplace will display. Upload pictures of your Cricut goods and write catchy descriptions. Also, mention the price and shipping costs.
eBay: The good old eBay is also an excellent place to sell Cricut-made crafts online. They also require you to open a seller's account, which is free. Upload superb photos, write a killer description and mention your price with or without shipping fees. Many people prefer eBay only and have a special section for unique goods and handcrafted stuff.
An essential feature of selling online is the delivery charges and the returns policy. If you're not going to take back the goods if it's returned for any reason, you might have to replace them with something similar. If not, you risk losing the customer and the seller's account.
Also, calculate your shipping fees across the USA. Generally, the United States Postal Service has the lowest rates for shipping. But you can check other shippers too.
Now, let's get down to how to make the most money in different ways.
3. Focus on Quality Material
Regardless of how good your designs are, the only way to ensure you get a large number of customers is by providing a high-quality of your Cricut stuff. This means, buying the best raw materials that're available in your city or even online, if necessary.
Obviously, quality comes at a price. But the good news is that you can leverage the high quality of raw materials that you use to charge a higher price from customers.
Generally, buyers of handcrafted products aren't very fussy about the price. If they're getting a superb design and good product with high quality, they don't mind paying a premium price for your Cricut products.
4. Try to Cut Costs
While buying quality raw materials, it's also important to cut costs. There're two main ways to do so. The first is by ordering raw materials in bulk or at wholesale rates.
Obviously, I don't mean that you need to order industrial quantities. Instead, there're several online and offline stores that will sell you such material at wholesale prices, even if your order is relatively small.
The second way to cut costs is by limiting wastage. Therefore, try to ensure that the material you cut over Cricut doesn't leave out large portions.
For example, if you're cutting cloth, leather, canvas, felt or paper, use only the quantity that would ensure a proper yet clean cut. Wastage means money lost and can reduce your profits drastically.
5. Take Orders for Cricut Crafts
And finally, I suggest that you take orders for stuff made with Cricut. It's possible to advertise your services online and offline. You can advertise for free on Amazon when you display some goods made with Cricut. The same can be done over an Etsy or Shopify marketplace and Facebook Marketplace too.
The best thing to do for offline orders is to use word-of-mouth publicity. Let your neighbours, friends and relatives know that you're making Cricut crafts and to refer you to their friends.
Making personalized stuff on orders means you can quote your own price. That doesn't mean that you have to take off the posts of the regular things you're selling online. Instead, it simply means that you'll make personalized goods at a higher fee than the common goods you sell.
Wrap Up
While using Cricut is easy, and it's also fairly simple to make money, one of the things that you need to be careful about are copyright violations. This means you should copyright your designs with the local office.
And it also involves avoiding photos and graphics from the Internet. You can buy and use designs, if you like or if a customer needs them. Try these five top ways to make money with Cricut.