Almost all the married couple like me & my wife marks their wedding anniversary in a very special way.
I know the celebration of wedding anniversary is the most important event in a couple's married life, particularly when they attain the 1st, 5th, 10th, 25th, or most importantly the 50th wedding anniversary.

Anniversary indeed is the best time for the couple to reminisce the love that they have shared together through the years.
One of the most important part of their wedding anniversary is the gift they give to each other to make this day more special.
Wedding Anniversary Gift Ideas
After doing a lot of research including my own experience, I am providing here some of the best wedding anniversary gift ideas for 1st to 5th anniversary, 10th, 15th, 25th & 50th marriage anniversary.
You can also find some special ideas in the last for almost all the wedding anniversary.
Exciting Gift ideas for your First Wedding Anniversary
Paper is considered as the traditional gift for first anniversaries. There are always many creative ideas when it comes to what gift for your beloved you can get out of paper.
If you have many words to say, a simple originally written poem will be greatly appreciated. You can express love and admiration to your loved one and tell them how you value them and how happy your life had been through the years that you have been together. A poem written originally is indeed a true gift from the heart.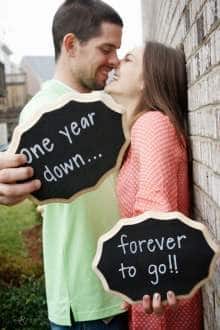 On the other hand, if writing is not your style, you can purchase online at Amazon a book of poems that will help you choose some words or just give you an idea what to write.
If you want something that is insincerely emotional, buy a book that features your spouse' field of interest such as art, crafts or gardening.
For your wife, you can purchase her exquisitely embossed stationary that is personalized. She will be greatly delighted to use this paper stationary to keep in touch with her relatives and friends.
Tickets are composed of paper and a better idea will be purchasing a ticket to a play or favorite band's concert. If both of you are fascinated with sports events, you can choose to spend time watching the game of your favorite players. After which, have a dinner out and perhaps join in a party in the sports bar.
For modern times, clocks had been a symbol to give on the first wedding anniversary. Some people have limited concept of ideas to look for a clock to give as present in the first year anniversary.
There are many wall clocks in the online stores that have been designed to cater your spouse' personality if she had that interest in the unusual sound to note the hour.
She can either display it in your room or in the office. An antique clock is greatly appreciated if your spouse is an avid collector of antique items and decorative clocks with different themes can add charm and fanciful ideas to any room.
Finding wedding anniversary gifts to your loved one to celebrate your first anniversary together can be exciting and fun because of the vast choices that the online stores such as the Amazon can offer. It doesn't need to be expensive, rather look for something that your loved one will cherish and treasure it for the rest of their lives.
2nd Wedding Anniversary Gifts
There are many ways to celebrate the 2nd year anniversary. One option is to celebrate it with the memories you have shared already.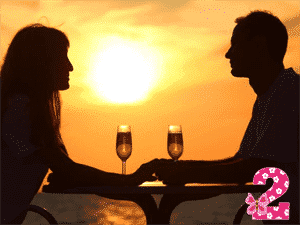 Purchase a pocket photo album from Amazon or other online stores and decorate it with dozen of your favorite adventures and experiences together for the past 2 years.
A couple of notes on how these memories had been special to you as you share it with your spouse will be a great addition to the present.
Since, we are living in a digital age, creating a digital scrapbook will be a great idea also. Have it professionally printed, and photos must be in digital form. Have an additional journal of the the qualities that you appreciate most of your spouse and the character that caught your attention, the first day you met.
Another alternative to have it celebrated is to engage in a romantic getaway. A special romantic dinner for two and a night at a hotel will make your second anniversary a truly special occasion. And if resources are not a hindrance, you can have an extended vacation cruise. Have a weekend travel package and enjoy the same time as you have your honeymoon.
Traditional gift ideas for 2nd year anniversary are cotton. Mostly, huggable pillows and stuffed toys are common presents.
You can still have the choice of trying other non-traditional ideas that can potentially have that big impact. Try having games that involves teamwork as pair. It could be fun and at the same time, it's a casual way to celebrate marriage anniversaries. Besides, no budget is required, so its cost saving.
Finally, when planning what manner of celebration in a second year anniversary, take into considerations the interests, personality and your financial status as well.
If there is lack of resources and the money is tight because of some circumstances like having a new baby or perhaps a recent move of the house location, something more casual is recommended best activity.
If a surprise party is carried out according to plan, make sure that a good and justifiable excuse must be made to get into the event. And if an outing or getaway will be done, make sure, you'll book early to avoid any hassles.
3rd Wedding Anniversary Gift ideas
When the third wedding anniversary comes, it will be the time that both couple had gotten quite a long time knowing each other, probably had their home built and have totally settled into the married life.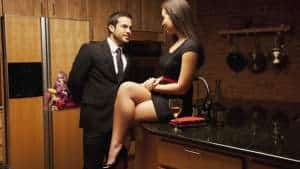 While the sparks and the spices is not yet gone, starting getting into a routine can be easy and celebrating the anniversary is an excellent way of giving a kick in the marriage and freshen up the love and rekindle the life together.
Leather is the traditional gift symbol for the third wedding anniversary, and crystal is for modern days. Both of which have practical and romantic choices for a gift.
Most of us, whether you are a man or a woman, loves leather. It is rugged physically, luxurious and elegant at the same time. There are a lot of things that are made of leather, so variety of choices to choose from as the 3rd wedding anniversary gift.
For men, popular gifts may include briefcases and wallets. When choosing a gift, it is always important to recognize personal preferences or requirements of the person you will be giving.
For wallets, maybe your spouse prefers to carry coin changes in his wallet, or maybe he likes a money clip either. Or if he has many cards, choose a wallet that can support it.
For briefcases, it is better to purchase the one that fits on their merit. For instance, conservative square briefcases will not suit someone of casual in style.
Instead, try considering a messenger bag made of soft leather. On the other hand, if your spouse is a traveler, consider buying a leather shaving kit or toiletry bag. This can be useful especially if they are pre-filled with some small toiletry items.
For women, handbags and shoes are on the top of the list for women's most favorite things. And since, most of the time, it will be hard for the husband to purchase it for their wives, a gift voucher or a shopping trip may help, so she will have the freedom to choose what she wanted for herself.
Soft leather gloves can serve as an elegant gift also. If she has been commuting daily, a special driving glove will be the best gift idea. Or perhaps a leather manicure set accompanied by some colorful and enchanting nail polish and hand creams will surely delight her.
Crystals are modern symbol for third wedding anniversary gift ideas. There are lovely crystals that can be both practical and economical as well. Also, vases, wine goblets and candle holders can serve as wonderful presents.
Another obvious option is jewelry adorned with lovely and elegant crystal pieces. If your spouse loves collections, crystal figurines can make a pleasant addition to a dresser or lamp stand.
4th Wedding Anniversary Gifts
For the fourth wedding anniversary, the traditional anniversary gifts symbols are fruits and flowers. Giving flowers had been established as a tradition through the years.
However, there some informal, kinky and non traditional ways to observe the floral and fruit theme that most couple preferred to celebrate.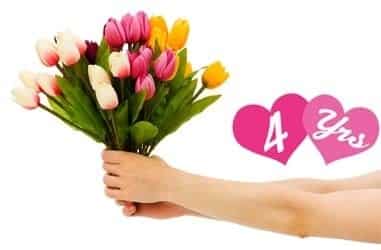 For men, a good option is to purchase clothing with floral prints. If he is not conscious about standing out from the rest, the Hawaiian shirt is the best choice.
If he is an avid beachgoer, then a floral printed board shorts may fit best. If he is the type of person that wanted to be less silly in his attire, a tie with flower or fruit motif can be the option.
One of the easiest ways to avoid problem in giving flower theme to men are boxers and briefs with floral accent. For a man who is fond of gadgets, try considering some electronic gadget from the Apple store.
For women, on the other hand, receiving flowers from someone she loves always fascinates her.
Find some blooms that carries out a significant theme, the flowers used when she carried her bridal bouquet or flowers taken from the honeymoon destination will be of special significant to her.
Also, a dainty floral bracelet or a silver or gold flower fruit or flower charms are great gift ideas also.
If you want it to be more romantic, invite your spouse to plant a fruit and promise to one another that you will watch it growth over the years.
If you are into the modern sense, appliances are referred to as the modern gift ideas for the fourth year anniversary.
Over the years, there are appliances that you really need and are essential for home use. Or replace some of those old and obsolete appliances that are not in use.
When purchasing appliances, make sure it will be useful and will not just add space in your house. There are many appliances in the list chart that will fascinate both the couple.
Some of the best options are bread maker, a rice cooker, blender or other kitchen gadgets. Make sure that this appliance is something that your spouse longs for.
5th Wedding Anniversary Gift Ideas
Wood is the traditional gift for your 5th wedding anniversary. At first glance, this may seem a little bizarre. But the symbolism behind the tradition is strength. Wood is strong and long-lasting.
By reaching the fifth year, your marriage is starting to prove its strength. In today's society, five years is becoming a true milestone.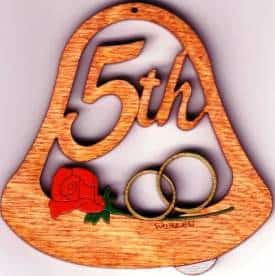 So what are some ideas? Many sources suggest planting a tree together that will continue to symbolize the growth and maturing of your relationship. Other ideas include wood shelving (or any wooden furniture), a wood sculpture or a framed print.
Over time, modern alternatives to traditional gifts have developed. The modern 5th anniversary gift is silverware. This symbolizes the sharing of meals that you have experienced for the previous five years.
Of course, you'll have to be the judge of what your spouse would appreciate. However, silverware would make an excellent gift because you would be reminded of your bond at every meal.
You don't have to be bound to direct wooden or silverware gifts. If you want to be more creative, there are several ways to incorporate the symbolism of wood into your 5th wedding anniversary gift.
For example, you could remodel your closet, adding cedar lining. You could plan a vacation getaway to a place known for its forests. You could even take a wooden box and fill it with letters, notes, love coupons and pictures of your time together.
Fifth wedding anniversary gifts can be fun, creative and affordable. Whatever you choose, there is plenty of room for creative gift giving that will surely please your spouse and provide lasting memories.
10th Wedding Anniversary Gift Ideas
Attaining ten years of successful marriage is indeed a big reason to celebrate. Traditionally, tin or aluminum is the anniversary symbol for the 10th anniversary and diamond jewelry is for modern tradition.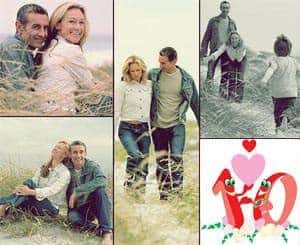 Whether it's traditional or modern, the most important thing is it's personal and useful as well.
For traditional gift symbol, an aluminum cookware or bake ware is a great idea to give to your spouse if he or she desires cooking or baking.
They are very useful specifically for growing families. Home decors are also a perfect gift and there are many options in the market to choose from. To appear like aluminum or tin, choose decors with metal appearance.
Wall hangings, table top items, plaques and small tokens are some of the great gift ideas for 10th anniversary. Aluminum or tin made arts and sculptures can be given to your spouse and will serve as decor in the home.
This can be well appreciated if your spouse has the passion in either art or sculpture. Also, a framed photography of the couple can serve as a personal gift option to give to your partner.
It can either be a single photo or a collection of photos taken for the past 10 years of marriage and have it framed in brushed aluminum. Fame galleries offer a variety of services specializing in this field.
A lovely design that will surely surprise your wife is tin cup jewelry.
Also, aluminum watches are ideal if your spouse is a habitual late comer, this might lessen his tardiness. On the contrary, if your spouse desires to be on time always, this is also a perfect gift.
A sensual and romantic experience can also be created by coffee tins.
An aluminum jewelry box is also a nice gift if your wife is fond of jewelries. Giving her storage for safe keeping her valuable items will certainly delight her.
Your home deserves a lovely candle tins and candlesticks to set your mood. A pretty aluminum vase filled with nicely bloomed flowers will enthrall your wife.
On the other hand, if your wife prefer practical gifts rather than romantic ones, then aluminum tableware are best for her. This includes aluminum drink ware, carafes, platters, pitchers and trays.
Other tin home accents such as fancy license plates, tin boxes, tin wall hangings, tin racks, tin figurines, and tin clocks can be elegant and useful at the same time.
15th Wedding Anniversary Gifts ideas
Traditionally, crystal is the gift symbol for the fifteenth year anniversary. On the other hand, the modern gift symbol is the glass.
Finding out a gift for your wife will be much easier for the husband because most women are enchanted with jewelries. There are huge varieties of rings, bracelets and necklaces that have crystals engrafted within them.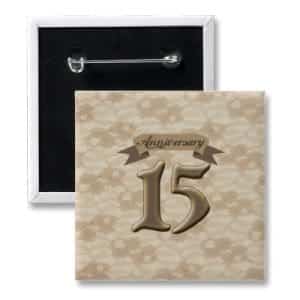 A jewelry that is given to a woman is a great symbol for love and having it containing crystal will show that you have valued the milestone reached by your marriage.
To make it personalized this time, purchase a laser inscribed pendant made from crystal. The pendant may be in any size and shape, depending on the resources and the choice of the purchaser as well.
Then, have it inscribed by laser bearing the wedding date or the name of your spouse. For men, they can display the pendant in a rear view mirror in their car or just simply hung it in the window to catch the sunlight. Another idea is to insert the picture of the couple or the recipient and have in inscribed in the inside.
A crystal vase is also one of the popular gift choices for women because most women love flowers. It is then lovely to give it with a bunch of flowers placed inside.
Fifteen crystal roses will also be romantic gift. These crystal roses will neither fade and wither nor die. Variety of crystal roses are in pure clear crystal, or colored like pink, red or yellow.
Crystal roses is best paired with a dozen of real roses placed in a crystal vase and will absolutely make a romantic presentment. Make sure that the vase is placed where it can catch the sunlight to show off the crystal roses.
For men, pocket watches are an excellent gift idea and will be greatly appreciated. It symbolizes an appreciation of the fifteen years of time spent together with love and commitment.
Make it personalized by having it inscribed with the date of your marriage, a memorable quote, or just a name of your spouse. Pocket watches can serve as both traditional and modern gift ideas.
On the other hand, crystal glasses can be a perfect gift if your spouse always enjoys relaxing with wine. A nice bottle of wine together with the gift will be great that it could be shared together.
25th Wedding Anniversary Gift Ideas
Commemorating the 25th anniversary is a great occasion worth celebrating. It is a major milestone of your marriage to reach twenty years and many accomplishments have been reached within that period of time.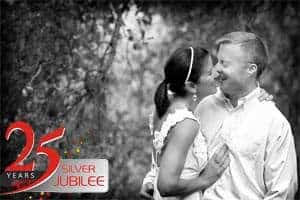 Indeed, the 25th wedding anniversary is referred to as a brief halt after a long journey of married life. And the gift associated with it is a deep symbol of love and appreciation.
The traditional gift symbol for the 25th wedding anniversary is the china which is once called as the perfect romance and can be bought on antique galleries.
If your spouse had China already, update your China cabinet with a more modern one. It symbolizes, elegance, beauty and delicate of love that was shared for the past twenty years.
Also, a grand trip for two to China will be a great idea of following the tradition. If you have more resources such as money and time, you can have it for two weeks.
Take time in learning the beautiful and historical place and culture as you celebrate your anniversary. If you are running out of resources and a trip to China is not a possibility, try taking a trip to a Chinatown or just a grand feast at a nearby Chinese restaurant.
A Chinese plant can surprise your spouse if she is fond of gardening. China Doll rose, specifically grows on dwarf bushes and fills the garden with plenty of pink clusters of flower.
It is good choice of display in any border area for its mild fragrance and delicate flowers. Also, an elegant set of Chinese chopsticks just for two is a perfect gift. Have the lights dimmed and enjoy a romantic dinner with these chopsticks.
If you go for modern ideas, a platinum is the symbolic gift for the modern 25th wedding anniversary. The reason why platinum is the symbolic metal for the 25th year of marriage because it carries with it the properties that complement the marriage journey.
Platinum is a very rare, very precious and like a strong marriage, it can resist corrosion. It has the property of being malleable but it is very strong. Moreover, it has an appealing and elegant silvery-white color and is considered as one of the winning elements in the jewelry world.
Rings are the common form of platinum and it symbolizes the strong and lasting union that the couple has shared for the past twenty years.
50th Wedding Anniversary Gift Ideas
The 50th (golden) anniversary is the un-forgettable moment for most people. You are one of the few lucky couples who spent 50 years with each other.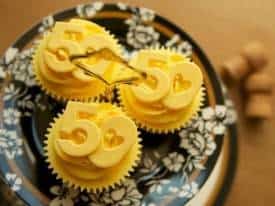 There are number of best gift ideas for 50th wedding anniversary. Gold is the anniversary symbol for the 50th wedding anniversary.
You can buy the latest gold jewellery or any other gift made of gold that your spouse like. If your budget not allowed then you can buy gold plated gift items.
You can present the loveable one with a paper or a flower bouquet for decorating with paper flowers with inexpensive flowers that can be found over the shops.
There are really cute couples matching t-shirts that can express your loved ones with husbands or wife for having a good time with second anniversary photos too.
You can have an original edition copy with newspaper along with wedding date to write and frame a poem with romantic love letters for having to help the loved one with edition of a new book or a card.
There are different honeymoon spots for helping the individual to meet and spend their time for their golden wedding anniversary. You can frame the original ticket online with pictures or having to go ahead with your partner for a tour.
One of the best gift for your spouse will be a personalize calendar with pictures of your honeymoon, best moments or last marriage anniversary.
You can provide a gift card or go out for a restaurant, bar or spa. There are tickets with booking for special events having to concentrate on concerts, sporting events and theatrical filming.
There are scrapbooks for getting together with wedding celebrations by visiting different spots having to go ahead with your life.
Some more special wedding anniversary ideas
A romantic escapade for the two is an excellent idea for the couple to celebrate their wedding anniversary. The plan and destination is dependent on the available resources such as the budget and the time which both couple is capable of providing.
This can be the best trip to unite the couple tighter. They must be unique in choosing their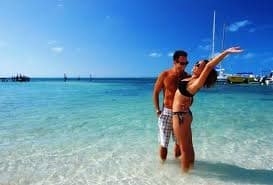 vacation destination. Famous European cities like Venice or Paris might be perfect for traditional couples.
On the other hand, couples that are into adventures may travel in African safaris or Asia.
Also, a relaxing experience in a reclusive hotel or a serene beach in an exotic island can be a good choice. If the couple wanted a regenerating experience, a saloon spa can be the best location for the marriage anniversary celebration by the enjoying a relaxed body and good food.
The bottom line is, this vacation must be any trip that is not exceptional compared to their ordinary life, leaving their worries behind and enjoy this momentous occasion that they are celebrating.
If the couple decides for a party, a theme must be chosen that both fit their personality.
Certain colors and party decorations are recommended, for instance, papyrus yellow is the traditional color for the 1st anniversary celebration, linen white for 2nd, fawn for the 3rd, green for the 5th, white for the 6th and 7th, bronze for the 8th, terracotta for the 9th and silver for the 10th.
An anniversary celebrated a decade has significant color equivalent; white for 20th, green is for the 30th, red is for the 40th and gold for the 50th.
During the party, recall the experiences shared by the couple by presenting a short slide show showing the pictures taken throughout the years, accompanied by the couple's favorite song.
When it comes to wedding anniversary gift ideas, creativity is still the perfect way to show the appreciation and love for each other. They do not need to be expensive; having it with a personal touch is preferably appreciated.