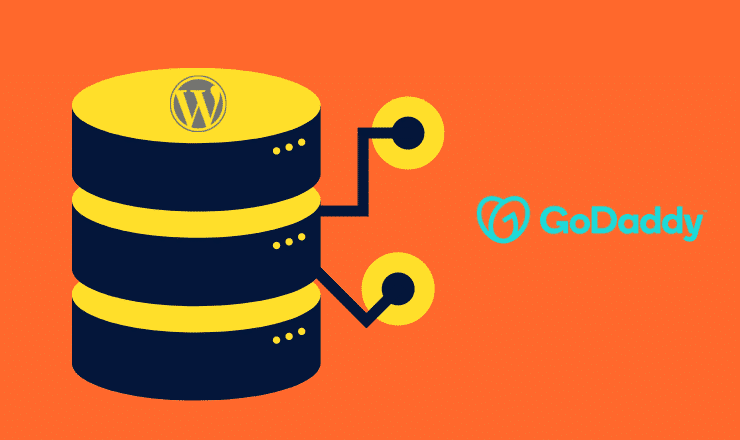 Its more than 11 years, I have been into full-time blogging & made a 6 figure income from blogging.
I have used almost all the top hosting websites that bloggers prefer to create their blog but even after 6 years, I feel GoDaddy Managed WordPress hosting is the best for new as well as high traffic blogs.
GoDaddy launched Managed WordPress hosting 7 years back and before that, I was using the normal hosting by installing WordPress manually but after I moved to Managed WordPress hosting from GoDaddy, I can say it's the best.
So why the hell I am recommend this hosting?
GoDaddy Managed WordPress Hosting Review
Before I ask you to go for GoDaddy WordPress hosting, I will explain every single benefit you can get with this WordPress hosting. And I am sure you will not get these benefits on any other hosting.
1. Most Affordable WordPress Managed Hosting
There are dozens of popular web hosting companies that provide Managed WordPress hosting, but if you compare the plans of many of these companies like WP Engine,  Synthesis, Kinsta, etc., you will find their lowest plans starts from $30 per month and goes up to $500 per month.
But at GoDaddy, you can find similar plans at a very affordable price. If you are from India, you can get it for as low as Rs.99 per month & if you are from the USA, UK, or other countries, you can get it for $3.99 per month.
You can also get a free domain worth $12 if you buy 1-year hosting.
Check all the WordPress Hosting Plans from GoDaddy.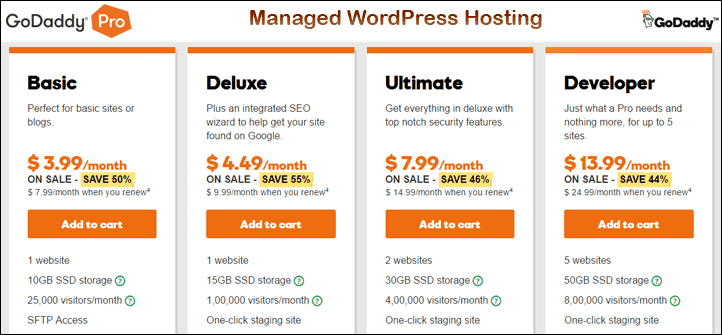 2. Three Features You Won't Get Anywhere
One of the main reason, I liked GoDaddy managed WordPress hosting the most is these 3 features you will not find with other hosting companies. These are-
1. Easy & Fast WordPress Migration: If you are using another hosting for your WordPress blog and want to migrate to GoDaddy hosting, GoDaddy makes it very easy & fast migration for you.

You need to provide your WordPress admin details & FTP details & within 30 minutes; your WordPress blog will be migrated to a temporary domain.
You can check that everything looks the same on your old & new blog with a temporary URL & when you are 100% sure, you can change the nameserver with your domain registrar & change the temporary domain to your actual domain at GoDaddy.
Within 1 hour, you can migrate your entire website on GoDaddy.
2. Restore Files & Database: This is another helpful feature that attracts me. Although GoDaddy provides excellent security to your WordPress sites, you don't need to worry if, unfortunately, your site is attacked by hackers.
You just go to the GoDaddy Restore feature provided in the settings & restore your website to the point when it was working fine.
Another instance – suppose you are editing any system file or adding a plugin & suddenly your website goes down & you don't have any idea what went wrong.
In that case also you can use this Restore feature. Refer the image below-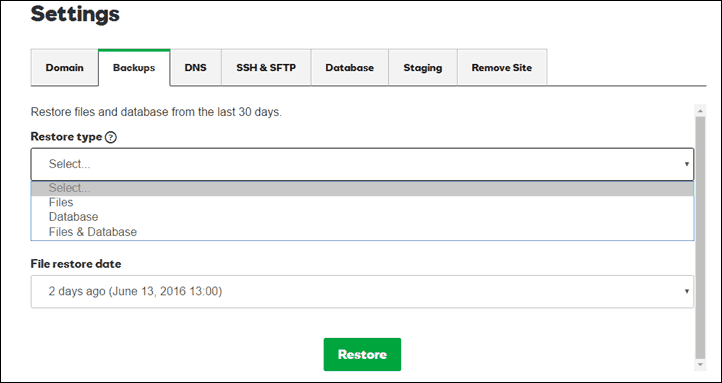 You can select to restore either files, database, or both. GoDaddy offers you 30 days' worth of backups.
3. One-click staging site: If you want to experiment with your website by adding new themes, plugins, or changing CSS or PHP files without modifying the visitors' content, this feature can help you.

You can create a copy of your website with a temporary domain in a staging environment. You can experiment with your website & once you are satisfied, you can push the content to the original website & all your changes will go live.
3. No downtime even after millions of traffic
If you are not using GoDaddy because your website will be down with high traffic, you are wrong.
I have several high-traffic WordPress sites on different hosting, but GoDaddy Managed WordPress hosting is the only hosting that gave me the best uptime.
I was using WordPress hosting provided by GoDaddy on my blog MoneyConnexion until my website got hundreds of thousands of views. UptimeRobot shows my blog was 99.97% up in the last 30 days.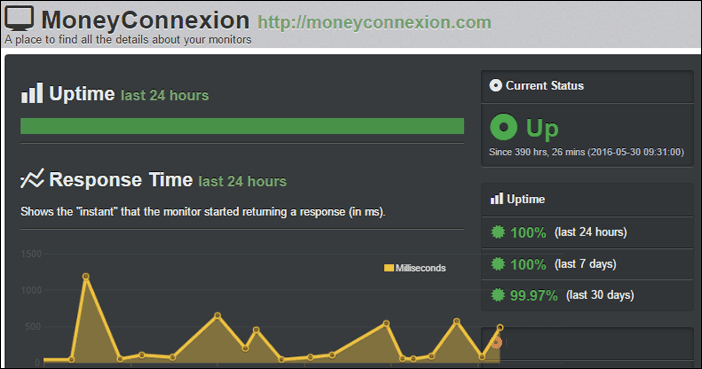 You can get the basic hosting plan if you start a new blog. But if you have an existing high-traffic website, you can choose a different plan as per your need. You can check all hosting plans from GoDaddy here.
4. High security
Trust me that your site is more secured on GoDaddy WordPress hosting than any other expensive hosting. I used to get security problems on some of my sites on different hosting, but in GoDaddy is a rare case.
GoDaddy imposes strict, security-oriented limitations on which files are editable to help make Managed WordPress accounts as hack-proof as possible.
And even if your website is compromised for any reason, you can use the Restore option provided by GoDaddy, as explained above.
GoDaddy also keeps checking if any of the plugins in the WordPress repository can damage your website & make it black-listed so that it won't harm you.
5. Customer support is great
Even with great features, a company is not a good company if its customer support is poor & you don't get a proper response for your problem.
GoDaddy provides 24×7 customer support for all your problem & they try to solve them as fast as possible.
I have called up their Indian office in Hyderabad many times & I am never disappointed with their support.
I have used even their customer care phone line in the USA & they provide excellent support for all your queries.
Online chat is a better way to solve your queries. The online chat option is available only in the USA, but you can use it from any country.
Just visit the GoDaddy website, change the country to the United States & then click on the Help option & check the online chat option at the bottom of the page.
6. Discounts even for renewal
You must have seen so many lucrative discounts and offers for WordPress hosting. But many companies provide value for the first year only.
But in the case of GoDaddy, you will get a discount every year. When my hosting was about to expire, I got a call from GoDaddy for my hosting renewal.
I needed to pay the total amount for the renewal, but they gave me a 30% discount & made me happy.
So this is my experience with GoDaddy Managed WordPress hosting & I am sure you have the same opinion if you are using this hosting.
And if you are not using this hosting, get a great discount for WordPress hosting using this link. I am sure you will enjoy this.