Many people ask me whether playing online games is really worth the time and expense. Yes. It is definitely worth the time and effort, because online games entertain me during commutes and when I am feeling low. Is it worth the money?
Yes. I actually make money by playing games online. There are several websites that actually pay you to play games for free.
In case you are unaware, some websites not only pay you to play games for free, they also give away cash and other prizes for participating in online competitions. And it does not cost you anything too. If this sounds interesting, enroll as member on any of these best websites that pay you to play games for free.
15 Sites that Pay you to Play Free Games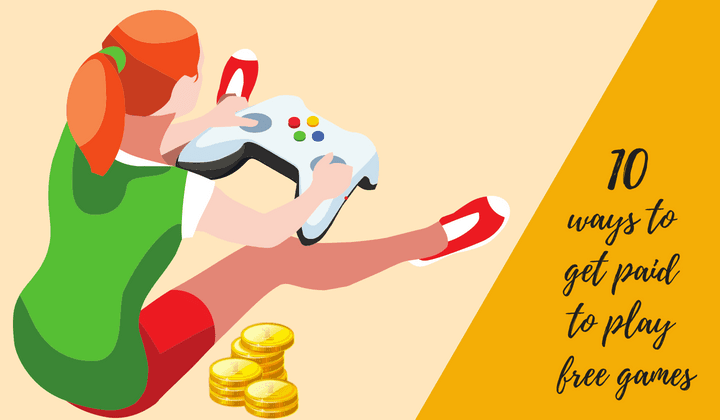 Before listing these top 15 websites, let me explain why they will pay you. A lot of gaming companies and developers want to test beta versions of their free online games. It helps them detect and fix any glitches.
They also want your opinion on stuff like ease of playing and interest. Hence, they hire market research and testing companies to get the public play and test these games. For your efforts, the market research company pays you.
Interested? Go ahead and join any of these websites.
1. Swagbucks
Swagbucks is my favorite website because it pays to play games for free. Upon registering on Swagbucks you can click on the Swagbucks Play link. You will get a guided tutorial for about a minute.
After that, you can start playing games for free and earn gift cards for shopping on stores like Amazon. You can also buy games through Swagbucks and get attractive cash back offers. For example, you can pay US$10 for a game bought through Swagbucks.
In return, Swagbucks will pay US$15. This means, the money you paid for the game is returned along with a US$5 bonus.
2. InboxDollars
InboxDollars is a good website to play games and earn money. You have to earn progress through scratch-off cards on free games on InboxDollars. The more scratch-off cards and progress you earn, better your earnings.
Additionally, InboxDollars also has a feature called GSN Casino that gives you cash back on the money you spend on playing games. GSN Casino does not earn you money. Instead it asks for payments to participate.
This participation fee can be paid from the money you have earned by doing other tasks on InboxDollars. You get chances to win money attractive jackpots and participate in competitions.
3. Cashcrate
Cashcrate is an amazing website that pays you to play games for free. You can create a Cashcrate account with a valid email ID or login directly through the Facebook link provided on their home page.
Cashcrate also awards points for playing free games. They can be redeemed for cash and shopping vouchers. Occasional contests and tournaments will increase your income.
4. Gamesville
As the name suggests, Gamesville is all about gaming. You will definitely enjoy playing the vast variety of online games that feature on Gamesville. That is not all. You can earn money too for playing games for free.
Gamesville claims to be the only website that pays the highest amount of money when you play games for free. Understandably Gamesville pays well but it depends upon the time you spend playing free games.
5. Bingo Zone
Do you love playing Bingo? Then I strongly suggest you register on Bingo Zone. This website is operated by Gamesville and specifically made for Bingo lovers. Similar to real-life Bingo, you can win prizes in various categories.
Bingo Zone pays at least US$1 as prize money. You make more cash by entering Bingo derbies and other contests.
6. Pogo
If you love games that stimulate the brain and provide fun, sign up with Pogo. You can earn a lot of cash prizes and other rewards with Pogo. The website has lots of rewards plans in different categories. There are three daily draws offering a prize of US$50 and two worth US$25. Also you can get points for buying games on Pogo.
7. XY Gaming
For avid online game lovers, XY Gaming is the best platform I can suggest. You get free entries into various online gaming competitions. Prize money is really attractive. XY Gaming allows you to challenge other players for cash online and ensures your winnings are safely paid into your account.
8. Quick Rewards
Quick Rewards has several options to win cash and other attractive prizes. And it is also a website that pays you to play games for free. You will get three e-mails per day that alert you about free games and other simple tasks that will earn you cash and other prizes.
9. Exodus 3000
Personally I have never tried Exodus 3000. Therefore I will explain what I know of this website that pays to play free games. Exodus 3000 is about moving yourself to Planet Mars. There is one game held daily and timings are announced on the website.
You have to choose and play a specific role in the game. Upon signing up, you get 5,000 Mars Dollars. You earn Mars Dollars for various tasks. Earning 300,000 Mars Dollars gets you US$20.
10. SecondLife
SecondLife is perhaps the biggest online gaming website. It is actually a replica of real world life and people represent themselves in avatars. The online currency is Linden Dollars that actually has no monetary value.
However, there are instances where people have created virtual avatars, real estate and other stuff for SecondLife and earned Linden Dollars.
A woman called Ailin Graef known by her avatar name Anshe Chung made her investment of less than US$10 into a massive US$1 million in some two and half years by role playing and other activities on SecondLife.
However making money on SecondLife is extremely complex.
11. Playandwin
Playandwin is a British website where you can get paid to play free games online. You can select from a wide genre of games to suit your interest. Playandwin rewards you with prizes and cash.
While prize goods are shipped to players within UK only, you can get cash payout through PayPal.
12. Paid Game Player
For simple gaming and making fairly decent amount of money, try Paid Game Player. The website and games it features is very user friendly. Paid Game Player is for people of all ages.
You will find educational games too. Paid Game Player also has a feature to compete with other contestants.
13. ICC Chess Club
ICC Chess Club does not pay you for playing the game of Chess. You can enroll for free on this website and participate in games with other players and tournaments.
However, ICC Chess Club has a free referrals program. You can earn some money by referring your relatives and friends that play chess to join the club.
14. Funforcoin
Funforcoin is a website I found quite accidentally. It allows you to earn Satoshi or fractions of Bitcoin, the world's largest crypto-currency for free. You need to register before playing on Funforcoin.
If you are serious about earning money by playing free games, I also recommend you download a good Bitcoin wallet to receive payments. There are three types of free games you can play and get paid: Satoshi Slot, BTC Scratch and Faucet.
15. Spark Profit
Spark Profit is a website that pays you to play games for free. But Spark Profit is different than other free gaming websites. It gives you a chance to test your skills as investor and make predictions about movements of Bitcoin, real estate and other prices.
For correct predictions, you get rewarded in Bitcoin or rather, its fraction, Satoshi.
Other Ways to Play Free Games for Money
Other than these top 15 websites I have listed, there are some more ways to earn money by playing free games. Look for websites of game developers. They offer money for testing beta versions of the games they want to launch commercially.
You may need some skills for writing these technical reviews.
You can also open a YouTube channel and start reviewing online games to make money. If your channel attracts several subscribers, gaming companies will ask you to play for free and make commentaries.
PewDiePie, the most highly subscribed YouTube channel in the world is all about Minecraft and other similar game commentaries. The owner, Felix Arvid Ulf Kjellberg is worth US$20 million, earned from his gaming commentaries.
Final Thoughts
Before you sign-up for any of these websites that pay you to play games for free, I recommend you read their terms, conditions and modes of payment. Remember, you will be investing time and effort to earn money by playing games.
There will also be some investment since you need to pay electricity bills to run a computer or power a smart-phone. Also, you need to play games frequently to avoid suspension of your account and lose the income.
Hence, check for the minimum payout policies of these websites. A lot of good websites that pay to play games for free have closed in recent years. Therefore, cashing your earnings at the earliest is a good idea.