Online Grocery Shopping has become very important in the current scenario. The reason is simple, the Covid-19 pandemic that rattled the world since early 2021 proves that overcrowding a store can lead to contagion. Shopping online for groceries from your smartphone apps helps avoid this risk.
Actually, shopping for groceries online isn't a new phenomenon in India. It's been here for quite a few years.
Once upon a time, grocery shopping made up only about five percent of all purchases made online. The year 2021 provides that much-needed shot in the arm for online grocery stores in India.
Rising Popularity of Online Grocery Shopping
There're several reasons for the rising popularity of online groceries. That's something a lot of people also learned during the Covid-19 pandemic and the need for social distancing and self-quarantine.
There're other benefits too. Let's take a look at them.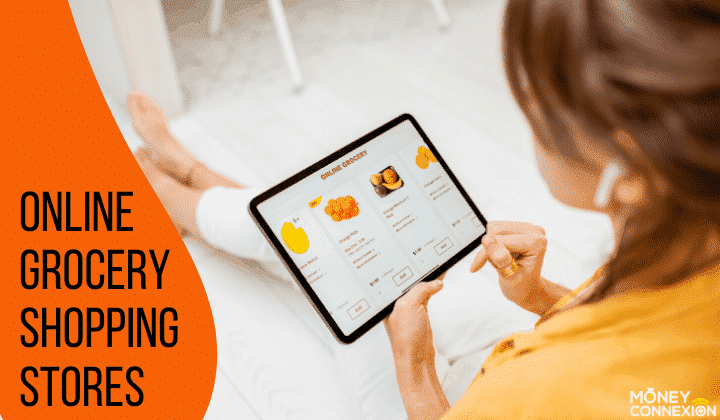 Discounts & Savings: Generally, online stores offer groceries a bit cheaper than brick-and-mortar or physical stores.
Choice of Products: Major online grocers cater to all parts of India. Hence, they have a vast inventory of products for you to choose.
Home Delivery: This is one of the greatest advantages of shopping for groceries online. You get doorstep delivery and don't need to commute, travel or drive. However, free deliveries apply only when your order is worth a specific amount or more.
Multiple Ways to Pay: Large online grocers accept payments by credit card, debit card, net banking, Unified Payment Interface (UPI) and mobile wallets. Some accept cash-on-delivery too.
Special Offers: Often, online grocers also offer superb cashbacks, freebies and other special offers when you shop with them. These help slice of your grocery bills to help save money.
If you haven't yet done online shopping for groceries, I recommend trying it at least once. Surely, the experience will make you a fan of online grocery stores.
Top 15 Online Grocery Shopping Stores & Apps
For the best shopping experience, savings and special offers, free deliveries, and lots more, I would recommend you try any of these 15 top online grocery stores in India.
1. Amazon Pantry
Amazon Pantry is the world's favorite online grocery store. As the name rightly suggests, it comes from Amazon.
Look for the Amazon Pantry option on their website or app to buy groceries. They have an amazing selection of groceries that you'll expect from Amazon.
2. Supermart
A relatively new entrant in the online groceries market is Supermart. It comes from India's homegrown online shopping website, Flipkart.
You can order groceries from the Supermart website or app. Supermart delivers across India. You'll find groceries from your native state or place to on Supermart.
3. Grofers Now Blinkit
Blinkit is a very popular online website and app for ordering groceries. Over the years, Grofers has become a household name for online groceries.
They have amazing discounts and a range of products to suit every budget and need.
4. Big Basket
Yet another big-ticket store in India's online grocery market is Big Basket. They offer online grocery shopping through their website and app.
Big Basket also has deals with local sellers. This helps them gather all your products from the nearest sources and deliver quickly.
5. D-Mart Online
Also, from Future Retail comes D-Mart Online. This is the online branch of D-Mart, one of the topmost physical supermarkets in India.
On D-Mart mobile, you can buy many other things, such as garments and gifts, in addition to your monthly groceries. They also have a stationery section.
6. Nature's Basket
Nature's Basket is an exclusive online store specializing in the freshest produce and finest quality groceries. Check their large listing of organic foods and food grains.
Nature's Basket is a website and app from India's large industrial group, Godrej. Though some items at Nature's Basket at pricier than other online stores, their quality is unbeatable.
7. StarQuik
StarQuik is one of the best online stores to buy groceries and other household requirements. Their brick-and-mortar store known as Star Mart, is already very popular among Indians.
Not without reasons. Star Quik and Star Mart come from India's largest and most respected industrial house, Tata Group.
8. Patanjali
Patanjali Ayurved is the only online grocery store that delivers to every postal code in India. You can buy only Patanjali Ayurved and Divya Pharmacy brand products on their web portal or app.
Patanjali has a full range of groceries, from grains and flour to breakfast cereals and health beverages, toiletries, and personal grooming products.
Their Swadeshi Samridhi Card, available for Rs.100 one-time fee, helps you get discounts, free shipping, and special offers for online grocery shopping.
You also get life insurance with the card with cover of Rs.500,000 on death and Rs.250,000 for permanent disability.
9. Reliance Mart
Reliance Mart is a very trustworthy online store for shopping for groceries. They also have their own range of products and common and popular brands in India.
Reliance Mart delivers in megacities of India and some Tier-1 and Tier-2 cities. They're expanding their network to provide online grocery shopping services to other parts of the country.
10. Spencer's
Spencer's is a chain of grocery stores across India. And they have a web portal and app for online grocery shopping. Spencer's current coverage is limited to certain cities in the north and south India.
They're adding more places to their online grocery network. If you're within their coverage area, I recommend you try Spencer's. They have exceptional service.
11. Easyday Club
Easyday Club comes from Future Retail Ltd. They operate in most major cities of India. Easyday Club operates on a membership basis only. Meaning you create an online account through their website or app and deposit money.
You can shop worth the amount in your account and recharge anytime. Easyday Club also has Easyday Fresh, which allows you to shop for fresh produce, including fruits and vegetables, with doorstep delivery.
12. Snapdeal Grocery
India's homegrown and fledgling online shopping portal, Snapdeal, also has an elaborate groceries section. They compare well with most other online groceries.
I suggest you check their offerings because you'll come across quite a things that others don't offer such as unique kinds of grains and packaged foods.
13. Paytm Mall
Paytm Mall came into existence in 2017 but is growing rapidly from strength to strength. It is now one of the most popular online store for groceries and lots of other stuff.
You only need a Paytm app to shop for groceries online on Paytm Mall. You can pay with the Paytm wallet or Paytm Payments Bank account, or debit card. They come up with fantastic offers occasionally.
14. Shopclues Grocery
Though not many people visit Shopclues to buy groceries online, I've found it to be among the best possible websites and apps for such purchases. Shopclues.com is famous for most other stuff, such as mobile phones, electronics, and garments.
But I recommend you also check their groceries section. You'll find a fantastic array of products at superb prices. Their home delivery system is also superb.
15. Flavors of My City
Launched a few years ago as a portal for foodies, Flavors of My City has since graduated to become a top-notch online groceries seller. However, Flavors of My City is an online grocery with a difference. Here you'll find a curated list of grocery items.
This means they offer only the most popular stuff from any particular place, such as tea powder from Assam, spices from south India, Basmati rice from the Himalayan plains, sweets from West Bengal, and so on.
Despite this, their product range is amazing, if you wish to try the best types of foods from various parts of this country.
More Online Grocery Stores
Several smaller, local stores also have apps and websites for buying groceries online. You can check these out according to the area where you live.
They offer personalized services since their operations are fairly small. And also, try any of these larger online groceries to save money and get the best products.
In Conclusion
Before concluding, here're a few words of caution. During festival seasons, online groceries experience a rush. Hence, deliveries can get late. Usually, all online grocery stores have a maximum limit on how much of a product you can buy at a time. This is done to prevent hoarding and reselling. It's best to comply with these limits.