India will have about 500 million Internet users by June 2017, studies by Internet and Mobile Association of India and Indian Market Research Bureau indicate. Urban India with an estimated population of 444 million already has 269 million (60 percent) using the Internet.
Rural India, with an estimated population of 906 million (2011 census), has only 163 million (17 percent) Internet users. Thus, there are potential approximately 750 million users still in rural India who are yet to become Internet users, if they are connected, the report adds.
Over 100 million Indians will have made at least one online purchase by end-2017 as compared with 69 million in 2016, a joint report by Associated Chambers of Commerce and Industry of India and Resurgent India states.
Current e-retailing scenario
Healthy growth in previous years and projections indicating boom time has led several companies to launch e-commerce websites. Traditional favourites retained their hold while newer ones consolidated their market position.
Top 60 Online Shopping Sites in India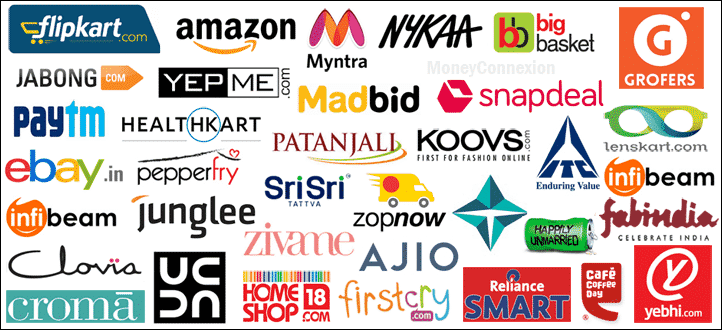 You may have heard about top 10 online shopping sites in India, but here I am going to show you 60 best shopping sites where you can buy unique kind of products with cheap price tags.
This is by far the most popular online shopping sites in India. Reputed for superior products, services, delivery and returns policies, Amazon India brings to this country a truly international online shopping experience. You can buy almost all products from Amazon with great discounts.
This online shopping website is India's own. It is fast becoming popular outside the country too, thanks to excellent product range and highly competitive rates. Flipkart has unbeatable reach in semi-urban and rural India, thanks to its extensive delivery network.
Riding on back of the fastest growing eponymous payment app, Paytm now ranks as a top online store. For those averse to using credit/ debit cards and net banking, Paytm offers the best solution. Buyers can pay through Paytm app. Shoppers can download the app on their PC, laptop or mobile from this store, recharge for the required amount only and pay.
Featuring innumerable products from over 800 categories, Snapdeal has emerged as top destination for online shoppers in India. Great discounts are available 24x7x365 on this online store. Fast delivery schedules and flexibility of payments has helped Snapdeal grab leading position in India's online shopping sector.
For customers looking for unique stuff, eBay India offers great solutions. eBay has some two million registered users. eBay sells new stuff and facilities bidding for certain products too. It serves as channel for retailers in various parts of India to connect with buyers across the country. eBay is a great online shopping site if you are looking for products not stocked by others.
Founded in 2011, Zivame is a best online shopping site for women which is exclusive to lingerie & innerwear. The website has set trends in encouraging women to shop for lingerie without inhibitions. At Zivame, women can look at buying innerwear from latest trends worldwide.
You can buy anything from a trendy scarf to down-to-earth formal wear at Jabong. The online store is popular among online shoppers of all ages. Jabong has dresses and accessories to suit various needs- casuals, formal, sportswear, action wear and ethnic fashions. It boasts of a selection to meet myriad social and cultural needs of Indians.
This is an online store for discerning customers. ShopClues assures superior quality and guaranteed original products. It procures merchandise directly from manufacturers, which enables you to buy the latest launches at competitive rates. Buyer protection is assured with ShopClues.
Myntra can truly be called the undisputed leader of online shopping site for fashionwear. Myntra is known for pioneering readymade garments and fashionwear retail segment of India. This online portal offers everything required to complete a wardrobe. Myntra's end of season sales is huge draw among fashion aficionados
Bollywood has a far reaching impact on India and Nykaa, the online store, brings this experience to life. You can find fashion garments, dress accessories, cosmetics, fragrances and a host of other requirements required to appear like a hero or heroine.
Other top 50 online shopping sites
So here are other 50 sites where you will not only find unique products but heavy discounts on products as compared to the above top 10 sites.
Often referred to as India's biggest online grocery shopping site. Bigbasket allows busy people to shop for their groceries from any location, choose the time and date of delivery to suit convenience and sells very high quality stuff. There are many other grocery shopping sites similar to Bigbasket and if you are a first time customer, you can find best deals.
Moving to a new home or office is often tardy. Home and office owners are confronted with wide choices of décor and furnishing products. Prices and quality swings wildly. Pepperfry helps overcome these hurdles. This online store offers your home and office needs at excellent, competitive rates and assured quality. Home delivery ensures you do not need to arrange transportation of fragile and delicate items yourself. You can also buy online furniture from UrbanLadder, Hometown etc.
Home furnishings, readymade garments, dress accessories are all on offer at Limeroad. Reasonable prices make Limeroad a great destination for shopping online.
UrbanClap is recognized as the fastest growing start-up in India. Here, one can hire any service from yoga and fitness instructors to plumbers and secretaries.
A global brand of clothing for women. Clovia offers a wide selection of bras, panties, nighties, dresses, bridal wear and other female stuff.
This is not a really popular shopping website. But its credentials and business can propel it among the top five. Junglee.com is a service by Amazon designed uniquely for India with the vision of helping anyone buy and sell anything online. Junglee is the only online marketplace in India which enables customers to buy new and used products from all types of sellers including individuals, home-entrepreneurs and micro-businesses.
Fashionwear meets perfection at Koovs. Buy here for that exclusive stuff that nobody can imitate. Excellent dress accessories are also available at Koovs, a leading online store for trendsetters.
Men, women and kids of all ages will find apparel of their choice at Yepme. The online store offers great discounts all through the year and is fast emerging as destination of choice for fashion aficionados.
Anyone who believes that buying groceries online is expensive should visit Grofers. The website lists tens of thousands of products, from the humble packet of table salt to exotic selection to delight a connoisseur. Grofers offers superior grocery items at reasonable prices with assured timely delivery. Other preferred grocery shopping sites are Nature's basket, Reliance fresh etc.
As a pioneer in India's online stores, Rediff has continued to maintain its presence in the market, albeit with some challenges. Rediff has a following of dedicated clientele who also patronize its excellent email services. Rediff is a great online shopping site to buy Indian handicrafts and electronics.
Designed for families with little time for wasting on grocery shopping at crowded stores. ZopNow offers a wide selection of groceries and fresh food. Prices are designed to suit every budget. Online grocery shopping assumes newer dimensions with ZopNow.
As suggested by the name, HealthKart is all about health and fitness. Looking to lose or gain weight, this website offers a range of products for every need. HealthKart features products from renowned and established manufacturers only, which ensures any supplement you take meets and exceeds international standards.
Wearing glasses was considered a sign of ageing or frowned upon by the young. Lenskart has changed this perception. It offers a wide range of fancy and fashionable frames and lenses that make wearing glasses a pleasure. Special offers are always available on premium brands like RayBan, Police, Dior etc. at Lenskart.
MadBid India is the local versions of the larger, international online shopping store. Unlike conventional online retailers, MadBid allows buyers to bid in auctions of various products ranging from gardening equipment, office requirements, mobile phones, practically everything. Shoppers have to buy prepaid credit for bidding. The website claims to have offered very expensive items at throwaway rates. MadBid is unique too since one can buy products from abroad.
One of the fast emerging online stores of India. Infibeam sells a variety of products from home appliances, mobiles, laptops, clothes, watches, cameras, to books, home furnishing products, footwear and more. The Infibeam's motto of 'Shop with a Smile' is aptly reflected in its product and service offerings, and prices.
This Indian giant traces roots to colonial India. Established August 24, 1910 as Imperial Tobacco Company, it primarily manufactured cigarette and tobacco products for domestic consumption, exporting to British colonies and elsewhere. Today, the US$ 45 billion business group, known as ITC has diversified into food, hospitality and other sectors. A wide selection of ITC's non-tobacco products can be bought at its online store.
Makes buying products from USA very convenient for shoppers in India. iBhejo is an online store that permits people to buy any American product, from home furnishings to office requirements, stationery and mobile phones from India. You pay in Indian Rupees and your order is doorstep delivered, after clearing all Customs and import formalities at no extra cost.
A few years ago, nobody would have dreamt of an Indian herbal products company gaining global acclaim. Patanjali Ayurved, launched by Dehra Dun based Patanjali Foundation is slated to become India's first global brand. The online store offers everything from purest spices and proven Ayurvedic formulations to soaps and herbal cosmetics. You can also buy grocery at this online store. An added attraction is, books, magazines and DVDs containing instructions to learn Yoga from renowned guru Baba Ramdev are also available here.
The worldwide popularity of unadulterated spices, pure grocery items and herbal cosmetics has made SriSriTattva a major Indian online store. Here one can buy grocery products, herbal medicines, cosmetics and loads of other stuff that carry the hallmark of purity. This online shopping site is relatively new and was launched by The Art of Living Foundation, Bengaluru, founded by world famous Yoga guru Sri SriRavishankar.
From the reputed Indian corporate giant, Tata Sons, online store Croma has the widest range of high quality electronic products in India. The online store is also India's first multi-channel facility for domestic electronics and home appliances.
Also from the house of Tata, the TataCliq online store is excellent for shopping readymade garments, toiletries and home linen, among other requirements. It caters to tastes of all generations of Indians, selling ethnic Indian garments as well as regular readymade clothing, dress accessories and lots more.
Naaptol is the pioneer of teleshopping in India. It features products that are widely advertised on the eponymous TV channel and commercials. It has become India's first comparison based social shopping website. Naaptol offers very competitive rates are through its online store.
This online store website was launched by India's renowned business group, Godrej. Nature's Basket offers the best varieties of food that one can buy. Reasonably priced, fresh and value-for-money for discerning shoppers, Nature's Basket is often referred as a gourmet's online store.
The principles of health, environment and social responsibility come alive at Giskaa. This online store sells eco-friendly and natural products from forests of India. These products give a feeling of being one with nature.
Tracing its evolution to heady days of cable TV in India, Homeshop18 continues to retain its position as a market leader in online stores. Homeshop18 products are usually advertised on its channel, website and mobile app. Economical rates and off-beat products are specialty of Homeshop18.
Not exactly a store because Future Bazaar is unique concept. It features gift vouchers to give on special occasions or just for fun. You can buy a gift voucher worth any amount. Two types of vouchers are offered: for purchases at Central branded malls and Foodhall, the food court.
Fashionwear packaged uniquely is Yebhi's specialty. Instead of promoting a brand or clothing item, Yehbi sells the entire 'look'. The website is rather complex since it features several products listing intricate details. A good online shopping store for the fashion conscious.
An opportunity to buy fashionwear from leading international brands is offered by Ajio. Top local brands also vie for attention of online shoppers. Ajio is a trendy online store aimed at fashion conscious folk.
The online store lives fully to its catch-line 'Celebrate India.' Fabindia is no stranger to Indians and foreigners. The brand is renowned worldwide for high quality cotton clothing, furnishings and other great stuff. Fabindia's online store is equally famous among shoppers.
An initiative by two former employees of Google, The North East Store brings to the world, the exotic world of India's seven sister states and more. Hand woven bags, pickles made from the world's hottest chili, BhootJolokhia and other exquisite, rare products are available here.
Looking to greet anyone or send a gift for a special occasion, Archies, the premier gifting and greeting shop of India makes it possible online. You can place your order and have the gift delivered to the recipient's doorstep.
The drive by Prime Minister Narendra Modi to promote Khadi or homespun fabric and handmade products finds expression on this website. Customers at this online store can buy Khadi garments, gift items, herbal cosmetics and lots more.
'Happiness Delivered Home'- the promise of RelianceSMART. A great online store for grocery and home requirements. This website comes from India's corporate giant, Reliance. Quality of products and rates are excellent.
Making a strong presence in Indian herbal skin and beauty products is Just Herbs. The company makes body and beauty preparations from herbs collected across India. It also ships these products abroad.
The pioneer of India's herbal beauty treatment, Shahnaz Husain, the world renowned beautician offers her signature products online. The online store carries details about every product personally developed by Shahnaz including its composition and uses. The live chat feature helps people get information about any product they wish to buy.
A great online store for connoisseurs. Brindco has an excellent selection of imported wines from France, Italy and other European countries. Prices begin at Rs.3,000 onwards. This is not exactly an online liquor store. Brindco caters to wine aficionados, who enjoy the drink for its craftsmanship. Delivery may be restricted in some parts of India with prohibition.
Regardless of which part of India you live, Flavours Of My City delivers a taste of your hometown right to your doorstep. Whether its exotic tea from India's North Eastern states and Kashmir, spicy snacks of Maharashtra, delicate sweets of Rajasthan or intricate dishes of South India, this online store covers India completely.
Asia's largest online portal for Baby and kids product. We have over 2 Lakh+ Baby and Kids items from 2,000 and more top International and Indian brands including Mattel, Ben10, Pigeon, Funskool, Hotwheels, Nuby, Farlin, Medela, Pampers, Disney, Barbie, Gerber, Fisher Price and MeeMee, among others. You can also buy the same products from another popular site BabyOye.com.
49. MeatRoot:
Also comes with delivery restrictions limited to Pune and surrounding areas. MeatRoot is an excellent indicator of how India's online shopping is shaping for future. MeatRoot offers frozen and fresh seafood, exotic and regular meat in choice cuts as well as ready-to-cook products from renowned manufacturers.
From the house of Tata, this exclusive web store is a virtual treasure trove. Buying masterpieces of jewellery for a special occasion, gift or daily wear stands redefined by Titan. Plain jewellery, those set with precious stones are all available online here. The range on Titan extends to eyewear, wallets and dress accessories, fragrances and lots more.
For retail investors and gold lovers, Bullion India gives a wide selection of gold coins, bars and chips for online purchase. This online gold store is operated by Finkurve Bullion Pvt. Ltd, an Indian financial house. Pure 24karat gold coins and bars are available for purchase at this online store.
Life as single is really fun. And Happily Unmarried adds sugar and spice to this. The website has unique products that cannot be easily found elsewhere but can be proudly flouted by singles- much to ire of their married counterparts.
Strictly for adults. The website lives up to its reputation. Toys and products that were secretly desired by adults to satisfy carnal pleasures were smuggled into India earlier. AdultProductsIndia offers a wide selection of these locally, at attractive prices. Discreet packing and delivery is ensured. Similar to this is ImBeshram is another website whose brand face is Sunny Leone.
A unique concept in sweets and savouries, PlaceOfOrigin helps you buy sweets and snacks from various parts of India. You can buy sweets from famous stores including Haldiram and Brijwasi as well as those from very ethnic, special stores in smaller towns.
This is definitely not a shopping sites for everyone. Here, firearms license holders can buy a variety of guns, pistols and revolvers made by the government owned Indian Ordnance Factories. Civilians can download application forms to buy select guns and ammo from IOF. Purchases cannot be made online but you can apply for buying a gun or ammunition and track your orders.
A pioneer in sports goods sold online. Decathlon features more than 5,000 products for over 50 sports. High quality sports goods made in India and abroad are available on this website.
Despite its recent origins, Funcart has emerged as India's leading online store for party supplies. Planning for anything- a birthday party for kids to corporate parties for multi-nationals, Funcart has everything to host a party.
Anyone who wants to attract positive energy at home or office will find FengshuiIndia a very useful website. It offers a wide array of Chinese Feng Shui and Indian Vastu Shastra paraphernalia.
No other Indian retailer has evoked so much controversy as Netmeds. It is an online pharmacy in India. Customers buying medicines are offered a 15- 20 percent discount on orders. You need to upload the doctor's prescription and place orders.
This chain of coffee shops offering healthy drinks and mouth watering pastries now offers a selection of exquisite coffee powders, mugs, teas and other gear required to enjoy your cuppa. Prices are unbeatable.
Note: This article lists popular online shopping sites at random. Search engine rankings and other parameters are not considered. The list does not indicate popularity or otherwise of any website or online store.