Now paying your electricity, gas, water and other utility bills like vodafone, airtel, BSNL bill payment is not a headache. You do not have to stand in a long queue to pay your bills.
There are various best online bill payment services in India that allows you to pay almost all your bills online. It hardly takes more than a minute to pay your electricity bill and other bills.
The top 10 online bill and electronic payment systems in India are driving the country towards its well-defined goal as cashless and digital economy.
This isn't really a new phenomenon: net banking and electronic forms of money transfer are flourishing in India since late 1990s.
History of Online Bill Payment Systems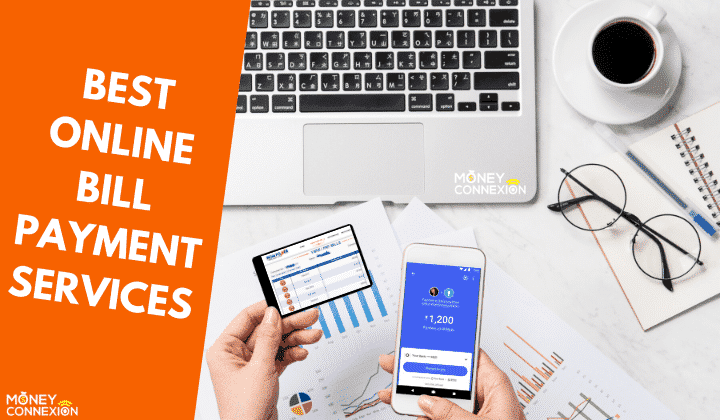 Indeed, online bill payment are more popular now than ever before, especially due to social distancing and self-quarantine requirements that came into force during the Covid-19 pandemic that struck the world and parts of India in early 2020.
The success and widespread use of online bill pay and electronic payment systems in India took off from November 8, 2016 after the flash demonetization of the Rs.500 and Rs.1000 currency notes by the Indian government.
Left with little or no cash at hand due to closure of ATMs and long queues at banks, the Indian populace and businesses had only one option: make and accept online payments.
Consequently, the Indian government, banks and Non-Banking Financial Companies as well as e-commerce giants came up with a slew of online bill pay and electronic payment systems. They overtook the simple mobile wallets that were popular among Indians to get cheap recharges for mobile phone accounts.
Top 10 Online Bill Pay & Electronic Payment Systems
Over the years, India has several excellent online bill pay and electronic payment systems. Maybe you've used some of these. Or maybe you can consider using them now.
Here I'm listing the topmost 10 online bill and electronic payment systems that would help make your life a lot easier and avoid the hassles of standing in queues or commuting.
Note: Almost all the companies provide their own online bill payment service. Like if you want to pay electricity bill for Adani, then you can do that through its website and app. Similarly, if you want to pay vodafone or airtel bill online then you can visit the respective website.
1. Bharat Interface for Money
Bharat Interface for Money (BHIM) is by far the most popular online bill payment. If fact, every Public Sector Undertaking (PSU) bank, private, cooperative and foreign banks in India use their own versions of BHIM.
You can pay utilities bills, recharge mobile phone, send and receive money and perform lots of other transactions with BHIM. This app comes from the National Payments Corporation of India and is very secure for all financial transactions. In recent days, BHIM also offers the facility to apply for Initial Public Offering (IPOs) of company stocks.
2. Unified Mobile App for National Governance
Lesser known but most useful for Indian is the UMANG app that comes from Ministry of Electronics & Information Technology. UMANG offers a slew of online services. You can pay monthly contributions to the National Pension Scheme or recharge a mobile phone.
UMANG allows you to order and pay for gas cylinders and piped gas. Utilities payments, applying and paying for various services from the Central and state governments are all possible with UMANG. This is a must-have app for every Indian.
3. PhonePe
PhonePe ranks among the best online bill payment app. It's possible to pay all bills, make online purchases, invest in stocks and Mutual Funds as well as other financial instruments and keep tab of all your bank accounts with this integrated app.
Additionally, PhonePe is the most reliable when it comes to working in remote areas where Internet connectivity might be poorer. It's also possible to make money transfers using National Electronic Fund Transfer (NEFT), Real Time Gross Settlement (RTGS) and Immediate Payment Service (IMPS) systems.
4. Google Pay
Actually I'm not very comfortable using Google Pay because it involves letting out my private telephone number that I use strictly for banking and investment purposes. To receive money on Google Pay, you need to divulge the number linked with your bank account.
But in all fairness, Google Pay is an excellent online electronic bill and payment system. It's been customized for use in India, which is one of the two countries where Google Pay is available.
5. iMUDRA
iMUDRA is another fabulous online bill pay and electronic payment system. In fact, iMUDRA comes from Indian Railways Catering, Railways and Tourism Corporation of IRCTC.
iMUDRA serves as a mobile wallet where you can deposit cash and pay by scanning a QR code, send money through Virtual Payment Address or mobile number to banks across India as well as by net banking.
You get special discounts while booking tickets from Indian Railways with this app. All bill payments and recharges can be done with this app. They also issue a digital and physical debit card from Federal Bank for a small fee.
6. Amazon Pay
Amazon Pay was earlier limited to buying stuff on Amazon and getting cashbacks or refunds. However, Amazon Pay now offers full-fledged online bill pay and electronic payments for utilities, payments for dining out at select places, booking airline, bus and train tickets and lots more.
And of course, discounts on shopping from Amazon whenever they have a special offer. There're no need to create a separate account for Amazon Pay. It comes with your Amazon account and is accessible on computer and mobile.
7. PayZapp
India's leading private sector lender, HDFC Bank offers PayZapp, the best online bill pay and electronic payment system in India. PayZapp also comes with the added feature of a virtual debit card from HDFC Bank.
This debit card is a fabulous feature since you can get amazing discounts while shopping online: a lot of online stores including Amazon and Flipkart offer special discounts to shoppers paying with HDFC Bank cards. PayZapp comes with all features you'll expect. These include bill payment, mobile recharges, online shopping and special deals from participating outlets.
8. Pockets
Also from a leading private sector lender is Pockets by ICICI Bank. You can download the Pockets app from Google Play or Apple Store and register online. The full KYC compliant version provides some degree of banking services too.
You can request a physical debit card that can be used while shopping and cash withdrawals. ICICI Bank issues the Pocket debit card for a small fee. Online bill payments, recharges and cash transfers are some of the facilities from this payment system.
9. IPPB
If you're residing in rural India and need an app that easily links with a bank account, go for the India Post Payments Bank (IPPB) online bill pay and electronic payments system. You can download the app and visit the nearest post office branch to complete full KYC formalities.
IPPB payments system comes with the full range of financial services from India Post. And it offers all the regular features such as VPA, bill payments, recharges and facilities to pay for shopping. It's also possible to buy India Post insurance schemes from this app.
10. Paytm
Despite the popularity of Paytm, I rank it the last due to myriad hidden costs this online bill pay and electronic payment system comes with. For example, cash transfers to a bank account from your mobile wallet come at a stiff fee.
And several other transactions also carry a hidden charge, according to some users. At the same time, Paytm remains a very famous app for payments, recharges and cash transfers in India. They have a full range of services from shopping at Paytm Mall to booking tickets and hotels, paying bills, recharges and lots more.
Special Mention
Bharat Kosh
Bharat Kosh literally means India's Treasury. This is a special portal of the Indian government where you can pay non-tax related fees for various services. There're numerous options to pay various bills or make payments to the Central and state governments as well as Union Territory administrations using net banking, UPI and credit and debit cards, among others.
In Conclusion
Personally, I use more than one of these online bill payment services in India because they provide a lot of flexibility. They're useful for paying electricity bills, gas and water bills, vodafone or airtel bill payment at discounts, sometimes bill pay with cashback and lots more. And all transactions can be done quickly from the comfort of my home and office. You too would like them.