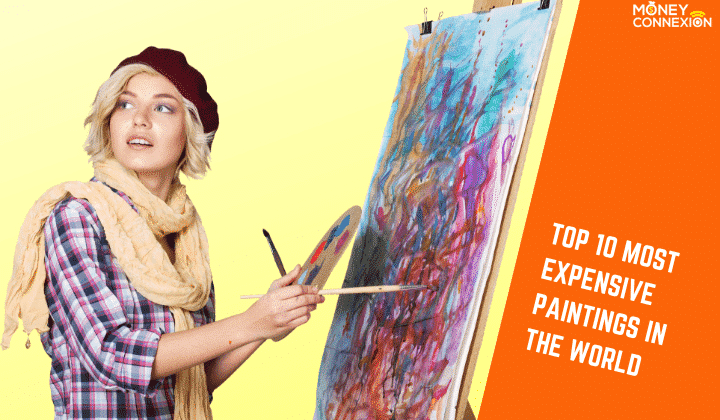 Collecting art is very popular hobby among the richest people in the world. One of these are expensive paintings. There're several reasons why people buy expensive paintings that I'll discuss later in this article. In recent years, we're seeing governments, rulers as well as museums across the world.
While a lot of buyers prefer anonymity for obvious reasons, some of them disclose their identity.
In this article I'll also be listing the top 10 most expensive paintings in the world that were sold at various auctions around the world.
Therefore, let's begin by understanding reasons why people buy expensive paintings.
Reasons for Buying Expensive Paintings
Obviously, people, museums and governments don't buy expensive paintings without reason. So why spend millions of Dollars on something that serve no greater purpose? Here's why.
Expensive Paintings are Excellent Investments
Over the last decade, collecting art has become an acceptable form of alternative investments. This means people buy things whose value will rise with time. Paintings are one of these, alongside rare wines, among others.
That's because conventional investments such as stocks, currencies, commodities, jewelry, Exchange Traded Funds, Mutual Funds and others suffer whenever there's an economic downturn for any reason.
Prestige of Owning Expensive Paintings
Secondly, there's a lot of prestige in owning expensive paintings. Countries such as State of Qatar in the Middle East have bought several expensive paintings for prestige and as form of investment too. In such cases, the government holds the paintings and has the choice of displaying at museum or keeping it safe.
Attracting Art Lovers & More Visitors
Museums and art galleries around the world invest heavily on buying expensive paintings because they attract thousands of art lovers and curious visitors. For example, The Louvre in could attract more than 10.2 million visitors in 2018 and 9.6 million in 2019, because they display the world's most famous expensive painting- Mona Lisa- by Italian artist, Leonardo da Vinci. For your information, the number of visitors to The Louvre in 2019 is lower due to riots that affected the French capital during the peak travel months that year.
Now that you know that people don't buy expensive paintings merely to display and gaze at them in their bedrooms or living rooms, let's see which are the top 10 priciest paintings in the world.
Also Read: How to Sell Your Art Online
Top 10 Most Expensive Paintings in the World
This list of top 10 most expensive paintings in the world has been taken from various news reports and details available from various reputable auction houses around the world, including Christie's and Sotheby's, among others.
The prices of these painting are based on how much they were sold for at the last auction. Meaning, the owners of these paintings haven't sold them publicly through auctions and may still be the rightful owners.
1. Salvator Mundi (1490-1500)- by Leonardo da Vinci
Sold at whopping $450.3 million at Christie's on November 15, 2017, the Salvator Mundi is the most expensive painting in the world. This painting has a very interesting history and was first sold for a mere $65 to a private collector because nobody knew it as painted by the famous Italian artist, Leonardo da Vinci. Salvator Mundi remained hidden for several years before resurfacing in the collection of a millionaire.
Salvator Mundi was bought at $450.3 million by the Department of Tourism & Culture of the Abu Dhabi government. It is now owned by Prince Mohammad bin Salman, the Heir Apparent of the Kingdom of Saudi Arabia and currently de-facto ruler.
2. Les Femmes d'Alger Version 'O' (1955)- by Pablo Piscasso
Les Femmes d'Alger Version 'O' ranked as the most expensive painting in the world, after it was bought for $179.4 million by an anonymous buyer bidding on phone during a Christie's auction on May 11, 2015. The bid was so high that Christie's International Head of Contemporary Art, Brett Gorvy himself had to speak with the phone bidder, whose identity remains a secret.
There're no further records of the owner putting Les Femmes d'Alger by Italian artist, Pablo Picasso, for sale at any auction house later. Its previous owners include royal families from the Middle East and assorted millionaires.
3. nu Couche (1917)- by Amado Modigliani
Private collector from China, Li Yiqian paid a fabulous $170.4 million for this masterpiece at an auction on November 9, 2015 by Christie's in London. This was the first time that any painting by Italian artist Amado Modigliani has fetched such a high price. The title of this most expensive painting in the world translates as "Nude on the Couch." Till date it remains the single most expensive painting from the nu Couche series by Amado Modigliani who has several other paintings of nudes.
4. nu Couche -sur la couche gote (1917) –  by Armando Modigliani
nu Couche- sur la Couche gote by Italian impressionist, Armando Modigliani holds the record as the fourth most expensive painting in the world. It sold for $157.2 million at Sotheby's auction in New York on May 14, 2018. An anonymous buyer bid the amount on phone to Simon Shaw, Co-Head, Impressionist & Modern Art at Sotheby's New York. This is the second most valuable painting under the nu Couche series.
5. Three Studies of Lucian Freud (1969) – by Francis Bacon
Ireland-born British painter's Francis Bacon's Three Studies of Lucian Freud currently holds the fifth place as the most expensive painting in the world. At an auction on 12, 2013 at Christie's, this painting went for $142.4 million. In fact, bidders fiercely contested for the Three Studies of Lucian Freud due to uniqueness of this tryptic painting, one of the rare one in the world. This painting propelled Francis Bacon among the most popular contemporary painters of the world.
6. Twelve Landscape Screens (1925)- by Qi Baishi
 Twelve Landscape Screens by Chinese painter Qi Baishi set a record of sorts when it fetched $140.8 million at the Beijing Poly Auction on December 17, 2017. This was the first time that works from any painter from China had sold for over $100 million. These are a collection of 12 assorted paintings made using Chinese calligraphy and brush, among other materials.
7. The Scream (1893)- by Edvard Munch
Once considered the most expensive painting in the world, The Scream by Edvard Munch fetched $119.9 million, when it last went under the auctioneer's hammer at Sotheby's on May 2, 2012. The painting is reportedly owned by Leon Black, a New York based financer who bid at this auction anonymously. The Scream is a depiction of the artist's own experience of screaming while terrified on a lonely walk in the woods.
8. Young Girl With The Flower Basket (1905)- by Pablo Picasso
Another painting by Italian artist Pablo Picasso that ranks among most expensive in the world and crosses the $100 million mark is Young Girl With The Flower Basket. This is a nude impressionist painting of a girl and was part of the collection of David and Peggy Rockefeller. At a Christie's auction on May 8, 2018, this painting sold for $115 million to an unknown bidder. The painting was on loan to Musee-D'Orsay, a museum till January 2019.
9. Meules (1890)- by Claude Monet
Meules by impressionist artist Claude Monet is the first of his landscape series to cross the $100 million mark. The French painter is known for his most expensive paintings in the world but none have crossed the $100 million mark, except the Meules. This painting sold by private collectors from Chicago were acquired by an unknown bidder for $110.7 million at a Sotheby's auction on May 14, 2019.
10. Untitled (1982)- by Jean-Michel Basquiat
Sold last for $110.5 million at a Sotheby's auction on May 18, 2017, the 'Untitled' by French painter Jean-Michel Basquiat was bought by Japanese billionaire Yusaku Maezawa. This auction was also very fierce since Untitled is one of the rare paintings by the famous French artists. This expensive painting of the world hasn't been seen much in public since it's always been with private collectors.
The Single Most Expensive Painting in the World
While the above 10 paintings are indeed expensive, when one sees the prices, there's one painting that'll most likely never go for auction. It's also the most famous painting in the world and you'll have seen copies everywhere.
Yes, it's the Mona Lisa by Italian artist Leonardo Da Vinci. There's a lot of mystery that surrounds Mona Lisa. Nobody knows whether Mona Lisa really existed or was it just a painting made from mere imagination. There're also conspiracy theories that Leonardo Da Vinci hid some secret under the layers of paint that make Mona Lisa or there's some message in her enigmatic smile.
Actually, Mona Lisa isn't a large painting as you might imagine. It's a rather small one, the size being 77cm x 53cm only. As you might know, Mona Lisa is on display at The Louvre in Paris and attracts millions of visitor every year.
Mona Lisa was bought for 4,000 crowns by King Francis-I of France from Leonardo Da Vinci. Since then, Mona Lisa has lived in palaces of various French kings and emperors including Napoleon Bonaparte.
Valued currently at more than $800 million, it is the single most expensive painting in the world. It is also the most copied painting, with fake Mona Lisa images adorning walls of homes and offices around the world.
The original Mona Lisa is owned by the Government of France.
In Conclusion
There're several other paintings that fetched more than $100 million at various auctions around the world. This list of 10 paintings top the charts with their prices. Interestingly, these paintings can be sold by their owners or loaned for public display to museums. Only the Mona Lisa can't be sold since it's a state property.