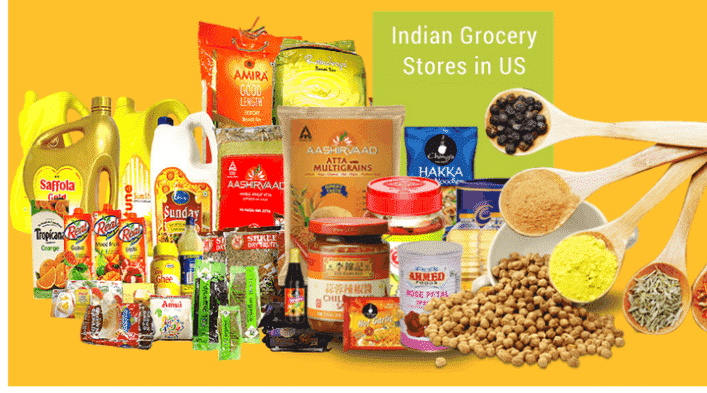 The US is home to a large community of people who trace their ancestry to India. According to American Community Survey conducted in 2016, the US is home to over 3.45 million Indians and another 4.12 million mixed race American-Indians- meaning people born to couples whose one partner has roots in India and other is a foreign citizen.
They are referred as Indian Americans, Indo-Americans and Asian Indians by various US government departments. For example, the US uses the term Asian Indian to describe the community to avoid confusing with indigenous Indians (Red Indian) natives of America.
Indian Groceries in USA
For several reasons, Indians remain faithful to their native cuisine. Hence, they depend upon supplies from India and the Indian subcontinent to fulfill these needs for spices, various types of food grains, pulses and cereals, condiments and pickles imported from India for their daily food.
With a little over one percent of America's population of Indian origin, several online grocery stores that offer stuff from India have sprung up over the years. Many are available online. Here we look at the top 10 online Indian grocery stores in the US.
Top Indian Grocery Stores in USA
Most online stores selling Indian groceries in USA offer free home delivery, if your order is worth a fixed value or higher. While some online stores selling Indian products have a lower limit of US$65 to qualify for free delivery, others require minimum orders worth US$ 100 and above. Check the free delivery options of these websites.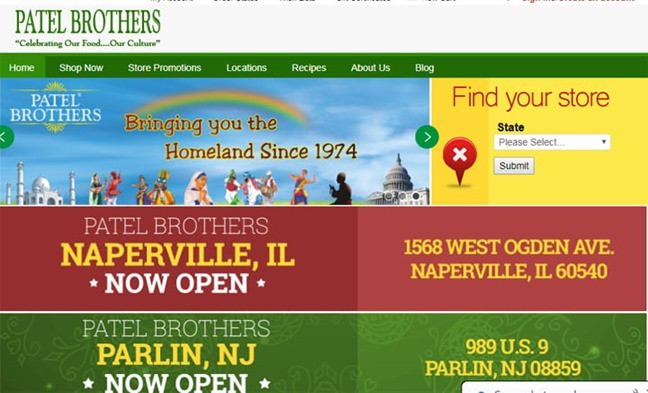 Patel Brothers are selling Indian grocery items in USA since 1974. However, ensure the large diaspora of people from India get access to these groceries, the company opened its online grocery store in the year 2000.
Patel Brothers USA offers the entire range of groceries from national and regional brands of India. Additionally, you can also buy online religious requirements, sweets, snacks, bakery, household items and cosmetics from India and the subcontinent.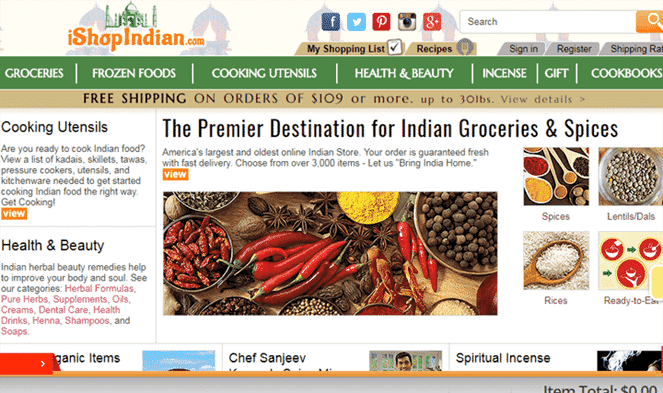 iShopIndian was established in the year 2000. Other than being an online grocery store that sells national and regional Indian brand grocery products in the US, the company also has a wholesale division to assist neighborhood retailers to stock popular products.
iShopIndia has a distribution center at Wauvasota, Wisconsin. Additionally, iShopIndian also sells cooking utensils required for various special dishes from the Indian cuisine, cook books, beauty products, incense and religious requirements from India.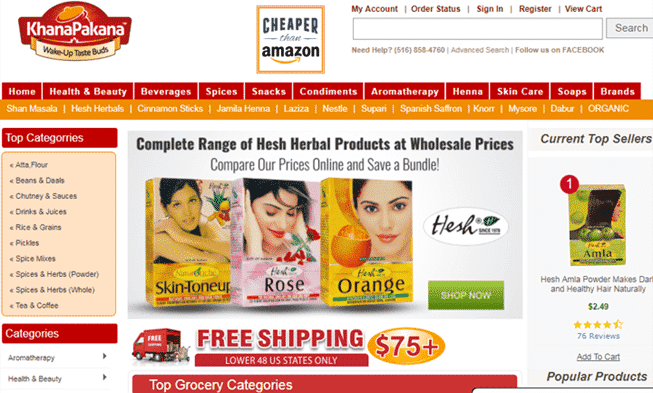 KhanaPakana was launched in 2006 and claims to have over2.5 million users every month. The company ranks among the topmost online stores for Indian groceries in US and operates from Floral Park, New York.
KhanaPakana website states, it is operated by a team of food lovers. The company ranks as the topmost importer, distributor and retailer of Indian grocery items in US and Canada. You can also buy products from other Asian countries online through this website.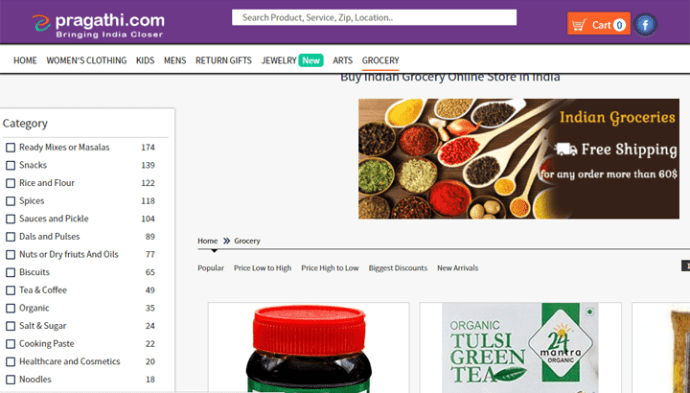 Pragathi.com is much more than an online grocery store for Indians living in the US. It is the largest Indian portal in the US with over 20,000 product and service listings in more than 30 categories.
Other than groceries, you can also buy Indian garments, handicrafts, home décor, religious requirements and lots of other stuff through Pragathi.com. It was launched in August 2013. The website states it offers over 30 classifieds categories for people to share their products and services online as receives over 1.3 million unique visitors every year.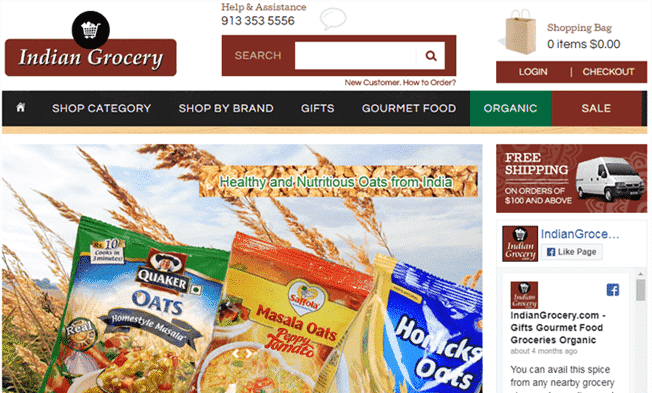 Indian Grocery stocks gourmet food and snacks from various top brands including from India in almost every grocery segment. "We carry more than 3000 Products and about 200 Brands procured from India and within US.
We also carry latest movie DVD's and old classics," the website says. The website sells ethnic Indian gifts ideal for special occasions and festivals, religious requirements, gourmet food and organic food from India too. Indian Grocery products can be also ordered through its mobile website.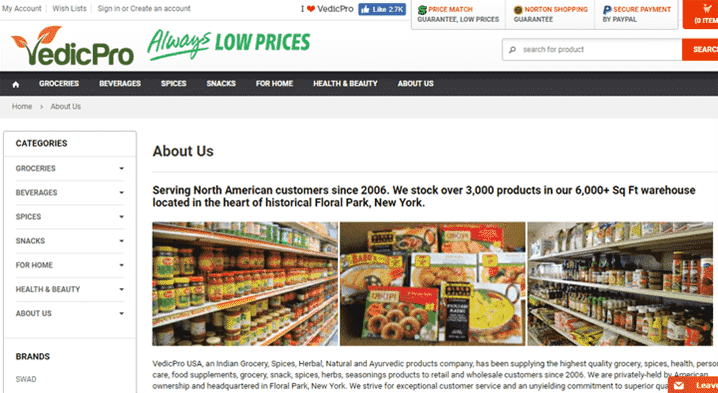 VedicPro stocks top brands from India and the Indian subcontinent, South East Asia and Far East. It caters to customers across the US. The company operates from Floral Park, NY and stocks Indian grocery, spices, herbal, natural and Ayurvedic products as well as stuff including health, personal care, food supplements, snacks and other requirements. VedicPro sells online groceries in retail and has a wholesale division too. It has been in business since 2006.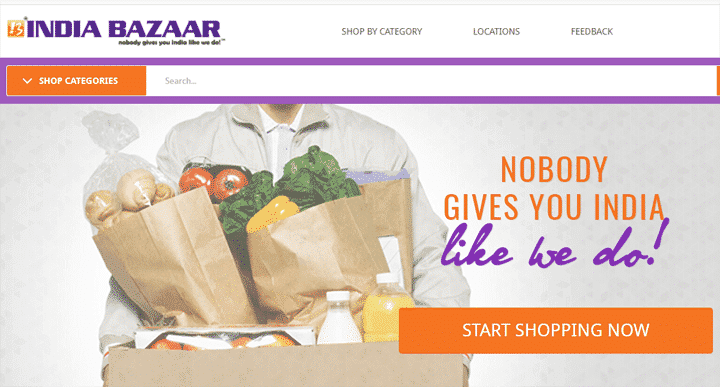 India Bazar operates from Plano, Texas. The company was established in 2004, by Kishore Pabari and his family. The company imports grocery items from across India and the Indian subcontinent as well as other parts of Asia. You can shop for some top as well as regional favorite brands from India online from India Bazar as well as a whole lot of stuff from neighboring countries including Nepal, Sri Lanka, Pakistan, Thailand and the Philippines, to name a few.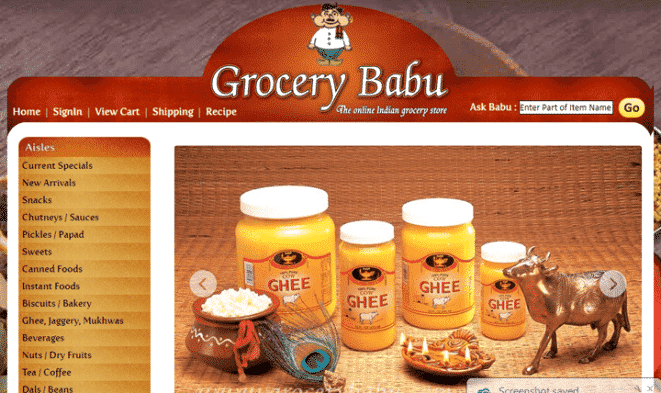 GroceryBabu operates from Union, New Jersey. The website lists over 700 assorted grocery, household requirements, religious paraphernalia and other common stuff from India and the Indian subcontinent on its online store.
GroceryBabu ships within mainland USA only. You can also place a request for any specific product from India with GroceryBabu who will try and deliver it, if possible under import laws of the US and available in India.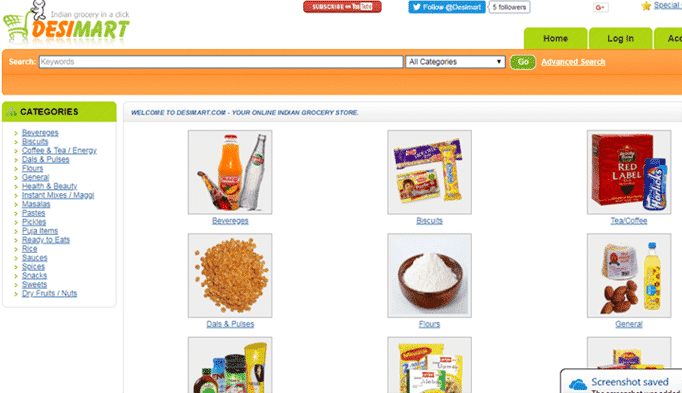 Based out of Waltham, Massachusetts, Desimart is another popular online grocery store that sells Indian products online. Desimart has a fairly extensive range of Indian groceries from topmost and regional brands, ready-to-eat snacks, cereals and food grains, religious requirements, sweets and tinned stuff, among other Indian products. Desimart promises 'Indian groceries in a click' to emphasize its swift delivery systems.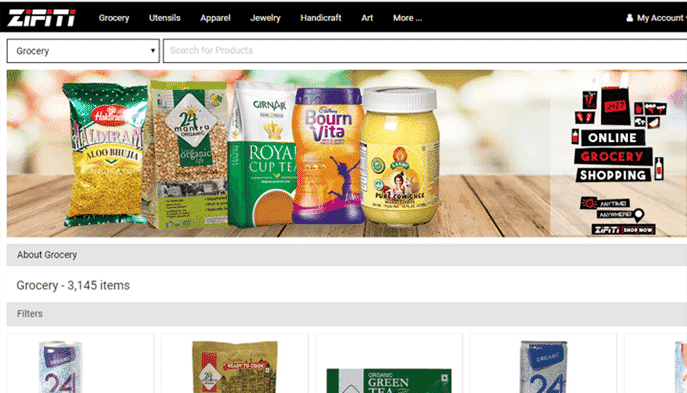 Zifiti.com offers a very wide selection of Indian grocery items as well as ready-to-eat snacks, sweets, Indian beverages, bakery products, cosmetics, health supplements and nutritional products as well as traditional goods.
Zifiti.com has a program which allows Indian vendors to register as sellers on its website. This program is aimed at making a broader range of products from India available to the Asian Indian community of the US. The company continually adds newer products to its existing portfolio.
Special Mention: Amazon.Com
Keeping in mind the huge Asian Indian population of USA, global online retail giant, Amazon also offers several grocery items from India to customers in USA. Understandably, the range of Indian grocery items offered in USA by Amazon is not as extensive as those of specialized stores catering to the community.
However, given the wide reach of Amazon in the American market and its extensive operations in India, the online store may soon step up its offerings of Indian grocery items in coming days.
Indian Grocery in USA: Pros & Cons
While majority of persons of Indian origin settled in US would love to get a taste of home, there are certain pros and cons involved in buying Indian groceries online. Here we take a look at some of these factors.
America's Food & Drug Administration (FDA) enforces strict regulations on imported food to ensure they are free of contaminants and harmful chemicals. Therefore, some grocery items you buy online in USA may taste different than in India.
On the other hand, groceries exported from India to the American market are generally of superior quality since companies wish to earn precious foreign exchange from this lucrative market.
Indian groceries in USA cost more. This is due to various costs such as logistics, storage and handling of products bound for sale in America. Hence, the price you pay is fairly reasonable.
Always check Indian products bought in the US for production and expiry date when delivered. Unless they have long expiry from date of purchase, do not accept them.
Never accept broken or tampered packages of Indian grocery since they could be contaminated in transit from India.
Read labels carefully when accepting deliveries of Indian groceries since many do not contain warnings for people suffering from various allergies.
Insight into Asian-Indians of USA
USA has attracted migrants from India since decades. Some migrated directly on basis of their parent working and residing in the US. Others arrived on shores of America as students and settled there after completion of studies. A large number of people from India were hired by US-based companies directly and call the new country their home, having acquired American citizenship.
A visit to any part of the US will reveal that people of Indian origin can be found anywhere. Predominant Indian communities living in the US include those from Punjab, Gujarat, Maharashtra, Goa, Kerala, Andhra Pradesh and Telangana and a large population from Tamil Nadu. Understandably, there are people of Indian origin from other states too.
Hence, grocery products you get online in the US will be primarily for these communities.
More Online Indian Grocery Stores
There are few more online stores in USA that sell Indian groceries.
Grocery On Wheels: Caters to customers in California state only.
Pushmycart: Sells online groceries from India throughout USA.
Bazaarprime: Claims quick delivery of Indian groceries in USA.
Desi911: Online Indian groceries delivered across USA.
Desiclick: Also sells seasonal Indian sweets, Yoga requirements and other ethnic products along with groceries from India.
In Conclusion
Any visitor to the US will be surprised by the number of brick-and-mortar grocery stores that also sell India-made food stuff and household requirements. They also offer online shopping for customers residing within a small radius of the store.
You can find such stores in every major city and town in the US where there are large concentrations of Asian Indian people. However, the range of products these small stores sell would usually be very limited and possibly geared for a specific Indian ethnicity.
Before concluding, we recommend you explore prices and free delivery options offered by various online stores selling Indian groceries. Location of their central warehouse also matters since delivery schedules will depend upon its distance from your place.
In recent years, several Indian entrepreneurs are manufacturing typical Indian products such as sweets, pickles and spice mixtures in US itself to sell to the wide Asian Indian diaspora. Some online stores selling Indian grocery items offer these excellent variants too at lower rates.