Website Flipping means buy and sell websites and it's just like any other flipping business where you buy a business at a lower price, add some value to it and then finally sell it for a higher price.
Buying and selling websites can be profitable if you know how to evaluate its worth.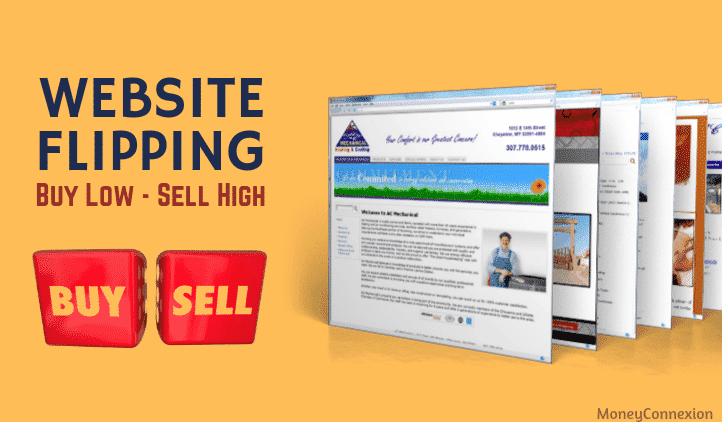 Let me give you an example. Take real estate, where you first buy a property at a lower price, you hold the property as the rates appreciates 2 to 3 times and then sell it off to a customer.
Take another example of flipping cars. You buy a used but a decent car for say $3000, you spruce up the car by spending another $1000, and then finally sell it for $6000. Approximately, you earn a profit of $2000.
Well same thing you're going to do with websites flipping.
You can buy cheap little websites on platforms like Flippa & EmpireFlipper, turn around and sell them 2 to 3 times profit after some time.
To put it simply like any other flipping business, website flipping business also involves three most obvious steps.
Step 1: Buying the Website: This is a very long and exhaustive process, where you buy a right website at a right price after rigorous due diligence. In fact, 60% of this article is about how to buy a website.
Step 2: Curating the Site: Here you add value to the site with minimum investment.
Step 3: Selling the Website: Finally selling it smartly at a higher price to a bidder.
It is as simple as that!
How to Buy and Sell Websites for Big Profits
To be honest buying and selling websites in a marketplace isn't something that you can do overnight, but if you invest some time and energy then you can turn around things pretty quickly and earn a sizable profit.
Initially start out with buying & selling small websites, once you are well established, you can make big investments buying websites in bulk.
You don't have to spend years and thousands of dollars to learn website flipping. You can get started within few weeks with as little as $100 or $500 at max.
You just have to build a portfolio of 5 to 10 websites. You flip 2 to 3 websites, take profit with these website and buy 3 to 4 more websites. You keep on doing this until you build a massive portfolio of 30 to 40 websites.
If you are buying and selling 30+ websites monthly then you can easily amass well over $10,000 per month.
Even if you are unable to make $10,000 a month you can still make enough money to pay your utility bills at least.
And believe me! It is going to be on autopilot!
Prerequisite
To start a website flipping business you must have some exposure to blogging and internet marketing.
We are not expecting you to be a technical expert but you must have spent some time blogging and appreciates how internet works.
An idea about buying domains and hosting a blog/website on CMS like WordPress would make things easier for you.
If you don't know about these things but still you want to be a website flipper then I would suggest you to first learn the basics then get into this business.
Where to find a Website to Buy
So let us get started!
Where are you going to buy and sell websites?
Well there are two types of places, marketplace and brokerage.
What is a difference between a marketplace and a brokerage?
A marketplace is a platform that allows buyers and sellers to connect with each other. It is an auction site where you can list your website for sale and buyers can directly reach you out if interested through the same platform.
There are hundreds of marketplace available out there on internet like Flippa, EmireFlippers and others, but we will be using Flippa here in this discussion as an example as it is one of the best place buying and selling websites.
Marketplaces like Flippa doesn't have a selection process. Anyone can post anything. So it means anyone can post a website for sale and anyone can buy it.
But on the other hand, a brokerage is something like FE International where they don't allow just anyone to post websites for sales. Brokers employs sophisticated set of formulas and use standardized methodologies to value a website. They have got thorough selection process.
In other words, a marketplace tends to serve at a lower end of the market but brokers cater to higher end of the spectrum.
We will be dealing with a marketplace like Flippa to run our flipping business and not a brokerage firm.
About Flippa
Flippa was founded 10 years ago in 2009 and since then they have traded websites, apps, domains worth over $250 million.
At Flippa you can buy and sell websites, domain names, apps and Amazon FBA. There you can find websites ranging from $1 up to $1 Million.
Pros of Marketplace
Why a marketplace and not a brokerage? Here's why.
Marketplace allows website owners, site buyers and other investors to connect with each at one place.
Marketplaces tend to have a bigger inventory and the size of their user base. Hence, flippers like you and me can easily buy & sell sites at our will.
Marketplaces have less red tape and hassle free process from listing the site to getting paid in your account.
Cons of Marketplace
You also need to learn other side of the picture.
There is a chance to get scammed especially if you are beginner. However in this article we will ensure that you don't get scammed.
There are thousands of websites listed on Flippa (more than 5000) so you have to hunt for quality sites. They are not readily available.
The help or support given by Flippa is limited as compared to a Brokerage firm where they arrange a dedicated person who is going to talk to you.
The main drawback is it's still an auction. It means you're competing against fellow buyers instead negotiating with an owner. Value of the site changes based on what people feel on a given day and that's not good.
How to Buy a Site from Flippa?
Buying a website would be a long drawn process. At a very early stage, a successful website flipper has to realize that the profit they are going to earn will depend upon how low they buy a website.
Hence, you have to follow a due procedure every time before you buy a website.
Although you can buy a website from any given marketplace but here we assume as a beginner your first choice would be Flippa.
So down below we show you how to use simple filters to sort websites that you don't want to buy otherwise.
Applying these filters will ensure that you can narrow down your search to not only avoid scams but also find most appropriate website to buy at the lowest price.
Asset Type
At Flippa you can sell not only websites buy also apps, domains and Amazon FBA. However here we are only concerned with websites.
So you need to choose websites and discard other businesses.
Niche
Down below, under the Website Filters in Vertical section choose a niche that you want to buy a website in. Niche is very important because you do not want to buy a website in a niche that you don't know about.
If your target niche is Health and Beauty then be specific whether it is weight loss or Bodybuilding. Although both are related but objectively weight loss is different from Bodybuilding.
Website Types
In Website Types there are two main categories that you need to choose from. Content and ecommerce!
If your expertise is content then be specific while choosing either a Blog or Forum/Community. You can deselect Forum or Directory sites if you don't know to run them.
However, if you are planning to buy a site selling ecommerce merchandise then choose specifically the type, digital products or Dropship?
Do you want to buy a site that sells a specific service or a site that is strictly content based? You got to use filter accordingly.
Age
Do You Want To Buy A Starter Site Or An Established Site? Minimum age of the website must be 2 years.
If you are comfortable with buying sites 3 to 5 years old then it is even better. You want to buy a website that has some business history tied to it.
Revenue Sources
You want to buy a website depending upon its revenue source. If you want to optimize the site for contextual ads then you may select "Advertising". But if you want to generate income through affiliate sales then select Affiliates.
A content based blog/site is more appropriate for making money with display ads than affiliate marketing. So choose accordingly. If you want to know more about affiliate marketing then read here.
AdSense is much stable than any other revenue source.
Verified Traffic & Revenue
Flippa verify the traffic data with the help of Google Analytics account of the user. And same with the Google AdSense. So you get the proper verified data on Flippa.
The sites showing in the results give you stats like financials, traffic and business model which is verified by Flippa.
So this was very rudimentary way to sort websites. The really research starts from here on.
Performing Due Diligence on the Website
After applying various filters, Flippa will show you a list of websites in its search results. Now you have to perform further due diligence on each of these websites before you buy one.
There are 3 important parameters on which you are going to test each website. They are SEO, Traffic and Income.
Let us look at them in great details!
1. SEO
In order to check a website for SEO you must have right tools with you. There are many SEO tools available in the market but I personally use either AHREF or SEM Rush.
You got to examine each website for following variables.
a) BackLinks/Outgoing Links Profile
How did they build their backlinks?
Check what sorts of Backlinks are pouring into their websites. Are these links coming from high authority sites or the owner is using crazy link building techniques to build low quality backlinks.
LINK SCARENESS if black hat seo techniques or PBN (Private Blog Network) is used to build backlinks.
Has the site have already been penalized by Google?
Does the site have good spread of links rather links coming from controlled network of bloggers?
Quality backlinks coming from authority (high DA/DR & high traffic) sites is very important. DoFollow links are better than NoFollow links.
If you perform Backlinks analysis thoroughly then all the hard work is done for you.
b) Domain
Prefer a .com domain which is at least 2 years old. Google loves old domain with some authority to it. You can verify domain age at Whois or check its history at Archive.
c) Keywords
Find out for what keywords a particular website ranks in the Google Search. The website must contain all the necessary high traffic & high CPC keywords in your niche.
Keywords in domain name or URL is good for SEO.
Also make sure that all the important keywords are distributed appropriately in the content and metatags of the site. Traditional SEO and organic traffic is the best!
d) Speed Test
Perform Speed Test Google PageSpeed Insights at GTmetrix. Loading time of the site must be in milliseconds. Check specially mobile speed because more than 70% traffic comes from mobile.
2. Graph & Charts
Analyzing graphs and charts for Traffic and Income of a site is the most important part of a due diligence process.
Due diligence is directly proportional to amount of money you are spending, more the money you spend buying a website more the due diligence.
As a rule of thumb you want a graph that shows gradual and consistent growth in traffic/ income over a period of time.
A graph that is going up can be a trap. You need to further examine the data. Sometimes high growth is not good. If it is going up really fast then you need to analyse the reason behind this.
The growth in traffic or income must be steady and not in spikes. Spikes are fake because sellers can use Black Hat SEO techniques to spike the traffic for just few days. After some time it goes away.
In general there are 3 kinds of chart patterns
Going up fast, a Spike
Stagnant, a flat line
Zig Zag
Go for slow and steady growth.
3. Traffic
If you are buying on higher end like $1000 – $2000 websites then you must ask for access of Google Analytics data live through Skype or Facebook Live.
You need to tell the seller to login to their Analytics account and walk you through all the stats that you would like to see.
You need to ask
What type of traffic does it have? Are there any anomalies? Ask the owner why traffic is low for a particular month.
Is traffic coming from Paid campaigns? For example if you have 5000 visits a day and out of it 4000 are coming from Pay Per Click campaigns then the warning lights should come on.
Is it consistent? Is it organic? Because organic traffic is the best traffic. For any website 70% traffic must come organically.
What about the bounce rate? If it is high then there is a problem with the site.
What are the keywords that the website is ranking for?
If the seller says no then think about not buying the website because they could have something to hide.
4. Income
Similarly verify income of the site.
Find out how are they making money, who the target customers of the website are and what do they want?
Are they willing to buy things or just want to spend some on the website and go away?
This will help you to know whether the income is coming from Affiliate marketing or Google Adsense.
You are going to buy a website only when you know the revenue streams. You can't buy a website that is monetized for Google Adsense and expect to make money with an affiliate program after you buy it.
What kind of products are they selling?
What are the marketing methods they implemented?
What are the monthly costs to run the website?
Why was income low or high for a particular month?
Ask the owners if you can get access to their Google Adsense account or their PayPal account to verify website's income.
Income growth must be steady and not very high in one month of the year and very low in another.
For example with 30000 page views a month the site is earning $3000 a year. Then something is wrong. He should be earning $1000 a month.
So this should be your standard operating procedure for performing due diligence for every website.
Identifying Low Hanging Fruits & Buying it According to Skills You Are Good At
So First look out for Low Hanging Fruits like
The site has an established audience and already indexed by Google search engines.
Site receives decent traffic but income is very low. For example, if a site is receiving 30000 pages views a month and the earning is some $250/month, then you can tweak and earn $1000/month.
Owner of the site doesn't update the site regularly and he/she's not making enough money from the website.
If you find an old blog that has not been updated for years and you are interested in the niche then you can take the content and run with it.
The overwhelming wisdom is to choose a highly-targeted niche. Cornering a niche means cutting out a huge swath of competition. The niche should be highly targeted and people would love to read.
The key to buying a flippable website is to buy it for less than what it worth's.
Before you buy a site, you should be able to see it and tell what are those 3 areas where you can work on and add value to it?
If you are a:
SEO guy then you can tweak SEO for the site.
Great web designer then choose a website with poor web design and enhance it.
Affiliate marketer then look sites with good quality targeted traffic.
Blogger and AdSense expert then look for original and great content.
SEO Tweaks
You can tweak a website for things like Website Structure, Loading Speed (you can optimize and compress images), Improving bounce rate.
Fix all the URL structures, if not fixed all of old URL structures will lose their rankings in Google and lose traffic.
Fix crawl errors like 404 pages or 301 redirects.
Keyword Research
Use SEMrush or AHREF and find out the type of keywords the website is ranking for.
It is better to rank 1st for 90 monthly searches than ranking 10th for 1000 monthly searches. If you can rank first for small ones like this then traffic will increase.
Targeted traffic with local keywords like Florida, Texas etc so you can make more money on Commissions.
Check for competition using Market Samurai or AHREF to outrank competitor's sites.
Choose a site that you can rank it at 6 or 7 position without too much of hard work.
Design Tweaks
Check the design of the website if you can add themes and plugins to make it more professional.
You can buy a good HTML site and transfer it to a WordPress blog because it is easier to add blog posts, edit and optimize for Google.
Fix web pages which are orphaned, messed up and you couldn't navigate through those pages.
See if you can also add various WordPress themes and plugins to make it mobile responsive, fast and make it more appealing.
AdSense and Affiliate Marketing Tweaks
You can optimize sites that are monetized with Google AdSense ads. You can tweak their layouts and design to increase CTR & RPM.
Sometimes owners are not knowledgeable about the affiliate marketing and you can do a lot of simple tweaks to the site to make it more profitable.
By doing simple tweaks you can double the traffic in just few weeks.
If you are a SEO guy then look for sites where by doing simple tweaking you increase the revenue 2 folds. Similarly a web designer can look into designing aspects of the site.
Valuating a Site Appropriately
Once you are done identifying low hanging fruits you need to valuate the site so that you can buy the websites at a much lower price.
As a beginner you have to learn how to valuate a site so you don't end up paying more. Webite flipper's profit will depend upon how well they are able to valuate a website.
So how much do you pay for a website? How do you value a website?
You figure it by estimating how much earning the site generate and multiplying it by a multiple of 2, 3, 4 and even 10.
You look back at previous several months usually last 12 months of net income of the site. Then you are going to take average profit of 12 months from the site and multiply by a multiple depending upon whether the site is growing or shrinking.
So what should an appropriate multiple be?
Multiplier solely depends upon how good a site is. If the site generates revenue from recurring payment like a membership site then it goes for a higher multiple.
So the multiple can be 30 which means if the monthly income of the site is $1000 then the right value for which you can buy the site would be $1000 X 30 = $30,000.
If the income graph is zigzag then multiple is lower like 10 to 12. So for $100/month income value of the site would be $100 X 10 = $1000.
A good deal is when a site makes $50/month and you are able to buy it for just $500. A multiple of 10 to 12 times for a fairly decent site is a great deal.
Recently I bought a website earning $133 a month for $1500, 12 times more which is really a good deal. But usually in the marketplace the multiple can be 20 to 30 times.
At Flippa, multiples can be lower for high range websites and for low end websites you get higher multiples.
For example multiple of a website with monthly income of $100 can go up to 20 to 30 times worth $2000 to $3000. But multiple for a site with $1000 monthly income is just to 15-18 times worth $15,000 to $18,000.
So you have to decide what is your budget and kind of website you want to buy. You have to be realistic about valuation of the website.
For valuating a website depending upon its traffic and income you can visit WorthofWeb.com. You can get a fair idea from this.
Due Diligence combined with appropriate valuation separates the successful flipper from the unsuccessful ones.
New flippers must realize that it's important to keep your first purchases low so that you get a better understanding of how the entire process works and more importantly you don't take yourself out of the game with a major loss.
Avoiding Scams
Although due diligence will eliminate any chance of buying fake sites but still as a newbie you need to be extra cautious while sorting websites at Flippa.
You need to beware of fake traffic and income even if a website is verified for both by Flippa. We still can't be sure because Flippa can't check every website manually.
You should always request owner of the site to access their Google Analytics or Adsense account and walk you through all the necessary data. They can do this live via Skype. Take your time and examine every small details of the site.
You must look for signs of foul play like spotting fake hike in traffic, increase in bounce rates and income.
If sellers refuse to do so then don't go any further with the deal.
Also take advantage of Public Q & A which allows an entire community of buyers to scrutinize the site and ask questions collectively. This help to spot anomalies and other suspicious activity to be brought to everyone's attention.
You can also ask questions directly to the sellers via Skype or on phone.
You can't take sellers at face value on what they are saying in their listings.
Always perform thorough background check.
Finalizing the Deal to Buy a Website
Now you can take a sigh of relief as you are through with all the necessary steps for a buying a right website at a right price.
You can just place a bid and get site transferred to you.
The seller will transfer the ownership of the domain to you and then move files to a hosting account you own.
Ask the seller to back up the entire site just in case!
Use "Buy Now" option for buying lucrative websites which are at a low price before big players come in grab it.
You can also buy directly from the owners. You can approach them on their Facebook profile and pitch them a story. Do not email them because they might think you are spamming them.
What Payment Method Do You Want To Use?
While buying from Flippa or other individuals always use an escrow service like escrow.com, they got pretty well defined process.
Don't lose a great website on some dumb negotiations.
So this is how you are going to buy a website!
Adding Value to the Website
The whole notion of website flipping is buying low and selling high. You have to keep cost low not only when you are buying but also when you are adding value to it.
You have to consider further extra cost which will be added to your balance sheet. Hence your goal is to keep the added cost to minimum if not zero. Is it possible?
Yes, as a beginner you have to look for ways where you don't have to spend any or very small money on adding value to the site.
Content Strategy
Any newly bought site needs content. Today Google is not going to rank your site if it doesn't have quality content that people will actually love to read. Good content can bring down bounce rate to minimum.
Either you can write content on your own or hire someone else to write it.
If you're writing on your own then you don't need to spend. Otherwise you can hire writers from Freelance websites and pay them to write.
Try to find a good writer who can write a quality 1000 words post for $5. There are many new writers who are looking for an opportunity and willing to write at a low price.
Look out for such writers rather experienced ones. 10 to 15 good and detailed articles would be just fine. Overhaul the entire content and make it more readable.
If you bought a website for $400 then you are not going to spend more than for $100 on creating content.
SEO Strategy
SEO strategy would be free because most of the tweaks can be done by you. Most of the traffic is going to come from Google Search engine.
1. Keyword Targeting: As a beginner you must go after long tail keywords. You can easily beat competition if you are targeting long tail keywords even if it receives low traffic. For thorough keyword use tools like AHREF or SEMrush.
2. Backlinks: To keep it simple, you need quality backlinks from high DA/DR websites. If you can managed to get DA 60+ links then it can boost the traffic very fast. What Google loves is natural backlinks and not spammed ones.
3. Link Structure: A Crawlable link structure where readers can navigate through your web pages easily. Sort out all the orphan pages.
4. URL Structure: Poor URL structure and design can lead to negative user response.
5. Tags: Title tags are not just for SEO but also for branding purposes. So it must reflect the content of your site. It should not be more than 75 characters and contain necessary keywords. Don't ignore meta tags because they are proxy for your website's information.
Design Strategy
You can also tweak design of a site without spending a dime. A great design can further reduce site's bounce rate.
Make sure that
Design of the site is visually pleasing. No pop-up ads, banners and carousels. They just increase the bounce rate.
Speed – Better avoid using CSS or Java. Images are another reason that reduces loading time. Hence, reduce their size before you upload them. To increase speed, place your website on a cached format.
Mobile Optimization – Most of the traffic is going to come from mobile phones like iPhone and other Android devices. So use all the necessary plugins to optimize your site for handheld devices.
If the website is not a blog then you can add a blog to your website to look more legit and get more search traffic.
If you have issues with designing then you can seek freelance help from Fiverr or Upwork. However you should spend not more than $50 on designing.
Marketing Strategy
You don't want to waste hundreds of dollars on running crazy campaigns like buying Likes from Facebook or spending money on Fiverr to get traffic.
Just create a Facebook page, Twitter and other social pages and update it regularly. You also try to promote your social pages organically so that you can get more social traffic and more love from Google.
Total Cost
So if you calculate the total cost of adding more value to a website that you just bought for less than $500 then it must not be more than $200.
In case you think, there is a good potential in the website, you can invest more so that you can make it more profitable.
After 2-3 months of hard work, if the website start getting more traffic and profit you can think of selling this website.
Next I am going to explain you on how to sell a website.
How to Sell the Website
If the total cost of buying the website and adding value to the site is around $750 and if you are able to grow revenue of the website to double then you can easily sell this site for more than $1500.
Just because selling a site doesn't involve any due diligence or looking out for scams doesn't mean that the selling process is going to be straightforward.
Although it is going to be relatively easier than buying but still you have to do a lot of things to sell a site profitably.
First you have to collect all the necessary data required to present to buyers like traffic, income etc and then list the site on Flippa in a way that it stands out from the rest of the sellers.
Your listing on Flippa must get potential buyers who'd willing to buy your sites. So selling has to be done smartly.
Preparing to Sell
Selling preparation is absolutely critical because you will decide what important things about the website that you are going to present to potential buyers.
Is it traffic or AdSense/affiliate income or SEO friendly design of the website? You got to decide and showcase likewise.
If you are selling a content site with display ads then you need to show your AdSense income. But if you don't use contextual ads and sell products through affiliate marketing then show the income generated from the relevant affiliate network.
However, if income is not that great but the site receives decent traffic then focus on the traffic. What if neither traffic nor income is as good as to show?
In that case, you can focus on other USPs like SEO friendliness design of the site. Or the site doesn't really need any maintenance and buyers don't have to put in any work to keep it profitable?
Tell them that you are going to continue helping them even after sellers have bought the site.
To put it simply you have to spotlight what your site is good at? It's that simple!
But first give Flippa access to your Google Analytics account so that Flippa can verify your traffic and income data. Verification is a must!
Essential Material Required for Proof
You are going to give all the necessary details but hide sensitive details for more serious clients.
What to Show
While selling you have to put yourself in the buyer's shoes. As a buyer you did all the due diligence and must expect the same from the buyers of your site.
So the first thing they will look at is legit proof for traffic and income of the website.
Here are few things that you need to muster
Screenshots/Screen captures of traffic data from Google Analytics and Income from Adsense, Amazon, PayPal or other relevant account.
Just screenshots are not enough you also need recorded videos where you are showing all the relevant statistics.
Include Statistics with most up-to-date metrics on page views, unique visitors, gross revenue, and net profit.
A spreadsheet showing profits and losses of last 12 months.
You must be willing to walk through a live video of showing statistics & data from all the relevant accounts like Google Analytics, AdSense, Amazon etc.
Gather any other proof you might need.
What Not to Show
You are just going to show numbers for income and traffic. But you are not going to show type of products you are selling/CPC/CTR or specific details from where the traffic is coming.
Details of marketing campaign you ran to get the traffic.
Other post auction work like helping them with the site after it is being sold.
You are also not going to show name of the sites from where you are getting backlinks.
You will hold these details for more serious clients.
Listing Your Website on Flippa
For selling you have to list your website on Flippa. As I said on Flippa there are thousands of sites listed but only few gets sold.
Hence you have to list in a way that it gets noticed by the buyers quickly.
Write a compelling title which gets into the details like use decimal in showing traffic or income figures.
Highlight the USPs of your website.
Answer all the questions that are being asked about your business.
Create a Robust Description with more than 300 words. Unsuccessful auctions on Flippa have very little information. Full blown details with bullet listing.
Don't Be Anonymous – Put a face to your name by linking to your social media accounts, Linkedin profile or blog.
Allows you to pick auction settings, including the starting price, auction type, and auction duration.
Tell them a story why are you selling. You should sound genuine and not come off as a pusher.
Limit your auction to 2 weeks.
Closing the Deal
Set a bidding price, in this case it can be $1500. Notice how bidders are reacting to your listing.
If you find the bidding price is going to cross $1500 level then increase your auction price. Once you find it is not going to go up then sell the website and close the deal.
You have to use an Escrow account to complete the transaction.
You also have to pay a cut to Flippa from you profit.
That's how you buy and sell a website! Happy Flipping!