The dependence on entertainment through online streaming platforms, mainly YouTube and Twitch has been growing exponentially since 2020.
Many of people are also monetising their Twitch and YouTube accounts to generate income. Not only Twitch is an amazing platform to make money, but just like YouTube, here you can also engage with your fans and followers through live streams.
Nobody wants slower streams. As a matter of fact, people's attention spans are also reducing. The human attention span is less than nine seconds in 2023, according to various sources.
Before 2020, the average human attention span was 15 seconds.
This means anyone streaming audio or video has to attract listeners and audiences within the first few seconds of expect to lose persons that could've been followers.
Nowadays, audiences also want engaging and interesting content that they can easily share with relatives and friends. This puts an added burden on both viewers and broadcasters. What does one do in such situations?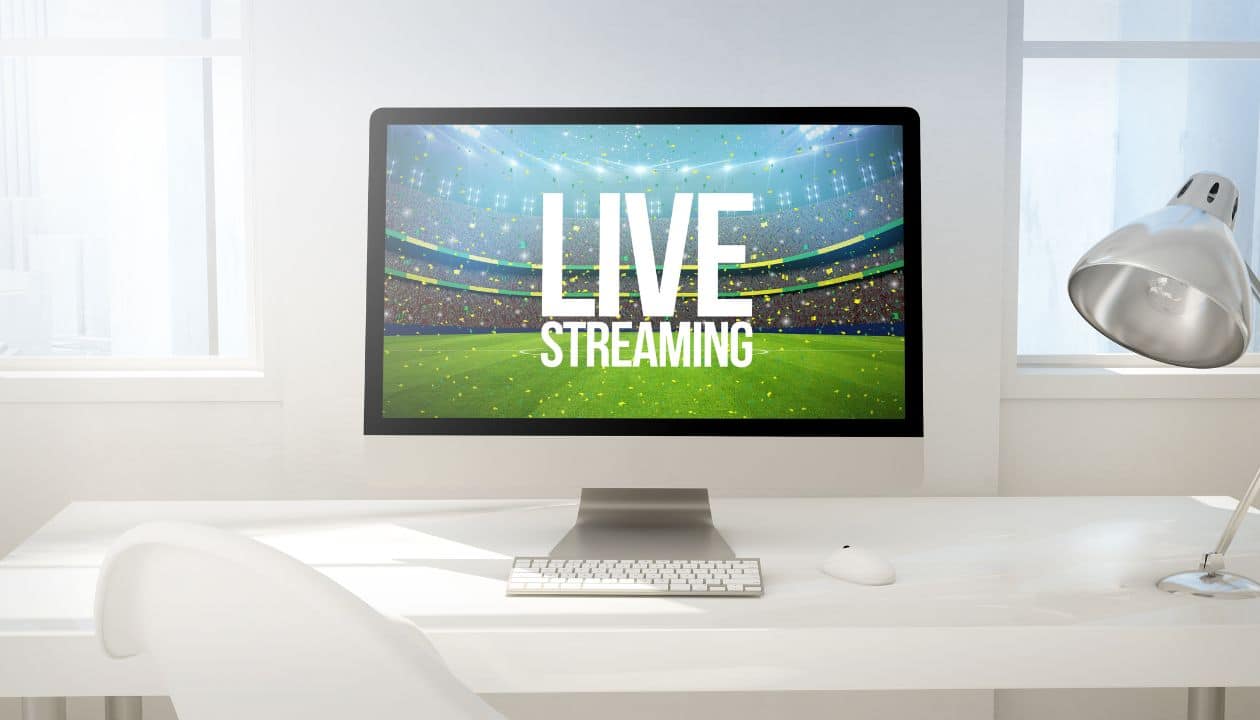 Table of Contents
Streaming Software Provides the Answer
In such a situation, using the best streaming software is your only option. There are plenty of free streaming softwares available online.
Especially for live streaming of videos and audio, video streaming software can ensure there are no delays due to slower Internet connections or other reasons. 
One of the phenomena that you might definitely be experiencing nowadays is slower streaming and slackened Internet speeds.
Obviously, with almost everyone going online at the same time to watch movies and shows or listen to music, Internet speeds are bound to slow down.
And with countless people trying to view the same movie or show at any point of time, you would surely encounter difficulties in clear viewing.
All these issues related to streaming have an answer: using any of the nine best streaming software, that's available for free or at affordable subscriptions.
Understanding Video Streaming Software
If you're a fresher, you might not clearly understand what's streaming software. Actually, it's a kind of software that allows you to provide live streams and telecasts without buffering, delays, and other interruptions.
In fact, they allow seamless and hassle-free viewing or listening.
Such software is commonly used by both live streamers and viewers who wish to watch or listen to shows without any disturbances that may arise due to a large number of people trying to watch or listen to something all at the same time.
Nowadays, you can use streaming software to broadcast videos directly from a camera, smartphone, CD or DVD, and other video sources, as well as live events or gameplays.
These broadcasts are mainly accessible on Twitch, YouTube, Facebook, and other social media platforms.
Best Streaming Software for YouTube & Twitch in 2023
Regardless of where you live, using the best streaming software can provide a wonderful viewing or listening experience.
Therefore, in this article, I will discuss, in detail, the top nine streaming software that you can download for free or use through subscriptions.
Therefore, here's my curated list of the nine best Twitch streaming software and YouTube streaming software for 2023.
Some of these are amazing game streaming software that you can use for live streaming of games on Twitch.
1. Restream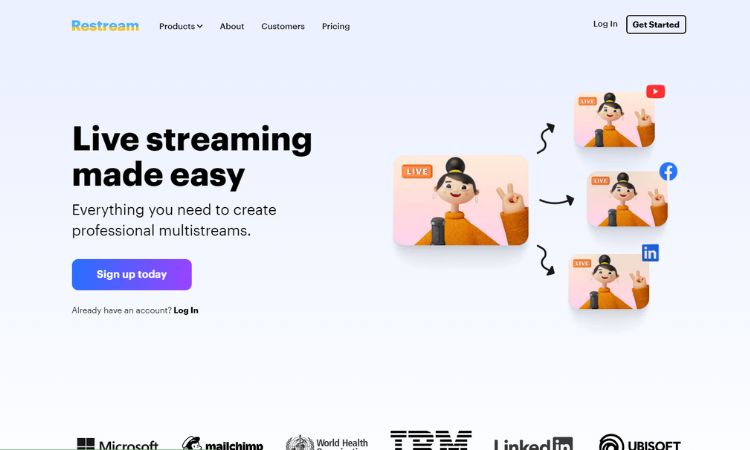 Restream is a cloud-based streaming software that offers two versions: a free option and a paid subscription. The paid version starts at $16 per month for the Standard version and goes up to $249 per month for the Business version.
It allows you to stream music and videos on platforms like Twitch, YouTube, and Facebook and can be integrated with other streaming software like XSplit, OBS Studio, and Elgato. Restream offers real-time platform and channel switching, allowing you to edit or add channels while streaming live.
You can also schedule and announce future streams and use the dashboard to analyze data like viewer count, location, and peak time. Other features include the ability to stream up to 50 videos simultaneously and a chat box for comments during live streams.
2. OneStream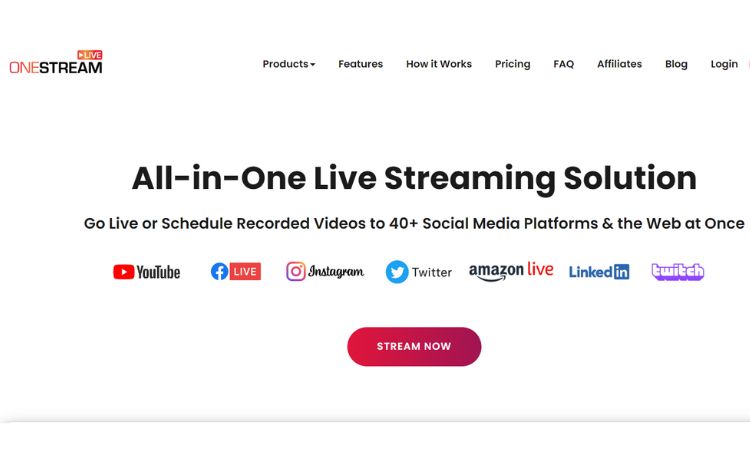 Next on my list of best streaming software for Twitch and YouTube ranks OneStream. This streaming software allows you to broadcast or stream live as well as recorded videos.
And you could also broadcast them over as many as 40 different social media platforms.
If you'll be broadcasting pre-recorded videos, it's possible to schedule your streaming to almost every social media platform as much as two months or 60 days in advance.
You can also integrate OneStream with other streaming resources for multiple broadcasts where necessary. OneStream offers ease of scheduling pre-recorded videos for your broadcasts.
All you need to do is upload the video recording and select the time, date, and audience that will receive the broadcasts. It also enables you to broadcast over Twitch, YouTube, and Facebook, among other social media platforms. 
Additionally, you can add several team members to handle your account, though the master control would remain with you. OneStream, being cloud-based, doesn't require you to download any software on your computer.
You can use the free version of OneStream that allows you to broadcast a stream for only five minutes over one social media account.
However, they also offer various subscription plans, starting from the Basic at $10 per month to Professional at $89 per month.
3. Wirecast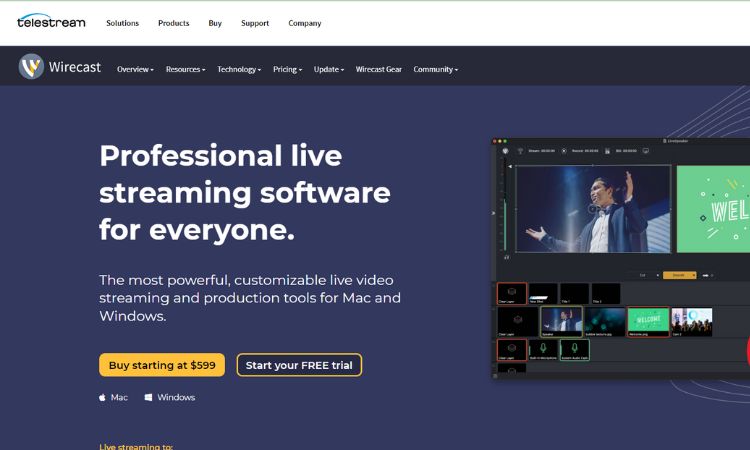 Wirecast is a highly recommended streaming software that offers high-definition TV-quality broadcasts and production capabilities. It is perfect for those who plan to provide on-demand broadcasts on platforms such as Twitch, YouTube, Facebook, and other social media sites.
One of the standout features of Wirecast is its interactive user interface (UI). This allows you to easily customize live feeds by simply connecting your camera and microphone. The UI also includes an automation feature for encoding and broadcasting your live streams to a wide audience on various social media platforms.
Wirecast is commonly used for broadcasting various types of content, including TV shows and movies, news, sports events, religious services, and radio programs. Additionally, it offers a free iOS camera app for capturing video on the go and the ability to stream to multiple destinations, including any RTMP destination.
Wirecast also includes a feature for embedding live captions, making your videos more accessible to viewers with disabilities. It also offers ISO-quality recording for all live video streams, as well as a multiple-viewer option for monitoring up to 17 different grids. Additionally, it provides a stock media library with assets such as videos, graphics, backgrounds, and pictures.
While Wirecast is a bit pricey compared to other streaming software options, it offers a range of advanced features and capabilities. The Wirecast Studio version costs $599 per month and offers high-quality live production and streaming, while the Wirecast Pro version provides even more advanced features.
4. XSplit Broadcaster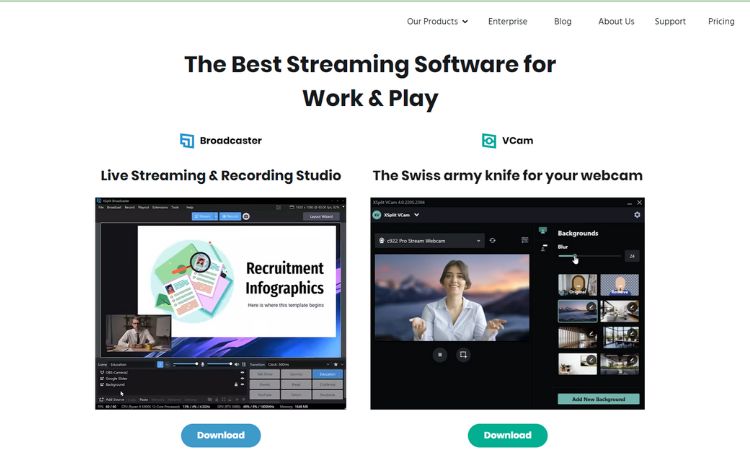 If you're into making and streaming gameplays for Twitch and YouTube, the best software for you is the XSplit Broadcaster.
It enables you to record or telecast live any gameplay. You can start live streaming or even play recordings within a few seconds. XSplit Broadcaster was designed with gamers in mind. 
It has a Heads Up Display that enables you to interact with your audiences or viewers. This HUD is incorporated into the game.
Therefore, you can chat with viewers, pause your broadcasts where necessary, and track occurrences while streaming live or recordings. XSplit Broadcaster also has a panel that allows you to track the number of viewers at any point in time.
XSplit Broadcaster comes with the Projector Mode. The Projector Mode lets you show multiple scenes to devices connected to a computer during streaming. Additionally, it is capable of encoding your settings.
Moreover, its features help you select the best video quality of up to 4k60 Frames Per Second merely through its dashboard.
During live streaming or recording videos, it's possible to use the whiteboard and stream annotations for illustrations and live analysis of any games.
There's also a feature to check the number of viewers and find out how many are already subscribers and newcomers while tracking chats.
You can use XSplit Broadcaster for free but with limited features. The Pro version comes affordably at $2.50 only per month.
5. Streamlabs OBS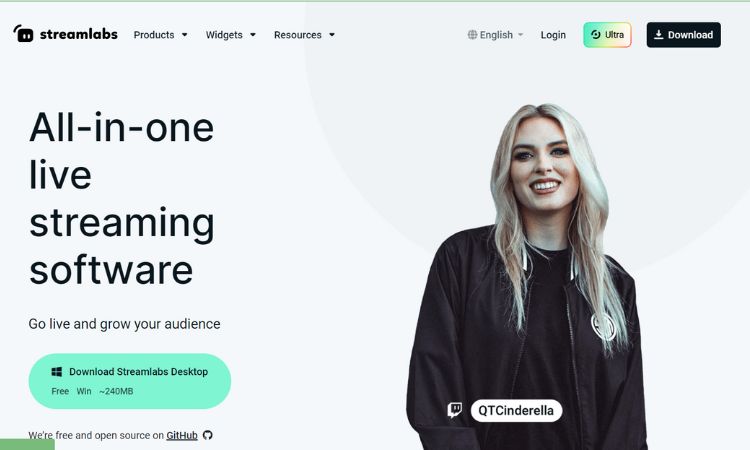 Cloud-based Streamlabs is also a superb streaming software that supports live and recorded streams for Twitch and YouTube as well as Facebook Live.
It has a built-in apps store with as many as 46 different apps that you'll find useful for automating your streams, data analysis, interacting with audiences as well as multiple-platform streaming.
During live streaming, you can also use the "BRB" (Be Right Back) screen to take a pause or the "Starting Soon" screen to inform your viewers that your streaming is about to begin.
Major key features of Streamlabs OBS include a widget, which allows you to select one or more themes for a broadcast, visual layouts for various games and genres of broadcasts, the facility to go live and record live telecasts, multi-screen monitoring, and superb dashboard.
You can access all these without using the Internet browser on your computer since Streamlabs OBS is cloud-based.
The best part of Streamlabs OBS is that it comes free of cost. However, you can also opt for the premium features at a subscription of $12 per month.
This amount gets billed annually, which means you need to take a 12-month subscription. Premium features on Streamlabs OBS include more apps, professional themes and widgets, mobile streaming, and a special domain.
6. Open Broadcaster Software (OBS) Studio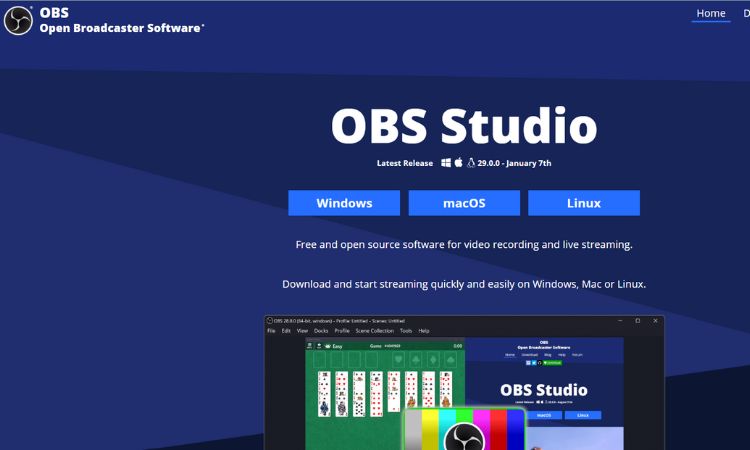 If you're looking for open-source streaming software, OBS Studio could meet your needs. OBS Studio provides cross-platform streaming and recording platforms.
This means you can also get the facility of superior quality video and audio editing, recording, and mixing, all in real-time.
OBS Studio makes it possible for you to capture various windows of your computer, customize scenes, add images, connect with webcams and data cards, add text, and more. 
Since OBS Studio is open-source software, you can change the scenes frequently during a single broadcast. It's also possible to use transitions during both live and recorded telecasts.
Additionally, it comes with a wonderful mixer that allows you to mix sounds, suppress noise, and more. In fact, you remain fully in control of the audio and can alter it during a broadcast, even if it's recordings. 
The modular dock UI allows you to arrange the layouts to display your branding. For superior customization, it's possible to display all individual dock windows at the same time.
The Studio mode enables you to make last-minute alterations and adjustments to living or recorded streams while the hotkeys function provides you the facility to switch, start or stop a broadcast, or mute a scene or audio source.  
OBS Studio has a multiple-view facility, which enables you to watch and monitor eight different scenes at the same time. It comes with customizable transitions to switch between various scenes.
This streaming software is free of cost and works well with Windows, Mac, and Linux.
7. Twitch Studio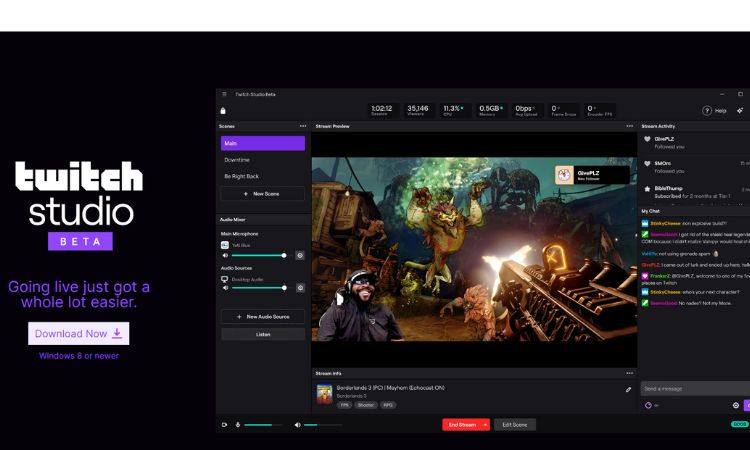 Twitch Studio is especially for gamers who wish to broadcast on Twitch. It is a free streaming software and, hence, very popular among gamers.
It was specially developed by Twitch itself. Twitch Studio is a free streaming app. You can live stream directly on Twitch using this company-developed and owned app. 
Twitch Studio provides a superb panel to enable you to broadcast live streams. Additionally, the software guides you about how to set it up for optimal use and clear broadcasts.
You can use its features, such as automatic hardware detection. Using their recommended settings enables you to personalize your content, making it appear very professional. 
This makes it possible for personal branding of your streams and recordings. You can personalize anything from scenes to audio mixing.
Twitch Studio comes with an in-built desktop capture facility that enables you to share videos directly from your computer on Twitch without the need for recordings or pre-production arrangements.
Twitch Studio makes it possible for you to give branding for your video streams, either for creating a personal brand or for your business.
It connects easily with iPhones and iPads. This feature enables you to mix your scenes and broadcast them immediately through live telecasts.
Moreover, Twitch Studio has in-built activity feeds. You can also monitor chats and alerts from the audience.
Some of the salient features of Twitch Studio are its multiple stream layouts, activity feeds, and chat-widgets for live comments and reactions you'll receive from audiences during a telecast. Twitch Studio is available free of cost and supports both Windows and Apple OS.
8. vMix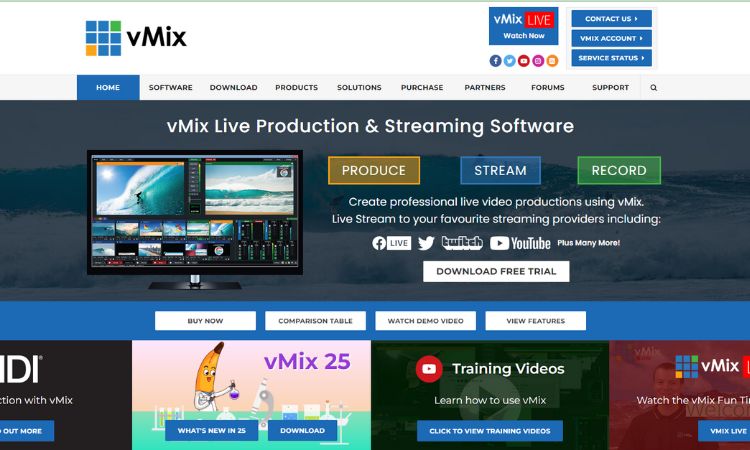 Actually, vMix is a video mixing software that also helps you to live stream videos directly from your camera, mobile phone, and computer.
It provides superior-quality HDTV-type streams to your audience. vMix also makes it possible for you to play recordings, switch videos or live to stream them in 4K formats where necessary.
It accepts videos from multiple formats, including computers and cameras, images, CDs and DVDs, PowerPoint presentations, video files on memory cards, and more.
Some of the salient features of vMix are that it can support a wide range of formats of videos, including but not limited to AVI, MP4, H264, MPEG-2, WMV, MOV, and MXF.
It is also possible to stream multiple recordings and live telecasts at the same time. 
Furthermore, vMix comes with a library of 13 transition effects. These include the regular cut, fade, zoom, wipe, slide, fly, fly-rotate, cube, cube-zoom, and more.
You can get 3D acceleration and zoom effects for 3D with vMix. Basically, vMix helps you to create and stream HDTV-like videos from a computer with superb ease.
Its in-built library consists of over 100 animated titles, stickers, pictures, designs, clipart, and other graphics that you could also use for transitioning.
You can invite a maximum of eight speakers for a show using their remote user facility. In such cases, these remote speakers don't need to download vMix.
Instead, they can simply connect over Zoom or any other compatible software to the vMix dashboard you have.
With the necessary cameras, you can also produce a live concert or telecast a sporting event.
Some of its top features include fast and simple integration with Twitch, YouTube, Facebook, Twitter, and other social media platforms.
The live chat feature allows you to respond to comments and reactions instantly. The replay mode on vMix is also worth noting.
If you're telecasting a sports event, you can replay something important during the match from two different angles. And you can broadcast highlights of the event during an interval through edited recordings.
vMix comes in six different versions. There's a starter version available for free. The basic one costs $60 per year, billed annually, while the top-of-the-range Pro version comes for a whopping $1,200 per year.
It's possible to get a 30-day trial to enable you to test various features of this software and check whether it's compatible with your systems while meeting your needs.
9. Lightstream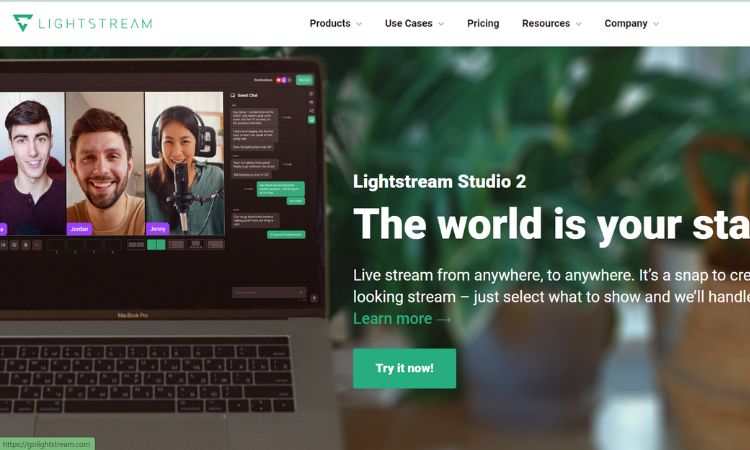 At $99 per month, Lightstream isn't cheap streaming software by any yardstick. However, it is a cloud-based software that allows you to broadcast HDTV-type videos and crystal-clear audio. 
Basically, Lightstream is a cloud-based live streaming software. You can create professional HDTV-type videos and create superb live streams instantly or play recorded videos.
Lightstream has a drag-and-drop editor. This facility ensures you've quick access to all your video files. It also accepts inputs from cameras, memory cards, and videos stored on a computer.
This streaming software has several creative controls as well as scenes. And you can integrate third-party movies, onstream alerts, and chats for higher engagement.
They have several controls, projects, and scenes that help not only you in video production but also in live streaming.
Lightstream provides third-party motion graphics, on-stream alerts, and social media chats and comments monitoring to increase engagement with the audience.
With a Light screen, you can invite guest speakers to an event. And these guest speakers can also share the screen with their own followers and audiences, which translates directly as increased viewership.
This makes Light Screen ideal for debates, panel discussions, live interviews and Q&A sessions, funerals with several speakers attending, podcasts, and conferences, among other events.
Being cloud-based you don't have to install any software on your computer. You can directly access the Light Screen dashboard from your browser. And you can remote-control it too from an Android-based smartphone or iPhone and iPad.  
Lightstream comes in three variants. The first is Lightstream Studio, which allows live streaming and playing recordings directly on Twitch, YouTube, and Facebook, among other social media platforms.
The second is Lightstream Arsenal, which comes with all the above features but also includes a panel for data analysis of your viewership. The third version, Livestream Cloud, has a live-streaming production API.
The features of Lightstream include support for all types of video formats, including 720p30, 720p60, and 1080p30.
Plus, there are no limits on the number of hours you can stream. It offers quick and reliable integration with Twitch, YouTube, and Facebook, among other platforms. 
Additionally, Lightstream has the "Green Room" facility where you can have a private chat with guest speakers during live streaming.
Lightstream comes in two versions. The free version offers a maximum of three hours of streaming with the highest resolution format of 720p 30fps.
The premium plan costs $99 per month and offers 12 hours of non-stop streaming with a quality of 720p 60fps.
In Conclusion
If you're into event management, gaming, or even streaming live or recorded videos over YouTube and Twitch, these above nine best streaming software will prove very handy.
In fact, some of them don't even require downloads on your computers. Try any of the topmost software the next time you think about streaming.
FAQ
What is streaming software?
Streaming software allows users to capture and broadcast live or on-demand audio and video content over the internet on various platforms. It includes features like capturing, compressing, transmitting and customizing the broadcast settings. Popular examples include OBS, XSplit, Wirecast, and Streamlabs.
Which software is used for live streaming?
There are several software options for live streaming, including OBS (Open Broadcasting Software) which is free and open-source, XSplit which is paid, Streamlabs OBS, Wirecast which is paid and is used by professionals, vMix which is also paid and used by professionals and Zoom which is popular for webinars and remote meetings. The best software for you will depend on your specific needs and the platform(s) you plan to stream to.
Which is the best streaming software for Twitch?
The best streaming software for Twitch includes OBS Studio, XSplit, Streamlabs OBS, and Game Capture. It is recommended to try out different software to find the one that works best for you.
Which is the best streaming software for YouTube?
The best streaming software for YouTube depends on the user's needs and preferences, OBS, Streamlabs OBS, and XSplit are popular options. It's recommended to research and test different software before making a decision.