Typing is the most simple and comfortable online job at home. Thousands of people search for different types of online jobs like data entry jobs  or form filling jobs but they rarely exist. Typing jobs comes at second category after data entry. It is worthwhile way to take online typing job as here you can work from home and make decent money each month.
Following are Top 5 Online Typing Jobs from Home
Crowd-sourcing
This is one of the most simple online jobs from home where you are provided with thousands of simple tasks. Once you become a member of any crowd sourcing site, you can login to your account & see the tasks available there.
You can select the tasks as per your choice and complete them. Commission for each task is different & it depends mostly on the length of the tasks.
Check this crowd sourcing job link to find more about this typing job.
Online survey job
Online survey is a way for companies to get the feedback for their products & services so they can know the consumer reaction & accordingly use the feedback to improve their products.
More & more companies are willing to get the feedback of their products from Indian because its becoming one of the big market for MNCs. These companies take the help of market research firms who are efficient in this field & give the accurate details about consumers to these MNCs.
You can participate in online surveys, give the feedback & earn good income through this online job.
MegaTypers Jobs
MegaTyper is another good online typing job. Here you have to solve the CAPTCHA images which consist of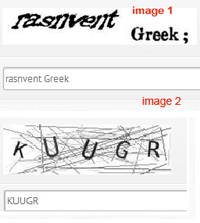 either 1 or 2 words. Just identify the characters, enter in the text box provided below & submit. You can see the examples in the image.
MegaTypers pay $0.6 to $1.05 per 1000 images you submit this way & the rates vary, depending on the time of the day you are working. You can increase your earnings by sending referral to this website as they needed thousands of quality typists like you.
You can see more details on the website MegaTypers.com
Transcription
These days, legal and general transcription is most popular typing job. If your typing speed is 60wpm with good ear, good command of the English, excellent vocabulary skills, good spelling and appropriate usage of punctuations then consider that transcription is the most suitable job for you.
However, medical transcription requires skill, specialized training and extensive work experience. Before you actually start working at home you require working on-site at least for at least couple of years.
If you are good at proofreading and researching then you can verify and edit your own work and apply your research skill when needed. Your job will become easier with these extra skills. If you are known operating any transcription software or computer program then it will help you to complete your task faster.
If you plan to take up transcribing job then you will require investing money buying headset, foot pedal and high speed internet access.
Writing
Writing is not everyone's' cup of tea but it is popular choice for freelance writers. You will find number of writing jobs around. If you are good at writing then you can definitely work as freelance writer taking writing jobs from home.
You can take assignments from various clients like private clients who own their business websites, blogging, content mills and greeting card companies. If you are good at web based content writing then, learn about search engine optimization.
Forum Posting
Forum posting is not profitable as compared to other options. It does not require any extra skill and work experience. If you able to write informative engaging post with good grammar and spelling then it is just like a golden egg in your basket.
There are a good list of forums where you can join and get paid for posting there. You may try this article on this online job which explain how to earn from forum posting.
Online expert advisors
Online expert advisors are also known as internet guide. Internet advisors are industry specific experts who offer online advice for the inquiries of people. It is like Google search engine but with a human touch. Often companies ask for at least two years of research experience in the relevant field. Apart from this, you should have excellent command on grammar and spelling, accurate and speedy typing skills with upbeat attitude.
Website testers
You can select your job profile as website testers' review and test websites for ease and use functionality. You need approximately 10-20 minutes to review and then you will be able to answer some questions. You need high speed internet connection.
Try out each typing job option and explore the ways to make money from these online jobs.