There are hundreds of paid online survey sites where people can join free and make some good earning but most of the the website don't allow people from India or many other countries.
Many of them are either for US people only or people from US, UK and Canada can join them. There are very few sites which are available for international users where people from all over the worlds are welcome. Its very difficult to find out which sites are good to join, which site provide the registration to Indians and which sites pay their members on regular basis.
Note:- If you don't have idea of what is paid online survey then check here Paid Online Surveys guide which explain you everything about this.
Paid Online Surveys is the perfect online job opportunity but how to find the trusted sites.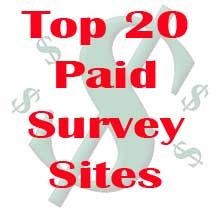 Yes, paid online survey is a perfect part time income program but finding a trusted website is a very tough and tedious job. We have been testing many of the free paid survey sites from long time and made good money from the same.
Out of number of free survey sites where you can join, we have prepared a list of top 20 sites which sends survey on regular basis and pay there members on time. There were many sites which paid initially but after sometime stop paying us so we removed such sites. Although you will not become rich by working on online surveys but if you join all of the 20 sites, you will start making some decent money as you will get surveys frequently from one or other site.
Top 20 Free Paid Online Survey Sites –
Just check here about these 20 free paid survey sites with short description where you can join and start making money by doing the survey. Its recommended that you join all these sites and provide as much details as you can at the time of joining. More they will know about your profile, it will be more convenient for them to decide what survey you are eligible for.
If you want to make more money then you can visit Get Cash for Surveys.
1. Star Panel
This is one of the most famous sites as STAR Panel is started by Star India Pvt. Ltd (STAR TV) in cooperation
with the market research company Nepa India Pvt. Ltd. who also administrates the panel. After you join, they will ask you lots of details about your profile and maximum you can get up to 6 surveys a month and you can also choose how many online surveys you want. The number of surveys depends upon who you are and what your account settings suggest. Some surveys target a specific group and you may be screened out as a result. You can join Star Panel here.
2. iPanelOnline India
iPanelOnline established in 2004, is the first supplier of online market research samples in China. iPanel Online Has now become one of the largest samples supplies in Asia. After you join iPanel and participate in the survey, you will receive points and 10 points = 1 INR. When you will visit iPanel India website, you will find hundreds of members on its page with thousands of points. You can redeem your points as gifts, cash etc. You can visit the help section of its India website to know more about iPanel. Join iPanel Online here
3. SurveyHead
Again one of the good paid survey site. SurveyHead was founded in 2008 by the founders of goZing.com. From 1999 to 2005, goZing paid out over $5 million to people worldwide for completing paid online surveys. In 2005, goZing was acquired by a public competitor.Today, SurveyHead work with corporations and market research firms around the world to help them gain competitive intelligence through online surveying. If you fit the demographic for the current online surveys, you will get a survey as soon as you join SurveyHead. Even if you do not qualify, you will get an instant reward of $5. You can either use the earning to withdraw cash or purchase a wide range of gift codes from top brands. Join SurveyHead here
4. Toluna India
Toluna.com is a community website dedicated to providing your online voice. After Toluna has taken over Ciao surveys, all the members of Ciao migrated their account to Toluna.  Make your opinion heard through your polls and opinions directly on Toluna! Let other people know what you think, and find out if people think the same as you by including your polls and opinions in your own personal blog. More then 40,00,000 members currently with Toluna. You can earn in 2 ways in Toluna, by participating in paid online survey as well as for the popularity of the content (polls and opinion topics) they create. You will get welcome bonus of 500 points after you join Toluna. Join Toluna India here
5. PanelPlace
PanelPlace is the world's 1st portal dedicated to help its members keep track of research panels they joined and keep them informed of those they have not joined. This way, its members will not miss out on any paid surveys and can maximize their earnings. You will find many of the real people with their income proof on the home page of PanelPlace website. Join PanelPlace here
6. IndiaSpeaks
IndiaSpeaks is an online web portal where consumers join hands to shape and develop products and services through online surveys launched by brand-owners. The IndiaSpeaks panelists are primarily from India, and represent a wide spectrum of age, income, demographic profile and professional attributes. You will be invited through email to participate in paid online survey and once completed, you will be  rewarded for this. You can redeem your points even at famous brand store like Big Bazaar, Lifestyle, CCD, Barista, Pantaloons etc. Join IndiaSpeaks here
7. Brand Institute
Brand Institute is the world's premier brand identity consultancy. Its brand agency portfolio of services includes brand strategy/architecture, name development, market research, regulatory and visual identity solutions. Those belong to pharmacy industry make more money here. Usually online survey from this company can pay $2 to $30 and you can receive your money by cheque or PayPal. Join Brand Institute here
8. PermissionResearch
PermissionResearch is part of an online market research community with over 20,00,000 members worldwide. Permission Re
search trusts on its members to gain valuable insight into Internet trends and behavior. This research is used by major media outlets and companies trying to understand how people around the globe actually use the Internet. As a member of PermissionResearch, you have the opportunity to participate in research that is improving the Internet. To recognize your participation in its panel, they will plant a tree through its Trees for Knowledge program. In addition, from time to time, PermissionResearch members may be contacted about special surveys that offer cash or gift cards as a "thank you" for participating. Join PermissionResearch here
9. Planet Pulse
Pulse Group is a first class offshore Research Process Outsourcing (RPO) company serving some of the largest research, media and consulting companies in the world. It owns Planet Pulse, the most active and recognized network of online survey respondents whose valuable opinion is trusted by researchers the world over. Planet Pulse values your opinion and rewards you for your time. 'Pulses' is the e-currency of Planet Pulse. You will be rewarded with Pulses for every completed survey. Planet Pulse rewards up to 5000 Pulses per completed online survey. In Planet Pulse 100 pulses = 1 USD and you can redeem $25 in your PayPal account. Join Planet Pulse here.
10. SurveySavvy
Luth Research found SurveySavvy in 1999. One of the best site which pay very high for every completed paid survey. Not only you get paid for participating in online survey but also when you refer your family and friends to join SurveySavvy. Join SurveySavvy here
11. Spider Metrix
Spider Metrix begun operations on June 26, 2000 and it is a privately held organization, based in Melbourne Australia. Managed by its founding members and supported by a great team with expertise in Information Technology, Business, Psychology, Marketing, Graphics and Advertising. For every test you are invited to do, and you accept, you will earn spiderPoints which can be redeemed for all kinds of Rewards, such as Vouchers, Cash, CDs, Books, Electronic equipment and so on. Join Spider Metrix here
12. GlobalTestMarket
One of the old and best site for paid online survey. Founded in 1999, GlobalTestMarket is powered by GMI (Global Market Insite, Inc.), one of the world's leading providers of market research. GMI serves more than 1400 clients in more than 60 countries worldwide, and provides a global solution for companies that wish to conduct online consumer research across multiple countries. Most of the surveys are on topics such as Movies, Restaurants, Automobiles, Consumer products, Current events or any topic of your interest. GlobalTestMarket will reward you for every online survey you complete. Once you reach 1000 points, you can withdraw $50. Join GlobalTestMarket here
13. ValuedOpinions India
ValuedOpinions is owned by Research Now, a leading online fieldwork and panel specialist. As a member of Valued Opinions you will be invited to participate in various online surveys as per your interest you provide in your profile. For every completed paid survey, you will receive INR 50 and INR 100 and up to INR 1000 for specialist surveys and that will credited to your ValuedOpinions account within 28 days. Join ValuedOpinions here
14. The Panel Station
The Panel Station is essentially a community of consumers that shares its views and opinions about a variety of products and services via online market research surveys. The Panel Station focuses on customers from emerging economies like Brazil, Russia, India, China and Mexico. You can withdraw cash after your account reaches 1000 points. Join The Panel Station here
15. YourSay
Established in 1997, YourSay is one of the first companies in the world to help marketing and research companies worldwide gather consumer opinions via the Internet. As a YourSay member, you'll be rewarded when you participate in surveys conducted online, by phone, or in-person. You'll also be rewarded when you refer others. On checking its testimonial section, you will find so many people from India and other countries making good cash from this site. Join YourSay here
16. NPDOR
The NPD Group, founded in 1967, is the leading global provider of integral market research data to Fortune 500 companies in a wide range of industries. Its research is an essential component in the strategic planning of over 1,700 manufacturers and retailers, and its insight into the marketplace enables them to make fact-based, profitable business decisions. If you are not already joined with NPDOR, there are chances that they are not taking joining any more. In that case, you can bookmark the site and try after few days. Join NPDOR here
17. PlanetPanel
PlanetPanel  is owned by MSI – ACI Europe BV, a global research and consulting firm based in the Netherlands. Each invitation will give you information about the current survey topic and what kind of prizes you could win by completing that survey. Join PlanetPanel here
18. The Harris Poll Online
The Harris Poll is one of the oldest and most prestigious polls in the world. You will make money as a cash prize winner from $50 to $1000 for every participation. Join Harris Poll Online here
19. Socratic Forum
Socratic Forum members participate in state-of-the-art Web-based surveys about the hottest new technologies and software, e-commerce innovations, business-to-business products and services, and forces driving the global economy. Join Socratic Forum here
20. MixReq
MixReq company was created in 2011 and we successfully contribute to many advertising agencies in different countries. They have the best payment structure-
1) $2 to $15 on your account for each completed paid survey;
2) $9 to your account for each person you refer.
3) 15 % of the earnings from the each reference earnings.
Join MixReq here
Don't expect too much from the Paid Online Surveys because you don't have control on the number of surveys you receive from these sites. You can make a decent earnings if you join all of the survey sites and completes all the survey you receive. 30 minutes a day or 1 hr every alternate day is more then enough for all these sites. I have personally made sufficient money from these sites but because I am too busy in other high paid online jobs, I don't give much focus on these. Its a
good start if you don't have earnings from any of the online jobs. Your daily 30 minutes can earn some good part time income.
If you are already earning or started earning in online survey then send your suggestions through the comment box below.