Why do we need hay bales? This is the first question that might come to your mind when you see the title of this article. You wouldn't need hay bales unless you breed cattle and horses. Some farmers also require hay bales for various purposes.
Therefore, most of us wouldn't really know where to buy hay bales or even smaller quantities of hay and straw.
However, hay bales are very useful for several purposes other than livestock fodder. I will explain some common uses of hay bales or hay and straw.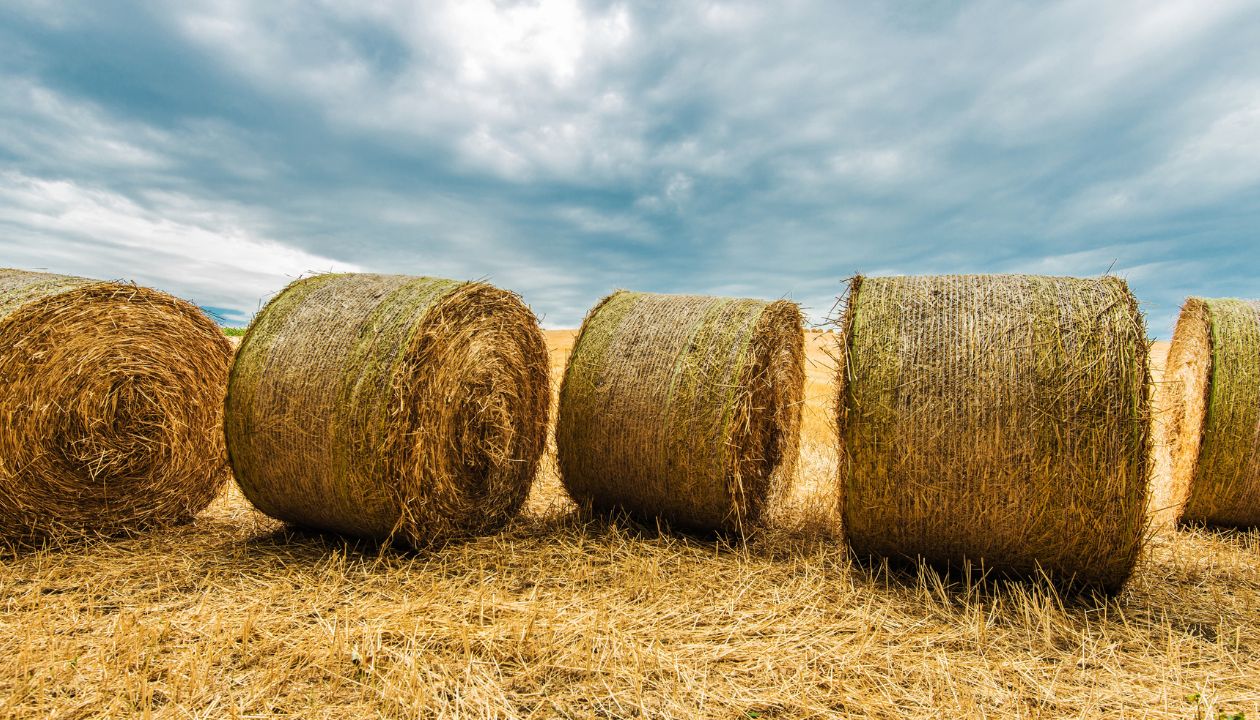 Common Uses of Hay and Straw
To begin with, hay and straw are natural fibres. They come from a variety of sources, mainly grass and dried crop-bearing plants and reeds. Hay and straw have a variety of purposes.
Thatching roofs of homes as insulation against heat and cold before laying concrete or tiling.
As covers for external units of air conditioners for protection against nature.
Decorating gardens
To make compost and other organic manure
Hay and straw make superb mulch material for gardening
Kids use hay and straw for their school projects
A haystack is also useful for kids to play
Tying bales of hay over water tanks protect them from heat
Christmas décor such as cribs requires hay
Coloured hay and straw are used for party decorations.
You can find several uses for this humble and natural material by being creative. As I mentioned earlier, hay and straw are mainly used by farmers and livestock breeders as fodder.
However, there're certain precautions you have to take if you're going to buy hay bales and stock them outside your home, especially for a long.
Care in Handling and Storing Hay Bales
While hay and straw are generally not toxic and safe, there're certain dangers in handling and storing them. Read these precautions carefully since carelessness could cost you a lot of money.
Lots of people are allergic to hay and straw: That's because both hay and straw contain pollen, dust mites, fungus and certain kinds of small fibres. When certain people inhale or come in contact with hay and straw, they suffer from allergic rhinitis, which is like the common cold or hay fever. Others suffer skin rashes and irritation of the eyes and nose due to allergies.
Hay and straw bales are dry and hence, flammable: Even a carelessly thrown cigarette butt or matches can cause rows of haystacks to go up in flames and become an uncontrollable inferno in no time. If storing haystacks in your garden, always dampen them so that they don't ignite.
Venomous snakes- especially cobras- love to nest in haystacks: There're several incidences worldwide of unsuspecting people suffering snakebites and, sometimes, succumbing to the venom before getting medical aid. If you're living in an area where snakes of any type are common, avoid stacking bales outside your house.
Insects that make nests in straw and hay can creep into your home and multiply: These can include everything from ticks to locusts and other insects common to farms. Mice also hide under hay bales and could enter your garden and home.
Fungus: Hay bales and straws are prone to fungus. In fact, most hay bales are already infested with fungus when you buy unless they've been treated or sprayed with a fungicide. Such fungus can cause severe breathing problems for healthy persons while aggravating victims of asthma and bronchitis. Fungal infestation can also spread to hair, skin and nails of humans and pets.
Therefore, I suggest that you read a lot about how to handle bales of hay and straw before buying. As a matter of fact, you could speak to some farmers or other bulk users that's enough experience in handling and using hay bales.
Remember, even a small quantity of hay is enough to cause allergic rhinitis and hay fever among people. Therefore, take enough care to ensure that your family and neighbours or visitors aren't affected by your hay bales.
24 Best Places to Buy Hay Bales
Once you know how to handle hay bales, you can take the necessary care and ensure the safety of everyone. Now, here're the 24 best places to buy hay bales nearby.
Here're some places to buy hay bales in the USA:
1. Amazon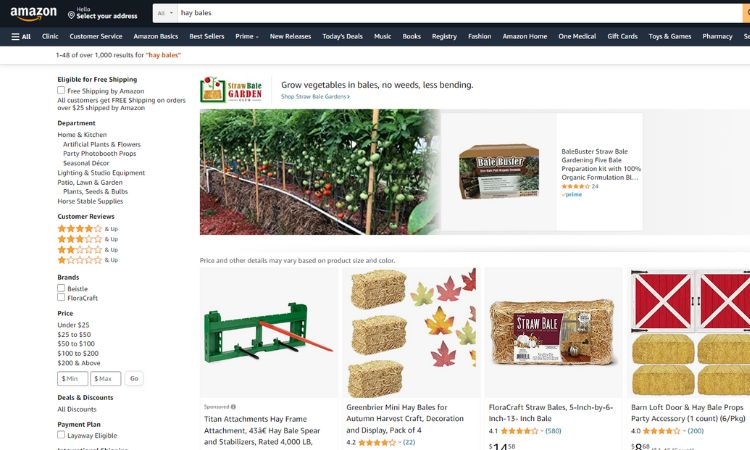 Amazon sells small quantities of hay and straw for use at homes. These are useful for school projects, decorations and other such purposes, where you don't require a ton or full bale.
2. eBay
Another place to look for hay bales is eBay. Here you can find several farmers and stores selling their surplus hay bales made from different kinds of grass and plants.
3. Craigslist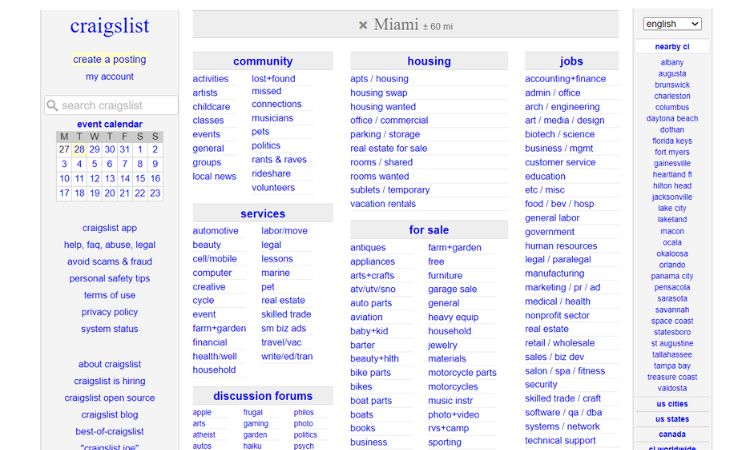 There're lots of sellers of hay bales on Craigslist. However, you would have to browse and find one nearest to your location. Also, see the minimum quantity they will sell if you don't need bulk.
Also read: Best Craigslist Alternatives
4. Facebook Marketplace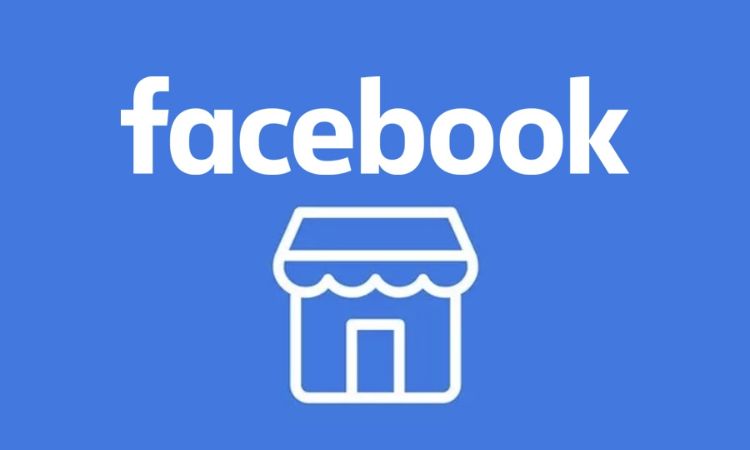 Nowadays, Facebook Marketplace is rapidly emerging as one of the best places to buy or sell goods. This is true for agricultural products too. You can easily find sellers of hay bales on Facebook Marketplace in your area.
5. OfferUp.com
OfferUp.com is yet another place where you can find hay bales on sale. This is a classified ad website. You might come across a lot of classifieds over here that offer hay bales in your area. Generally, there will be some bulk sellers on OfferUp.com
6. Home Depot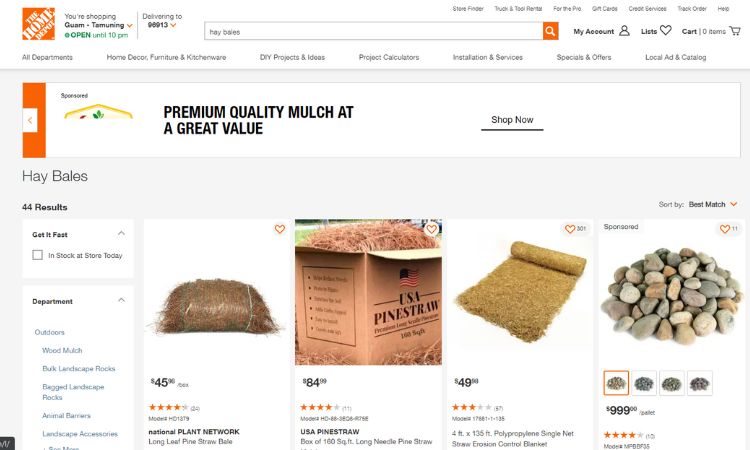 The gardening and nursery department at most Home Depot stores sells hay bales near you. Check with your local Home Depot before visiting the store.
7. ACE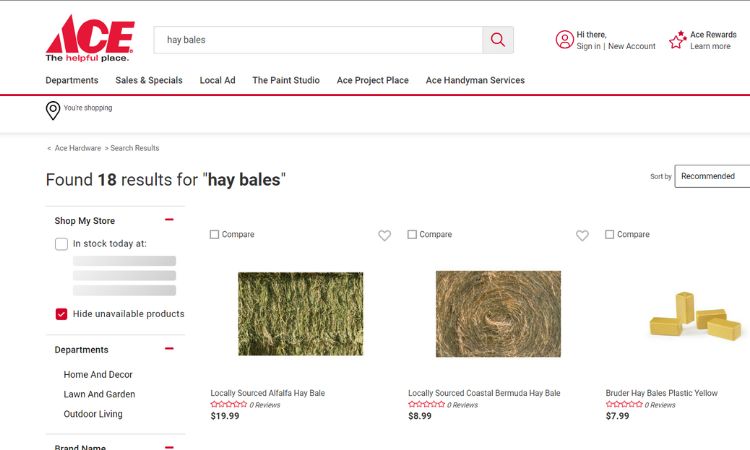 The famous hardware store ACE usually stacks hay bales at several of its locations across the USA. They have different kinds of hay bales and straws suitable for various household needs. This could be your best bet to buy hay bales nearby.
8. True Value
Another popular hardware store chain, True Value, also sells hay bales of different types and straw bundles. You can buy smaller quantities of hay bales and straw bundles over here, if available at the nearest store.
9. Lowe's Home Improvement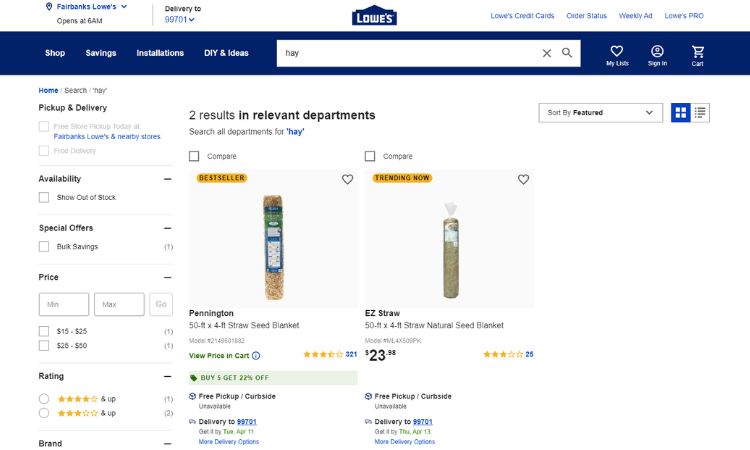 At some places, you can find hay bales from Lowe's Home Improvement. The availability can depend on the location. Therefore, check with your local Lowe's if they indeed sell.
10. Menards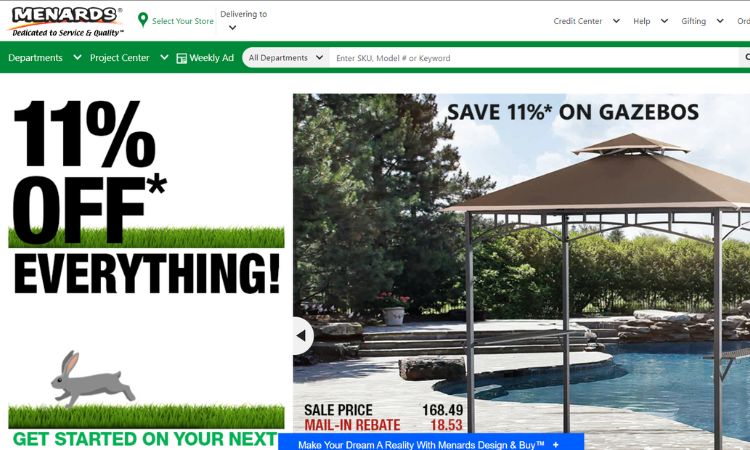 Menards sells hay bales from the majority of its over 400 stores in the US. Their hay bales come from different parts of the US. If you need a few hay bales or straw bundles, check Menards and find out the minimum quantity you could buy.
11. Walmart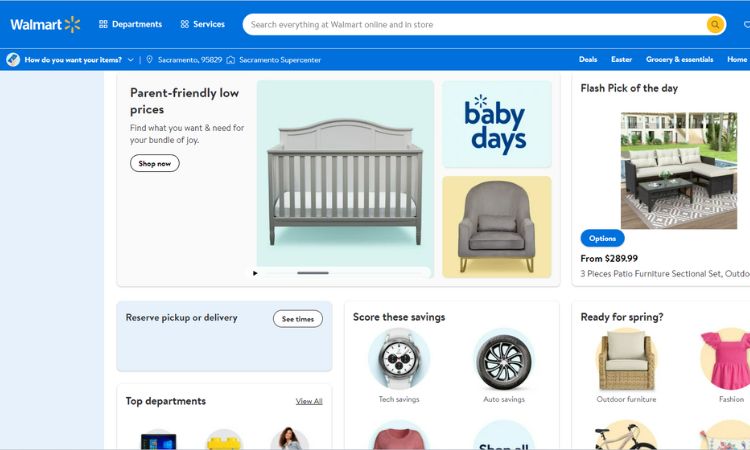 I have some doubts about the availability of hay bales and straw bundles at Walmart stores. According to some customers, a lot of Walmart superstores actually sell hay bales and straw from their gardening and nursery departments. In some cases, Walmart sells hay bales only during specific seasons.
12. Target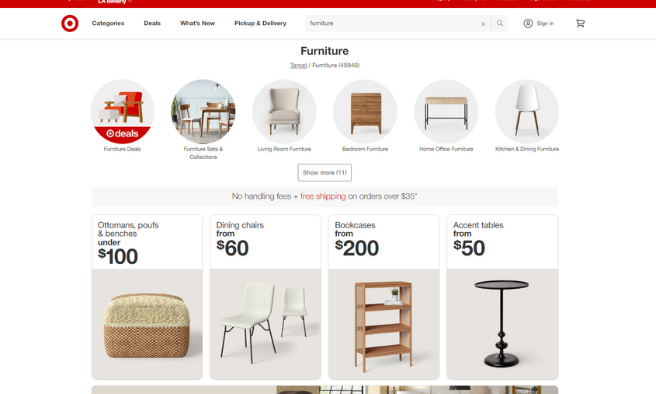 Another large chain of superstores in the US, Target, is also said to sell hay bales of different kinds. It seems they sell hay bales from all their locations. Straw bundles are also available from Target, according to some customers.
13. Michaels Crafts Store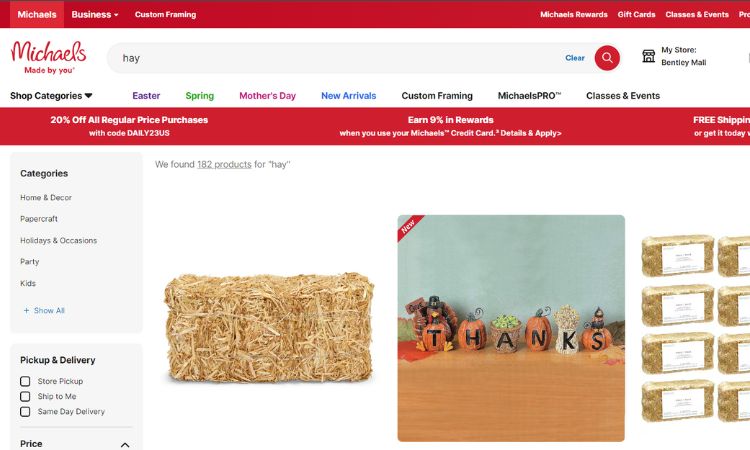 Michaels Craft Stores is one of the favourite places that Americans, especially students and event planners, visit to buy various things needed for parties and venue decorations or projects. They sell coloured straw and fancy hay bales in small volumes. As a matter of fact, these are available around the year and don't cost much. The smaller quantities also prevent the waste of your precious money.
14. Tractor Supply Co
Tractor Supply Company actually serves the agriculture community and livestock breeders. They sell large volumes of hay bales and straw for various farming and fodder purposes. Tractor Supply Co has stores in every American state and, generally, in farming areas.
15. Southern State Farm Supplies/ Stores
As their name says, this chain of stores operates mainly in 23 states of the US and primarily in agricultural zones. They have very large farming and livestock industry supplies such as hay bales and straw. Ideal if you're looking for bulk hay bales and straw.
16. Flackfarms.com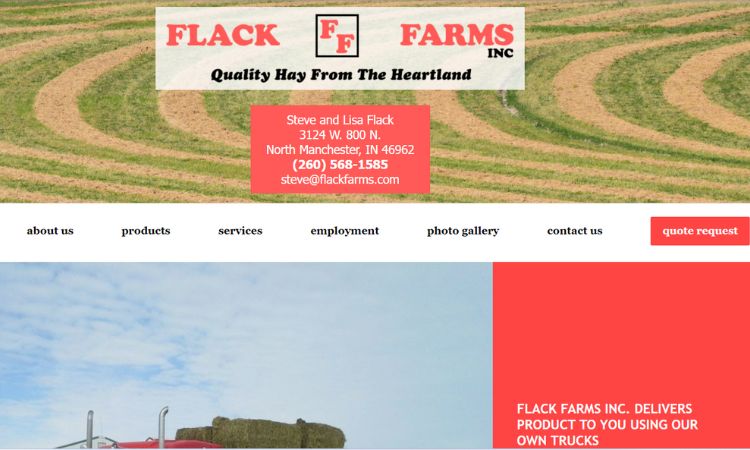 For residents of North Manchester, Indiana, hay bales of all kinds are available from Flack Farms Inc. However, you have to buy at least 720 hay bales or a full semi-truck load. You can buy smaller quantities if you're going to pick up the hay bales.
17. Colorado Hay Bales
Looking for hay bales made of premium grass for fodder? Check Colorado Hay Bales. They sell only the highest quality hay bales from different kinds of plants and grass, such as Alfalfa. Generally, their hay bales are used by dairies as cattle fodder.
18. Lucerne Farms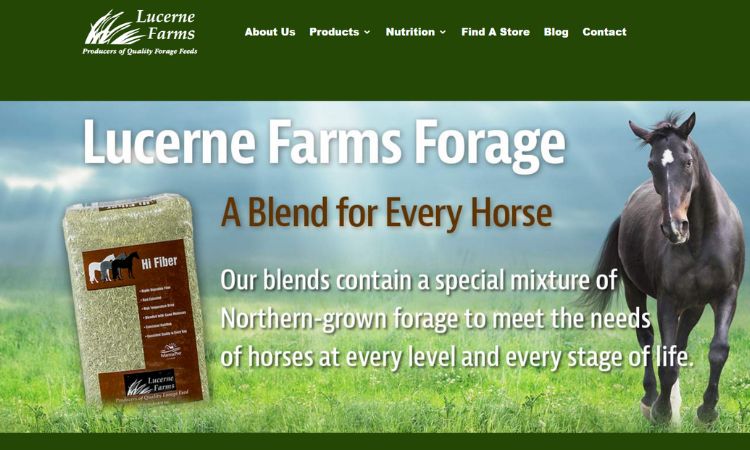 Lucerne Farms is a producer of hay bales used as horse fodder. Their hay bales are of superior quality and are made of grass and plants that provide superb nutrition. Lucerne Farms also has specially blended hay bales for horse feed. You can find the nearest store in your area that sells Lucerne Farms hay bales by using their interactive store finder.
19. Livestock Market
Visit www.livestockmarket.com is the website to visit for buying high-quality hay bales for livestock fodder. They list hay bale sellers all over the US, and you can search according to your ZIP code and location. These retailers generally sell only bulk hay bales for livestock fodder.
20. Hay Hotline
Hay Hotline is a service from the Nebraska state government. They provide a detailed list of hay sellers in the state, complete with the names of the sellers, addresses, contact details and kinds of hay they're selling. This hay is generally for fodder and agricultural purposes only.
21. North Alabama Hay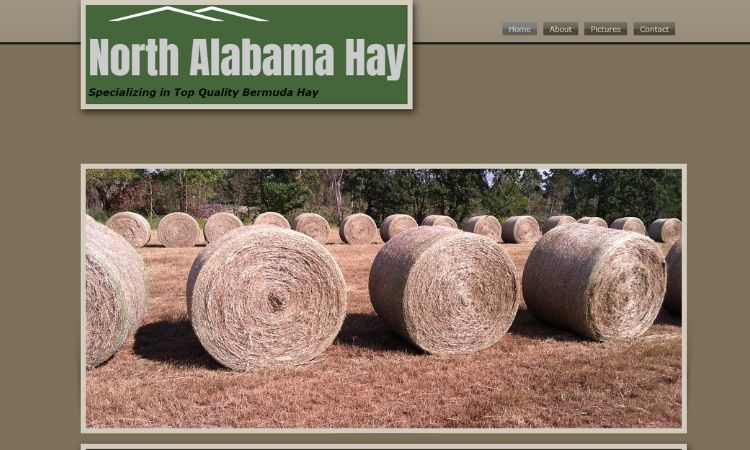 North Alabama Hay specializes in selling Bermuda hay for equine (horses) and bovine (cattle) feed. They sell only in bulk and have round and square hay bales of different types of grass to meet the nutritional needs of equines and bovines.
Based in Tangent, Oregon, this company sells superior-quality hay bales for fodder and other agricultural uses. The company was founded by Joseph Barenbrug from the Netherlands. However, the company also has extensive operations in the US.
Premium Quality Horse Hay operates from Grand Bay, Alabama. As their name says, they sell round and square hay bales for equine feeding only. Prices start from $7.50 per bale. These are hay bales for equine fodder only.
24. USA Yellow Pages
If you're unable to find hay bales from any of the 23 above places, the best thing to do is refer to the USA Yellow Pages. Search for hay sellers and retailers on these Yellow Pages online. You will find at least one or two hay bale sellers nearby.
Wrap Up
You can get a lot of information about different kinds of hay and their uses from the US Department of Agriculture (USDA) website to find which suits your needs. However, for parties, projects and gardening, you can simply visit nurseries and gardening supplies stores nearby to find small quantities of hay.