Webinars are nothing new: they've been around on the Internet for quite some time. However, the year 2023 ushered in a new era for webinars. The Novel Severe Acute Respiratory Syndrome Covid-19 pandemic is rattling our world. And this disease, Covid-19 or simply Coronavirus, is changing the way we live and work.
The majority of companies worldwide are allowing key employees to work from home, where possible. The Internet makes this possible. That's because the Covid-19 contagion is notorious for spreading rapidly.
One of the resources that enable companies to permit work from home for employees while minimizing the impact of lockdowns, self-isolation, and social distancing is the best webinar software and platforms that are available for free or for a reasonable cost.
Table of Contents
Best Webinar Software Platforms for 2023
The list I'm providing consists of free as well as paid software for webinars. Therefore, you can select the best one that suits your needs and pockets. Prices may differ according to your location. Hence, the prices I mention are purely indicative and taken from the official websites of these software companies.
1. Workplace by Facebook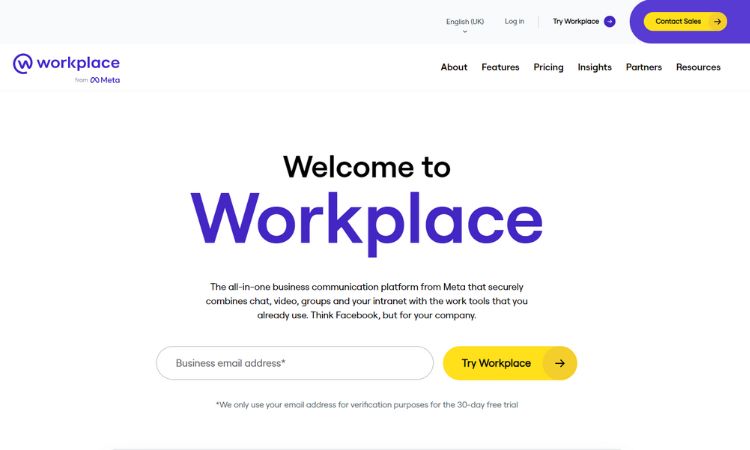 In my opinion, Workplace by Facebook is the best webinar platform for any organization. Topmost companies, including Walmart, Heineken, Air Asia, Domino's Pizza, and Starbucks, among others, are using Workplace by Facebook.
Workplace by Facebook allows you to communicate in as many as 46 different languages, share graphs, and charts, conduct online training, and hold seminars (webinars), among other features.
Pricing: The 'Essential' package for teams is free of cost and available with a simple sign-up. The 'Advanced' package for large companies comes at only $4 per person per month, with a 30-day free trial. The 'Enterprise' solution for complex organizations costs $8 per month per person and also offers a free 30-day trial.
2. Google Duo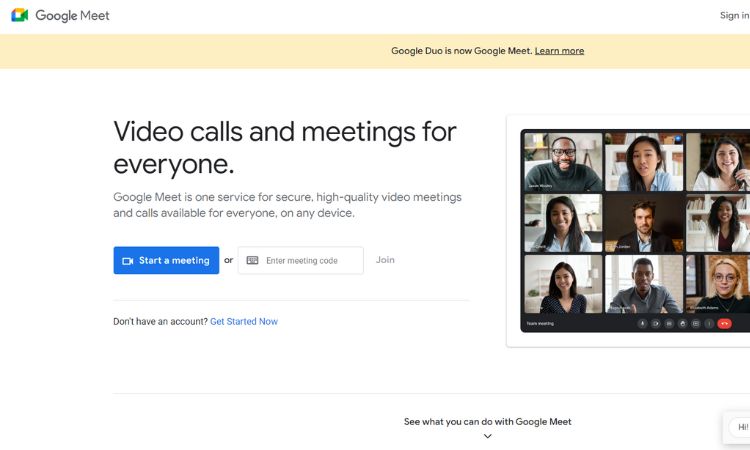 Google Duo is an excellent free resource for webinars, especially for smaller teams or for a sales pitch to one or more clients, presentations, and training. However, the only flipside with Google Duo is that a maximum of eight persons can connect at any given time
Google Duo also allows you to conduct online seminars or training but doesn't come with advanced features such as file sharing or automatic translations. This is the best for individual trainers, financial advisors, and smaller teams working remotely.
Pricing: Free. However, performance depends upon the Internet connection speed of every user.
3. Livestorm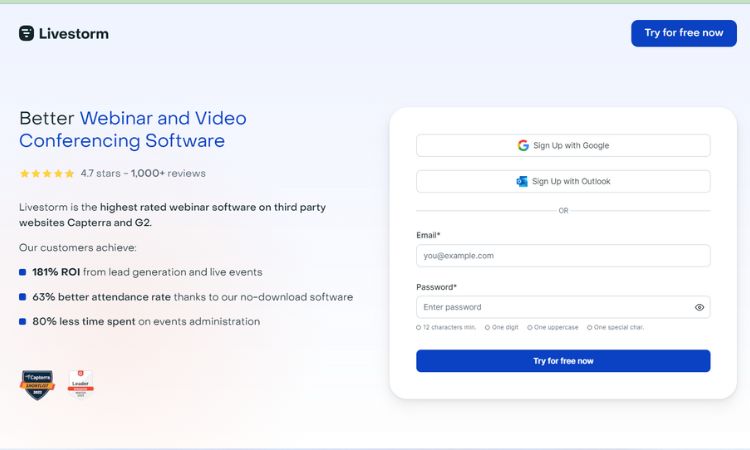 Livestorm enables you to conduct live, on-demand, or automated webinars with ease from any browser. This makes it ideal for companies that have remote teams, with some members using different software.
For online sales webinars, training sessions, presentations, and sharing complex files as well as videoconferencing, Livestorm ranks among the best resources. Another added advantage of Livestorm is the logistics feature. This allows you to send bulk emails or conduct online promotions to boost sales.
Pricing: Webinar & Meet Basic plan is free of cost and covers up to eight users. The Meet Premium is for eight users, too but offers added features such as file sharing, sales pitch, online training, and sending an email at $31 per month per user. The Webinar Enterprise plan is ideal for conducting training sessions online and costs $99 per month for unlimited users. However, the plan has a validity of a total of four hours only. Livestorm also has an Enterprise Webinar package that is available on demand. Prices for the Enterprise solution depend upon your needs.
4. Webinar Ninja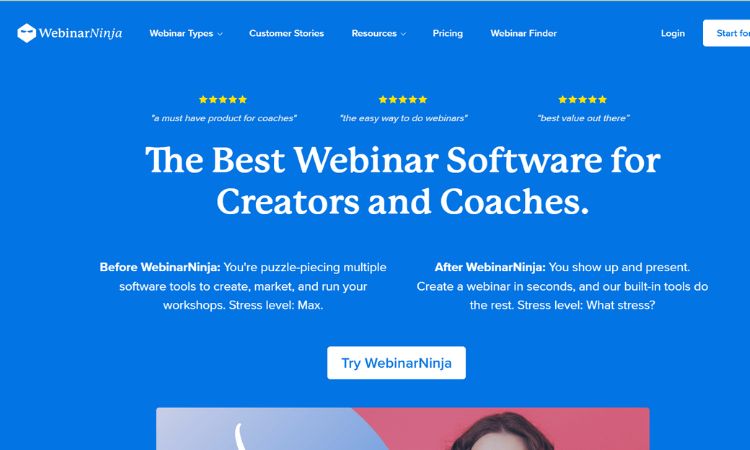 Webinar Ninja is a bit expensive resource by any standards. However, the high price has a reason. It allows crystal clear video and audio reception, even with slower Internet speeds. You can perform active screen sharing, file sharing, live chat, and training sessions as well as sales pitches with product demonstrations.
You can integrate more than 1,000 different apps with Webinar Ninja. This is a very simple and easy-to-use webinar software. Webinar Ninja also comes with a data analytics dashboard and an interface to send emails to customers, trainees, or your team.
Pricing: The starter plan starts at $39 per user per month and allows up to 100 viewers. The pro plan costs $79 per month for 200 viewers, Plus plan for 400 viewers costs $129 per month, and the Power plan for up to 1,000 viewers is priced at $199 per month.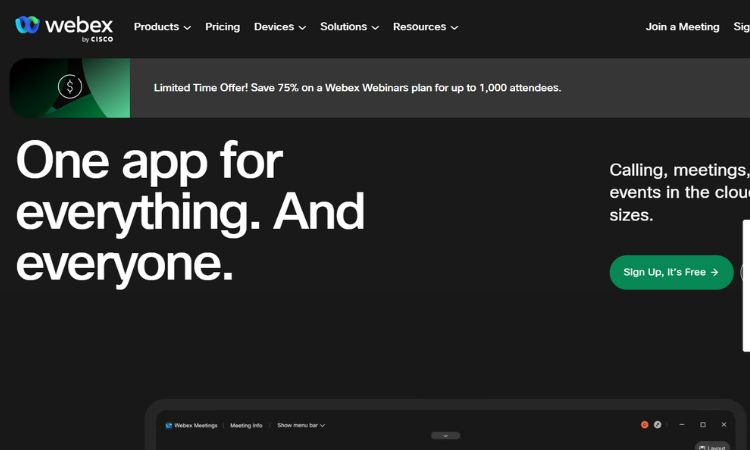 Webex comes from Cisco and offers high-definition audio and video for webinars. Additionally, it incorporates several other salient features, such as easy integration with sales and marketing tools and online training resources.
Webex is also popular among e-learning websites for its high reliability and ease of use: the software can be accessed from anywhere in the world on any browser on any device. Another major advantage that Webex offers is the ability to buy a customized package that suits the needs of your enterprise.
Pricing: Basic price is $13.9 per month for the first 50 viewers on an annual subscription basis only. Higher versions of Webex can accommodate up to 1,000 viewers and are useful for international webinars.
6. EverWebinar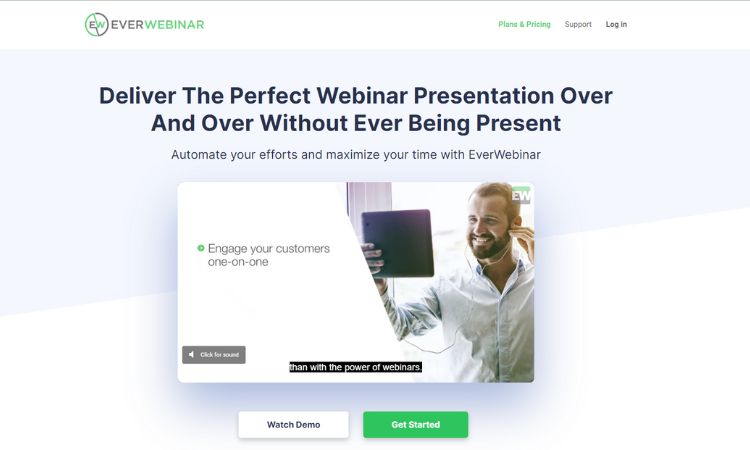 EverWebinar is ideal for companies that will use webinars to generate sales. This resource allows you to present recorded videos in the form of a live presentation. And if you're so inclined, it's also possible to up the number of viewers on your webinar without actually having as many.
This resource allows you to create real-time conditions, exchange email and other information live as well as train people using various resources. You can also connect easily with users of other webinar platforms using EverWebinar.
Pricing: The entire package of EverWebinar costs $41 per month. The flip side is that you've to buy a yearly package that is billed in full at the time of subscription.
7. Skype for Business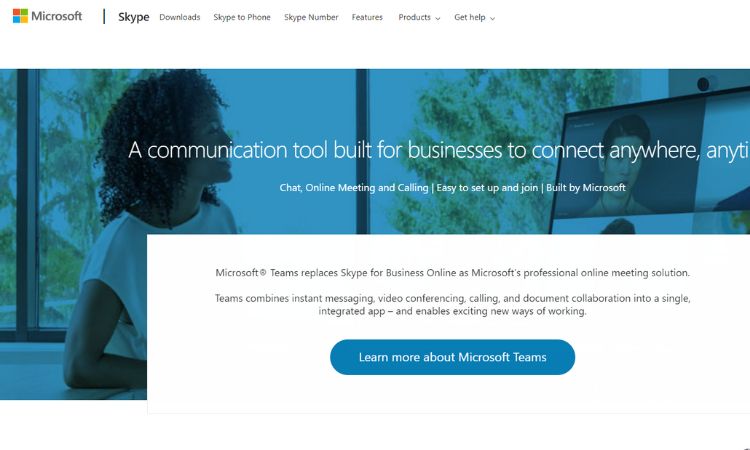 Skype for Business comes from Microsoft and hence is compatible with any computer or smartphone. It has an excellent feature, Skype Meeting Broadcast.
Skype for Business is a comprehensive platform that allows you to remotely manage teams and conduct online training. It's also possible to create different meeting broadcast schedules to suit different time zones.
Another excellent feature of Skype Meeting Broadcast is its ability to share videos without actually displaying who's online. This means a company owner can watch the webinar without making his presence felt.
Pricing: Basic package starts at $5 per month per user for Skype for Business. There're no free trials. The premium package starts at $9 per month per user, while the Enterprise solution costs $14 per month per user.
8. Google Hangouts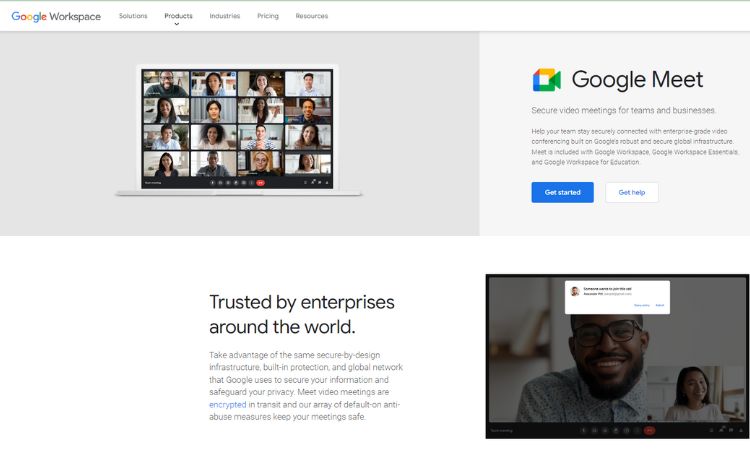 If you require a complex solution for conducting webinars, go for Google Hangouts. This allows various users to share their screenshots, documents, spreadsheets, and charts, as well as myriad other documents.
Google Hangouts works well on computers as well as smartphones. The package also includes Google Forms, Google Slides, and cloud storage on Google Drive for all users to save their material or content.
Pricing: Basic Plan costs $5 per user per month. A business Plan costs $10 per person per month and is useful for large corporations. The Enterprise plan costs $20 per user per month and is best suited for companies that have operations at multiple locations and need to manage several staff members simultaneously.
9. WhatsApp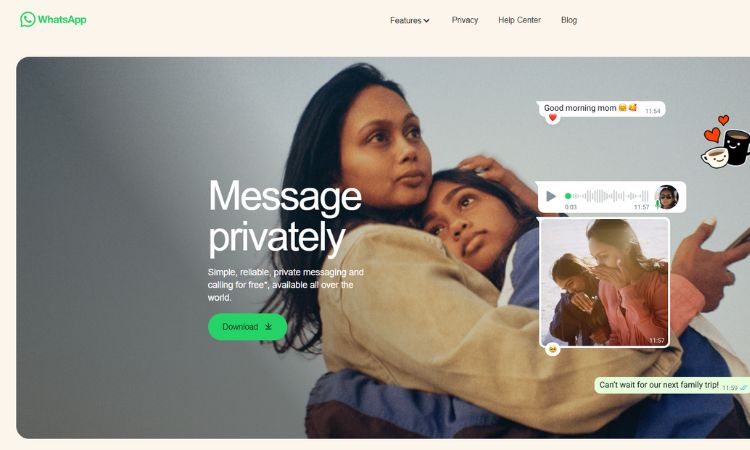 Just in case you're unaware, WhatsApp also has a feature that allows you to hold basic webinars using its videoconferencing feature. To do so, you'll have to form a WhatsApp group and ensure every member is online at the time. There're no recording facilities available.
In fact, several Asset Management Companies (AMCs) and financial institutions are now turning to WhatsApp for conducting investor education webinars. A maximum of 32 people can have videoconference via WhatsApp. And they're also basic features such as file sharing available.
WhatsApp comes from Facebook. It's billed as one of the most popular instant messaging, voice, and video calling apps in the world, with over 1.5 billion users spread around the world. The advantage of WhatsApp is that people can access a webinar from a smartphone or computer using WhatsApp Web. It works on mobile data and home or office Internet too.
Pricing: Free of cost.
10. Demio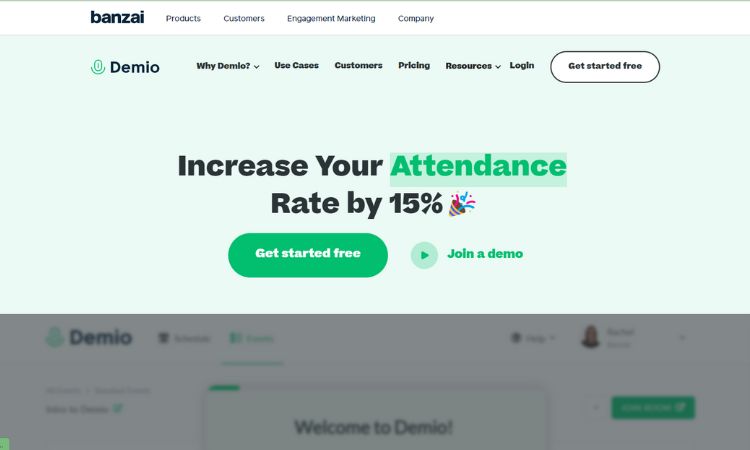 Replaying webinars when necessary or upon demand is one of the most desirable features of Demio. It integrates well with Mailchimp and lots of other business software necessary for webinars and customer support. Demio also comes with a feature that allows you to add more or more co-hosts or interviewers, or co-presenters seamlessly on the same webinar.
The ability to replay webinars enables you to reach a wider audience, according to time zone and differences. It's possible to schedule your webinars for an automatic start with Demio. And you can allow multiple presenters in various countries for this feature if needed.
Pricing: Basic package costs $49 per month for 30 users, billed annually. The Pro pack comes at $99 and allows up to 75 users. You can also get customized packs for your needs.
11. GetResponse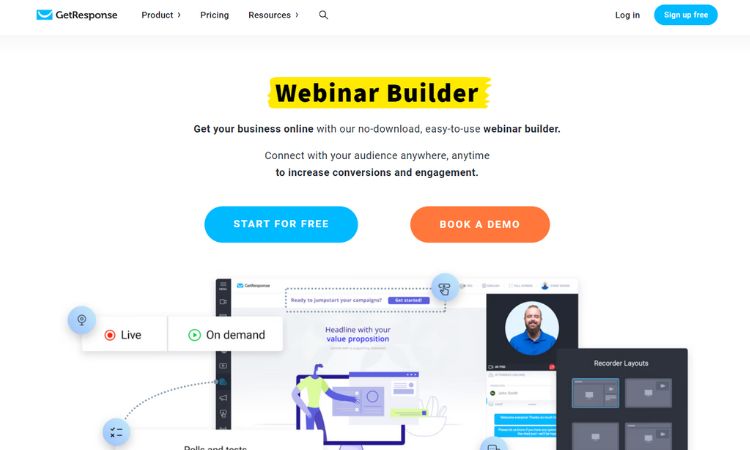 GetResponse is superb webinar software for online marketing. It allows easy customer outreach and the ability to connect with clients at their convenience. It allows customers to replay a webinar if necessary.
It's easy to share product information or company data through GetResponse without the fear of piracy or your data falling into the wrong hands. There's no need for your customers to download GetResponse merely for your webinar: they can access your webinar from their browser using a link you send.
Pricing:  Basic plan for reaching up to 1,000 clients by email and videos costs $15 per month. You also have Plus, Professional, and Enterprise packs costing $49, $99, and $1,999, respectively.
12. Zoho Meeting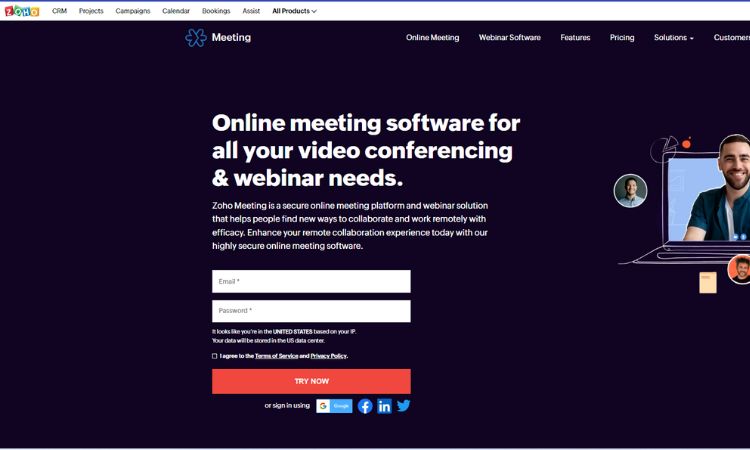 Webinar registration, webinar fee collection, attendance records, and lots of other features come packed in Zoho Meeting. This is one of the most popular resources for enterprises and small companies to hold anything from staff training sessions to large international conferences for any purpose. Zoho Meeting is also very easy to operate.
You can moderate any live webinar with Zoho Meeting. This means you can allow an attendee to ask a question or conduct a live panel discussion with Zoho Meeting. A presenter can also display a computer screen with his own image shown in another smaller side window.
Pricing: The basic plan, known as Webinar-25 costs $49 per month for the host. The most expensive is for 250 attendees and costs $199 per month to the host. You also have Webinar-50 and Webinar 100 plans, as well as Zoho Meeting-300.
Special Mention of other webinar platforms
There's another excellent resource for webinars that was commonly used by companies worldwide. However, I am mentioning it, especially for reasons that I'll explain further.
13. Zoom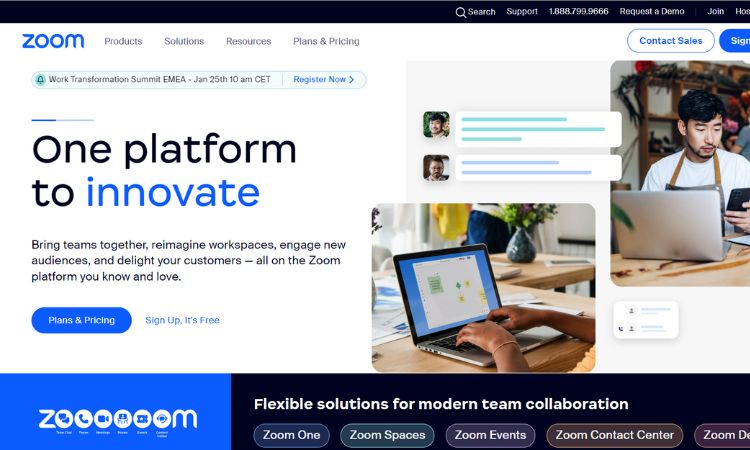 For several years Zoom was almost an undisputed leader of webinars. It offers excellent features such as creating and sending single-use email links. Zoom also doesn't require people to download the software. It can be easily used from any good browser on a computer or mobile phone.
This webinar platform also allows you to change the background image, record and store audio as videos and share online through social media.
However, major vulnerabilities of Zoom were found by hackers worldwide in March 2020, during the Covid-19 pandemic. As a result, conferences and webinars of several reputed companies were disrupted or hacked to get confidential information.
Zoom owners have admitted that glitches exist and promised to fix the same. However, the issue remains unresolved at the time of writing this article.
14. Adobe Connect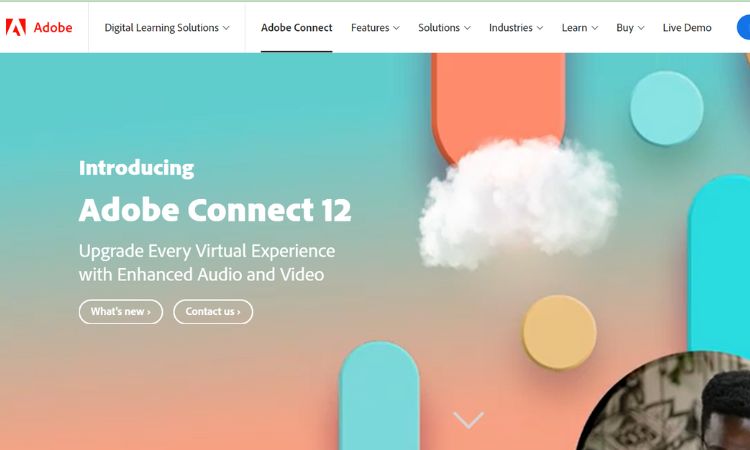 Adobe Connect comes from Adobe, as the name suggests. It is an intricate yet superb platform for webinars. However, I will recommend Adobe Connect only to larger organizations that have several years of experience in webinars.
For one, the basic package of Adobe Connect comes at $130 per month, which puts it at top of the range. And secondly, it has a multitude of features that only a large corporation would require. Regardless, it is the single most popular and best webinar software your company can own.
15. WeChat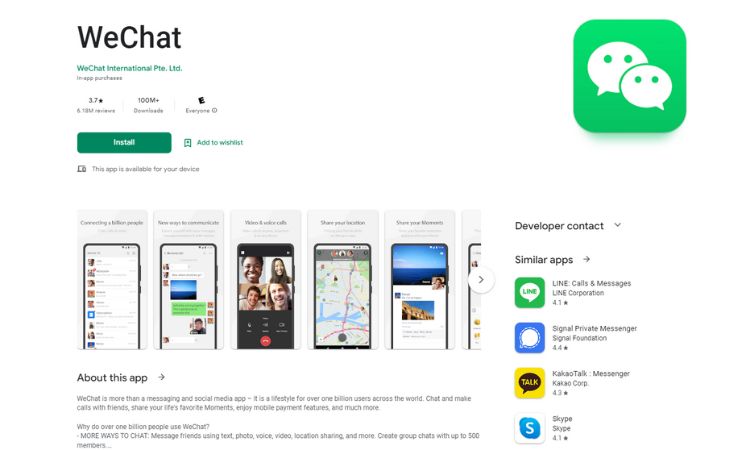 Many people compare WeChat with WhatsApp. However, WeChat isn't all that popular. It's fairly good software for network marketing and helps you connect with a maximum of 18 users at a time. However, WeChat is slow and doesn't offer other features such as file sharing. This is the basic software that's available for free and can be used by beginners or individual marketers.
Advantages of Webinar Software
A webinar is perhaps the best way to reach out to the entire world just sitting in front of your computer. You do not have to travel and present in person to different places. You could address hundreds of people sitting at different places at a time without spending huge amounts of money.
You save a lot of time and money with webinars.
The results that you get in terms of an increase in sales of products or services you are selling online are phenomenal.
The best part of webinars is the cost of operating them. The cost of webinar software ranges from free to $5000. Whether you are an individual or a company, you can afford the price considering the benefits that you get.
It is very easy to operate or run, as anyone without technical knowledge could do.
How Could You Make the Best Use of a Webinar Software
You could train staff remotely
You can promote a workshop
If you are consulting in a particular field, then you could charge a fee for listening to your webinar.
Generate leads and convert them into sales
You can conduct interviews with great personalities to endorse your product.
The auto webinar allows you to sell even when you are sleeping because it works around the clock.
Closing Thoughts
As you can see from my above list, there're wonderful webinar software and resources available to suit every need, from training to sales and marketing, customer retention to international conferences.
And there are free webinar platforms as well as paid ones with prices to suit every budget. These best webinar software should help your organization to nullify some effects of the Covid-19 pandemic and help future growth.
FAQ
Which tool is best for webinars?
Popular webinar tools include Zoom, GoToWebinar, Webex, and Skype. Each tool has its own set of features and capabilities, and the best one for you will depend on your specific needs and budget. It's recommended to try different tools to see which one works best for you.
What is the best webinar software?
Popular webinar software options include Zoom, GoToWebinar, Webex, Join.me, and Demio. Each offers different features and benefits. The best one for you depends on your specific needs and budget. Try out a few options and compare their features before making a decision.
What is the best free webinar platform?
Popular free webinar platforms include Zoom, Google Meet, Skype, Jitsi Meet, and Whereby. Each offers different features and limitations, such as the number of participants, meeting duration, and advanced features. The best one for you depends on your specific needs and budget. Try out a few options and compare their features before making a decision.
Why do you need webinar software?
Webinar software is essential for businesses, educators, and individuals who want to host and attend online meetings, presentations, and training sessions. The software provides a platform for users to connect and collaborate in real time, regardless of their location. Webinars are cost-effective, allow them to reach a wider audience, increase engagement with interactive elements, record and playback sessions, and provide advanced analytics. It's a great way to deliver on-demand training and education and to measure the success of the webinars.
What is the cheapest webinar platform?
Zoom, Webex, Google Meet, GoToWebinar, and Jitsi Meet are affordable webinar platforms with pricing starting at $14.99/month, $13.50/month, included in G Suite, $99/month, and free, respectively. It is important to consider the specific needs and features required before choosing a platform.