Ever heard of Baby Gaga of London? Maybe not. It's an ice-cream brand that's very controversial and has been in and out of business more frequently than any other retailer. The reason? Baby Gaga sells ice-cream made from human milk or breast milk.
And Baby Gaga would pay women that would sell their breast milk for its rather esoteric ice-cream.
There aren't any Baby Gaga outlets in America. However, any healthy woman can sell her breast milk and earn up to $1,000 per month. Or maybe more.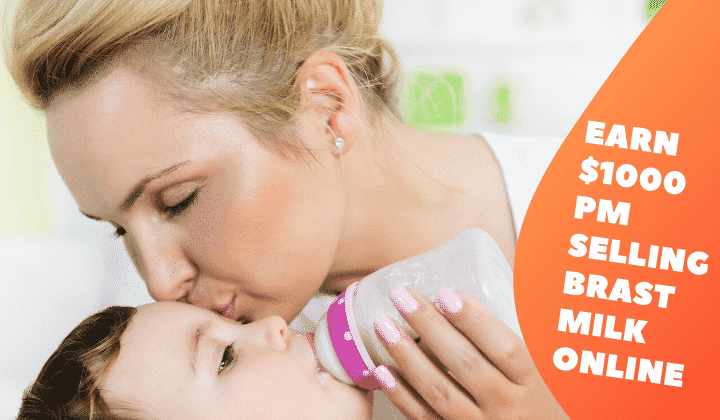 Why Sell Breast Milk?
For money of course. But wait, there's another reason why you should be selling breast milk or human milk. And that's even more compelling than merely making money.
Between two and five percent of all women in the world cannot lactate while an equal number suffer from Agalactia or a condition that causes them to produce insufficient milk to feed their newborn child.
certainly such mothers have two options: feeding their newborns with infant formula- which is an artificial version of human milk. Or feed them breast milk from other women.
Medical and scientific research proves that breast milk is best absorbed by babies. And it keeps them healthy while promoting growth.
When you sell breast milk, you're also helping some mom to provide the best available nutrition to their newborns. And getting an opportunity to make some money too.
If you're lactating and wish for selling breast milk, here's how you can earn $1,000 or more per month.
Top 5 Ways for Selling Breast Milk
There're five distinct ways to sell breast milk. You can select the ones that suit your convenience and pay more.
1. Hospitals
Intensive Care Units at various hospitals across America require a whopping 70 million ounces of breast milk every year. That adds up to quite a large amount.
Meanwhile, these healthcare facilities will post requirements for breast milk on their website or welcome sellers. You can try any of these hospitals and clinics at your location.
2. HM4HB
HM4HB is a global network known as Human Milk for Human Babies. They have a Facebook page with contact details.
Hence, you can contact HM4HB and register as a breast milk seller. They'll collect your milk or ask you to visit the nearest center for the purpose.
3. Only the Breast
Only the Breast is an online community for moms to sell and buy breast milk. You can register as a seller on their website. For selling breast milk, register as a member at Only for Breast.
Upon successful registration, you can post a classified ad with details such as your location and volume of milk you can sell. Only for Breast helps you find buyers within your city or location.
4. Mothers Milk Coop
Mothers Milk Coop buys milk but has several terms and conditions. For example, they won't bear expenses for freezing or sometimes, transporting your milk.
Hence you can read terms and conditions on their website and check if they're a good option. Mothers Milk Cooperative works at providing breast milk to moms at various locations across America.
5. Human Milk Banking Association of North America
Human Milk Banking Association of North America (HMBANA) operates nearly 30 milk-banks as they're known at various locations in the US.
The Mother's Milk Bank of Florida and New York Milk Bank are HMBANA members. Hence you can sell breast milk at any of their milk banks too.
Who Can Sell Breast Milk?
Should you decide to sell breast milk, it's extremely important to qualify. Since neonates or newborns will consume your breast milk, every organization has very strict rules for sellers and donors. There's a specific process you'll have to follow.
Medical certificate or examination
You'll most likely have to get a certificate from your physician or undergo a medical test to ensure you qualify for selling breast milk.
This test would include various factors such as a history of infectious diseases, general health, iron, folic acid and other nutrient levels in your body and sometimes, tests for diabetes and Thyroid disorders and of course, breast cancer.
Hence meeting the specifications set by buyers is very important for selling breast milk. And that also ensures you're in good health. Because breast milk contains lots of nutrients that are necessary for a newborn.
Furthermore, your health is also important. Hence, a milk-bank will buy you breast milk only when they know you enjoy excellent health. Therefore, taking a medical test is the best option.
Quality of Breast Milk
The quality of your breast milk has to match with those set by milk-banks and buyers. Usually, a milk-bank will test your breast milk either for a small fee or sometimes, free of cost.
I recommend you try and improve the quality of your breast milk before registering as a seller. This means you can easily qualify.
Your genes or ethnicity also decides the quality of your breast milk, according to reports. I suggest you read this article carefully before enrolling as a seller or donor.
Of course, the milk-bank or buyer will test the quality. However, it's also better to learn something about these factors for your own safety.
Your Location
Your location also matters a lot while selling breast milk. Because most buyers prefer fresher breast milk over stored or frozen varieties. Therefore, check if there's a milk-bank in your area or find the nearest one and contact them for details.
As I mentioned earlier, some milk-banks might not pay freezing and related costs for your breast milk. To earn more money, it's important to consider these factors too.
Above all search on the links to milk-banks and other resources I've given above to check for more details and milk-banks or buyers in your area.
Price of Your Breast Milk
An ounce of breast milk sells for anything between $1 and $5 each. However, most buyers will pay between $1 and $2 for an ounce. You can get up to $5 per ounce of breast milk if some ICU requires it urgently.
Typically, a newborn consumes between 25 ounces or about 750ml of breast milk daily. Hence, you can sell excess breast milk.
A healthy woman produces about 900ml of breast milk per day. Meaning, you can sell about five to 10 ounces of breast milk daily- if you're breastfeeding your child. However, the volume can differ in every woman.
There're cases where women increase the volume of breast milk merely for selling and making more money. However, you might severely damage your health by doing this.
Remember, your breast milk contains nutrients that your body needs too. Hence, trying to make more breast milk using various techniques can leave you sick.
Getting Money for Breast Milk
Getting money for your breast milk differs according to your location. Individual buyers will wire the money to your bank or debit card. Some milk-banks issue debit cards while others use PayPal and other services.
You'll have to check with the nearest milk-bank about how they pay for your breast milk. Usually, women ask for payment only after a month or two, unless they require the cash urgently.
Closing Thoughts
As you can see, there're several pros and cons of selling breast milk. Hence, you'll have to decide whether you wish for selling breast milk and earn money or let it run waste. Therefore, consider all factors carefully before selling breast milk to make money.