I am sure you are already aware of URL Shorteners. You might know about Bit.ly and shorturl which are used to shorten a URL link.
Basically, URL shortening is very simple. Instead of people providing long & messy URL links to their website homepage or landing page, they just provide a very short link that can be easily sent as SMS, via email social media sites or instant messaging platforms.
And here comes your opportunity with best URL shortener to earn money. A person that clicks on the URL short links doesn't go directly to that specific homepage or landing page.
Instead, they are automatically shown an advertisement. The user however has the option to close the advertisement and proceed directly to the webpage they want.
How do You Make Money with URL Shorteners?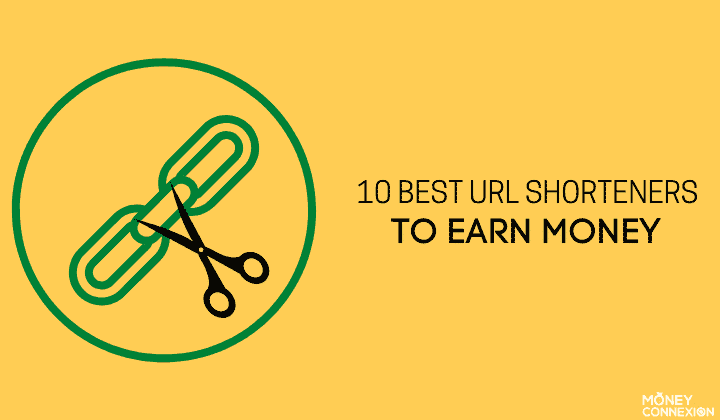 If you have a blog that receive good traffic or you have a good following on social media then you can make good money with short links.
Well first you have to sign up with a best URL shortener to earn money and then make short links of all URL that you can promote.
If someone clicks on the URL short links by you then you get paid some amount on each click. You get paid depending upon the number of people are clicking on your URL link.
There is a potential of earning $5 to $10 for every 1000 clicks. User get the link to advertisement before they land on the actual destination URL. User can either see the ads or skip the ads.
Top 10 Websites to Make Money With
I am here showing you some of the best URL shortener to earn money. You can signup with these sites, make short links and earn money. These are highest paying URL shorteners.
1. Adf.ly
Off course the Adf.ly is the number one URL shortener in the world that pays you good money for making & promoting short links.
Adf.ly could pays you around $5 to $15 dollar for over 1000 visitors depending on the country of the visitors. You can see the rates for every 1000 visitors for different countries here. Minimum cashout is $5. You can get paid by PayPal and other processor.
3. Shorte.st
This is another top URL shortener that pay you highest income for short links. There are 320,000 people making money from this website.
You can get paid $14+ for every 1000 visitors if you are from United States, $10 for United Kingdom. You can find the rates here. You can also earn 20% lifelong commission for referrals. This income may be huge if your referrals earn money from this website.
All payments are automatically sent on 10th of each month. The minimum amount should be $5 for PayPal, $20 for Payoneer and $5 for WebMoney.
4. BC.VC
BC.VC is a mass link shorter website that pays you for shortening the link. It pays you for two categories interstitials CPM (1000) and Top banner CPM. You can get paid $3 to $10 for 1000 visitors. Rates for Desktop and mobiles are different.
Payment options are Payoneer, Bitcoin, Bank account. It's $50 for payoneer and $10 for bitcoin and bank account. You will also make 10% for referrals.
2. LinkShrink
Second URL shortening website in our list is LinkShrink. Here the payout rates differ from country to country. If you live in United States then you get $7 for 1000 views however in other countries you get $2 to $4 for 1000 views.
The threshold income is same $5 and you get paid by PayPal. They pay you on 1st and 16th of every month.
Moreover you can make money by becoming an affiliate and the commission rate is 15% for each referral.
5. Adfoc.us
Adfoc.us could pay you up to
The threshold income for the payouts for every month is $10.00.
As far as referral program is concerned you get 20% of the revenue generated by your referrals.
They pay you monthly through PayPal and Bitcoin.
6. URLCash
The above 5 websites are really popular but there are others which are lesser known but still you can make money with.
URLcash is one of them with a low profile. This is really good for bloggers and website owners.
URLCash can pay you up to 90% of its income. You can make 35% for referrals and also 13% more on what your referrals make and so on.
You get paid through PayPal, Payza, Paxum etc.
7. P.PW
P.PW is ready to pay you up to 70% of what an advertiser is paying to them. They payout rate differ from country to country.
In US they pay you only $5 for per 1000 views but in other countries they pay you up to $3 to $4 for same 1000 views.
The threshold payment for PayPal is $5 and for Payoneer it is $10.
8. Ity.im
Ity.im is quite popular in many countries. It pays you for various platform like banners, pop ups, interstitials and short urls.
You can earn $5.50 for 1000 CPM for interstitials and $.80 CPM with banner ads.
They pay you only through pay pal and threshold money is $15. However they don't have any referral or affiliate program yet.
9. CashFly
Cash Fly is also a lesser known URL shortener website to make money with. It pays you on two bases for Action Ad and Full Page ad. The pay out for US for Action ad is $1.11 and $.84 for unique and raw respectively.
For full page ad it is $.34 and $.25 for unique and raw respectively.
10. OUO.IO
The last website in our list is ouo.io. The payout rates are pretty much flat for this website. In United States they pay $2.55 for per 1000 views and for other countries and all other countries they pay $1.5.
Hence you can make out, the difference is not very much and for other country users, this could be the best website to make money with.
They pay you through PayPal and Payoneer.
I am sure you have found best URL shortener to earn money. You can signup with one or more website, create shortlinks, promote it on your website or social channels and start earning good money. And yes, don't forget to double your income through referral.